From lovely pet videos recorded with music in the background to excellent music videos produced by musicians, social media is full of animated visual content. Videos are more than a simple entertainment option on socials, you can also record videos with music in the background to create your own precious video collection. The six best music video recorder applications mentioned below will help you to realize your creative idea. Sounds exciting? Then keep reading.

Music Video Recorder
Part 1. Top 5 Music Video Recorders on Desktop
Top 1: Apeaksoft Screen Recorder
The best music video recorder software must have the ability to capture images and sound from a wide range of sources. From this point, we recommend Apeaksoft Screen Recorder. You don't need to buy a music video recording camera, for this program can let you record a video while playing music in the background from your computer or an external speaker.
PROS

Record system sound to add music to your video.
Adjust the system sound's volume to match the video.
Customize audio and video settings to enhance their quality.
Trim your music video after you record.
Add fade effects to your music video to make it nice.
CONS

It requires installation.
Needless to say, it is the best music video recorder software without camera.
How to Record a Video with Music in Background
Step 1Install the best music video recorder
Open the best video recorder for live music after you install it on your computer. Pick Video Recorder to open the main interface.

Step 2Record a video with music
You can see four sections on the window:
Display: Record everything on your screen.
Webcam: Capture your face and more through webcam.
System Sound: Save the sound from your computer.
Microphone: Overlay your voice or live music to video recording.
You can enable and disable the entities based on your need. To record a live music video, for example, turn on Webcam and Microphone while disable Display and System Sound. Both microphone and the system sound can let you record a video while playing music.
Next, open the Preferences dialog by hitting the gear icon. Then customize the options related to output format, hotkeys, etc.
Now, click the REC button to start recording a video with music in the background. You can keep music playing while recording your video.

Step 3Preview and save music video
When the music video is done, click the Stop icon to open the preview window. Play the music video and use the Clip tool to remove unneeded parts. Finally, hit the Save button to save it to your hard drive.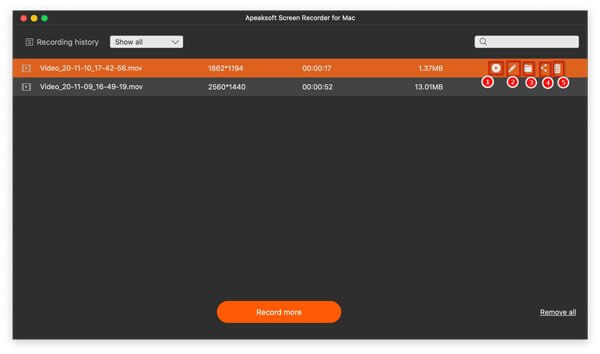 Top 2: SnagIt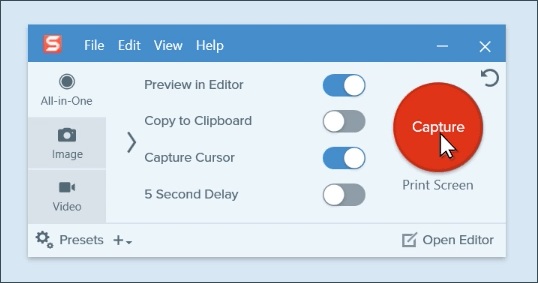 SnagIt is a reliable way to record a video with background music without a camera. Compared to music video recorder, it is more famous as a screen recorder for making video tutorials and more. A good tutorial video also contains proper music. Therefore, you can use it to record a tutorial video while playing music.
PROS

Record a video with music in background.
Offer a video editor for trimming and adjusting music videos.
Available to webcam recording.
CONS

Some features may crash.
It costs at least $49.
Top 3: ScreenFlow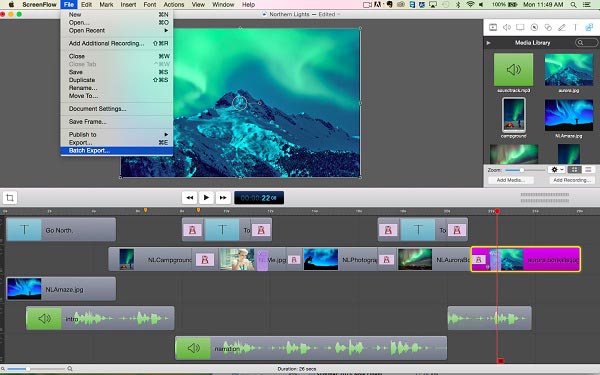 ScreenFlow is an all-in-one video recorder with music app for Mac, which allows you to add music while recording a video. It starts from $99 per license. It is a bit expensive, but you can find a full set of video editor and extensive tools within the same software.
PROS

Record music videos up to 2880x1800 resolution.
Edit video recordings on the timeline.
Upload music videos to Facebook or Google Drive.
CONS

The workflow can be clumsy.
The free-trial adds watermark to videos.
Top 4: Camtasia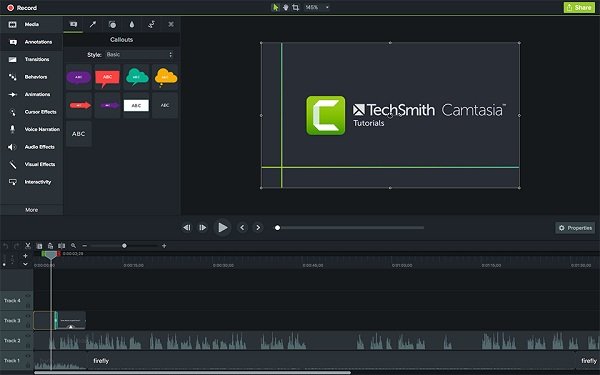 Camtasia is another versatile music video recorder. It turns your computer to video camera for recording live music. Though it is designed for anyone to record a video while playing music at home, it cost $199 and $99.50 for update.
PROS

Equip an intuitive interface.
Record anything happens on screen or before webcam.
Offer thousands of animations and effects.
CONS

The audio recording feature is poor.
It is pricey.
Top 5: ShareX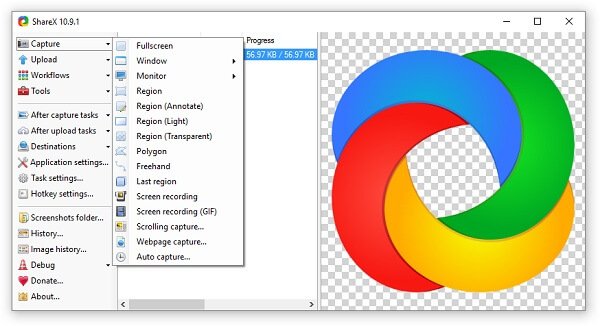 ShareX is a good starting point to record music videos at home. It is very lightweight and free for Windows users. It has Even if you have an old PC, it can work well. Although you can't edit your recordings in this program, it allows you to record a video while playing music on your computer.
PROS

Turn PC to camera for recording music videos.
Built-in an image editor.
Save recordings in video formats or GIF.
CONS

It is not available for Mac. Check here to get ShareX for Mac.
The scrolling window capture does not work.
Part 2. Best Way to Record Music from Video Online
If you already make a video with camera and want to record the background music, Apeaksoft Free Online Audio Recorder can work as your music video recording camera.

Recommendation
Record music from YouTube and other platforms.
Save music recordings as MP3 files.
Add your voice to music while recording.
No need to install and no time limit.
How to Record Music from Video Online
Step 1Visit the best music recorder in your browser and click the Start Recording button to access the launcher.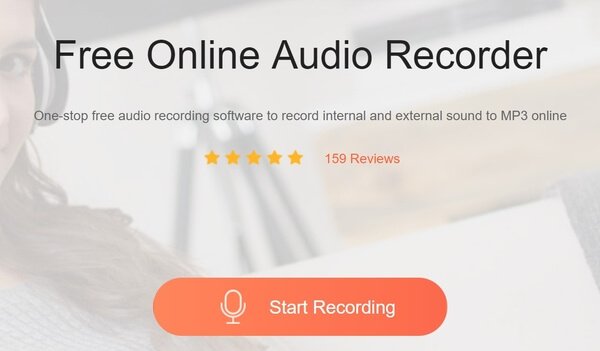 Step 2Turn on the System Audio option and disable Microphone. If you want to add your voice to the music, enable the two options. Play the desired music and hit the REC button to start recording it.

Step 3After recording, click the Stop icon and then download the MP3 file.

For more screen recorder apps on your phones, you can reach Icecream Screen Recorder for consideration.
Part 3. FAQs of Music Video Recorder
What is music video production?
A music video production is a video file storing the animated images and the music. Now, with the best music video recorder software, you can record videos while playing music to create your music videos.
How much should I charge for a music video?
You can find a lot of music videos on YouTube and other platforms for free. Moreover, you can make your own music videos at home with your computer and smartphone.
What equipment do you need for a music video?
There are a lot of video cameras for recording live music. However, you can turn your computer to a music video recorder without extra equipment.
Conclusion
Now, you should master at least 5 ways to record music videos at home only using your computer. It is true that many people search for music videos on YouTube. Sometimes, it is not enough to view music videos and you may want to make for fun. These music video recorders can help you do it without a camera or additional hardware. More problems? Please leave your message below.