If you are a hot zealot for music, a wonderful Internet radio station should be of great importance. No matter it is jazz music, electronic dance, or even the Blues, you are able to decide the playlist style on the self-directed streaming services.

This passage is going to share the best 5 free Internet radio stations with you. Moreover, you can find best internet radio recorder to capture any audio from these free internet radio stations. Read on and learn more details from the article now.
Part 1

: Best 5 free internet radio stations
Top 1: Free Internet radio station: Apple Music and Beats 1
Apple Music brings you up-and-coming artists and playlists every day. Listen to Beats 1 radio for news and culture updates. If you have a specific music request, just ask Siri. As one of the most popular Inter radio station, the streaming catalog of Apple music has been more than 10 million tracks in all genres. You may want to know the best way to put music to iPhone.
Though Apple music is a paid music service, it provides a lengthy free trial period. What's more, Apple music is available in iTunes and also compatible with Android devices and PCs. Just try it for free!
Don't Miss: How to fix Apple Music app not working.
Key features of Apple Music:
Apple Music allows you to stream the catalog of 45 million songs, along with your entire iTunes library.
You are capable to download everything from Apple music and listen to it even without an Internet connection. No signal required.
Create a unique playlist of your favorite music easily, or try the most popular playlists the Apple music recommends to you.
Share your favorite songs and music videos with your friends by creating a profile.
However, if you need free audiobooks from Apple Music, it seems not to work. The solution of accessing free audiobooks on iPhone is here.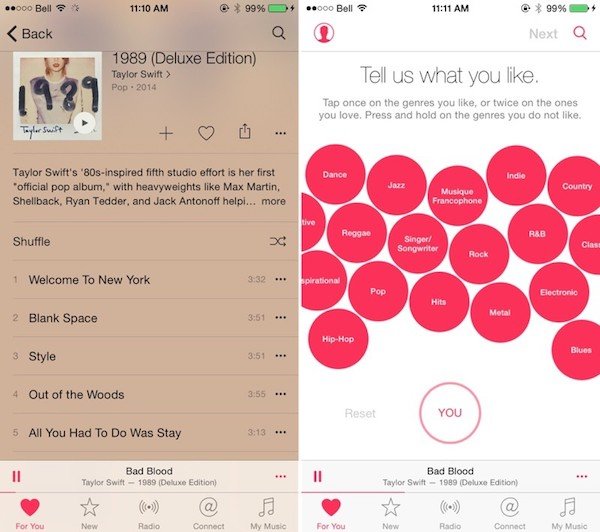 Top 2: Free Internet radio station: Google Play Music
There are free standard and paid accounts in Google Play Music. As the free standard accounts, you are able to upload your music collection no more than 50000 songs in this free radio station. As long as you can access the service, you are capable to listen those songs. However, the catch is that you will have to listen to the ads, which is quite similar to the way free vision of Pandora works.
Besides the free standard account, it is also available as an individual All Access plan or a Family All Access with a free trial. If you want to skip these annoying ads, you can pay the $9.99 a month fee to get a paid account. Then you can stream from the Google library with 40 million songs.
Key features of Google Play Music:
A built-in drag-and-drop tool can help you easily upload all your music from a directory you indicate on PC.
The Google algorithms works to break out your music by genres and you can browse through your songs casually.
Recommend songs and playlists that you may like based on your listening history and collections.
You can download an entire playlist for offline listening if you like.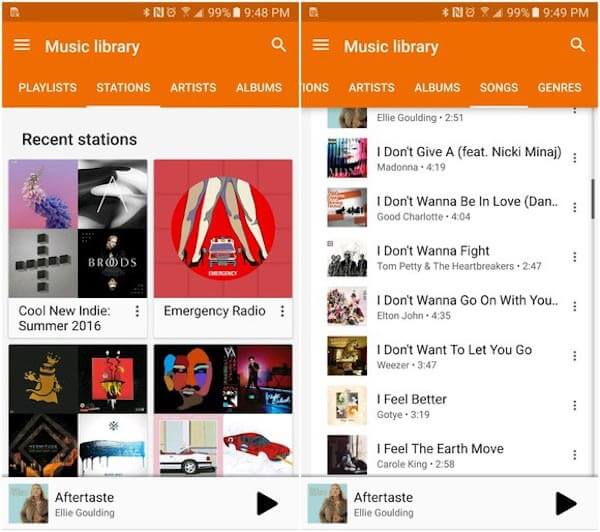 Top 3: Free Internet radio station: Pandora Radio
Pandora Radio is a free personalized Internet radio station available to stream music on iOS and Android devices. You can create your own radio station, and then drag your favorite songs, artists as well as composers. It comes with a low-level artificial intelligence to discern your music preference, and recommend other similar songs to you.
Recently, Pandora has developed a premium paid subscription, which is ad-free and adds to the base features. And the audio quality is much higher than the vision. If you want to directly capture music on iPhone, you can check this post.
Key features of Pandora Radio:
You are able to tune into established genre stations, other users' stations or create your own stations based on your musical interests.
There is a setting in your account which enables you to censor songs with explicit lyrics.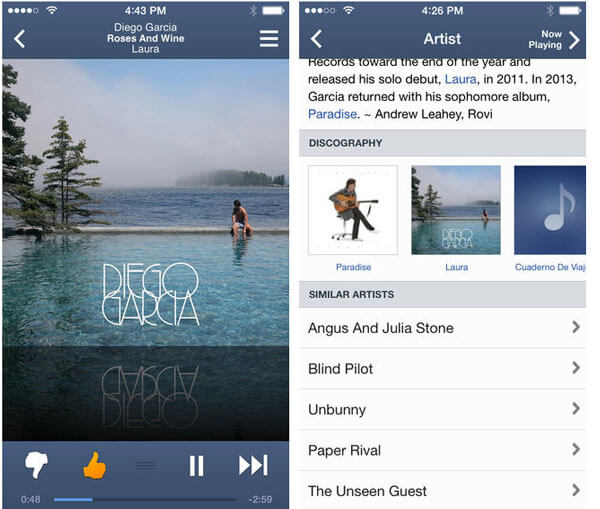 Top 4: Free Internet radio station: Rip Rock Radio
Rip Rap Radio is also a wonderful online radio station for free. It has been devoted to the classic rock FM culture for years, and compounds almost all the famous and classical music, including Rolling Stones, Tom Petty, Van Halen, 38 Special and so on. Rip Rock Radio provide the best of specialist music, community and arts programs.
Key features of Rip Rap Radio:
There are Soul, Funk, Jazz, Electronic, Blues and World music in Rip Rap Radio.
Use genre lists to classify radio stations into your favorite genre.
You are able to find some lesser known and niche songs through other users' recommendation.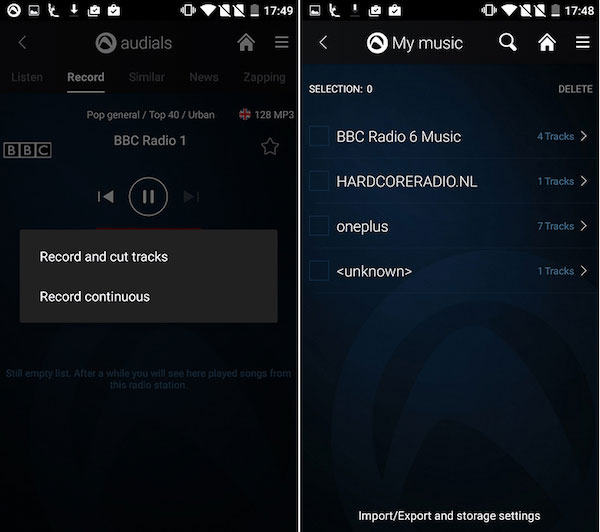 Top 5: Free Internet radio station: Spotify
Spotify is a new way to enjoy music. This free online radio station will read your music collection, and recommend related music and playlists based on your preference. With its clean interface and convenient search tool, you are never far away from the song you want.
Key features of Spotify:
There are no restrictions in terms of what you can listen to or when.
Powerful search enables you to look for any artists and songs.
You are supported to Play Spotify on your speaker, sound system, or TV with Spotify Connect.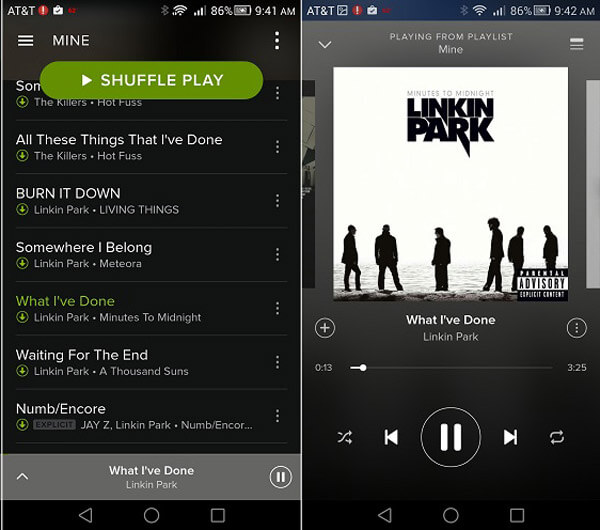 Part 2

: How to record songs from online radio

Sometimes you may want to download your interested songs to your portable device for offline listening, but these free Internet radio stations do not support downloading directly for free. Then you need a professional recording tool to record these audio files to your device. And here, you are suggested to use Apeaksoft Screen Recorder to achieve your goals. Apeaksoft Screen Recorder should be the best and most professional way to record online songs from Internet radio stations. With this wonderful screen recorder, you are able to enjoy your favorite music anywhere and anytime.

Follow the steps below to learn how to record music from a free Internet radio station with Apeaksoft Screen Recorder

Step 1: Download and start Apeaksoft Screen Recorder

Download and install this powerful Apeaksoft Screen Recorder on your computer with the download button above. Then tap on its icon to launch this software.

Step 2: Make recording settings
Next choose the "Audio Recorder" option in the home screen. Turn on "System Audio" and then turn off "Microphone". Here you are able to adjust the recording volume as you like.

Step 3: Record music from free Internet radio
Hit the REC button to start the internet radio recording. Then go to the Internet radio station and play a song. Finally, press down the Stop button to finish the recording.

Step 4: Pre-listen and edit the audio
After the free internet radio recording is done, you are able to pre-listen to the capture audio file. If you are satisfied with it, you can save it to your device or share it on Facebook and other social website.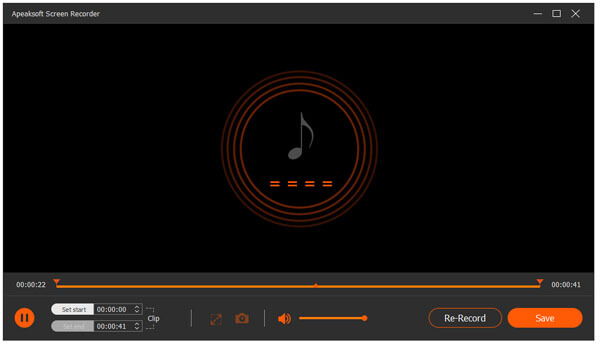 Conclusion
When you need to enjoy music and audio files from free Internet radio applications and websites, you can get the desired files from the article. What is more, you can also record the audio files via Apeaksoft Screen Recorder with ease.