"Hello, I have several pictures downloaded online, but today I found that they were corrupted, is there any way to recover them online, please help."

Online data recovery tools are popular, partly because users can get what they want without install anything on their computer. Plus, they are usually very portable and available to any websites.
On the other hand, only recovery has downsides as well. Considering some people prefer to online tools but not sure which one is the best, we are going to identify the best online data recovery apps and how to recover data with the best data recovery tool.
Part 1

: Top 3 online data recovery

In this part, you can learn top 3 best online data recovery apps.
online.officerecovery.com
Online.Officerecovery is a simple way to recover the corrupted files online. Its key features include:
1. This online data recovery app supports a wider range of data types, including documents, Excel, PPT presentations, various images, and more.
2. In addition to free trail, there are more subscription plans starting from $59.
3. It promises to delete files after data recovery.
4. The interface is user friendly and looks very simple.
Pros
1. It does not have limitations on file size, all depending on your internet status.
2. This online recovery offers both free and paid options to download the recovered file.
Cons
1. The free data recovery result is not very good.
2. It cannot deal with password protected files.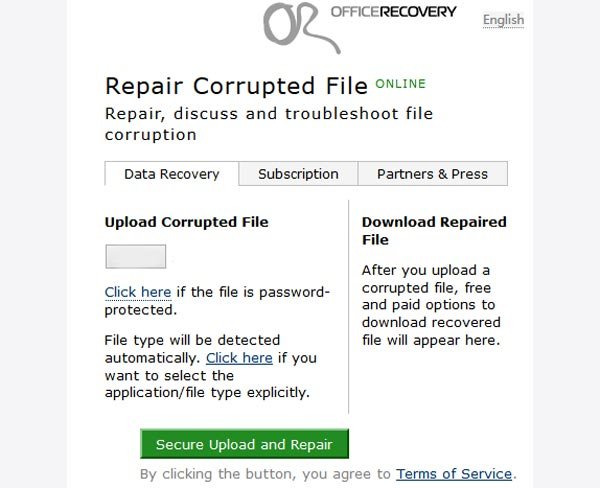 onlinerecovery.munsoft.com
Munsoft's Onlinerecovery is another option to repair damaged files without installing desktop programs. Its basic features include:
1. This online data recovery tool is powered by professional recovery technology developed by Munsoft.
2. The file formats supported by Munsoft include DOC, DOCX, XLS, XLSX, PPT, PST, DBX, MDB, ACCDB, RAR, and ZIP.
3. It supports a variety of payment methods, like Visa, PayPal and more.
4. And people can decide to pay for $29.95 to recover 10 files in 3 days or $59.95 for 100 files in 1 month.
Pros
1. The interface is well designed.
2. Users can look at the free demo result before make a decision.
Cons
1. It does not offer free service.
2. The data types compatible are limited.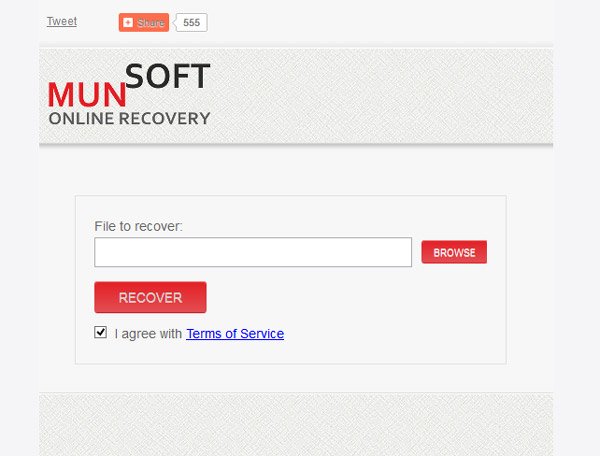 pdfresizer.com/repair
PDFResizer's online recovery is another prevalent choice to recover data online. Its principal features include:
1. In addition to PDF, this online data recovery also works on DOC, DOCX, ODT, PPT and PPTX.
2. It supports to repair up to 50 files no more than 100MB at one time.
3. PDFResizer is a free to use service.
4. It offers more file editing tools, like resize, split, convert, crop, rotate, etc.
Pros
1. Users can repair files online for multiple times one day.
2. The workflow is simple.
Cons
1. The result is poor.
2. Data recovery spends longer time than other online data recovery.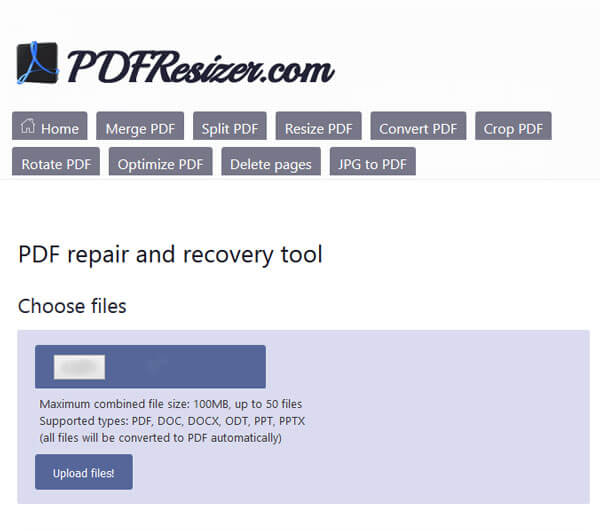 Part 2

: Best data recovery to recover deleted/lost files

Apparently, online recovery apps have some avoidable downsides, for example, poor data recovery result and limited data types. Not to mention that people have to upload and download the files during data recovery. From this point, we recommend Apeaksoft Data Recovery.

Benefits of this powerful data recovery include:

1. Recover data on internal and external hard drive in one click, as easy-to-use as online data recovery.

2. Data recovery in various situations, such as file corruption, bad sector, Shift delete, virus attack, or disk format.

3. Support a wider range of data types and formats, including all picture, video, audio, document, email, archive and more than any online data recovery.

4. Restore corrupted or damaged files in original conditions, format and quality, and much better than online recovery apps.

5. Users are permitted to look at all lost files ordered by types and formats and decide to recover all of them or specific ones in batch.

6. Quicker and safer. This online data recovery alternative is lightweight and could restore lost files quickly and safely.

7. Moreover, Data Recovery is available to Windows 10/8.1/8/Vista/XP, and various file systems, like NTFS, FAT16, FAT32, exFAT, EXT, etc.

In short, Data Recovery performs better than online recovery on almost every aspect.
How to recover deleted/lost files with the best online recovery alternative
Step 1: Look for lost data on entire disk
Get the best online data recovery alternative installed on your computer. If you want to recover data from external hard drive, connect it to your PC.
Launch the program and get two parts on the home window, data type and location. First of all, choose what data types you want to recover, such as "Audio". Then move to the location area and select the hard disk that stored the lost files, like "Local Disk" and "Removal Drive". Once click on the "Scan" button, Data Recovery will work automatically.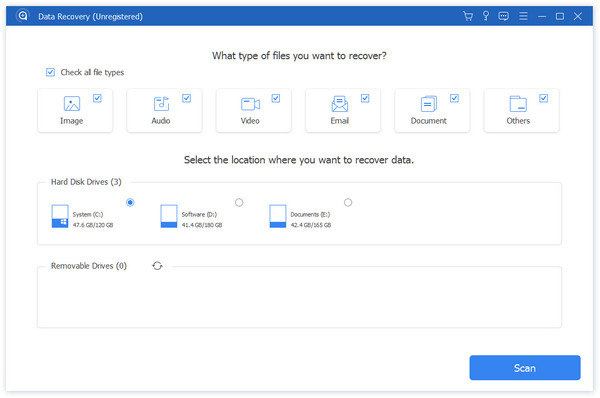 Step 2: Preview before data recovery
When going into the result window after scanning, you can look at all readable data by types and formats. For example, go to the "Audio" tab from left hand column, you can see several folders named MP3, WAV, MID, AAC and more.
If you want to search for certain file, enter key word in the box on top of the window and click on "Filter" button. To recover more data, click the "Deep Scan" button at top right corner.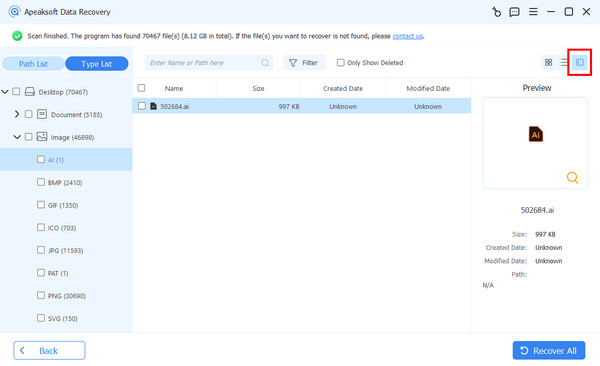 Step 3: Recover data in one click
Finally, make sure to select all files that you want to recover by checking corresponding boxes and click on the "Recover" button. Drop a destination that is different with the original hard drive and start doing the same thing with online data recovery.
Data Recovery does not have limit on how much data to recover at one time.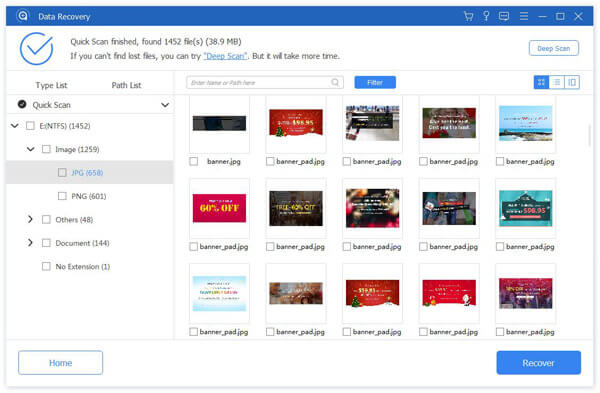 Conclusion
In this tutorial, we have talked about online data recovery. It is a professional task to recover data from hard drives. Though there are some online DIY apps announced they could recover data, only a few of them keep promise.
We have identified the 3 best online data recovery apps and shared our lab testing results. If you are looking for a better option, we recommended Apeaksoft Data Recovery. It is not only easier than online recovery, but also more powerful. We wish that our reviews and suggestions are helpful to you.