"Is there any Buffalo Data Recovery recommended? Yesterday when I connected my Buffalo external hard drive to my laptop, it was displaying error message that drive needs to be formatted, format it now, therefore, after a few minutes I reconnected that drive but it was of no use, I have stored many official documents in that Buffalo external HDD, how to recover data from it without formatting?"

Buffalo external hard drive is a simple, affordable and unbelievably fast storage device, so many people are using it to back up important files and transfer data between machines.
In this tutorial, we are going to talk about how to do Buffalo data recovery.
Part 1

: Data loss on Buffalo External Hard Drive

In few unfortunate cases, some of the Buffalo external hard drive users may encounter data loss. The most common reasons behind data loss on Buffalo external hard drive include:

1. Deleting files from the external hard drive or formatting it by accident is primary reason.

2. Sometimes the mistake operations make your external hard drive inaccessible and end up with huge amount of data loss, such as repeatedly connect and disconnect Buffalo external hard drive to/from computers.

3. Much like other HDD, the bad sectors or media formation on Buffalo external hard drive could lead to data inaccessible as well.

4. If you connect the Buffalo external hard drive to unsecure or unauthentic devices, the device may corrupt. Moreover, virus, Trojan, ransomware and other malicious programs could cause data loss on your device.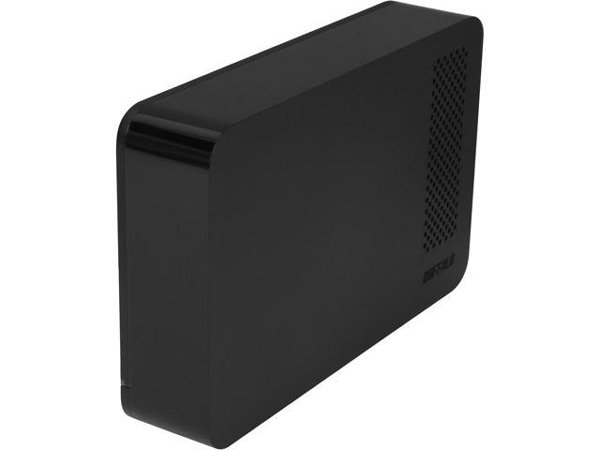 Part 2

: Best Buffalo Data Recovery

In the case that you lost essential data from Buffalo external hard drive because of any of these scenarios, then the best option of Buffalo data recovery is to utilize efficient hard drive recovery software. What the best Buffalo data recovery software should be? According to our research, it should include several features:

1. Easy to use. The best Buffalo data recovery tool should be able to get back lost files from external hard drives in one click, so even novices could grasp it in a few seconds.

2. File recovery from format, mistake operation, accidental deletion, virus attack, software corrupt, etc. on Buffalo external hard drive.

3. Support as many data types and formats as possible. It should work on all image, video, audio, document, archive, and other file formats, like JPG, ICO, PNG, BMP, GIF, PSD, TIFF, RAW, MP4, MP3, WAV, AVI, DOC, ZIP, etc.

4. Lossless recovery. With the best Buffalo data recovery application, users can restore lost data in original conditions, format and quality.

5. Preview for selectively recovery. After scanning, users can look at all lost files organized by types and formats and decide to recover all of them or several specific ones.

6. Quicker and lighter. The best Buffalo data recovery tool should be lightweight and could restore lost files quickly and safely.

7. Moreover, it should be compatible with a wider range of operating systems and file systems, such as Windows 11/10/8.1/8/Vista/XP, NTFS, FAT16, FAT32, exFAT, EXT, etc.

Based on our lab testing and hundreds of users' reports, Apeaksoft Data Recovery equips all these features, so it is the best option to make Buffalo data recovery.
Part 3

: How to make Buffalo Data Recovery

Step 1: Scan entire Buffalo external hard drive to look for lost data

Connected your Buffalo external hard drive to your computer, you discover that important files disappear due to deletion by accident, file system corruption, virus, unintentional format, or other reasons. At this time, download and install the best Buffalo data recovery software on your computer. Make sure to keep the external hard drive connected and then launch Buffalo Data Recovery.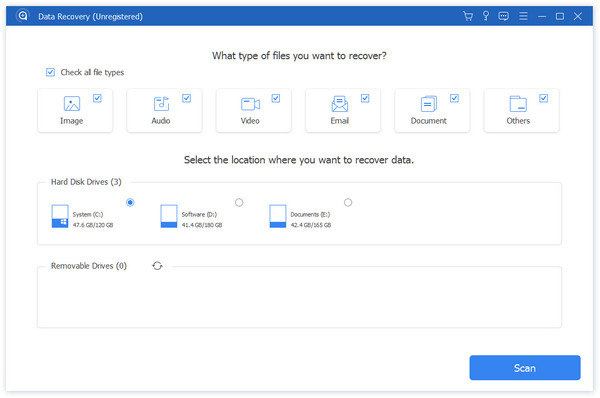 In the main interface, you will get two sections, data type and location. Firstly, locate to the data type section, and choose what data types you want to recover by checking the boxes, such as "Image", "Audio", "Video", "Email", "Document" and "Others". Then move to the location section, and select the Buffalo external hard drive in "Removable Devices" area. Data Recovery will work automatically as soon as you click on the Scan button.
Step 2: Preview before Buffalo external hard drive
After scanning the result window will pop up, and all recoverable data will be arranged by categories and formats. For instance, click on the "Image" option on left side bar; you will see several folders named JPG, ICO, PNG, GIF, etc. Open each folder and you can look at pictures in thumbnails. Moreover, the "Filter" feature at top ribbon could help you to locate a single file quickly. All you need to do is to enter the key word and click the "Filter" button.
If the standard scanning result window does not contain the files that you want to recover, click on the "Deep Scan" button at upper right corner. It will take longer time to scan the hard drive deeply and find more lost data.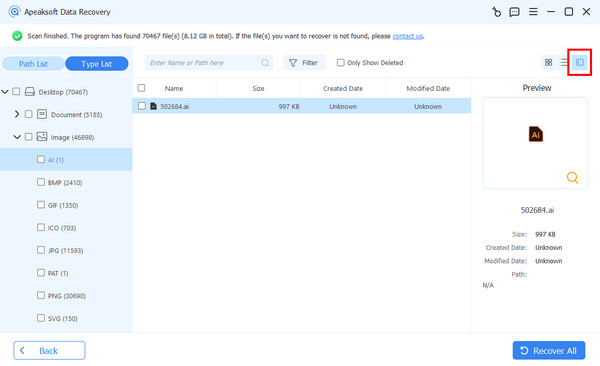 Step 3: Make Buffalo data recovery in one click
When you find the desired files, select them by ticking the corresponding boxes or choose entire folder. Then click on the "Recover" button at bottom right corner. On the popup dialog, drop a destination and initiate Buffalo data recovery. When it is done, you can navigate to the destination and your lost files should be restored. Now, you can browse, copy and paste, or edit your files as usual.
Tips:
1.You'd better save the recovered files to your computer or another external drive to avoid data loss furthermore.
2.Not only Buffalo drive, you can also get data recovery from Toshiba drive, Seagate drive, Hitachi hard drive, etc.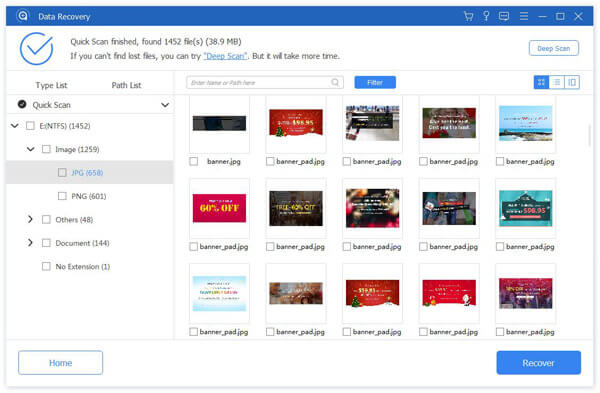 Conclusion
In this tutorial, we have described how to make Buffalo data recovery. If you are using a Buffalo external hard drive, you will find our guide helpful. Though hardware is increasingly durable, our digital data is easier to lose because of software problems and wrong operations.
For example, many people pull off Buffalo external hard drive from their computer directly. That is not only harmful to your data, but also damaged to your device. Almost all experienced users have encountered some issues of data loss on Buffalo external hard drive. But now you do not need to worry about this problem, because Apeaksoft Buffalo Data Recovery is able to get back lost data quickly and effectively.