"I was cleaning unwanted files on my hard drive using Shift + Delete, but I removed some important document files by mistake, is there any way to recover Shift deleted files?"

It is true that Shift + Delete combination is a convenient option when you want to delete some useless data. And you do not need to go to the Recycle Bin and delete them again. The downside is that your files are gone if you hit Shift + Delete unintentionally. Therefore, we are going to tell you how to recover Shift deleted files in this tutorial.
Part 1

: Difference between normal delete and Shift delete

First, let's talk about the differences between normal delete and Shift Delete.

In Windows File Explorer, when you select a file or several items and hit the Delete key on your keyboard, the data goes to Recycle Bin but not free up the space that these files take up. It just moves the index of the files to somewhere else.

On the other hand, if you press the Shift key and hit Delete to clean up some files, they will be deleted from your disk permanently rather than move them to other place.

So, if you want to recover files removed by normal deletion, just go to the Recycle Bin. But recovering shift delete files is not as simple as normal deletion. And you may need a professional data recovery tools.
Part 2

: Why We Cannot Find Shift Deleted Files from Recycle Bin

Windows keep track of where files are on a hard disk through indexes. Each file and folder has an index that tells operating system where the content starts and ends.

Generally speaking, if you just delete a file by hitting the Delete button, the index will tell Windows your file go to Recycle Bin. But if you use Shift + Delete, the index will be removed from your hard disk, and the space that stored the file will be marked empty. That is why we cannot recover Shift Deleted files from Recycle Bin. But there are still chances to get your data back before the space is overwritten by new files.
Part 3

: How to recover shift deleted files

Since people cannot find the shift deleted files in Recycle Bin or any other place, how to recover them? As mentioned, a professional data recovery tool is necessary, so what the best professional data recovery tool should be?

1. File recovery in various situations, including shift delete, mistake operation, virus attack, software corruption, or hard drive format.

2. Easy to use. The best data recovery tool is able to recover shift deleted files in one click, so even non-tech savvy could grasp it.

3. Support a variety of data types and formats, such as all picture, video, audio, document, email, archive and more.

4. Lossless recovery. With the best data recovery application, users can recover shift deleted files in original status, format and quality.

5. Preview for selectively recovery. Users should be allowed to look at all deleted files and decide to recover all of them or specific ones.

6. Quicker and safer. The best data recovery tool should be lightweight and could restore lost data quickly and safely, so users do not need to worry about data leakage.

7. Moreover, it should be compatible with as many systems as possible, like Windows 10/8.1/8/Vista/XP and NTFS, FAT16, FAT32, exFAT, EXT, etc.

According to our research, Apeaksoft Data Recovery equips all these features and it uses advanced technology to recover Shift deleted files quickly.
How to recover Shift Deleted files
Step 1: Look for deleted files on entire hard disk
Download and install the latest version of Data Recovery on your computer. When you erased files by Shift + Delete, open the desktop program.
There are two parts on the home screen, data type and location. Go to the data type area and select the data types you want to recover, such as "Document". Then head to the location area and choose where the deleted files stored originally. If it saved on an external hard drive, connect it to your computer.
After setting, hit the "Scan" button to trigger the standard scanning process.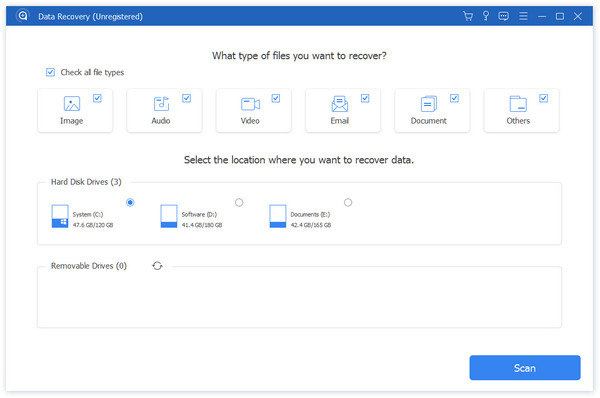 Step 2: Preview before recover Shift Deleted files
You will be brought to the result screen after scanning. And all readable files are organized by formats. For example, click on the "Document" option on left hand column, more folders named DOC, PPT, PDF and more pop up on right pane. You can go to each folder and view your documents.
Moreover, the "Filter" feature at top ribbon could find a certain file by key word quickly. If you cannot find the desired documents, click on the "Deep Scan" button at upper right corner to scan the system deeply and find more recoverable data.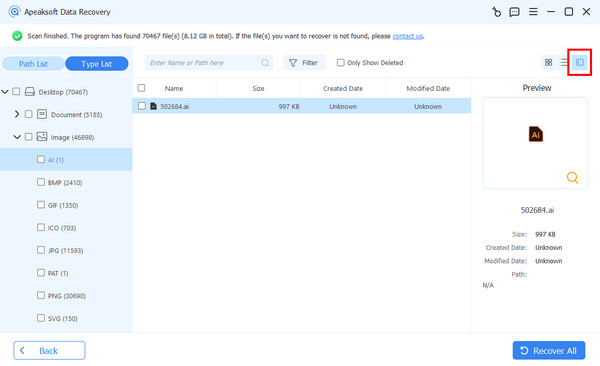 Step 3: Recover Shift deleted files in one click
Check the boxes next to the files that you want to recover and click on the "Recover" button. On the popup dialog, you'd better select another hard drive as destination.
Finally, hit OK to initiate recovering Shift deleted files. When it is done, click the "Open Folder" button on Recovery Finished window to browse and move your files as usual.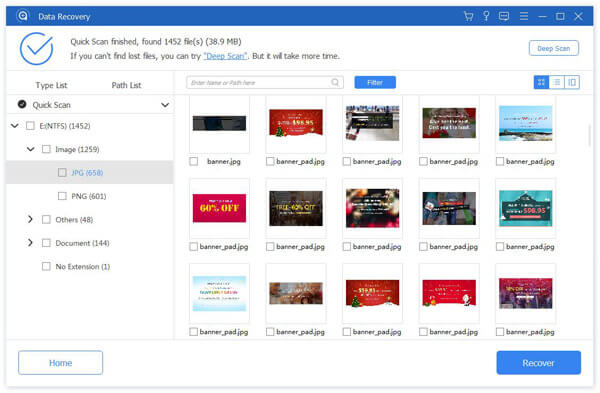 Data Recovery does not have limitations on how much data to recover at one time. But we suggest you to make data recovery as soon as possible, because the earlier you start, the higher the success rate of data recovery.
Conclusion
Experienced Windows users are more likely to use Shift + Delete keys to clean up files and free up space on their computers. The problem is that shift deleted files are permanently gone from your hard drive. And you cannot get them back from Recycle Bin.
That is why we recommended Apeaksoft Data Recovery. Now, you can feel free to manage your storage. And if you shift delete important files unintentionally, follow our guides to recover shift deleted files in original status within a few minutes. If you have more questions about Shift Delete combination, please leave a message below this post, we will reply it as soon as possible.