iCloud is a cloud-based service available to all iDevice users. At beginning, it was designed to back up or transfer data between iPhone, iPad and computers. Now, it has integrated more useful features, such as erasing iPhone or iPad remotely and finding your handset on map. The key to log in to iCloud service is iCloud passcode. However, as time gone by, many people cannot remember their iCloud passcode, so they search for how to recover iCloud password online. Actually, Apple has noticed it and released several ways to help you get back iCloud password or reset iCloud passcode. In this tutorial, we will tell you various methods to recover iCloud password in detail.

Part 1

. What is iCloud Password

Do you know what iCloud passcode is? I guess not all people know the answer exactly. If you have an iPhone or an iPad, you will get three accounts, iTunes account, Apple ID and iCloud account. At first, Apple sold iPod and music through iTunes account. After it started producing iPhone and iPad, Apple ID has been used on Apple products, including Mac and Apple TV. Of course, Apple ID is the key to access iTunes and purchase music on iDevices.

To extend internal storage, Apple launched iCloud and 5GB free storage to each user. Though you have to sign in iCloud separately, it is the same with your Apple ID. So, if you remember your Apple ID or iTunes account, you can still access iCloud and various services, even though you cannot remember iCloud account.
Part 2

. Recover iCloud password by using answer security questions

When you forgot iCloud passcode, Apple allows you to recover iCloud password by answering a series security questions. The prerequisite is that you remember your Apple ID and the answers of security questions.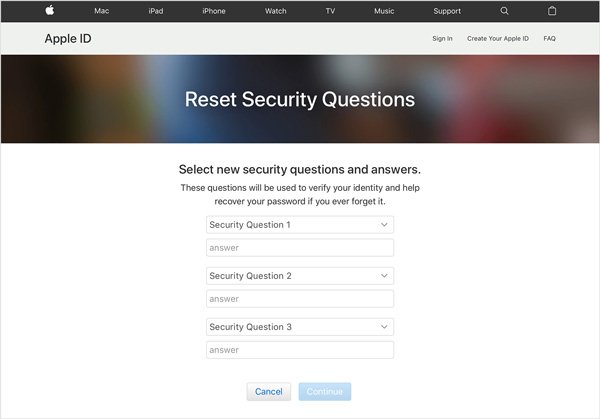 Step 1. Visit iforgot.apple.com in your browser. And then input your Apple ID, the email account you sign up your Apple device.
Step 2. When confirmation page appears, input the captcha characters in the picture to confirm you are human. Click on the "Continue" button to go to next page.
Step 3. Then select "I need to reset my password" and click "Continue" again on the "How to you want to reset your password" page. On the next page, choose "Answer security questions" and then enter answer to each security question.
Step 4. After answered, click on "Continue", Apple will set the password reset link to the email account associated with Apple ID. And you can recover iCloud password via the link.
Part 3

. Recover iCloud password by using send a password reset email

If you cannot remember your answers of the security questions, you can recover iCloud password using your email.

Step 1. Also access iforgot.apple.com in a browser and go to the iCloud password recovery page using your Apple ID.

Tip: The workflow is the same with the method above.

Step 2. When "How to you want to reset your password" page opens, select Get an email option and press "Continue".

Step 3. Open your email account that you registered your Apple ID and press the link in the email from Apple. The passcode reset page will open. Then you can input a new iCloud passcode and re-input to confirm it. Finally, press "Reset Password" to complete the process.

Note: It may take a while to several days to receive the email from Apple.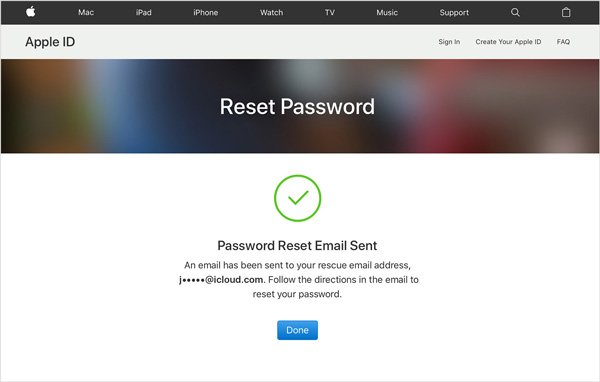 Part 4

. Recover iCloud password by Two-step verification

When you set up two-step verification, you would get a recovery key, which is able to recover iCloud password.

Step 1. Go to the Apple ID account page and hit Forget Apple ID or password. Then type in your Apple ID and choose the option to reset your passcode; then tap "Continue".

Step 2. Input your recovery key in the field and press "Continue". If you forget your recovery key, you can click the "Lost your Recovery key" link and get back the key in your email.

Step 3. Turn to your trusted handset; you will receive a verification code from Apple.

Step 4. Enter the four-digit code in to the second verification page. Then you will be taken to the password reset page.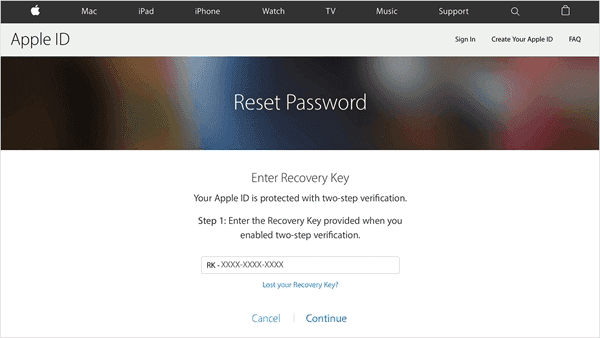 Part 5

. Recover iCloud password by Two-factor authentication

Two-factor authentication is another way to protect your iPhone. And it is useful when you need to recover iCloud password. And you can reset iCloud passcode on your trusted device directly, if two-factor authentication is enabled for your Apple ID.

Step 1. Open "Settings" app on your iPhone and go to iCloud; touch your Apple ID and then press "Password & Security".

Step 2. Tap on Change Password, then enter a new passcode and re-enter it to verify. Once tap the "Change" command, your iCloud passcode will be changed immediately.

Step 3. Then you can use the new passcode to log in your iCloud account and other services.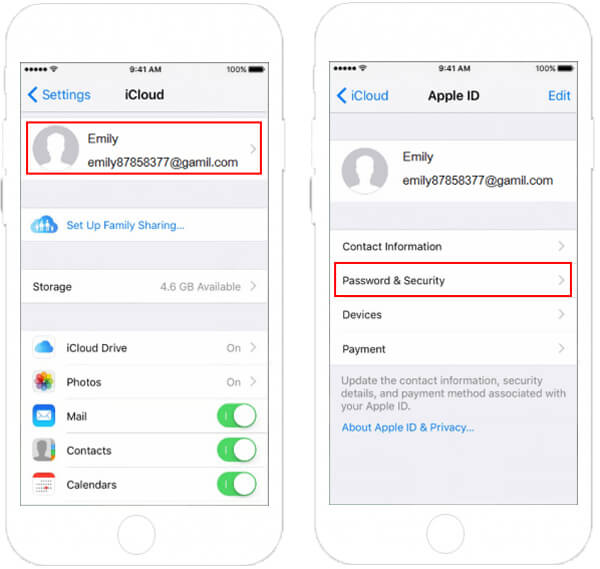 Part 6

. Bonus tips: how to backup iPhone data

To avoid data loss during recovering iCloud password, the best way is to back up your iPhone regularly. We recommend FoneLab, because it offers many easy-to-use features: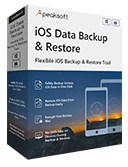 4,000,000+ Downloads
Back up your iPhone in one click.
Save all data from iPhone to your computer in original quality.
View backup files and iPhone data at any time.
Recover certain files from an iPhone backup.
Restore lost data from backup to your iPhone with one tap.
Support all iPhone models and iOS 12/11/10/9 and earlier.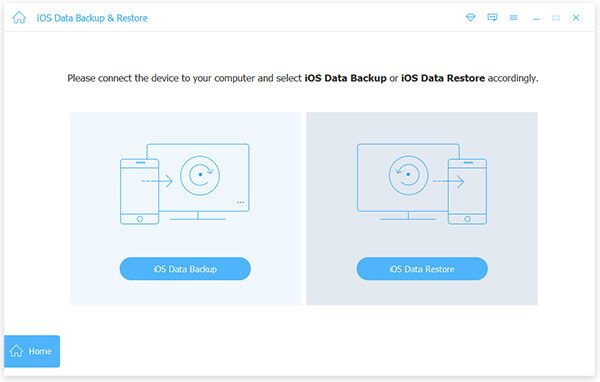 How to backup iPhone data in one click
Step 1. Launch the iPhone backup tool and go to "More Tools" > "iOS Data Backup & Restore". Connect your iPhone to your computer using USB cord.
Step 2. Click on the "iOS Data Backup" option, then select the date types to backup or tick "Select All" and click "Next" to start the process.
Step 3. Wait until the process is done, you will be brought to the result window. Here you can select the latest backup file and click "View Now" to open the backup, and view iPhone data on your computer. Here you may also want to get more iOS data recovery tools.
Conclusion
In this tutorial, we have talked about how to recover iCloud password with email, security questions, two-step verification or two-factor authentication. As you see, there are at least four ways to get your iCloud password back, when you forgot it. And we hope our step-by-step guides could help you simplify the process. On the other hand, there is nothing better than backup to prevent from data loss on iPhone. So, we recommended an easiest iPhone backup tool, FoneLab iOS Data Backup & Restore to help you keep all data on iPhone safe.