You may have heard of Kik or have already used Kik messages on your mobile phone. According to its official data, Kik had approximately 300 million monthly active users until May 2016. It is popular among young people, especially teenagers. Unlike other instant messaging services like WhatsApp, Kik does not ask you to register with your phone number. That means you can keep anonymity and your parents cannot peep on your chats. But every coin has two sides, so does Kik. If you just start using this IM service, you will find our article helpful, because we will tell you all necessary knowledge you should know about Kik messages.

Part 1

. What is Kik message

As we said before, Kik is an instant messaging service built by Canadian company Kik Interactive. It is popular and attractive to teenagers, partly because it is totally a freeware. You can send and receive text Kik messages, photos, videos, webpage and other content once you become a registry user.

Another feature that makes Kik prevalent quickly is anonymity. People could register Kik accounts with name and email. It does not request your phone number. And Kik uses Wi-Fi network or cellular data plan to do its job.

But compared to other technology companies, Kik is still a little kid. As active users increase, the big success also brings huge pressure to this instant messaging service and increases costs to store all these messages. It makes sense that Kik had taken the decision not to store all Kik messages, which requires a huge amount of data storage and cost.

There are some differences between iPhone and Android phone. On iPhone, you can view the Kik messages received or sent in last 48 hours up to 1000 pieces. And for older chats, you can check the last 500 conversation messages. If you use Kik on an Android phone, you can look at the chats up to 600 pieces in the last two days and last 200 Kik chats history.

And if you log out or delete Kik app from your smartphone, all Kik messages will be gone.

Therefore, how to save Kik chat history becomes a necessary skill for all Kik users. And you can learn it in the next part.
Part 2

. How to save Kik messages

There are many ways to save Kik messages. And we will share two simple solutions to meet your requirements.
Solution 1: Take screenshots to save Kik messages
It is the easiest way to save your Kik messages. The benefit is that you do not need to install anything on your phone; but the disadvantage is that you cannot save too many images on internal storage. The smartphones from different brands have different ways to take screenshots.
1. Samsung Galaxy S8: press both the home and volume down buttons for two seconds.
2. Nexus and Pixel phones: hold down the power and volume-down keys for a few seconds.
3. LG phones: press the power and volume down buttons for seconds.
4. Sony phones: press the power button until you see the take screenshot screen.
Most Android phones use the combination of power and volume down keys to take screenshots.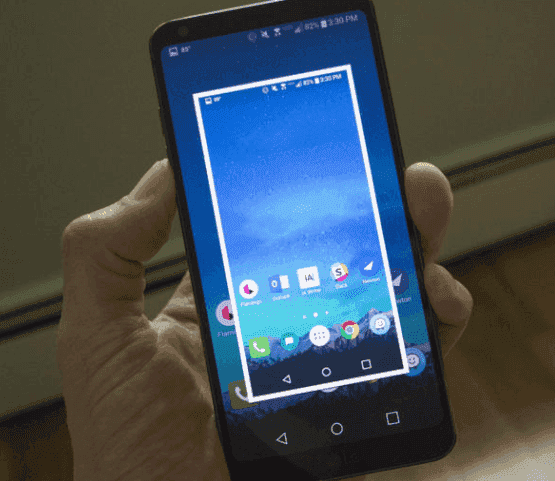 Solution 2: Backup Kik messages with Backuptrans Android Kik Transfer
Backuptrans Android Kik Transfer is a dedicated tool to help you transfer and backup Kik messages to PC or another Android device.
Step 1. Install the software to your PC and plug your Android phone to your PC too. Make sure you have turn on the USB debugging mode on your phone
Step 2. Launch the software. Click on the "Back up my data" button on pop-up screen appears on your phone. Turn to the desktop software and hit "OK" to continue.
Step 3. After the software scan Kik messages on your phone and display them on the interface. You can choose to backup all messages or certain contact to your PC.
The advantage is that you can transfer and save Kik chats to local hard disk. And the shortcoming is the backed up messages only readable in this application.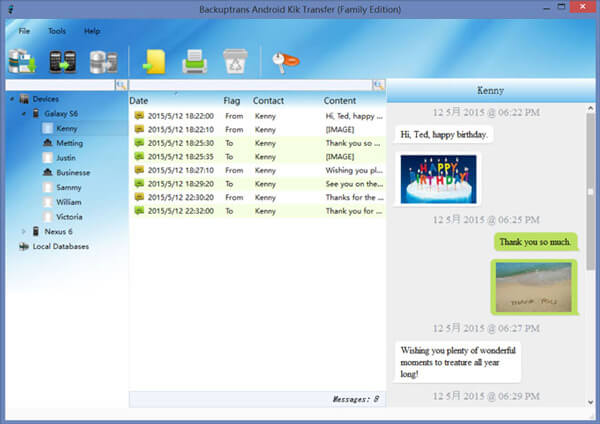 Part 3

. How to recover old Kik messages

It is not convenient to backup Kik messages every day. And one day you forgot it. Do you have to accept that your chats have gone? No, you have other choice. Android Data Recovery is able to help you recover old Kik messages. Moreover, this professional tool is easy-to-use.

Step 1. Install Android Data Recovery to it.

Download the right version of this Kik messages recovery tool and connect your Android phone to your PC.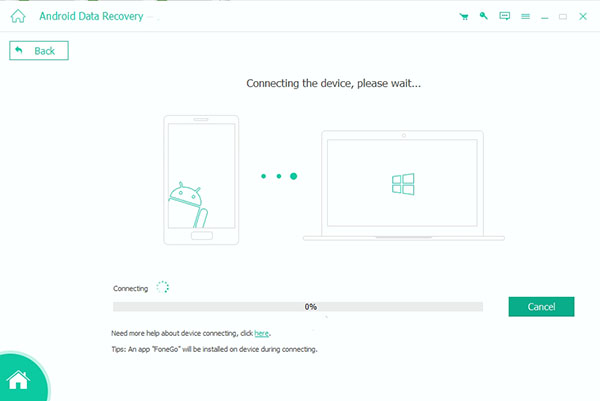 Tip: The Kik chats recovery tool has one version for Windows and Mac respectively.
Step 2. Complete the connection
Launch the recover tool and wait for it recognize your phone. Turn on the USB debugging mode on your phone and follow the on-screen instructions to complete the connection.
Step 3. Preview Kik chats history
Select the Messages and Message Attachments options on left ribbon. Then you can view all Kik chats history on the right panel. Tick the checkbox of each Kik message you want to get back.
If you tick "Photos Library", you are able to recover deleted Kik pictures easily.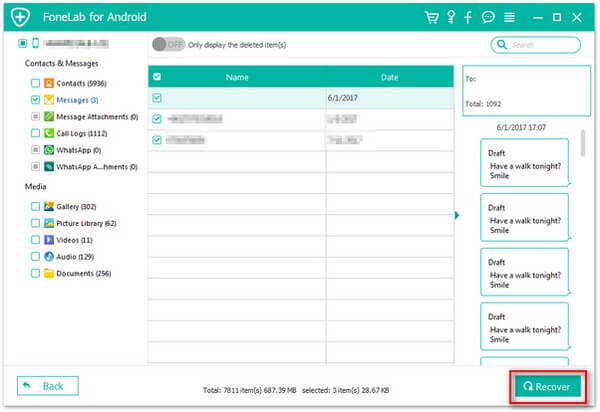 Step 4. Recover Kik chat history
Finally, click on the "Recover" button and decide a folder to save them on the pop-up window. Once press Recover again, selected messages will be restored to your PC.
Don't Miss: Ultimate guide to recover deleted Kik messages [iPhone and Android]
Conclusion
Based on the introductions above, you can learn all necessary knowledge about Kik Messenger app. First of all, you may realize that Kik will not save all your chat histories, due to costs. Will you stop using this amazing instant messaging utility, just because it does not save your chats? I guess most people will keep using it and search for some solutions for this shortcoming. So, we introduced multiple ways to prevent from Kik messages loss. Of course, you can save the chats by screenshots or backups. Android Data Recovery is another way to recover your old Kik chats. Moreover, it can help you to get back your Kik messages in just one click.