The Kik app works as text messaging, but it has more attractive features. Firstly, you can share chats, pictures, videos, and other files within Kik app via Wi-Fi network or cellular plan. And you can use this instant messaging service anonymously. You can register an account without handing over your phone number. And Kik is also a social network that allows you to make new friends. Unfortunately, Kik only stores your chats in latest 48 hours and has limitations on message storage number (Kik only store the chats shared in last 48 hours up to 1000 messages for iPhone and 600 messages for Android.). Once you log out or delete conversations, you will lose Kik messages. And if you do not back up Kik every day, the old messages will be gone too. So, maybe you should learn some knowledge about Kik recovery for Android and iPhone in our article.

Part 1

. Best way to do Kik recovery

iPhone is a closed operating system, which makes Kik recovery more difficult on iPhone. Apeaksoft iPhone Data Recovery could help you. It allows you to do Kik chats recovery from your phone, iTunes backup and iCloud backup. That increases the possibilities to do Kik recovery successfully.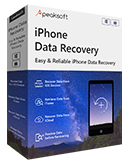 4,000,000+ Downloads
Recover deleted files from iPhone, iPad or iPod.
Recover lost files including photos, messages, contacts, notes, videos, calendar, etc.
Support Snapchat recovery, WhatsApp recovery, Instagram recovery, apart from Kik recovery..
Support iOS 12/11 and iPhone XS, iPhone XS Max, iPhone XR, iPhone X, iPhone 8, etc.
1. How to do Kik recovery from iPhone directly
Step 1. Prepare iPhone Data Recovery
Install the right version of iPhone Data Recovery to your PC and connect your iPhone using a USB cable to the same PC. Open the program and let it detect your phone.
Step 2. Scan iPhone memory
Press the "Start Scan" button to begin scanning internal memory. When it is done, you can view all Kik conversations by choosing "App Photos" under "Media section" and "Messages".
Step 3. Do Kik recovery from iPhone
Select the Kik chats you want to recover from the detail list and click on the "Recover" button. Then pick up a location and hit Recover again on the pop-up explorer to finish Kik chat recovery. You can also use it to recover deleted videos with ease.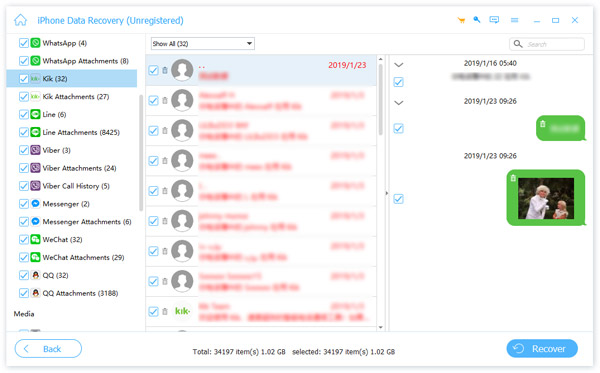 2. How to execute Kik recovery from iTunes backup
Step 1. Turn on iTunes backup recovery mode
Launch the Kik recovery tool after installation. Choose the "Recover from iTunes Backup File" tab on left side of the home interface to turn on this mode.
Step 2. View Kik chats in iTunes backup file
Choose the recent iTunes backup contains the Kik chats you want to restore and hit "Start Scan" to open the backup file. Then tick the checkboxes of "Messages" and "App Photos". You can preview all Kik chats on detail window.
Tip: iPhone Data Recovery is able to open iTunes backup file for Kik recovery.
Step 3. Execute Kik conversations recovery
Select any Kik conversation and press the "Recover" button to complete Kik recovery process immediately.
3. How to achieve Kik recovery from iCloud backup
Step 1. Switch to iCloud backup recovery mode
Run the recovery tool on your computer again. Go to the "Recover from iCloud Backup File" mode from main interface. To access iCloud backup, you have to sign in your Apple ID and password.
Step 2. Extract Kik conversations from iCloud backup
Choose an iCloud backup includes Kik messages you'd like to recover and press "Download" to continue. When the dialog pops up, choose Messages and "App Photos" please. Hit "Next" to start extracting Kik recovery from iCloud backup.
Step 3. Achieve Kik chats recovery
Select any Kik conversations or all and click on the Recover button at bottom right corner to finish Kik chats recovery.
4. How to implement Kik recovery on Android
When it comes to Android phone, FoneLab offers Android Data Recovery. With this toolkit, you can implement Kik recovery on Android phone easily and quickly.
Step 1. Install Kik recovery tool for Android
Install the right version of Android Data Recovery to your computer and wait for it detects your phone model. All you need to do is to follow the onscreen guide to open USB debugging mode on your phone.
Step 2. Preview Kik conversations for recovery
When you go into the detail screen, choose "Messages" and "Pictures Library" options. Then you can preview all Kik chats on right detail panel.
Step 3. Implement Kik chats recovery
Select Kik conversations by ticking the checkbox of each one and click on the "Recover" button to implement Kik crecovery on Android phone.
Part 2

. How to get Kik recovery from Kik friends

Another way to get Kik recovery is your Kik friends. This way is suitable to recover certain Kik conversation. You can talk to your Kik friends. And if he or she has backed up the old Kik messages, you can get them back simply.

As I said, the prerequisite is that your Kik friends have backed up the conversations. And sometimes it is awkward to ask help from Kik friends. The advantage is that it is the simplest way.

Anyway, you might get Kik recovery from Kik friends.
Part 3

. How to recover Kik without PC

If you use a rooted Android phone, you are lucky, because GT Recovery could help you do Kik conversation recovery without a computer. Moreover, it is totally free to use, though GT Recovery only works on limited number of Kik messages. Once the chats were overwritten, GT cannot get them back.

Step 1. Install GT Recovery from Play Store to your Android phone. Run it from home screen and give it super user rights.

Step 2. On the data type screen, you can select certain data types for Kik recovery, like messages, photos and more.

Step 3. Tap on the "Next" button to start analyzing your Android phone. Then touch "Scan Device" to scan recoverable Kik chats on your phone.

Step 4. In the end, select several conversations and tap on the Save button on top ribbon to complete Kik recovery without PC.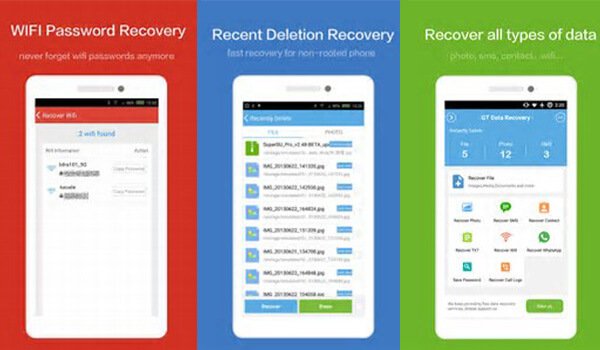 Conclusion
If you are a Kik registry user, you will understand that Kik recovery is an important skill. To save costs, it is not convenient to back up Kik conversations every day. So, Kik chat loss is common among Kik users. Unlike WhatsApp, Kik does not offer recovery features. Once you lost important conversations, you have to rely on some third-party tools. In this tutorial, we have shared multiple ways to do Kik recovery. And if you are looking for the best one, we recommend FoneLab iPhone Data Recovery and Android Data Recovery.