When you cannot access to Maxtor external hard drive, which worked fine previously?
If you turned on your computer and received the message that not accessible, the parameter is incorrect, how to fix this problem?

Users may encounter a variety of issues using external hard drives. The not-recognizing problem is one of the most common issues.
Don't worry! In this tutorial, we are going to tell you multiple solutions on how to fix Maxtor external hard drive can't be recognized. You can recover data from it within a few minutes after troubleshooting.
Part 1

: Maxtor external hard drive can't be recognized? How to fix

Maxtor external hard drive, also known as mobile hard drive, is a kind of storage devices with larger storage capacity. People usually use it to back up important files and transfer data between different devices. When it cannot be recognized by your computer, the solutions below could fix it simply.

Extended reading: How to fix flash drive not recognized?
Solution 1: Try another USB cable
When Maxtor hard drive not recognizing by computer, the first thing you should do is to check the USB cable that connects the external hard drive and your device. If there is damage or breakage, you can use another cable, the problem should disappear immediately.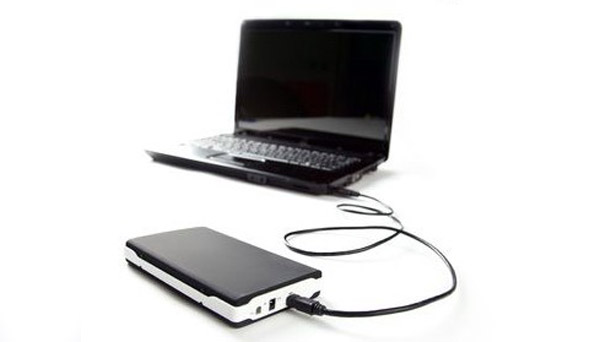 Solution 2: Give Maxtor Hard Drive another drive letter
If the drive letter of your Maxtor hard drive is the same with an existing hard drive, computer will refuse to recognize the external hard drive. The solution is simple: give your external hard drive another drive letter.
Step 1: Right-click "My Computer" on your desktop and select "Manage" on the menu bar to open the Computer Management window.
Step 2: Locate to the left pane, click "Storage" and then click the "Disk Management". All hard drives associated with your computer will show up, including external hard drives.
Step 3: Right-click on Maxtor hard drive and choose "change Drive Letter or Paths". Then select an available drive letter from the dropdown menu on the popup dialog. Click OK to confirm it.
Now, your computer should detect the external hard drive normally.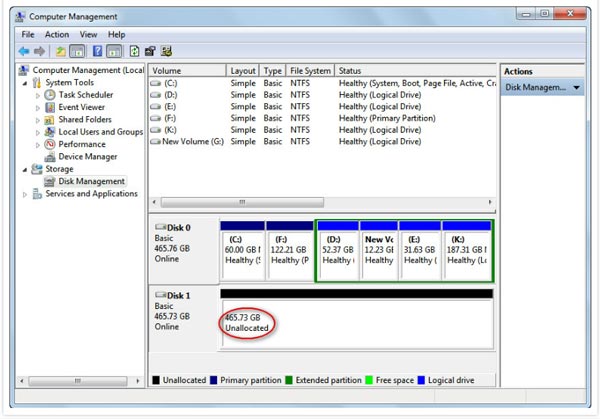 Solution 3: Update Maxtor drivers
Computers rely on Maxtor drivers to detect the external hard drive. If something wrong with the drivers, your external hard drive can't be recognized. In such cases, you can try up Maxtor drivers to date or reinstall it.
Step 1: Open the Computer Management windows, and find and click "Device Manager" on left ribbon.
Step 2: Click the external hard drive to expand it, right click the sub-entity and choose "Update Driver Software". Then Windows will search for and install the latest version of Maxtor drivers.
If the problem persists, try Uninstall the driver and reboot your computer.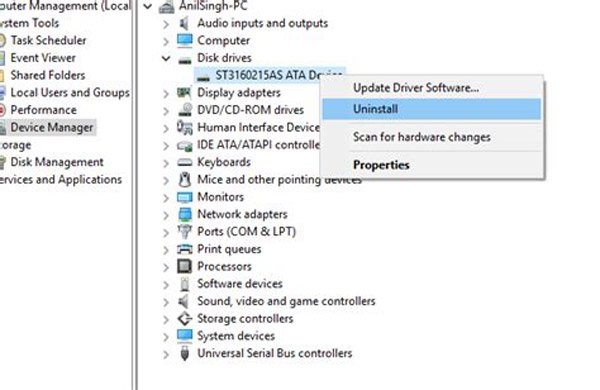 Solution 4: Troubleshoot with chkdsk
Chkdsk is the built-in hard drive check function on Windows, which is useful to get rid of Maxtor hard drive not recognizing issue.
Step 1: Go to the Start menu and run a command prompt as administrator.
Step 2: Enter "chkdsk [Maxtor hard drive letter]/f" and click the "Enter" key to execute the command. Wait for the process to finish, the problem should be fixed.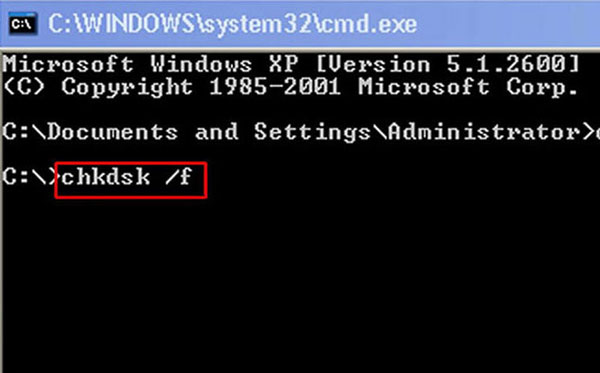 Solution 5: Format Maxtor Hard Drive
The last but not least solution is to format Maxtor Hard Drive. That could fix external hard drive not recognizing issue due to file system is corrupted or not supported by your machine.
Step 1: Find the external hard drive in "Storage" > "Disk Management" on Computer Management window. Right-click on it and choose Format to open the Format dialog.
Step 2: Unfold the dropdown menu next to "File System" and select a proper file system, like NTFS. Check the box of "Quick format" and click OK button to fix external hard drive not detecting.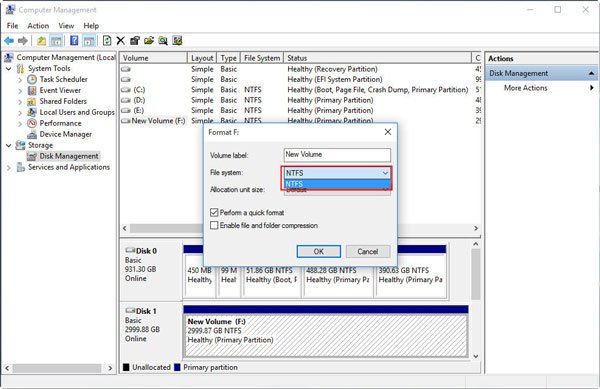 Part 2

: How to Recover Data from Maxtor Hard Drive

No matter which solution you use to fix Maxtor hard drive problem, you are facing the risk of data loss.

Fortunately, Apeaksoft Data Recovery could recover lost data on Maxtor drive. Its key features include:

1. Recover lost files from your Maxtor drive in one click.

2. Maxtor hard drive recovery in various situations, like accidental deletion, virus attack, software corrupt, or format.

3. Apart from Maxtor drive, other drive recovery, like flash drive, RAM drive, etc. are supported.

4. Support hundreds of data types and formats' recovery.

5. Restore deleted files in original format and quality.

6. Preview for selectively recovery.

7. Quicker, lighter and safer.

8. Available to Windows 10/8.1/8/Vista/XP, and the file systems, like NTFS, FAT16, FAT32, exFAT, EXT, etc.
How to Recover Data from Maxtor Hard Drive with Data Recovery
Step 1: Scan entire Maxtor external hard drive
Install the best Maxtor hard drive recovery tool on your computer, and launch it after repaired not recognizing problem. Select the data types to recover and choose the external hard drive in "Removable Devices" section. Click on the Scan button to let Data Recovery work.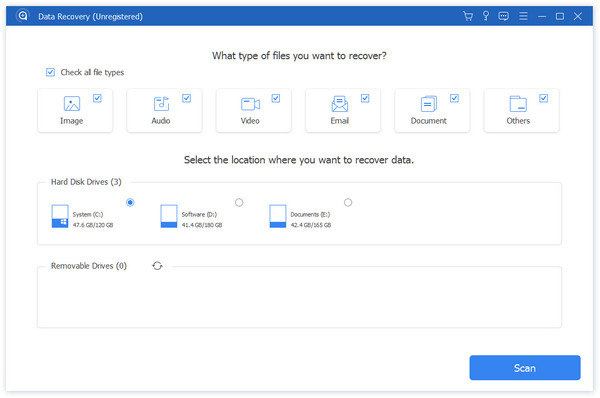 Step 2: Preview files before Maxtor hard drive recovery
When the result screen shows up, you can preview the files arranged by data types and formats. For instance, click on the "Audio" tab and then go to each folder to view recoverable audio files. To search for certain file, you can try the "Filter" feature at top ribbon. If you want to scan the hard drive deeply and get back more data, click on the "Deep Scan" button at upper right corner.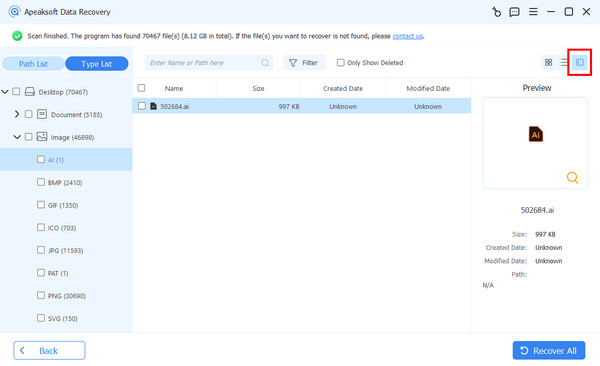 Step 3: Recover data from Maxtor hard drive in one click
Finally, select all files that you want to recover or entire folder, and click on the "Recover" button. When it is done, you can use your files normally.
You'd better save the recovered files to another location.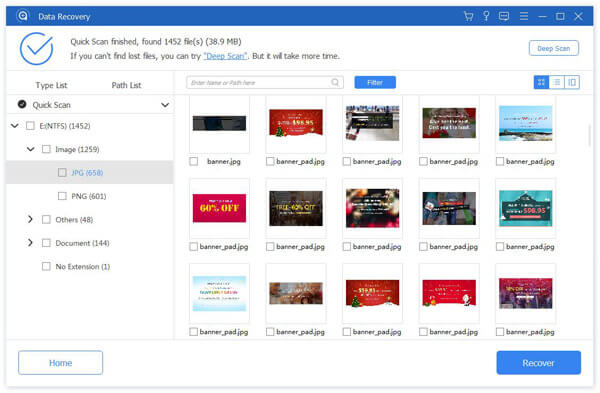 You may also want to know: Best Hitachi hard drive data recovery
Conclusion
Based on the introductions above, you might understand how to fix Maxtor hard drive not recognizing problem. We suggest you try the solutions shared in this tutorial one by one until the problem disappears. If your data on the external hard drive is lost, Apeaksoft Data Recovery is a simple way to recover data from Maxtor.
We wish that our guides and suggestions are helpful. If you have more questions related to Maxtor hard drive, please leave a message below this article.