Nowadays, almost every computer is protected by outstanding antivirus programs like McAfee. When McAfee detects that a file might contain a virus, it will delete it from your computer to prevent the virus from spreading. But are all the files cleared by the antivirus program malicious or infected?
Sometimes McAfee or other antivirus applications may mistakenly consider some useful and genuine files as malicious or infected, so your files could be deleted accidentally. Owing to this, many times some files being of great importance get deleted. Thankfully, there are two easy methods using which you can recover files deleted by McAfee on your computer. Let's start discussing them one by one.

Recover Files Deleted by McAfee Antivirus
Method #1. Restore McAfee Deleted files from Quarantine
When a file is identified by the heuristic scanner as being risky, it may not be deleted instantly. Usually, McAfee will quarantine the file in a place where items are stored in a secure folder to stop them from being used again. You can follow the steps below to try restoring McAfee deleted files.
Step 1
On the home page, click Navigation in the upper-right corner and choose Quarantined and Trusted Items.
Step 2
Then, hit on Quarantined Items or Quarantined Potentially Unwanted Programs to show the list of quarantined items.
Step 3
Finally, select and restore the files you wish to recover.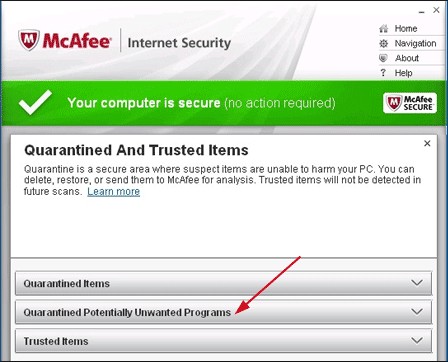 Method #2. Recover files Deleted by McAfee with Data Recovery Software
The files deleted by McAfee might not appear in the quarantined folder. If you turn to a professional data recovery tool for help, it's very likely that you can get back the deleted files from McAfee successfully.
While there are lots of data recovery tools available in the market, Apeaksoft Data Recovery software is the most professional data recovery tool that lets you retrieve files deleted by antivirus like McAfee, Kaspersky, Norton, etc., and even satisfies all kinds of data recovery requirements. You can also use it to recover all the popular files, including videos, photos, audio files, and more. On top of that, it can restore data lost in any scenario, such as accidental deletion, virus attack, system crash, etc.
Let's see how Apeaksoft Data Recovery restores McAfee deleted files:
Step 1
Launch Apeaksoft Data Recovery on your computer.
Step 2
In the main interface, select the file type and the hard drive from which you want to retrieve the file. Then, press the Scan button to start scanning.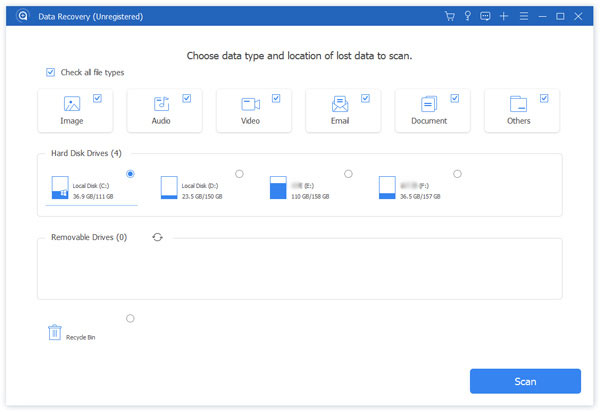 Step 3
From the scanning results, you can preview the file before restoring. If you can't find the McAfee deleted files, you can hit on the Deep Scan button in the upper-right corner to scan your computer completely.
Step 4
Then, checkmark the items you wish to recover and then click on the Recover button.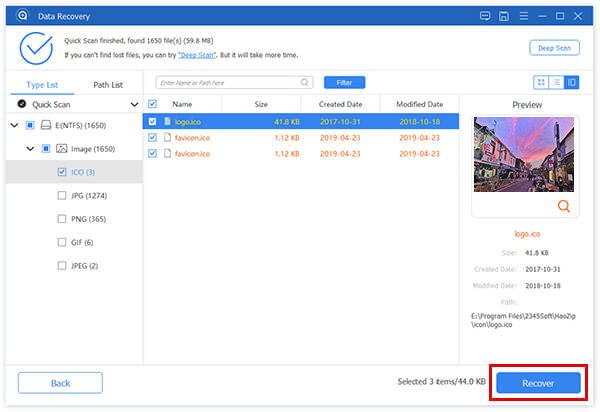 Then, you will be prompted to select the location to save the recovered files.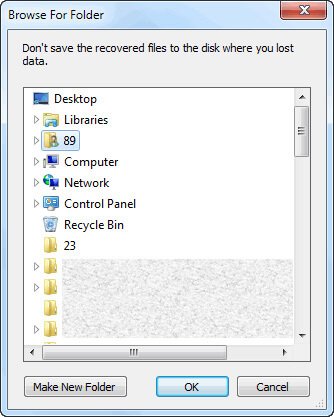 Once the recovery is over, the program will automatically open the folder where you save the recovered data.
Related: ZIP File Recovery – How to Recover Deleted ZIP Files
FAQs of Recovering Files Deleted by McAfee
Where are quarantined files stored in McAfee?
On the Home Page, click Navigation in the upper-right corner. Under Features, click Quarantined and Trusted Items. Then, you can click Quarantined Items or Quarantined Potentially Unwanted Programs to display the list of quarantined threats.
How to delete quarantined files and programs on Windows or macOS?
Click Quarantined and Trusted Items. Select specific items individually, or click Select all.
How do uninstall McAfee from my Mac?
To uninstall McAfee on Mac, you can check out this article for detailed steps: How to Uninstall McAfee on Mac Completely and Safely
Conclusion
That's all for recovering files deleted by McAfee. Do you think this post is useful? If yes, please share it with your friends and followers in order to help more people. If you have any problem, just leave messages in the comment section.