If you are using Outlook program on Windows 10, which works well usually, but popped up a message said Outlook can't open this set of folders when tried to open Inbox. What you can get might be some PST files or OST files.

As for the case, you have to recover PST file and get back emails.
If you are using an Outlook.com, Outlook 365, or Exchange account, your information is stored in an offline file ended with .ost or .pst.
Typically, it works for a long time without any problems, but sooner or later, these files may get corrupted or damaged. In result, you cannot access your Outlook account or emails normally.
In this tutorial, we are going to show you how to do PST repair.
Extended reading: When you suffer from email problems on iPhone, just read this post: How to fix email problems on iPhone.
Part 1

: What is PST?

As mentioned, a PST file is a professional file of Microsoft Outlook, containing all data in your Outlook when Exchange Server is not accessible. The PST file stands for offline personal storage, primarily used for local email data.

Like other digital files, PST files may be corrupted or damaged by bad sector, sudden interruptions during writing, virus attack and more. Once this happens, the PST file cannot be loaded as usual and you may lose your important email messages.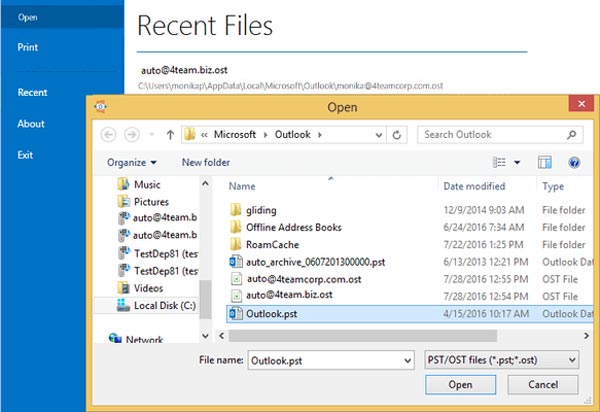 Part 2

: How to repair Outlook files (.pst and .ost)?

Fortunately, Outlook integrated a PST repair tool, Inbox Repair, to help users diagnose and repair common errors with PST files as well as OST files.
How to repair Outlook Data File (PST)
Step 1: Quit Outlook when you get the error message said PST file is corrupted. Open a File Explorer window and navigate to C:\Program Files (x86)\Microsoft Office\root\Office [version number].
Step 2: Type in "scanpst" into the search box and click "Enter" key to search for the free PST repair tool named "SCANPST.EXE". Then open it by double-clicking.
Step 3: Click the "Browse" button on the popup dialog, navigate the corrupted PST file on the Open dialog and click "Open" button. Hit the "Start" button and then the "Repair" button to begin fixing the corrupted PST file.
You'd better check the box of "Make backup of scanned file before repair" to avoid data loss furthermore.
Step 4: After the PST repair is complete, you can open your Outlook program, access your account and check emails normally.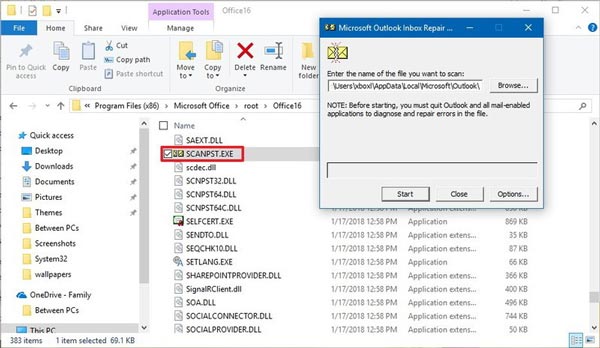 How to fix Offline Outlook Data file (.ost)
Since OST file is different with PST, the way of ost repair is very different with PST repair.
Step 1: Close Outlook, and open your "Control Panel". Go to "User Accounts" > "Mail".
Step 2: On the Mail setup dialog, click on the "Show Profile" button under "Profiles" section.
Step 3: Choose the profile that you want to fix, for example, the default profile is called "Outlook" in Outlook 2016. Then click on the "Properties" button, and then hit "Email Accounts" > "Data Files".
Step 4: On the Account Settings dialog, highlight the account to repair and click "Open File Location". Then close the Account settings, Mail Setup and Mail windows.
Step 5: Right-click on the corrupted OST file and choose "Delete". Finally, reopen Outlook app, it will create a new ost file for your account automatically.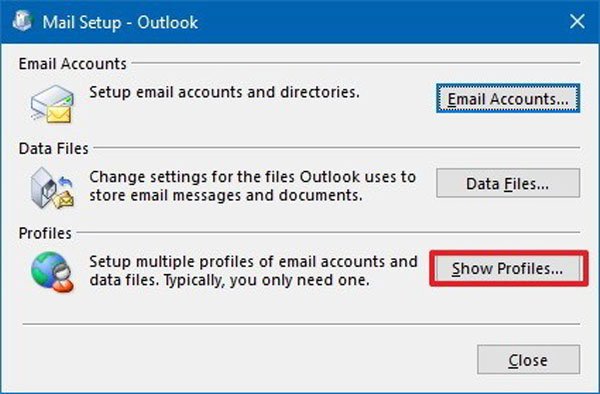 Part 3

: How to recover PST file

If you have tried the free PST repair tool and the problem persists, we recommend you to try Apeaksoft Data Recovery. It is one of the best digital file recovery tools with a lot of useful features, like:

1. Easy to use. This PST repair tool is able to restore PST files to last normal version in one click.

2. Recover PST files in various situations, for example it is damaged by mistake operation, accidental deletion, virus attack, system crash and more.

3. Lossless recovery. With the best digital file recovery application, you can recover PST file in original status.

4. Preview for selectively recovery. After scanning, you can look at all PST files organized by time and decide to recover all of them or specific items.

5. Quicker and lighter. This PST file recovery tool is lightweight and could retrieve corrupted PST files quickly and safely.

6. Moreover, Data Recovery is compatible with Windows 10/8.1/8/7/Vista/XP running on HDD and SSD.
How to recover PST file with Data Recovery
Step 1: Scan entire hard disk to look for PST files
Download and install the best digital data recovery software on your computer. Open Data Recovery when your Outlook told you that the PST file is corrupted.
Go to the data type section on the home window and check the box on the "Email" option. If you want to recover deleted photos, just click tick "Image" option.
Then head to the location section and choose which destination you want to recover. In this case, it is usually "Local Disk C". Once click on the "Scan" button, Data Recovery will work automatically.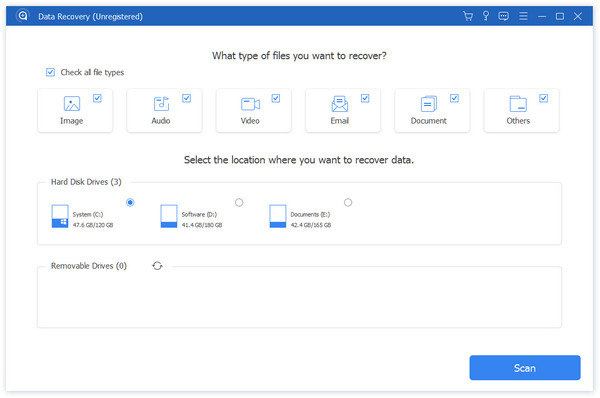 Step 2: Preview before recovering PST files
After the scan is complete, you will be taken to the result window. Here you can look at all PST files recoverable.
Click on the "Email" option on left hand column, several folders named PST, DBX, EMLX and more show up on right pane. Go to the PST folder to search for the PST file that you want to recover.
If you cannot find it, the "Filter" feature at top of the window is able to locate the desired file fast.
Plus, the "Deep Scan" function at upper right corner is used to perform a deep scanning on the disk and recover more files.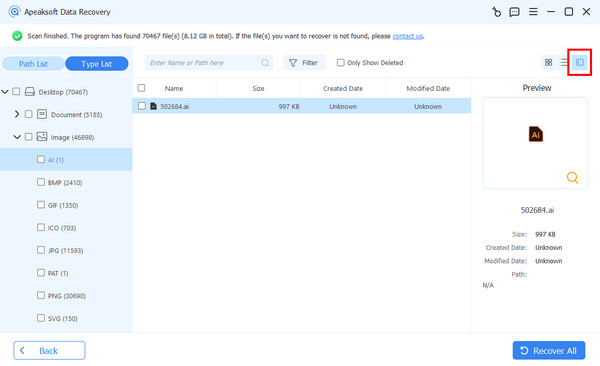 Step 3: Recover PST files in one click
Finally, select all PST files that you'd like to recover or entire PST folder, and click on the "Recover" button. When the process is finished, you can open the Outlook app to check if the PST files work fine.
You'd better save the recovered PST files to another location to avoid data overwriting.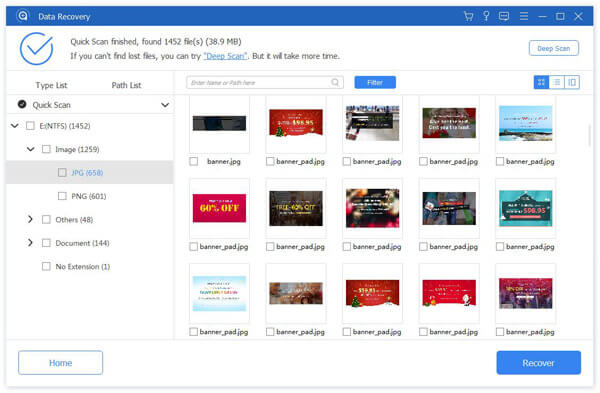 Conclusion
Many people are using Outlook app on their computers. It uses PST and OST files to store your emails, calendars, contacts and other items, so you can access the information without an internet connection. But your emails will be gone as soon as PST files are damaged.
In our tutorial, we have told you how to do repair PST. If the built-in free PST repair tool is not valid, you can try Apeaksoft Data Recovery. It is more powerful on recovering PST files.