If you delete an application of great importance, you can download and install the program again to restore. However, how about restoring App data that has been deleted?
iCloud backup might be the solution.
This page shows you 2 easy ways to restore app data from iCloud, iOS 12/11 supported.

Part 1. How to restore app data and organization from iCloud (Data overwrite)
Restoring Apps from iCloud makes it easy for you. In a fine Wi-Fi condition, you can extract all backup Apps from iCloud. Before that, here are series of things you should know.
Firstly, you need to know that if you want to restore your Apps from iCloud, you are expected to reset your devices, which means all the data, Apps, contents, settings in your iPhone must be removed. Then, make sure you have done a backup of iPhone recently. Finally, upgrade your iPhone version to the newest one before restoring Apps from iCloud.
1. Reset iPhone to remove all content
Step 1. Turn on your iPhone and direct to the "Settings".
Step 2. Drop down the page until the button "General" appears. Tap the "General" button and enter a new page.
Step 3. Almost at the bottom of the page, tap the "Reset" button.
Step 4. Here exists an option of "Erase All Content and Settings". Tap the option to reset iPhone to the factory settings.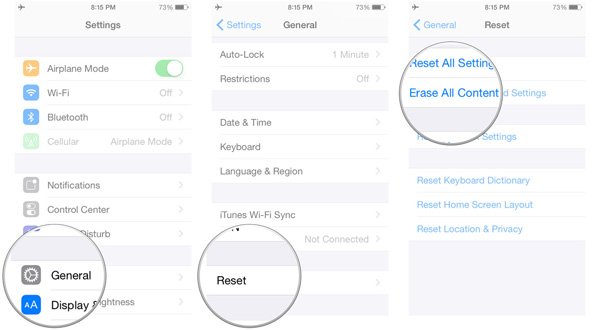 2. Restore Apps content from iCloud
Step 1. Find the "iCloud" icon in your screen. And then tap the icon to launch iCloud.
Step 2. Insert your Apple ID and password, then log in with your own account, which you have backed up iPhone Apps in. (iCloud password forgot? Here are solutions.)
Step 3. In the interface, you can see the option "Restore from iCloud Backup". When enter a new interface, there are restorations you have done before. Choose the iCloud backup you want to restore according to the data, and hit "Restore" to restore all data including App content from iCloud.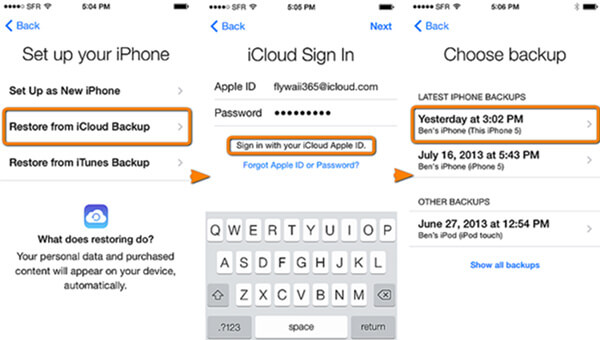 In this way, you will easily restore your app data, app on Home screen, and app organization to your iPhone.
Why cannot restore apps from iCloud?
Because iCloud backs up app data, instead of apps themselves. Check the details here to see what data iCloud backup.
The first free method is using iCloud to restore all data, including app data and overwrite the existing data with the whole iCloud backup.
For avoiding such inconvenience, you had better use the second method.
Part 2. How to restore (single) app data from iCloud without erasing data
The second method is recommended way to restore app data from iCloud with Apeaksoft Data Recovery.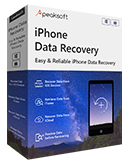 4,000,000+ Downloads
Recover single app or the whole app data from iCloud backup.
Save app data from iCloud to computer without overwriting files on iPhone.
Preview app data (photos, videos, audio, WhatsApp, etc.) before restoring.
Compatible with iPhone XS/XR/X/8/7/6/5/4, etc. running in 12/11.
How to Restore App Data from iCloud Backup with iPhone Data Recovery
How to restore App data from iCloud? The section takes data from WhatsApp for example. Just learn more details about process as below.
Step 1. Download and install the iPhone Data Recovery on your PC. Then launch the program and connect iPhone to the computer. The program is able to recognize iPhone automatically.
Step 2. At the left column, you will see 3 different restore modes. Click the "Recover from iCloud Backup File" button, and then fill in your Apple ID and password to log in your iCloud account.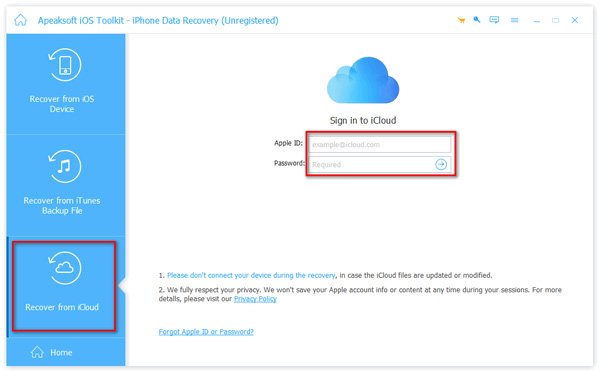 Step 3. All the iCloud backup files will be listed on the screen. Then you are free to choose the one you want to recover to your mobile device. But now, we choose the one including the data of WhatsApp. When your choices finish, click "Download".
Step 4. Before restoring, you can choose the format of those data by yourselves. That's to say, if you want to recover the data of WhatsApp from iCloud, you only need to choose the format of text messages.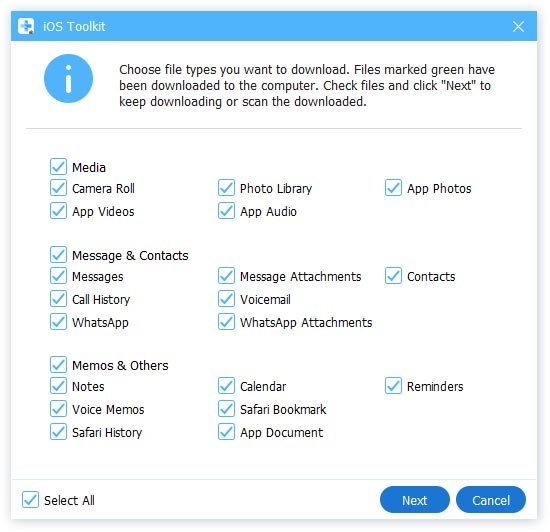 Step 5. Then, the program will search out what you have backed up previously, which will be listed on the left column. Since you are going to recover the data of WhatsApp from iCloud, just choose "Messages". Whether the deleted ones, or the existing ones, all data will be shown. Of course, you can view details of the messages by clicking them. It also enables you to recover notes from iCloud.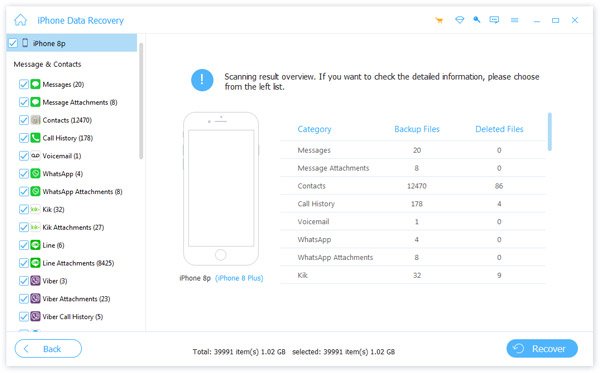 Step 6. Click all the data you want to restore to your device. Click the "Recover" button, and find a folder to save your data temporarily. And now you can retrieve the App data content from iCloud.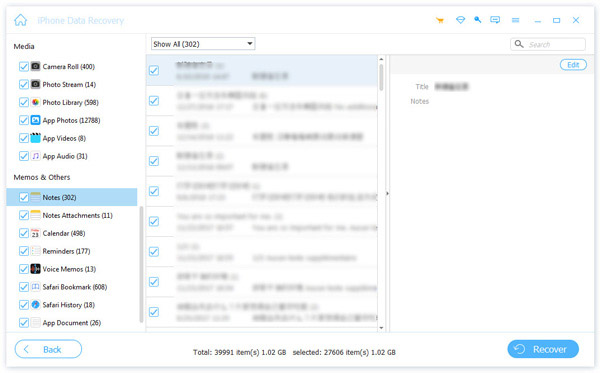 Part 3. FAQs of Restoring Apps Data from iCloud on iPhone
1. Why need to restore apps from iCloud?
Your iCloud account is used for iCloud Backup, apps and another data. If you have backed up your apps with iCloud, you can easily download them on a new device or restore them on an existing device like iPhone, iPad, iPod touch, Mac, PC from iCloud backup.
2. How to transfer all data and apps from old iPhone to new iPhone?
You can transfer apps to new iPhone with iCloud or iTunes. Or you can choose to use iPhone to iPhone transfer app that allows you to transfer apps from one iPhone to another directly without transferring other unwanted files or going through the set-up process. That's what Apeaksoft iPhone Transfer can do.
3. How do I backup app on iPhone?
You can backup iPhone apps with iTunes. After logging in iTunes, you need to use a USB cable to connect iPhone to computer. Click "Device" from the "File" drop-down menu on the toolbar. Choose "Transfer Purchases from …" to access all your iPhone apps in iTunes. Then, choose the iPhone applications you want to move to iTunes Library, then select "Show in Finder". Create a new folder to save backed up iPhone apps. And then you can repeat above steps to backup iPhone apps using iTunes on computer.
4. How to clear app data on iPhone?
For clearing app data on iPhone, you can choose to uninstall and reinstall apps to remove unwanted app data. You just need to tap on the app which you want to delete, hold on until the "×" appear, tap on the "×" and you'll be able to delete the app.
Conclusion
App restoring can be easily done by re-downloading apps from App Store. For app data recovery, you can use iCloud to restore all data including app files to iPhone directly. Surely you have to bear data overwritten on your device. If you want to restore single app data selectively without cleaning the existing files on iPhone, just use Apeaksoft iPhone Data Recovery to achieve the goal conveniently.