If you want to transfer pictures from Android phone to computer, you might not see any picture in the DCIM folder after connected my phone to the computer. What should be the problem for the case? If you have an Android phone, you may have viewed the DCIM folder in File Explorer.

Though many people manage their pictures in DCIM, they do not know what DCIM is and what the function is. Considering that more and more people use Android phone, we are going to talk about DCIM on Android and tell you the necessary knowledge about it.
Part 1

: What Is a DCIM Folder

DCIM, stands for Digital Camera Images, is used to store the images take by digital cameras on Android phone by default. Generally speaking, there is a DCIM folder in Android phone internal memory. But if you decide to save your pictures to SD card, Android will create a DCIM folder on it automatically and save pictures organized.

In addition to store images, some photo library programs are able to detect DCIM Android folder and sync pictures between Android phone and computer, like Windows Photos app.
Part 2

: How to Make Empty DCIM Folder Visible

We found that some people reported they did not see any pictures in the DCIM folder when transferring images between Android and computer. In most cases, that is because of incorrected operations. And in this part, you can learn how to make empty DCIM folder visible.
Situation 1: The DCIM folder on Android is empty
Step 1: Disconnect the Android phone and your computer. Go to the "Settings" app from App Tray and turn on the "USB Debugging" mode in Develop Options.
Step 2: Connect your phone to your computer with a good USB cable. Make sure to keep your Android phone unlocked, your pictures should show up in the DCIM folder.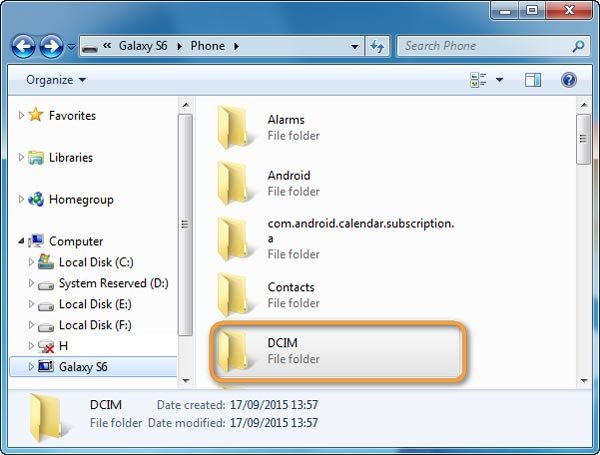 Situation 2: The DCIM folder on SD card turns to empty
Step 1: Pull off the SD card from your computer when the DCIM folder is empty. Make sure to unlock the SD card if it has a lock key. Insert it into your PC again.
Step 2: Hold Win + R to start Run dialog, input "CMD" and click "Enter" key to open a command prompt window. Then execute the command "chkdsk [SD card drive letter]/f".
Step 3: When the process complete, open the SD card, your pictures should become visible in DCIM folder.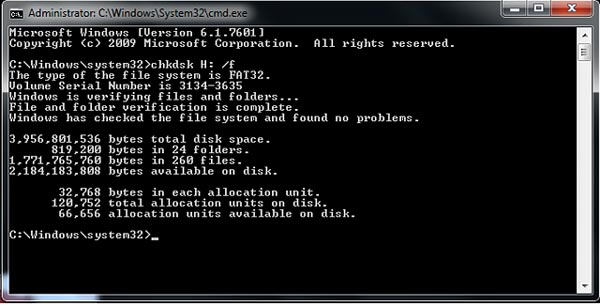 Part 3

: How to restore lost pictures in DCIM Folder

If you just discover that several pictures not find in the DCIM folder, it means they are corrupted. In such cases, you will need a professional DCIM recovery application, such as Apeaksoft Data Recovery. Its key features include:

1. This DCIM recovery tool is able to restore lost pictures from your DCIM folder in one click, so even beginners could grasp it in a few seconds.

2. Picture recovery in various situations, such as mistake operation, accidental deletion, virus attack, file system corruption, or SD card format.

3. Support a variety of picture format, like JPG, ICO, PNG, BMP, GIF, PSD, TIFF, RAW, etc.

4. With the best DCIM folder recovery application, you can restore images in original conditions, format and quality.

5. After scanning, users are allowed to look at all lost pictures organized by formats and decide to recover all of them or several specific ones.

6. Quick, lightweight and recover pictures without leaking privacy.

7. Moreover, Data Recovery is compatible with Windows 10/8.1/8/Vista/XP and all file system, like NTFS, FAT16, FAT32, exFAT, EXT, etc.
How to restore lost pictures in DCIM Folder
Step 1: Look for lost pictures in DCIM folder
Download and install the best DCIM recovery software on your computer. Make sure to connect your Android phone or SD card to the computer too.
Open Data Recovery, you can see two parts, data type and location. Go to the Data Type area and select "Image" option by ticking the checkbox on it. Then head to Location area and select your phone or SD card under "Removable Drives". If you are ready, click on the "Scan" button at bottom right corner to scan the DCIM folder to look for lost pictures.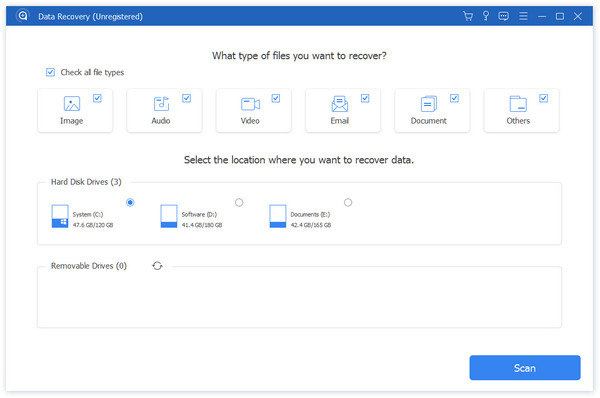 Step 2: Preview pictures before DCIM folder recovery
After standard scanning, you will be taken to the result screen with lost pictures in DCIM folder. Click on the "Image" option on left navigation bar, several folders named JPG, ICO, PNG, GIF, and more on right pane. The "Filter" feature at top ribbon could help you to find the picture that you want to recover quickly by key words.
If you cannot find the desired pictures, click on the "Deep Scan" button at upper right corner. It will take longer time to scan the DCIM deeply and find more recoverable pictures.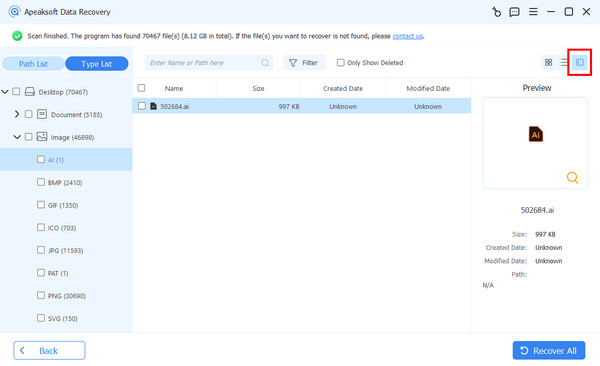 Step 3: Restore lost pictures in DCIM Folder in one click
To restore lost photos in DCIM, you can check the box in front of each picture that you'd like to recover. Click on the "Recover" button to start restoring DCIM folder.
When it is done, press the "Open Folder" button on Recovery Finished window to open the destination. Then you can view, copy and paste, or edit your pictures as usual.
Data Recovery does not have limitations on the number of pictures to recover. According to our testing, it is able to restore hundreds of pictures at one time within a few minutes.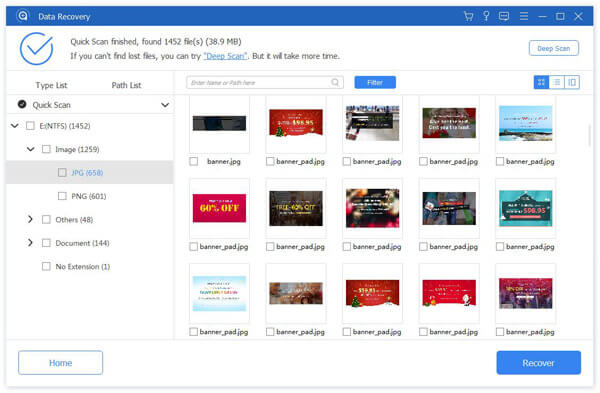 Part 4

: FAQs of Restoring DCIM Folder

Where are pictures stored on my Android phone?

The photos taken on Camera are stored on memory card or phone memory. You can find your photos in the DCIM folder.

How do I open a DCIM folder?

You need to connect your Android phone to a computer with a USB cable, and then find DCIM folder and double-click it to open.

How to fix DCIM folder shows empty on the computer?

When you find that DCIM folder shows empty on the computer, you can use Apeaksoft Data Recovery to help restore the lost pictures from your empty DCIM folder.

Can I recover deleted DCIM folder from Android phone?

You need to make use of a file data recovery tool to help you out. Apeaksoft Data Recovery is a good option to let you recover deleted DCIM folder.
Conclusion
As manufactures improve camera technology on smartphone, people are more likely to take photos with Android phone. When transferring pictures between Android and computer, some people encountered problems, such as their DCIM folder became empty. Therefore, we shared how to make DCIM recovery in the tutorial above.
Now, you should know that DCIM is a dedicated folder to store the images captured on Android phone. And the reasons that lead to DCIM working abnormally are complicated. Fortunately, this problem is usually caused by software issue but not hardware. And you can try the professional DCIM folder recovery tool, Apeaksoft Data Recovery. If you have more questions related to DCIM, please leave a message below.