As we send and receive messages through our phones frequently, we are expected to backup important apps, text messages, photos, videos and documents in our phones in case that our iPhone will get lost, damaged by accident or for other unexpected reasons. Why we didn't backup our personal data before? How can we recover important text messages? Actually, using iCloud service to get back deleted text messages is a good idea. Here, I will introduce you two ways of retrieving text messages from iCloud. And at the same time, I am going to recommend iPhone Data Recovery to help you. I hope this passage will solve your emergency situations.
Part 1

. How to Restore Text Messages from iCloud Directly on iDevice

Actually, most people don't like using a third-party app to help restoration. So, first I will introduce the method of retrieving text messages from iCloud directly on your iPhone. However, you should know about the drawback of this solution – before restoring, you must reset your device into factory default, which will cause the losing of all your data. Therefore, you'd better backup all important data and files ahead. Once you finish backing up, just follow steps below to retrieve text messages directly from iCloud on your iPhone.

Step 1. Turn on your iPhone and direct into "Settings". Drop down until the "General" appears, tap it.

Step 2. Find the "Reset" and enter it. On the top of the new page, you will find "Erase All Content and Settings", click it.

Step 3. Then there will be an interface for you to insert your password, use which you can unlock your iPhone.

Step 4. Hit "Erase iPhone" on the bottom of the page to finish it. What you have to do now is to wait for a few minutes. Once it is finished, you will be reminded.

Step 5. Back to the home page to start retrieving work.

Step 6. You will be asked to choose the language, region and network for your reset iPhone just like you first got this iPhone.

Step 7. Then the "Apps & Data" page will be shown, choose the first option "Restore from iCloud Backup".

Step 8. Of course, you are asked to fill in your Apple ID and password of your own iCloud. Pay attention that this account should be what you used before.

Step 9. Click "Choose Backup".

Step 10. Insert your backup data that must be the data on which you want your text messages are.

Step 11. Start retrieving text messages and wait for some time.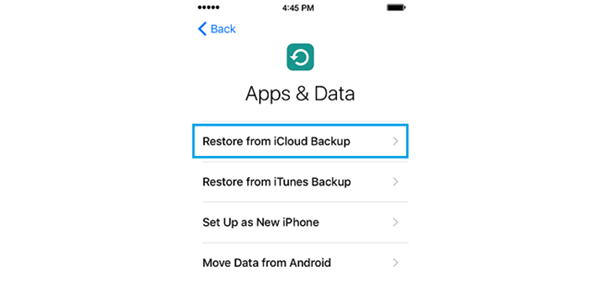 After so many steps, your text messages will be back finally. Remind you again, when using this solution to retrieve text messages from iCloud on your iPhone, backup your other important data first.
Part 2

. How to Retrieve Text Messages from iCloud Backup without Reset

Having read the method above, the drawback of restoring text messages from iCloud directly on iPhone must upset you. Is there a solution without erasing all the data on your iPhone? Of course, iPhone Data Recovery can help you.

iPhone Data Recovery is a powerful and professional data recovery which is highly compatible with your iOS devices. With it, your photos, videos, apps, text messages can be selectively backed up onto your iCloud easily. Whether your device is stolen, damaged, reset or you delete important data, forget your password, iPhone Data Recovery offers perfect services to retrieve data. You don't have to worry about you are an amateur as it has a clear interface and instruction. All steps are easy and the whole process is time-saving. Then, I will list main steps of how to retrieve text messages from iCloud on your iPhone with iPhone Data Recovery, most importantly, without resetting your iPhone.

Main features:
1. Provides services of retrieving and exporting various kinds of missing data.
2. Highly compatible with iOS devices.
3. Clear and instructive interface.
4. Enable to preview of chosen data.
5. Fine application for restoring photos, videos, text messages, mails, auto files and apps.
Here are steps of how to retrieve text messages from iCloud with iPhone Data Recovery:
Step 1. Download and install iPhone Data Recovery on your computer, then launch it.
Step 2. There are 4 options on the left column of the interface, choose he "Recover from iCloud Backup File" with a cloud icon.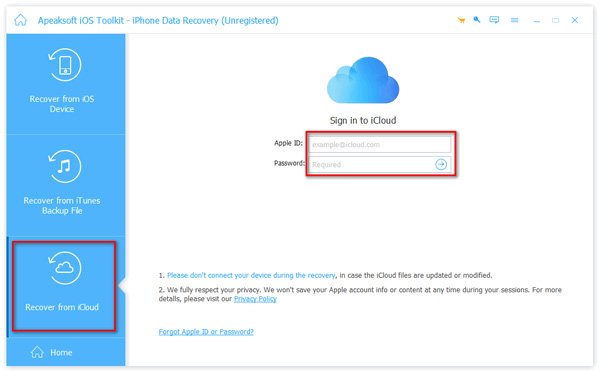 Step 3. On the right side of the interface, you are asked to tap your Apple ID and password into the blanks. And then enter the next page.
Step 4. Then on the right side, there is a list of details about your backup information. The iPhone Data Recovery enables you to select your desired data. On right side of every item, there is a "Download" button. Here we choose all text messages and click "Download". Wait for a few minutes.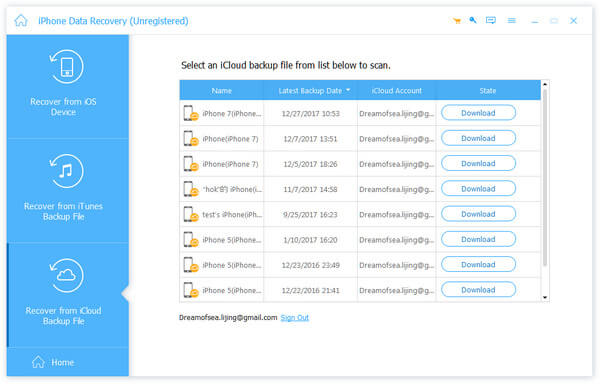 Step 5. On the left side, tap "Messages" below the "Message & Contacts" column. Click all the text messages you want to retrieve and tap "Recover" to finish retrieving text messages from iCloud on your iPhone. Here you may also want to get more iOS data recovery tools.
Conclusion
With the 2 methods above, you can restore text messages from iCloud on your iDevices with ease. And I want to remind you the importance of backing up data on your iPhone or other devices. As we take pictures, editing documents and interact on social apps, more and more important and private data are stored on our phones. However, the safety of our mobile devices can be really disappointing sometimes. So, we had better back up our data before something bad happens.