"Is there any way to recover lost data from SSD hard drive? I notice that some important files are deleted by accident and I want to get them back. Any help?"
It is true that, SSD data recovery is a topic that many common users do not know much about. When you face some data loss situations on SSD, you may have no idea how to get them back.

In this post, we are going to tell you all necessary knowledge about SSD drive recovery, such as what is SSD, whether it worth to invest, how to make data recovery from SSD hard drive, and how to avoid data loss on SSD.
Part 1

: What is SSD

SSD, also named as solid state drive or solid state disk, is a storage device that uses integrated circuit assemblies as memory to save data persistently. Similar to traditional HDD, an SSD does functionally everything a hard drive does, but data is stored on interconnected flash memory chips rather than metal platter with a magnetic coating. So, when read and write data on SSD, there is no actuator arm that has to move across a spinning magnetic platter or any other moving parts. Once you delete the files from SSD by accident, you should know the method to recover data from SSD hard drive.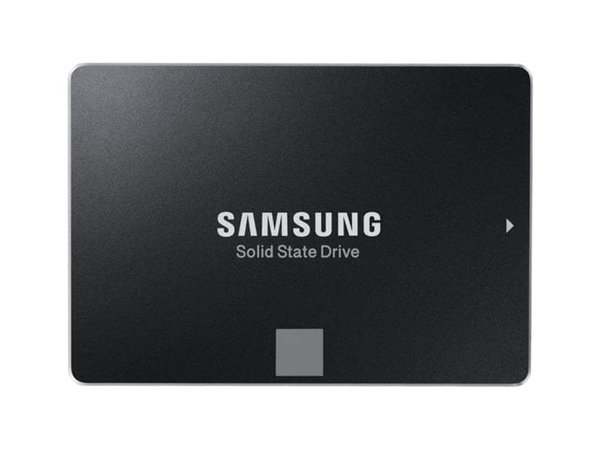 Part 2

: Why SSD drive so popular

Most laptop manufacturers have equipped SSD drive into their products to catch up customers' new demands. And there are a number of reasons why SSD drive is so popular, such as:
1. Today, it is more convenient than ever before to carry a computer here and there since laptops become thinner and lighter. And that is one of the advantages of SSDs, which is much smaller and lighter than HDDs. This saves space for laptops to include other hardware and reduce weight and size.
2. Moreover, having a storage device that is not disrupted by bumps is a huge boon. HDDs with moving parts can be damaged; while SSDs are far less likely to be affected by impacts.
3. As mentioned before, SSDs do not moving any components when reading and writing data, so it requires less power and your laptop battery could last longer.
4. Though the differences in speed opening applications on your laptop might be minimal, using an SSD to boot the latest version of Windows will significantly cut time spent twiddling your thumbs.

In short, SSD has more benefits than HDD, but the storage capacity is usually smaller than HDD, and the price is more expensive. Just check out the comparison between HDD and SSD in order to get a detailed benefits for SSD hard drive.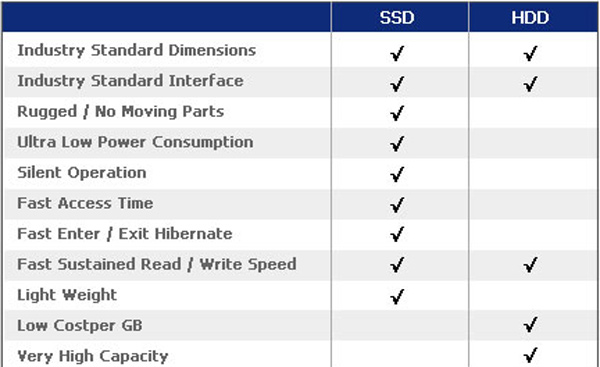 Part 3

: How to recover deleted or lost files from SSD

Is the data deleted from SSD can be recovered? The answer is simple, yes, and there are several options to get SSD data recovery.
Preparations for SSD recovery
First of all, in order to prevent the data from being overwritten, when you found that important files were erased from SSD drive, you should stop the activity you are doing. And then remove and disable Trim on SSD drive in advance if you have turned it on.
Step 1. Open a Command Prompt window as Administrator.
Step 2. Type "fsutilbehavior query disabledeletenotify" into the command window and press the Enter key to perform it.
Step 3. Then input "fsutil behavior set disabledeletenotify 1" and hit the "Enter" key to complete the operation.
Now, you have three options related to SSD drive recovery, get back lost files from Recycle Bin, purchase a SSD recovery application, or recover SSD data with online services.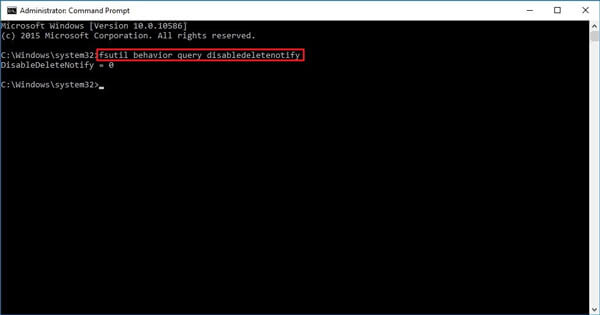 Option 1: Recover deleted SSD file from Recycle Bin
The easiest way of SSD file recovery is your Recycle Bin. Both Windows 10 and Mac OS X/11 would save your deleted files to Recycle Bin until you remove them again manually. If you just delete your files from SSD drive by accident, there are chances that they go to your Recycle Bin. All you need to do is to restore them from Recycle Bin to original location.
How to recover deleted SSD file from Recycle Bin
Step 1. Go to the Recycle Bin from your desktop, which is usually marked with a recycle bin icon. Here you can view all the files you deleted with file names and other information. Remember that these files are not openable in Recycle Bin.
Step 2. Select the SSD file that you want to recover. If there are multiple files to recover, hold the "Ctrl" key on Windows or "Cmd" key on Mac and highlight desired SSD files.
Step 3. Right click on the selected files to pop up the menu bar and click on "Restore". Next, navigate to the original destination, you can find the lost SSD files back.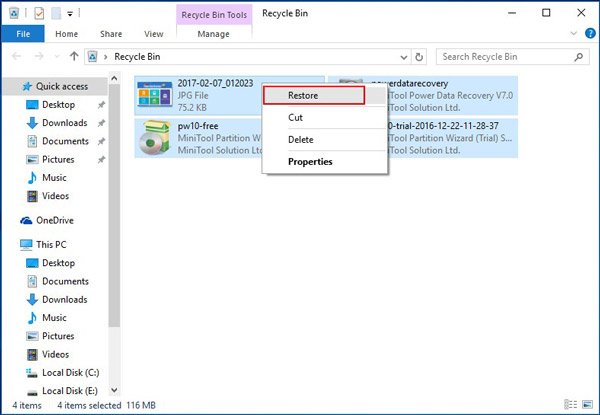 Option 2: Recover lost files from SSD with SSD recovery software
If you cannot find your lost SSD files in Recycle Bin or the files are deleted by format, virus attack or failed SSD drive, professional SSD recovery software is an option to get back your lost data, such as Apeaksoft Data Recovery. Its main features include:
SSD data recovery can get back lost files in one click, so even novices could grasp it in a few seconds.
No matter your SSD data lost due to mistake operation, accidental deletion, virus attack, system crash, or hard drive format, it could recover them.
It works for all image, video, audio, document formats, and other files, such as JPG, PNG, BMP, GIF, PSD, TIFF, RAW, MP4, MP3, etc.
With the best SSD recovery application, you can restore lost files in original conditions, like format and quality.
After quick scanning, you can check all lost files organized by categories and decide to recover all of them or specific ones.
SSD drive recovery is lightweight and can restore lost files quickly and safely. It could work offline to guarantee your privacy.
Compatible with Windows 10/8.1/8/7/Vista/XP, and available to do SSD recovery with the file system NTFS, FAT16, FAT32, exFAT, EXT, and more.
Download for Win
Download for Mac
How to recover data from SSD drive with Data Recovery
Step 1. Scan entire SSD drive to look for lost pictures
Download and install the latest version of SSD Data Recovery on your computer. Launch it when you found important files disappeared from your SSD drive. On the home interface, you will face two sections, data types and locations. Make sure to check the box on the data type you are looking for, such as Image, Video, and more, and select the destination where your lost files saved originally, like hard disk, flash drive or other removable device. Then click on the "Scan" button to initiate searching for recoverable files on SSD drive.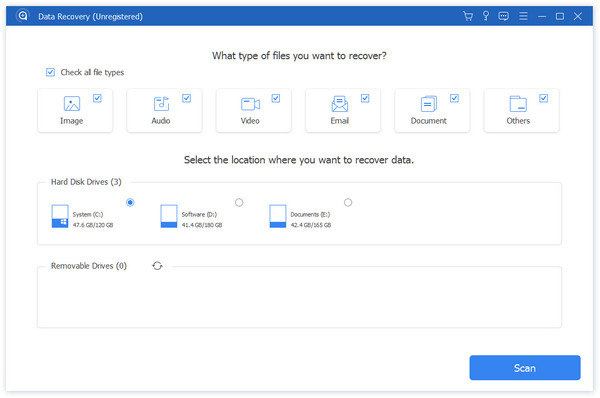 Step 2. Preview before SSD drive recovery
When you are taken to the detail window, types and formats will organize the recoverable files. For example, click on the "Video" option on left hand column; you will get several folders titled with video formats, like MP4. If you are not sure, check each folder and preview video files. The "Filter" feature at top ribbon could help you to find deleted files that you want to recover quickly by inputting keywords, like title.
If you cannot find the lost files, click on the "Deep Scan" button at upper right corner.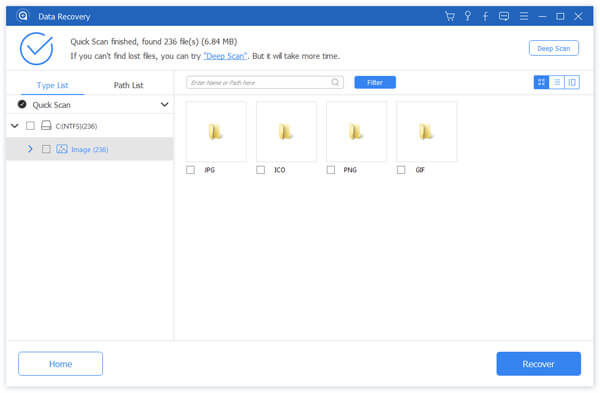 Step 3. Data recovery from SSD hard drive
To recover lost files, you can check the box in front of the file title or select entire folder contains the desired files. If you are ready, you can click on the "Recover" button to start the process. When it is complete, hit the "Open Folder" button on Recovery Finished window to open the folder stored the recovered files. Then you can browse, copy and paste, or edit your files as usual.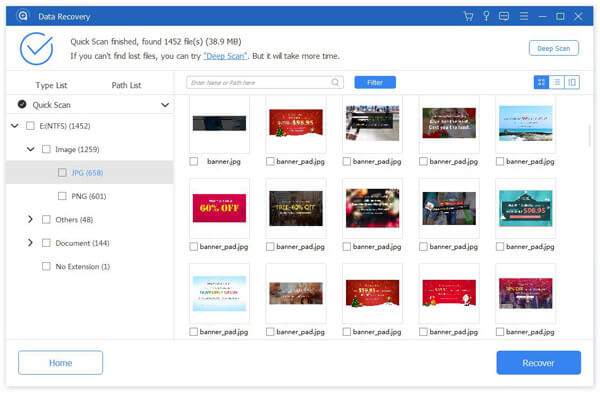 You may also want to know how to recover deleted data from SD card.
Option 3: Recover SSD data by online data recovery services
Another option of data recovery from SSD hard drive is online data recovery service, such as Secure Data Recovery, SalvageData Recovery, DriveSavers, etc. They are able to recover data from SSD drive, which is lost due to a variety of factors, such as delete accidentally, format, or SSD failed.
SSD do not have any signs as they fail. When HDD fails, you may hear buzz or grinding noise that produced by slowly failing mechanical drive. But, when it comes to SSD failure, it simply no longer works without any warning.
At this time, you can access the SSD recovery website, fill out the online request form to make an order and mail your SSD drive to the service. Then the specialists will repair your SSD drive and recover SSD files. When it is complete, you can get back your SSD drive and lost files.
But, many people may wonder that are online SSD recovery services security. And someone are afraid of privacy leakage if put their SSD drives to wrong hands. So, you'd better use the trustable services.
Part 4

: Common causes of solid-state drive data loss

As you can see, it is not only difficult to recover data from SSD drive, but also an expensive task. So, it is worth to understand what causes SSD data loss.
1. Delete files by accident. Similar to HDD, many people have encountered the problem of data loss on SSD due to delete accidentally. Luckily, these lost files can be restored from Recycle Bin.
2. Physical or electronic component damage. Though SSD do not have moving parts, but the components do degrade from use over time, like all mechanical drives.
3. Bad sectors. As a manufactured product, material detects can be affected by the reliability of an SSD. The common failure points on a bad sector could cause data loss on SSD drive as well.
4. Memory wear caused by excessive overwrites.
5. File corruption generated by software or operating system errors. Malware, virus, bugs in operating system and other software issues could cause file loss on SSD drive too.
These problems are unexpected and may happen at any time, so we suggest you to back up your data on SSD drive to external storage devices or cloud services regularly. It cannot be denied that SSD is stronger than HDD, but it is hardware too. That means it could be broken and damaged as other hardware. To prevent from further SSD data loss, there are several tips you should follow, in addition to make backups.
1. Have anti-virus software on your computer and keep malicious programs, Trojan Horse, and virus off your SSD drive.
2. When you discover that data lost on SSD or important files disappeared, stop using it immediately. And follow our guides to get them back.
3. Keep your computer away from water, moisture, fire and other impacts. Always use your computer in a stable voltage environment. Sudden surges may cause damage to electronic components of SSD drive.
Conclusion:
Now, you should grasp the basic information about SSD drive, including what SSD is, the benefits of SSD drives, what you should do when data lost on SSD drive, and how to protect your SSD drive. To be honest, SSD is not a new technology. After more than a decade of development, it has become a major consumer product. As price reduces, many manufacturers have equipped SSD drive for their laptop products. However, SSD file recovery is still a new technology.
According to our survey, majority of computer specialists do not sure how to get back lost data from SSD drive. That is partly because SSD stores data and files with a special way. Most popular data recovery tools do not work for SSD recovery. Therefore, we shared some important information about SSD file recovery in this article. If you have more questions related to SSD, feel free to leave a message below.