The advent of smartphones and chat software has almost completely disrupted the way people communicate with other people. As a classic chat software, WhatsApp is quite widely used. But some features may not be so easy to figure out. It's easy for people to accidentally delete important messages when organizing or going through their message history. After this happens, your first reaction may be scrambling to find the missing messages.
To help you get out of this dilemma of conversion, this article will provide you with detailed tutorials and the best tools to help you recover deleted WhatsApp messages. We hope our content can help you.

WhatsApp Recovery
Part 1. How to Recover Deleted WhatsApp Messages on iPhone
If you are an Apple user and want to retrieve and see deleted WhatsApp messages on your iPhone, we highly recommend you try Apeaksoft iPhone Data Recovery. It guarantees a smooth recovery of lost files on your iOS device, including pictures, notes, contacts, WhatsApp messages, videos, app data, etc. Whether your device is broken, the system crashed, or factory reset, iPhone Data Recovery can help you solve the problem. It can even find lost files from iTunes and iCloud backups. If you think recovering all deleted or lost files is too slow or takes up too much space, you can use this tool to preview the lost files first and choose precisely those you want to recover.
Here are the detailed steps.
Step 1 Get the software
Download and install Apeaksoft iPhone Data Recovery on your computer. Link your device to the computer via a USB cable. Set on your phone to let it trust your computer.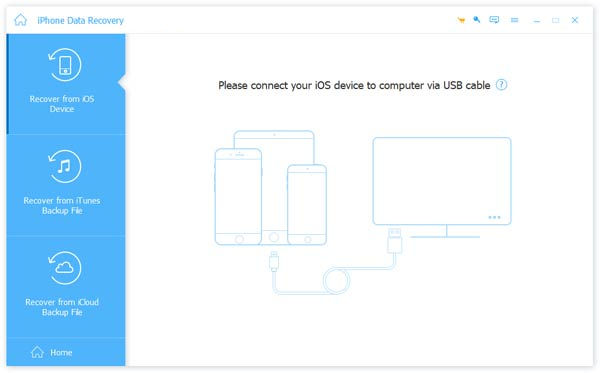 Step 2 Search for WhatsApp messages
Press Start Scan, then iPhone Data Recovery will begin to search for all lost data on your iPhone with an advanced algorithm. Select WhatsApp and WhatsApp Attachments to display all deleted and lost messages on the page.
Step 3 Recover Deleted Messages
Tick the box next to the messages you want to recover, then click Recover. Choose a folder to save those retrieved messages and press Recover again.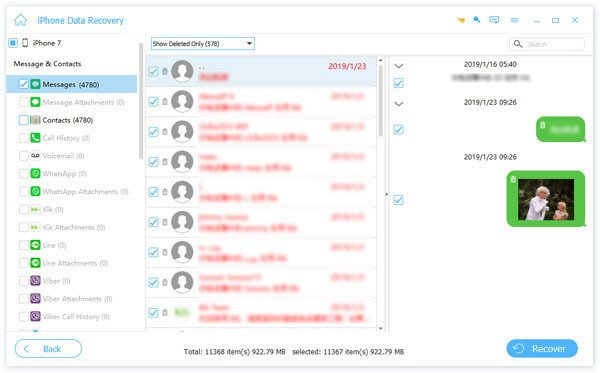 Part 2. How to Retrieve Lost WhatsApp Messages on Android
If you are using a device with an Android phone, we have the right solution for you as well. Apeaksoft Android Data Recovery will be your best assistant to help you restore deleted WhatsApp messages without backup. This tool is compatible with more than 5,000 types of Android devices, so you don't need to worry about model mismatch. Being a user-friendly software, you don't need to worry that Android Data Recovery will be complicated to operate. With the easy-to-read pages and the detailed step-by-step instructions we provide, you will recover corrupted or lost files easily and quickly. The existing data on your device will not be overwritten or lost during the whole WhatsApp recovery process.
Here is the step-by-step guide we provide.
Step 1 Download the software
Download and install Apeaksoft Android Data Recovery on your computer. Open it. Then connect your Android device to the computer via a lighting cable. Let the software recognize your phone.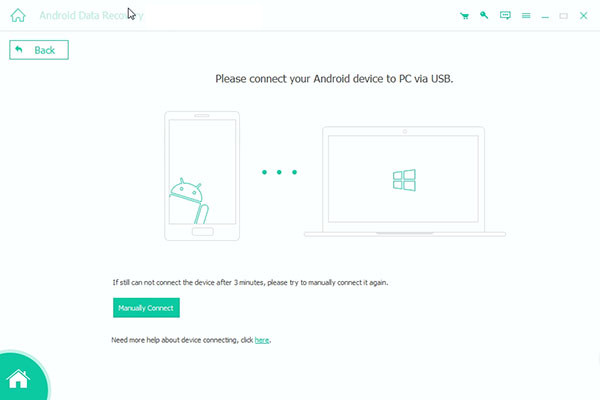 Step 2 Choose to recover WhatsApp
Open the USB debugging mode of your device. Tick the box in front of WhatsApp and WhatsApp Attachments, and press Next.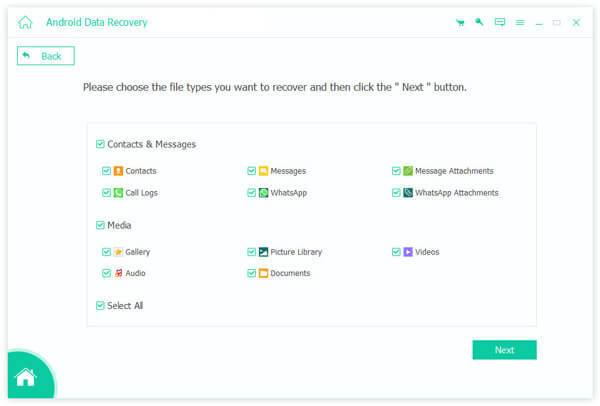 Step 3 Select the messages you want to retrieve, and choose Recover to complete the recovery of WhatsApp.
Part 3. Tips to Avoid Losing WhatsApp Messages
We believe the above two tools are enough to help you recover deleted WhatsApp messages. However, frequent recovery will surely take a lot of your time and effort, so you should take some measures to avoid messages being deleted or lost by mistake again. Backups are the most reliable method. We recommend you try one of the top transfer and backup tools, Apeaksoft WhatsApp Transfer, tailored for WhatsApp. This software can be applied for backing up WhatsApp chats, videos, photos, attachments, etc. And your data on WhatsApp can be transferred between iOS devices with it. With this backup tool, you can see your deleted WhatsApp messages directly in the backup history.
Here are its specific uses.
Step 1 Download and install Apeaksoft WhatsApp Transfer on your computer, then choose WhatsApp Transfer on the interface.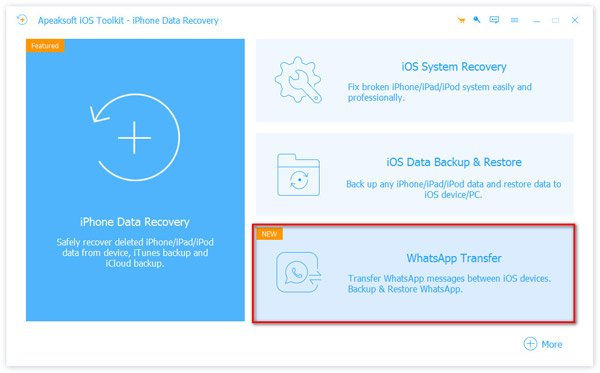 Step 2 Choose Backup on the new window to back up the data on your computer.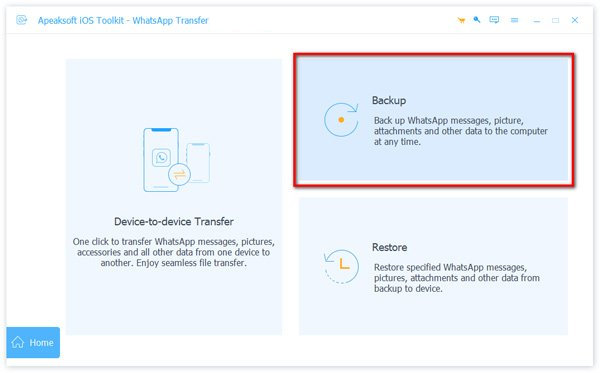 Step 3 Link your device to the computer with the lighting cable, and let your phone trust the computer. Choose the backup storage path by dropping down the list beneath Backup storage path.
Step 4 Click Start Backup. When the process is finished, you can click View backup list to check all the contents.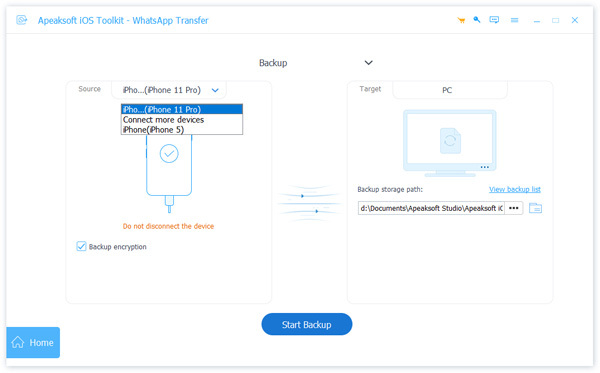 Part 4. FAQs About Restoring WhatsApp Messages
Can WhatsApp see my messages?
This application protects the user's right to privacy. During the chat, WhatsApp will not be able to see your messages or hear your calls. So you don't need to worry about the content of the chat being leaked.
Can I restore specific WhatsApp chats from iCloud?
Unfortunately, no. If you want to restore WhatsApp messages from iCloud, you can only recover all the information and cannot specify which one to recover. So, if you want to restore specific content, you can try to use Apeaksoft iPhone or Android Data Recovery to help you, which will allow you to preview the content of the messages and restore the desired files.
Can deleted WhatsApp messages be recovered by police?
If a user does not send a valid preservation request to WhatsApp officials before deleting a message, then they will not retain the deleted data for law enforcement purposes. During the delivery of a message, WhatsApp will not store a log of related messages or things that have been delivered. So even the police may have to use professional data recovery tools.
Can the other person see if you delete a chat on WhatsApp?
If you just delete the message on your end, the other party in the chat will not be affected in any way. They will still be able to see the messages on the chat window. They won't be notified either, so you don't need to worry about being found out. If you want to delete the message on everyone's device, you need to make sure you and the other person are using the latest version and select Delete on everyone's device in the menu.
Where do WhatsApp messages go when deleted?
The messages you delete on WhatsApp do not disappear forever, generally, they are saved in backup Cloud drives, such as iCloud and Google Drive. So you can back up and restore deleted WhatsApp messages through the Cloud.
Conclusion
Whether you are using an iOS or Android phone, you can find the right one for you in this article to recover deleted WhatsApp messages. To avoid this situation again, we also recommend the best tool for backing up and restoring WhatsApp to prevent accidental deletion. We believe that with the help of Apeaksoft Data Recovery, you will be able to get back your target messages. If you have other tricks or opinions, feel free to leave your comments.