For some reasons, you may need to uninstall some applications preinstalled by manufacturer or root your Android phone for recovering data with third-party tools. You can read this article to get the detailed information about how to root your phone safely and easily.

Part 1

. The related information about rooting a phone

Why do you need to root a phone? Rooting a phone is to get the permission of a super-user privilege, so as to control the phone's system and manage all kinds of software for meeting your needs.
What should you do before rooting?
1. Back up the data on your device
In case you lose data after rooting, you'd better backup the data of your device to a safe location. You can use Android Data Backup & Restore to transfer your data to your PC/Cloud/other devices.
2. Charge your Android phone fully
With a view of rooting will consume large power, you may need to fully charge your phone.
3. Choose a safe root tool
When you want to root your Android phone, you will find that there are various online rooting tools. You need to choose a reliable tool to help you root Android phone safely and easily. For this reason, we recommend KingRoot. KingRoot is one free software that you can use it easily. It can root almost all devices running Android 2.x - 5.0.
Part 2

. Two ways to root Android phone with KingRoot

There are two versions of KingRoot, PC version and Android APK version. We will introduce the detailed steps on how to root Android phone on computer and Android device with KingRoot.
Method 1: Root Android phone on computer with KingRoot
There is a disadvantage of KingRoot - the PC version can only display in Chinese in the interface, so when you use KingRoot to root your Android phone, you have to follow the steps carefully.
Step 1. Install KingRoot on PC
Download and install KingRoot for PC on your computer. After finishing installation, you can click it to launch this software.
Step 2. Set USB debugging
Open your Phone, get to USB debugging mode by tapping "Settings", "Developer options", toggle on "USB debugging". And then you will be able to manage your phone without notifications on computer. If your phone has debugged USB before, then you can skip this step, and directly go to Step 3.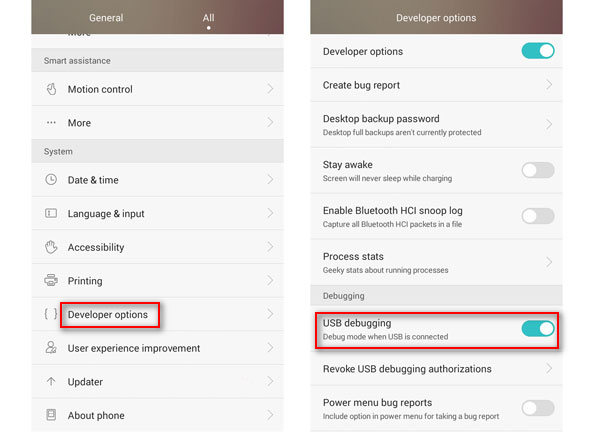 Step 3. Connect Android phone to computer
Connect your Android phone to computer via a USB cable, and then the root tool will recognize your phone directly.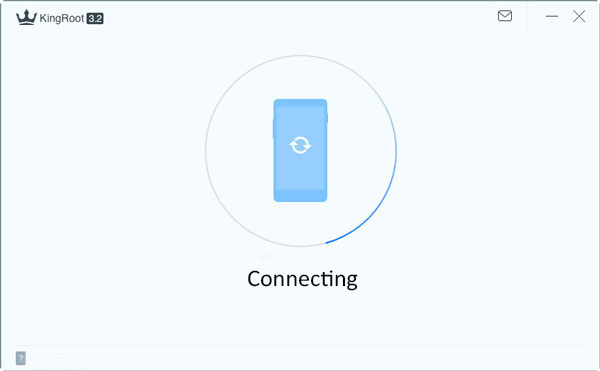 Step 4. Root phone with KingRoot on computer
After connecting your phone to computer, click "Try to root" to start rooting your Android phone. When you finish rooting your phone, there will be a tip in the interface, which tells you have rooted your Android phone. After rooting, you could use Android Data Recovery or other recovery tools to recover the data from SD card or Android internal storage.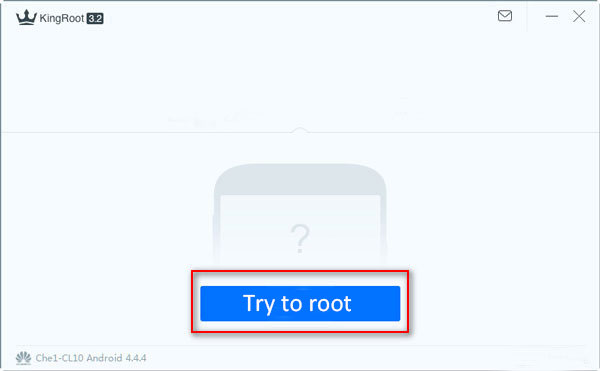 Method 2:

Root your phone with KingRoot on Android device

Step 1. Download KingRoot to PC

You can get into the official website - www.kingroot.net on your phone browser, and then you can download KingRoot on your phone. You could also download KingRoot from the following link and copy the APK file to your phone.

Step 2. Install KingRoot APK

After downloading on PC, you may need to find the APK file, and click it to install. If you set "install blocked", then a tip will pop up to remind you to click "Settings" > "Security" > enable "unknown sources" to install KingRoot.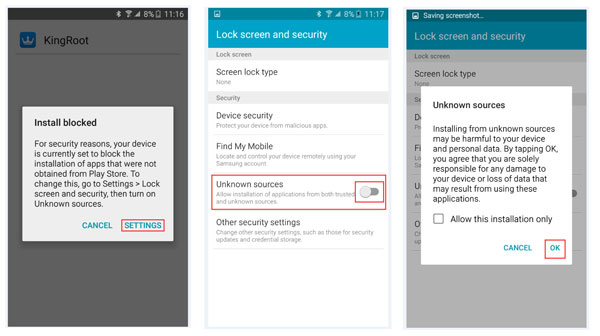 Step 3. Root your phone with KingRoot on device
After finishing installation, tap "OPEN" to launch this tool. Click "Try it" > "Get now" to start rooting your phone. The implementation will show you the rooting process.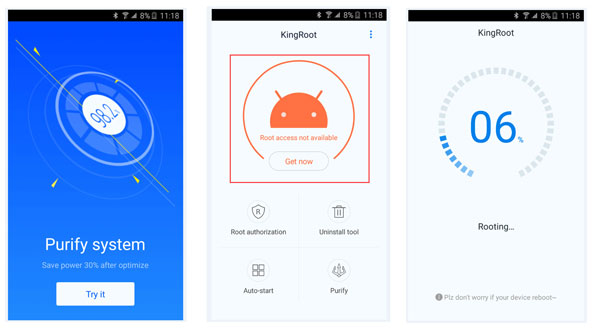 Root Android phone with KingRoot on Mac
If you were Mac users, there will be some data loss, security or root failed problems when you want to root your Android phone on Mac. At present, there are very few rooting programs for Mac in the market. So we suggest rooting Android phone with KingRoot on Windows.