"Root" is the frequent word you may find when using Android phone. But do you really know what it exactly means? In this guide, a detailed introduction will be given about what is "root", what is the precaution before rooting a phone, and how to root your phone.

Part 1

. What is rooting a phone?

Rooting your Android phone will let you get the highest authority on your device and you'll have the privileged control to optimize or manage your mobile phone according to your need.
Part 2

. What to do before you root your phone

Rooting Android phone is not guaranteed 100% success and safe, so the following precautions you need to take before rooting an Android phone.

Back up Android phone

To begin with, you had better back up Android data, like contacts, messages, photo and so on with Android Data Backup & Restore.

Full charge of Android phone

Make sure your Android phone is fully charged. Or your device may turn a "brick" if you phone has low power battery when you fail to root the device.

A rooting program is much helpful

Find a good root program to promote its success rate. Here we recommend Kingo Root. Kingo Root has two versions for available use, PC version and APK version. You can optionally choose one based on your need.
Part 3

. Why choose Kingo Root?

There are various rooting tools on the online market, why choose Kingo Root? Keep reading:
Key features of Kingo Root
◆ Kingo Root is easy and useful. Simple steps later, your Android phone will be rooted.
◆ Kingo Root always has the highest success rate of rooting. Whenever you want to root Android, Kingo Root is the most helpful program.
◆ This rooting utility supports almost all Android version from 1.5 to 6.0 mainstream models phones from Samsung, Google, HTC, Sony, LG, etc. For more information about which kind of Android phones it supports, you can visit the page of devices for rooting
Reviews about Kingo Root
Reviews from authoritative sites
How about Kingo Root? Let's see the reviews from Digital Trends, CNET, Redmond Pie and others .
• Redmond Pie: It was the most pleasant one-click root experience that I've had to date, considering that it was most hassle-free and true one-click method.
• DIGITAL TRENDS: The computer based, Kingo Android Root is one of the easiest ways to root your Android device.
• xda-developers: Kingo Android Root is a well-designed, aesthetically pleasing application for Windows based computers that forgoes the device specific route.
• CNET: Kingo Android Root. It's free, and based on my initial tests with a Virgin Mobile Supreme, it works like a charm.
Reviews from users
• Well Kingo Root helped me to root my Samsung Galaxy S6. It is very easy to use. No problem pops up and I highly recommend it.
• Well, Kingo Root was the only tool that I use to root my LG phone. The rooting process is very fast.
Part 4

. How to root Android phone with Kingo Root

You can follow this part to root your Android phone with Kingo Root step by step.
Root Android phone on computer
Step 1. Connect Android phone to computer
Download and install Kingo Root on your computer, double click it and begin rooting Android. Connect your Android phone to PC with a USB cable.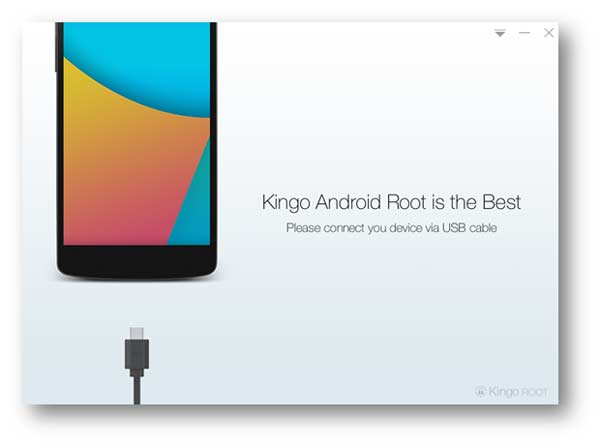 Step 2. Allow USB debugging
You'll get a USB debugging message to let the program access your Android phone. If there's no message, go to "Settings" > "Develop options" > slide "USB debugging" to ON. The Kingo Root for mobile will be installed automatically.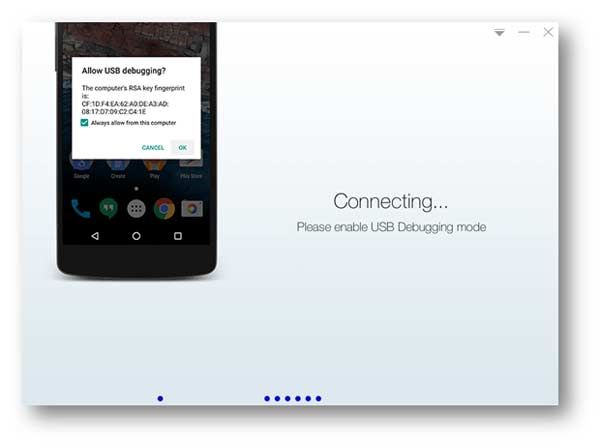 Step 3. Root Android phone
When Kingo detects your device, you will see your device screen displaying in the interface of Kingo Root on computer. Click "Root" button to start to root Android phone. Finally, the device will be rebooted.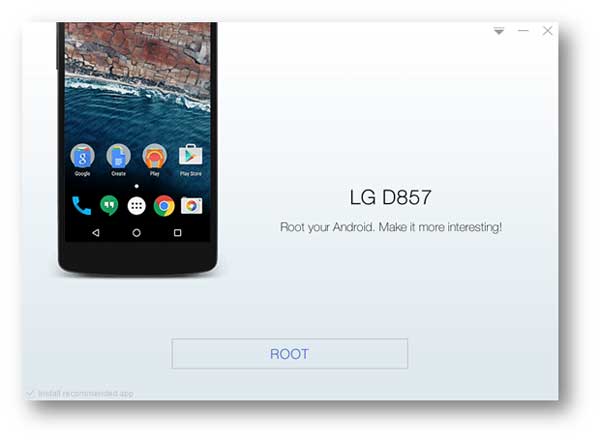 Root Android phone with KingoRoot (APK) on phone
In another way, you could download KingoRoot APK file and complete rooting process.
Step 1. Download KingoRoot APK
Click the Download button and download KingoRoot APK your Android phone.
Step 2. Install KingoRoot on phone
Install KingoRoot APK file and get ready for the rooting process.
Step 3. Root Android phone with Kingo Root
Tap on "One Click Root"button to root Android phone.
Notes: When you install Kingo Root APK file to your phone, a pop-up message showing that blocked installation of apps obtained from unknown sources. In this case, you should head to "Setting" > "Security" > tick "Unknown sources" > "OK". Then return to completely install KingoRoot on your Android phone.
Though root is a super useful way for getting more permissions to manage your iPhone, like Android recovery, Android app installation/uninstallation, etc., it is risky to get a failed root due to some wrong operations.
If you only want to root your Android phone for data recovery, this page is enough: How to recover deleted files from unrooted Android.
Part 5

. How to Root Android with Kingo Root on Mac

If you want to root your phone on Mac, we highly suggest that you root Android devices with Kingo Root on Windows, because there are are few reliable rooting tools for Mac in the market.