Many people root their Android devices in order to get rid of the pre-installed apps on their phones. First of all, you rooted your phone, but what about the next step? Maybe you need Root Uninstaller, which is a simple way to uninstall apps on rooted Android. To be honest, manufacturers pre-install many apps on our Android phone aiming to offer better user experiences and increase loyalty. But sometimes people do not need these services at all. And these apps just eat up our storage space and battery power. Fortunately, Root Uninstaller is able to remove them in a simple way.

Part 1

. Features of Root Uninstaller you should know

Briefly, Root Uninstaller is a simple tool to get rid of unwanted apps on Android devices. Its basic features include:

1. Clean up cache data produced by Android system and all apps on your phone.

2. Help you install APK files or remove them from your device.

3. Select multiple third party apps and uninstall them in bulk.

4. List all APK files in your SD card for managing further.

5. Search for apps by location, type and other characters.

6. Open and access code and app data folder on non-rooted Android.

7. Backup and restore factory settings.

If you have a rooted Android phone, Root Uninstaller is able to offer more features, such as:

1. Uninstall system apps on rooted Android phone.

2. Disable bloatware and prevent it from running in background.

3. Make backups for all apps and restore data at any time.

4. Hide any apps to protect your private.

5. Change app code and code folder to edit preferences.

In short, Root Uninstaller is compatible with both rooted and non-rooted Android devices. If your phone is running Android 4.1 or above, this app is available in Play Store for downloading for free. But some features are only working in pro version.

Click here to learn more about Recover Deleted Files Android Unrooted.
Part 2

. How to uninstall Android App with Root Uninstaller

Root Uninstaller offers a wider range of features, but the most commonly used one is the uninstallation function.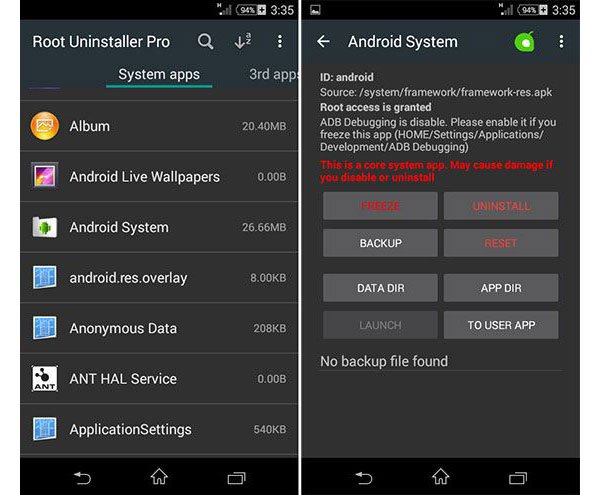 Step 1: First of all, unlock your Android phone, go to the Settings app and enable Wi-Fi to put the rooted Android online. Open your Play Store, search for Root Uninstaller Pro and install it on your phone. It is a paid app, so you have to purchase it in Google Play.
If you are a beginner, the free trail version is a good starting point. You can search for Root Uninstaller in Google Play and install it for free.
Step 2: After installed, launch the app from your home screen. The system apps are separate from the third party apps on the home interface. If you want to remove pre-installed apps, go to the System Apps tab to display all of them.
Step 3: Scroll down and find the system app that you want to get rid of. To locate the app manually, tap on the Re-scan Apps button. Touch the unwanted app until you get the menu asking whether to freeze, uninstall or back up the app.
Step 4: Now, we suggest you to back up the app first. And then choose Uninstall and confirm it. Finally, reboot your Android phone or tablet after the system app uninstallation completed. When startup process finishes, you will find that the unwanted system app disappears.
Besides uninstall a system app, Root Uninstaller offers several options once you select one or more apps, like Freeze, Backup, Data Dir, Reset, APP Dir, Launch, and To User App. It means that you can change a system app to a user one, or reverse.
Part 3

. How to backup files before using Root Uninstaller

You have to understand that Root Uninstaller cannot reverse the app uninstallation process, so you'd better to back up your files with Apeaksoft Android Data Backup & Restore first. With it, you can:
Make a backup for entire Android tablet or smartphone in a single click.
Or preview all data on Android and select specific contents to back up.
Encrypt your Android backup with password to prevent others from syping.
Keep all data in original condition and quality while backup.
Restore lost data to Android phone at any time.
Compatible with all Android devices from Samsung, LG, HTC, Sony, MOTO, Google, etc.
Download for Win
Download for Mac
All in all, it is the best option to avoid data while using Root Uninstaller.
Reading more: Root Android with iRoot.
How to back up files before using Root Uninstaller
Step 1: Connect Android phone to best Android Backup tool
Android Data Backup & Restore offers two versions, one for Windows 10/8/7/XP and the other for Mac. Connect your Android phone to the computer with a USB cable. Then open the program; it will discover your phone automatically.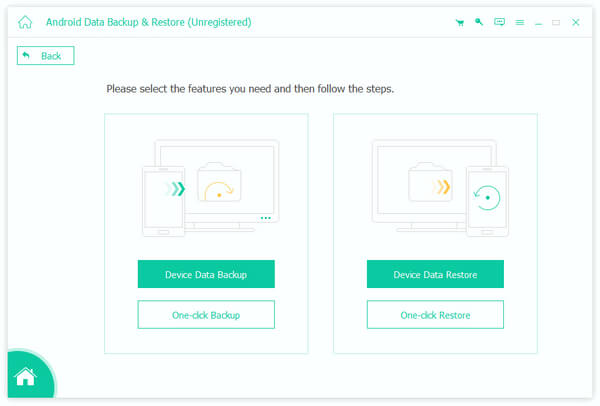 Step 2: Select data types for Android backup
To back up entire Android phone, click on One-click Backup button to trigger the process immediately. If you select Device Data Backup, the data type window will pop up. Here you can select what data types you want to save. And the Encrypted Backup option allows you to make a password protected backup.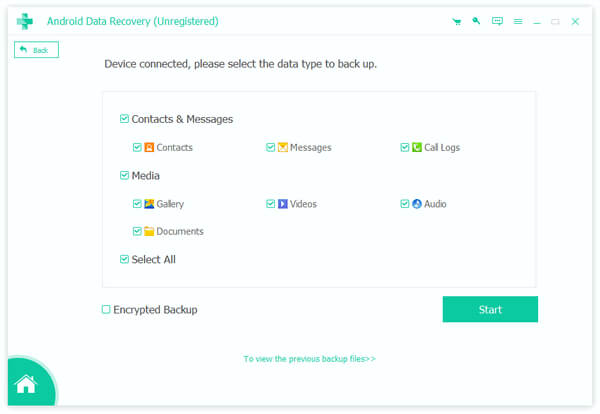 Step 3: Back up Android before using Root Uninstaller
If you are ready, click on the Start button at bottom right corner to initiate backing up Android files before uninstall apps. A few seconds later when it completes, remove the Android phone from the computer. Now, you can feel free to uninstall any app using Root Uninstaller.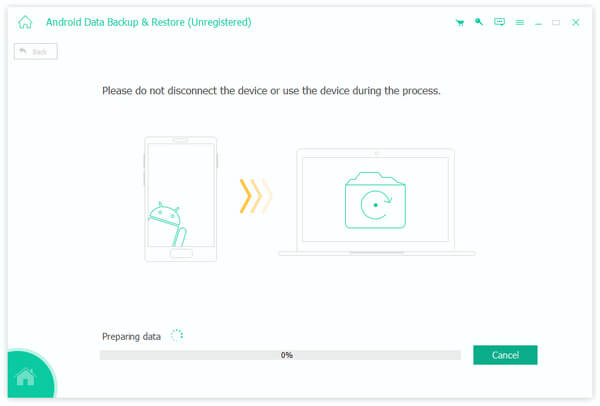 Once you delete some apps by accident, things are pretty simple if you have made a backup: connect your Android phone to the program and restore the backup as you wish.
Reading more: Root with Root Genius.
Conclusion
In this tutorial, we have introduced one of utilities for Android devices, Root Uninstaller. Generally speaking, people can use it on non-rooted Android phone and manage user apps for free. The story is a bit different when it comes to a rooted Android device. When you have the root access privilege, Root Uninstaller is able to manage system apps as well. It means that you can uninstall any system apps from your phone to free up space and save battery power. To avoid data loss, we recommend you to back up Android with Apeaksoft Android Data Backup & Restore before using Root Uninstaller.