Device is already connected, but Phone Transfer cannot detect it?

1. Under this circumstance, you are able to click the drop-down list and choose another connection mode. And the device will be reconnected. There are three connection modes: MTP, PTP and USB Mass Storage. Following is the introduction to these three modes.
MTP: MTP means "Media Transfer Protocol." If you uses this protocol, the device will be as a "media device." The media transfer protocol was widely promoted as a standardized protocol for transferring audio files to digital music players using Windows Media Player and similar applications.
PTP: PTP refers to "Picture Transfer Protocol." When Android uses this protocol, it appears to the computer as a digital camera.
USB Mass Storage: USB mass storage is the standard protocol used by flash drives, external hard drives, SD cards, and other USB storage devices. The drive makes itself completely available to the computer, just as if it were an internal drive.
2. If the first one solution does not work for you, please make sure following tips.
a. Make sure you are using the latest vision. (Download from our offical website: FoneLab for Android)
b. Make sure there is no problem with your USB line.
c. If your phone is still not be detected, please contact our customer support ( support@apeaksoft.com ).
•Firstly, tell our customer support your detail problem and the type of your device.
•Secondly, send the log file to our customer support if needed. Click the option of "Feedback" on the top right of Phone Transfer, write on the feedback window.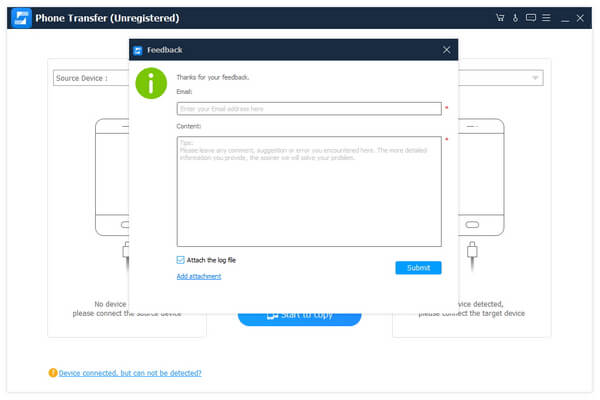 What does USB Debugging Mode mean?
USB Debugging Mode refers to a developing function provided by Android. After the mode is activated, users are able to copy and transfer files like photos, videos, etc. between computer and Android devices, install APPs on Android devices, read log data, etc.
The wired connection can be established only if you open the USB Debugging Mode.
The USB Debugging Mode is off by default. You need to turn it on manually.
How to enter USB debugging mode?
For Android 2.3 or earlier
Step 1. Go to the Settings.
Step 2. Tap Application.
Step 3. Choose Development.
Step 4. Enable USB Debugging Mode.
For Android 3.0-4.1
Step 1. Head to Settings on the device.
Step 2. Tap on Developer Options.
Step 3. Choose USB Debugging Mode.
For Android 4.2 or later
Step 1. Navigate to Settings on the device.
Step 2. Choose Build Number and tap on the option for 7 times.
Step 3. Turn to Settings and select Developer Options.
Step 4. Activate USB Debugging Mode.
How to authorize your phone?
Please activate the option of "Always allow from this computer" on your device. If the prompt box disappears due to other operations, please disconnect the device and reconnect it.
What can I do if the device cannot be read?
If you have checked USB Debugging Mode, installed the driver successfully and trusted the device, but the device still can't be read, we recommend following operations:
1. Unplug the USB with your device.
2. On your device, go to the Settings > Applications &gt Development of your device and uncheck the USB debugging mode and then check it back again.
3. Connect your device with the program once again.
4. If the device still can't be connected successfully by following above all operations, please contact our support at support@apeaksoft.com.
How to install the device driver?
1. When connecting the device to the program, there will be a prompt if there's no driver detected, which reminds you of installing the driver first. Click the "Install" button.
2. If the driver has been installed successfully but the device still fails to connect, please check whether the driver is disabled under "Device Manager". You can find the driver in "Computer" — "Properties" — "Device Manager" — "Android Phone".
Right click the certain node and check whether it is disabled. If it is, click "Enable" and the device will be connected to the computer successfully.
What should I notice when connecting iOS devices?
Different settings are required for devices with different iOS versions. For devices with iOS versions lower than iOS 12, we suggest you unlock the device before connecting. For devices with iOS 12 and higher versions, you need to unlock the device, and click Trust on the device , then connect it to computer.
Note: If the program still fails to read the device after you have unlocked and trusted the device, we suggest you reconnecting the device.