iPhone is a great smart device and one of the best features is the capability to change the screen to your favorite color. However, according to our research, many users do not understand how to change color on iPhones due to the complex configuration. More importantly, the workflows are different on various iOS systems. This guide will share the details about this topic and tell you what you can do when cannot change the color on your iPhone.

Change Color on iPhone
Part 1. How to Change Color on iPhone
How to Invert Colors on iPhone
Inverting color not only changes the screen color on iPhone but also reduces glare and eye strain. There are two modes, Smart Invert and Classic Invert. The former reverses the colors of the display except for images, media, and some other features. The latter reverses all the colors of the display.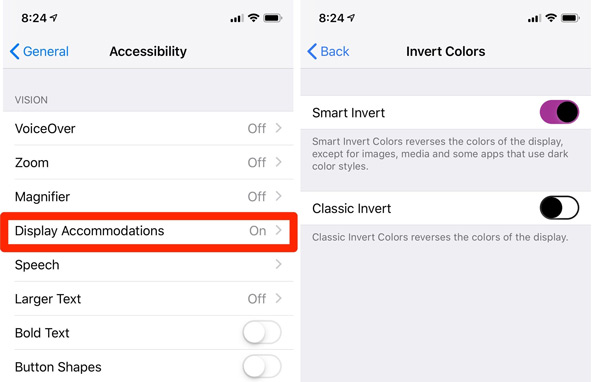 Step 1Open the Settings app from your home screen.
Step 2Go to the General entry, select Accessibility, and then choose Display Accommodations on iOS 12 and earlier. On iOS 13 and later, select Accessibility and choose Display & Text Size.
Step 3Next, toggle on Smart Invert or Classic Invert according to your need.
How to Change Color Filters and Tint on iPhone
The Color Filters is an important feature for people with color blindness to get the most out of their iOS device. There are specific filters for specific color blindness. Color Tint can change the color of your entire iPhone screen's hue and intensity.
Step 1Run the Settings app, tap Accessibility, and press Display & Text Size.
Step 2Choose Color Filters, and toggle on the switch next to Color Filters. Then you can choose a color filter preset. The Intensity option at the bottom allows you to adjust the intensity of the effect.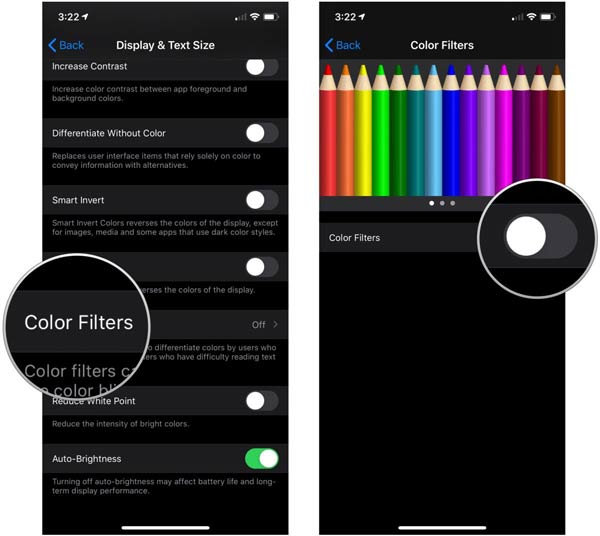 Step 3To change the color tint on your iPhone, tap Color Tint on the Color Filters setting screen. Then adjust the Hue and Intensity sliders until you are satisfied.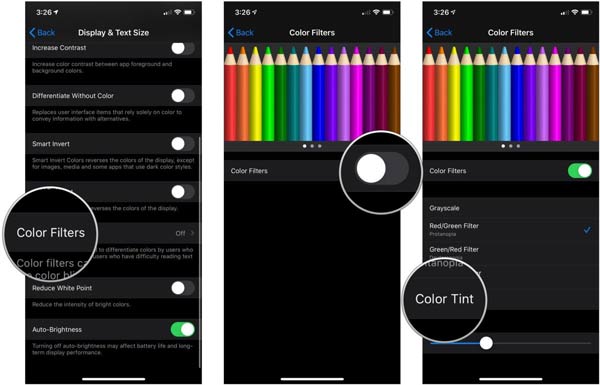 Part 2. How to Fix Cannot Change Color on iPhone
Some people found that they cannot change the screen color on their iPhones. It is difficult to tell why this issue happens, but Apeaksoft iOS System Recovery can help you resolve it quickly. Moreover, it does not require any technical skills.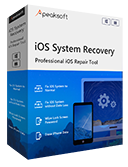 4,000,000+ Downloads
Fix issues with iPhone screen color.
Protect your files and data during troubleshooting.
Offer multiple modes to meet different purposes.
Available to a wide range of iPhones and iPad models.
Here are the steps to resolve the issue that you cannot change color on your iPhone:
Step 1Connect your iPhone
Launch the iOS System Recovery after you install it on your desktop. Choose iOS System Recovery and hook up your iPhone to the same machine with a Lightning cable. Then click the Start button to move on.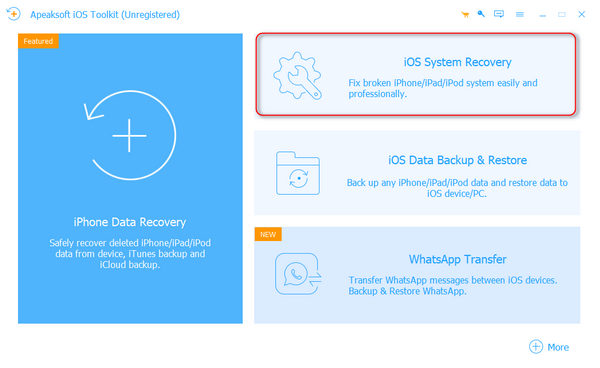 Step 2Check iPhone information
Hit the Fix button, select a mode, and hit the Confirm button. Next, click the Question icon and follow the instructions to put your iPhone into Recovery mode or DFU mode. Now, check the information on your iPhone and correct it if something is wrong.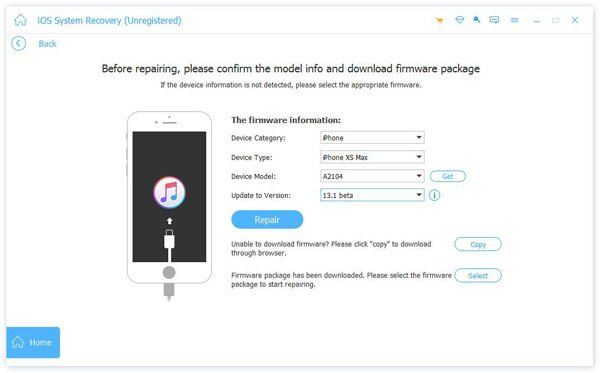 Step 3Fix cannot change color on your iPhone
Once you are done, click the Repair button to begin fixing the issue that you cannot change the color on your iPhone immediately. Wait for the process to finish. Then disconnect your iPhone and close the software. Now, you can change the screen color on your iPhone normally.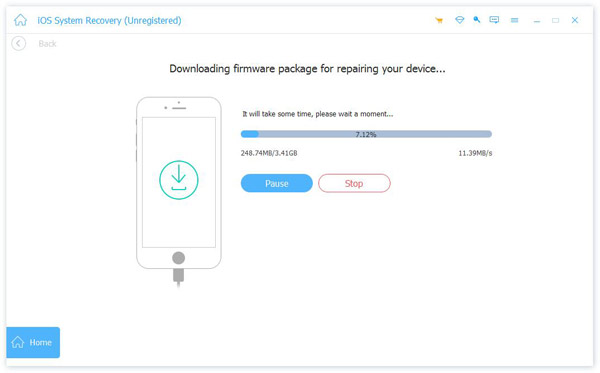 You May Also Be Interested:
Part 3. FAQs about Changing Color on iPhone
How to change the color of the iPhone lock screen?
On iOS 16, you can change iPhone lock screen color. Turn on your iPhone, hold the Lock Screen, tap the + icon, and tap Add New. Then tap the Color button, and swipe left and right to select an appropriate color style.
Can I change the color theme of my iPhone?
Users are allowed to change the colors of text and background on iPhones. However, you cannot adjust the color of a theme. If you want to customize your display, you can do it with wallpapers and other features.
Why is my iPhone showing weird colors?
In some cases, your iPhone shows weird colors due to a color inversion setting that has been activated accidentally. You can follow our guide to turn off Color Invert on your iPhone.
Conclusion
This guide has demonstrated how to change the screen color on an iPhone or iPad. Firstly, you can try the Color Invert feature on your iPhone. Moreover, the Color Filters and Color Tint features enable you to get the desired effects for your display. If you cannot change the color on your iPhone, use Apeaksoft iOS System Recovery to fix it quickly. If you have other questions about this topic, please feel free to leave a message below this post.