Apple Watch is a small but valuable gadget that brings so much convenience to your daily life. Since it is a small gadget, you might take it off and forget where you have placed it before. Luckily, the Find My feature can help you find Apple Watch from the iPhone. You can still access this feature with your iCloud account even when the iPhone is not around. Quickly walk yourself through this step-by-step tutorial to see how to use the Find My feature on your iPhone and how to find the missing Apple Watch.

Find Apple Watch from iPhone
Part 1: Quickest Way to Find Apple Watch from iPhone
The key to successfully utilizing the Find My feature to find Apple Watch from iPhone is that the feature must be active. This feature for Apple Watch is also active for iPhone users who have enabled Find My on the iPhone. If your Apple Watch has a network connection, you can find its location on your iPhone. Check the steps and follow them to see where your watch is.
How to find Apple Watch from iPhone in Find My
Step 1Unlock your iPhone and open the Find My app.
Step 2Once in, tap the Device button at the bottom to see all your Apple devices.
Step 3Find your Apple Watch and tap on it. Then, the map will show you its approximate location.
Step 4You can look for your Apple Watch in this position. You can also activate the Mark As Lost mode if you can't find the watch.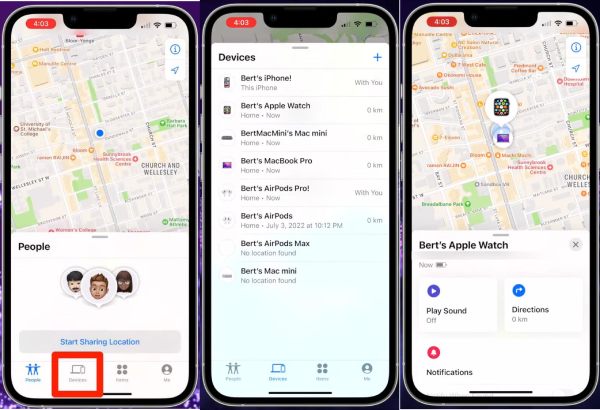 Bonus Trick: How to find Apple Watch with the iCloud account
If your iPhone is not around, you can't find Apple Watch from the iPhone. But you can still use the Find My feature on iCloud. Whatever the device you have by hand, you can log in on the iCloud website and locate your watch.
Step 1Search for iCloud official website in your browser and sign in with your Apple ID and password.
Step 2Click the Find iPhone icon. On the following page, click the All Devices dropdown button.
Step 3Find your Apple Watch and click on it. The watch's position will appear on the map.
Step 4You can also click your watch icon to see more options. Then, you can play sound on the watch, mark it as lost, or erase it.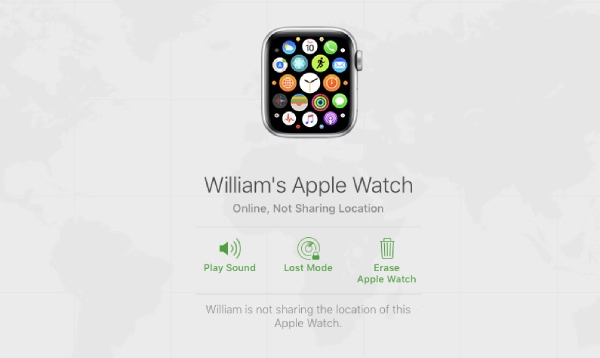 Part 2: How to Ping Apple Watch from iPhone to Find It
The chance of finding the Apple Watch from the iPhone will be higher if your watch is nearby. When you are at home and can't find the Apple Watch, you can ping the Apple Watch from your iPhone. This allows your watch to make sounds for you to locate it. But, if the Find My on your iPhone doesn't work, you can't ping the watch.
Step 1To ping the Apple Watch and make it ring, you must use the Find My app on your iPhone.
Step 2Inside the Find My app, tap the Devices button and find your Apple Watch from the device list.
Step 3If your watch has connected a network, you can tap the Play Sound button to ping the Apple Watch from the iPhone.
Step 4Once you find your watch, tap the Dismiss button on the screen to stop the ringing.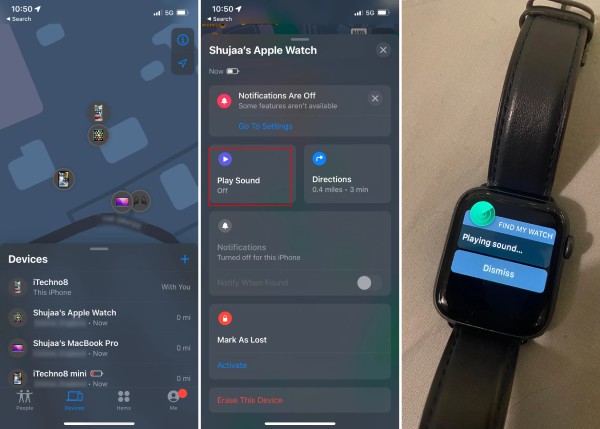 Bonus Tip: Fake Locations on iPhone without Letting Others Know
Apart from pinging the Apple Watch from iPhone in Find My, it also shares your location in a family group. Other family members can also see notifications when your iPhone location changes or stops sharing. Apeaksoft iPhone Location Changer is here for you to stop sharing real locations on your iPhone without notifying others. This small software enables you to change GPS location to anywhere for your iPhone. Under such circumstances, there will be no privacy leaking. Meanwhile, you can also utilize this feature for your location-based AR games and explore more strange areas.
Step 1Download and install this location changer on your computer. You must connect your iPhone to the computer via a USB cable before launching it. Then, click the Start button on the main interface.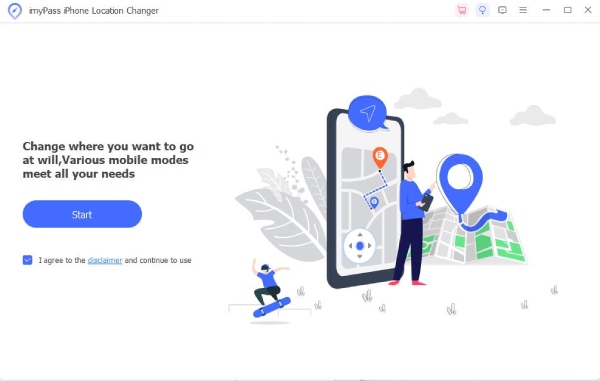 Step 2In the following window, you must select a modification mode to change your iPhone location. Modify Location allows you to choose a specific spot. One-stop, Multi-stop, and Joystick modes allow you to modify a route.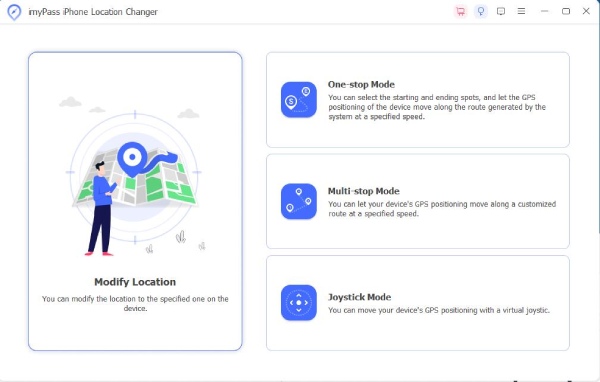 Step 3Next, click a random spot on the map as the new location for your iPhone. You can also search for a specific place in the search bar. After that, click the Confirm Modify button to change your iPhone location virtually.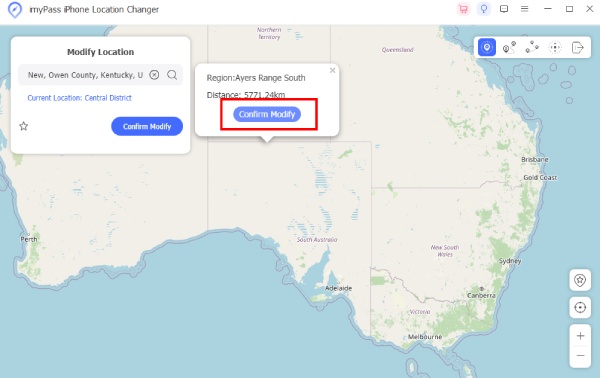 Part 3: FAQs about Finding Apple Watch from iPhone
Question 1. Can I use an Apple Watch without the iPhone?
Yes, you can. You can use your Apple Watch's built-in apps in if connected to a Wi-Fi or cellular network. Your paired iPhone must be nearby if you want to receive notifications from third-party apps on Apple Watch.
Question 2. How far can Apple Watch be from iPhone?
Apple Watch and the iPhone are connected via Bluetooth. The maximum range for a normal Bluetooth is around 33 feet or 10 meters. But walls and internet interference might shorten this range.
Question 3. How to find Apple Watch from the iPhone if the battery is dead?
Use the Find My feature if your Apple Watch's battery is dead and you can't find it. Although the location on the map might not be accurate, Find My will show you the last position of your Apple Watch and the most possible one. You might find the misplaced watch in that location.
Conclusion
In a nutshell, how to find Apple Watch from the iPhone is a simple question to answer if the Find My feature is active on your watch. Based on the approximate location given by Find My, you can locate the previous position of your Apple Watch quickly. If you fail to find it, you can protect your private data by marking it as lost, preventing others from accessing your lost watch.