- "I was trying to make an email as 'Important' in Gmail and accidentally archived it. Now I cannot locate it, what happens to Gmail archived emails? Where do I find archived emails in Gmail?"

However, many people have no idea where is archive in Gmail app. Fortunately, this article shows you how to find archived emails in Gmail app on different platforms. So you can read and follow the specific tutorial to find, retrieve or unarchive those emails with ease.
Part 1

: How Do I View My Archived Emails in Gmail on Android

Actually, archive a mail does not mean you will lose it permanently. Considering Gmail trash folder only contains your deleted emails for a month. So if you delete your old emails in Gmail, you cannot recover them after 30 days. That's why many people prefer to archive an email instead of moving it to trash. It's OK if you do not know how to find your archived emails in Gmail app on Android. Just read and follow.

You will also like reading: Easy Methods to Save Contacts to Gmail.

Step 1: Head to Gmail app on Android.

Turn on your Android phone or tablet. Find and click Gmail icon with a red "M" on a white envelope background. You may be required to sign into Gmail account with your Gmail address and password.

Step 2: Locate all mail section.

Click "Menu" icon on the top left corner of the screen. Well, it contains three striping lines in white. A menu pops up in response to your operation. Then click "All mail" to see all received mails including archived emails in Gmail.

Step 3: Find archived emails in Gmail Android.

Well, you cannot find the certain Gmail archive folder Android. What's more, archived mails do not have the "Inbox" tag. So if you want to find an archived email in Gmail, you need to use the magnifying icon to search with the specific email recipient, subject line or keyword.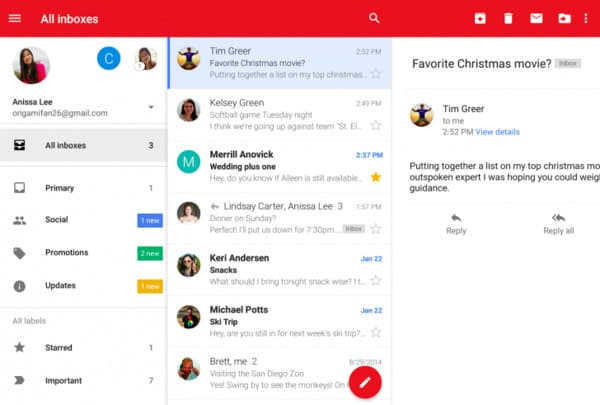 Part 2

: Where Do My Archived Emails Go in Gmail Website Online

You can also view archived emails within Gmail app. For instance, opening a Gmail website is also a good way. Therefore, you can try the following steps to find archived emails in Gmail on iPhone, iPad and other Apple devices.

Step 1: Enter into Gmail website

Power on your computer and run any web browser, like Google Chrome, Safari, Firefox and more. Well, it does not matter whether you use Windows or Mac computer. Type https://www.mail.google.com/ in the search bar, and then hit "Enter" key on your keyboard. Click "Sign In" option to log into your Gmail account on desktop.

For Chrome users, you can click the "Gmail" icon on the top right corner of the window. Later, Chrome web browser will bring you to the Gmail main page quickly.

Step 2: Find archived emails in Gmail on desktop
Extend the "Inbox" tree to access all related options, such as "Starred", "Sent Mail", "Drafts" and "More". It is true that you cannot get the certain archived option directly. During this time, click the down-side arrow besides "More". You can get more Gmail options. Then choose "All Mail" to enter into the "All Mail" folder. As a result, you can type and enter any related keyword or content about the archived Gmail to find it quickly.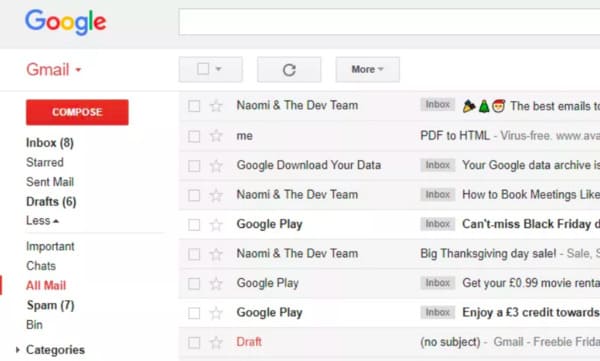 Part 3

: Recover Archived Emails in Gmail? Here's Your Solution to Get Them Back

Archiving an email in Gmail is a good way to clean up your Inbox without data loss. You just move it out of your Inbox label. If you regret to archive an email in Gmail, you can still get your archived mail back to the Inbox safely.

Don't miss: Restore Deleted Contacts from Gmail.

Step 1. Find archived email in Gmail you want to recover

Archived emails are collected in the "All Folder" instead of "Spam" or "Trash". So once you open the "All Folder" as above shows, all archived emails display in order.

If there are too many archived mails in Gmail, you can use "Advanced Search" or "Search" tool to find the archived email you want to unarchive in fast speed.

Step 2. Recover archived emails in Gmail application

Click the small box before your target archived email. Later, choose "Move to Inbox" on the top toolbar. Thus, you can view archived emails in Gmail Inbox successfully. Be aware that the recovered email will be sorted according to its original date. So it is quite common that you cannot find it on the top of Inbox emails.

Recommendation

: One Click to Backup and Restore All Android Data Safely

What if you lose your important document without backup? Is there any way to free up more storage space on your Android phone or tablet? Well, Apeaksoft Data Backup & Restore can be your first choice. You can back up all your Android files to computer in one click. Furthermore, it allows users to preview and restore backup to any Android phone or tablet selectively and safely.
One click to back up your Android data to computer without overwriting any existing data.
Preview and select the Android data to restore after backup.
Compatible with over 5000 Android portable devices including all brands.
Support to backup and restore most Android data types including contacts, messages, call logs, gallery, videos, audio and documents.
Download for Win
Download for Mac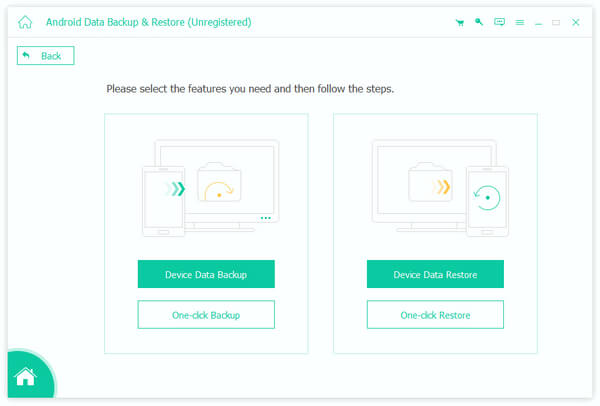 That's all you need to find archived emails in Gmail on Android and other platforms. Please don't hesitate to contact us if you still have any problem about archived mails in Gmail app.