Google provides users with free space to save or backup all types of data associated with the Google account, including the content connected to Gmail, Google Drive, and Google Photos. Actually, Google storage is like one kind of new hard drive. You can handily place lots of important documents, photos, videos and more on it.
However, the Google cloud storage isn't unlimited, similar to the traditional hard drive. So it can be a real problem when you run out of the space.

By default, you will get 15GB of free Google cloud storage. But as it mentioned above, the free 15GB space is shared across Gmail and Google Drive. So there is easily a dearth of storage space. Fortunately, you still have the unlimited Google Photos storage. Here in this post, we like to guide you know more about Google Photos free storage and help you better manage various data.
Part 1.

Tips of Google Photos Storage

Google Photos compares favorably with similar cloud service like Apple's iCloud Photo Library. It offers a simple and convenient way to back up photos and videos from phone to its cloud. With its help, you can easily access, manage, edit and share files on any device signed with the same Google account. In fact, it is just Google's response to Apple iCloud.

Google Photos gives free and unlimited cloud storage for images and videos. It can be the best cloud storage platform for all your devices. It is even compatible with iOS and macOS. One thing you should concern is that, you are only allowed to save unlimited image and video files in a compressed format in Google Photos for free. Google can compress pictures larger than 16-megapixels and video with a resolution higher than 1080p. Don't miss the best free online image compressor.

Surely you can still backup original photos and videos with higher resolution. You can custom the settings to "original quality". You are given 15GB of free storage to save these original high-quality files. When you hit the Google storage limit, you can pay $2.00 a month ($20.00 a year) for 100GB, $10.00 a month for 1TB, and $300.00 a month for 30TB.

If you want to know exactly how much space is being used by each Google service including the Google Photos, Google Drive and Gmail, you can check all your Google account's overall available storage space from its storage website,

https://www.google.com/settings/storage/summary.
Part 2.

How to Check, Manage and Free up Google Photos Storage

As you know, Google Photos gives you 15GB free cloud storage for saving pictures and videos with original quality. You can check the available storage space from the storage site. Also, you are allowed to view it directly on your portable device.

Step 1 Open the "Photos" app and then tap the hamburger menu present at the top left.

Step 2 If you have more than one Google account, here you need to make sure you are signing in the desired account. Then tap the "Manage your Google Account" option.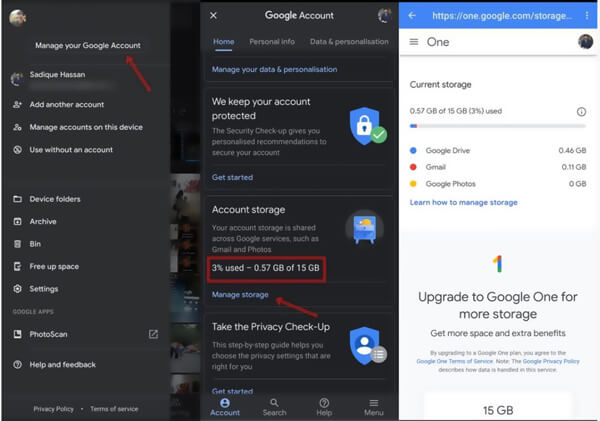 Step 3 Scroll down to locate the "Accounts storage" section. Here you can see the remaining storage space. If you want to check detailed information of each current storage cost, you can tap the "Manage storage".
Step 4 Confirm your Google account when there is an account dialog box prompts. Now you will be taken to the "Google One" interface where you can view how much storage space of Google Photos, Google Drive and Gmail are consuming.
Step 4 If you want to free up Google Photos storage, you can tap the "Learn how to manage storage" option.
Part 3.

Best Cloud Alternative to Backup Google Photos

What if you are running out of the Google cloud photo storage and still want to save the original high-quality pictures and videos? Or you are tired of managing the storage space? Actually, you can choose to back up all your valuable image or video files to computer. Here we strongly recommend an easy-to-use Android data management and transfer software, MobieTrans to help you backup your Google photos.
One-click way to back up Google photos to computer or another device.
Transfer Android data like photos, videos, music, contacts, messages and more.
Move all types of files between Windows PC/Mac, Android and iOS devices.
Better manage various data on Samsung, HUAWEI, Google phone and iPhone/iPad.
Convert photo format like HEIC to JPG/PNG and create your own phone ringtone.
Download for Win
Step 1 Double click on the download button above to free install and run this Android data backup software on your computer. Connect your Android or iOS device to it with a USB cable.
Step 2 All frequently-used data will be listed in categories on the left panel, such as Photos, Videos, Music, Contacts, Messages, and more.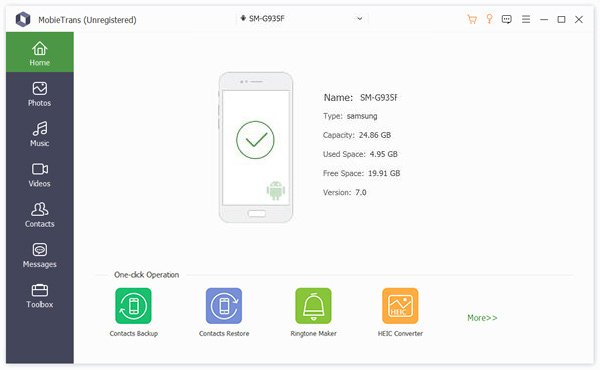 Step 3 Click "Photos" on the left and you can check detailed information of each image or video file on the right preview window. Select all Google photos and videos you want to backup and then click the computer like icon to start the transferring process.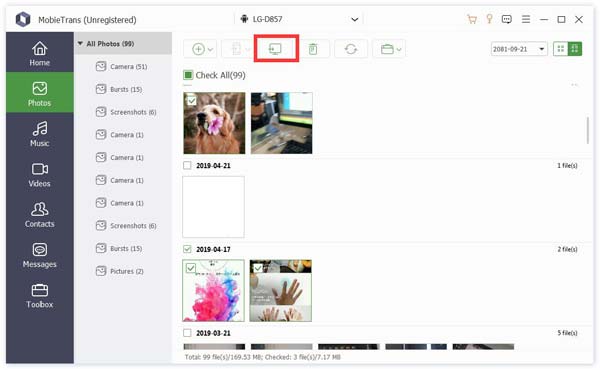 Within just a few clicks, you can handily back up all important data to your computer. With the similar steps, you can also transfer messages, contacts and other data. Moreover, it enables you to add data from computer to your Android/iOS device, transfer Android data to iPhone, and copy iOS files to Android phone.
Google offers a great way backup all types of data to its cloud service for free. You can get unlimited free Google Photos storage for saving your pictures and videos. After reading this page, you can learn more about Google cloud storage and Google Photos storage. What's more, you get detailed guide to check the available storage space. Don't hesitate to contact us if you still have any questions.