This post shares two effective methods to block No Caller ID on iPhone. It's quite annoying to receive unwanted phone calls. However, while daily usage of your iPhone, you may often get lots of unknown calls with No Caller ID showing on the screen. You can use the following two ways to stop No Caller ID calls easily.

Block No Caller ID on iPhone
Part 1. Turn on Silence Unknown Callers to Block No Caller ID on iPhone
iOS comes with a Silence Unknown Callers feature for you to block No Caller ID on an iPhone quickly. If your iPhone has iOS 13 or later, you can choose to enable Silence Unknown Callers to block spam calls on the iPhone and avoid getting calls from strangers.
Before you enable Silence Unknown Callers on an iPhone, you should ensure that you have saved all important contacts on the iOS device. After that, you can run the Settings app and scroll down to choose the Phone option. Locate the Silence Unknown Callers and tap on it. You can simply turn on the feature in the main interface of Silence Unknown Callers.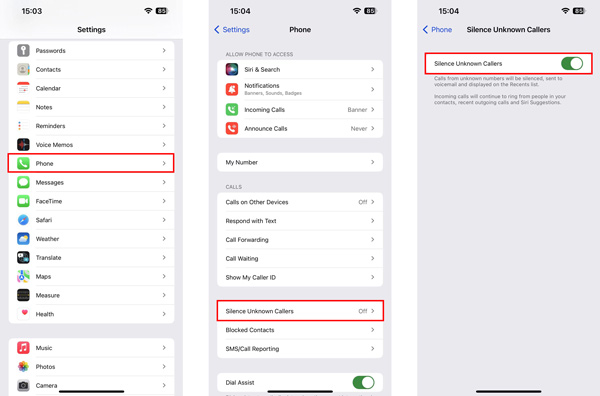 After you turn on Silence Unknown Callers on your iPhone, these calls from unknown numbers will be silenced and directly sent to your voicemail. You can check them from the recent calls. Note that it will block all phone numbers that you've never been in contact with and save them in Contacts.
Best iPhone Data Recovery to rescue your lost iOS files
If you mistakenly deleted some important iPhone data or you lost valuable files due to other reasons, you can rely on the easy-to-use iPhone Data Recovery to find them back.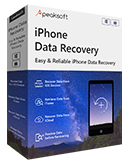 4,000,000+ Downloads
Recover permanently deleted iOS data on your iPhone and iPad.
Restore lost photos, videos, contacts, reminders, call history, and more.
Support data loss situations like factory resetting, accidental deletion, and others.
Recover iPhone data from iOS devices, iCloud backup, and iTunes backup.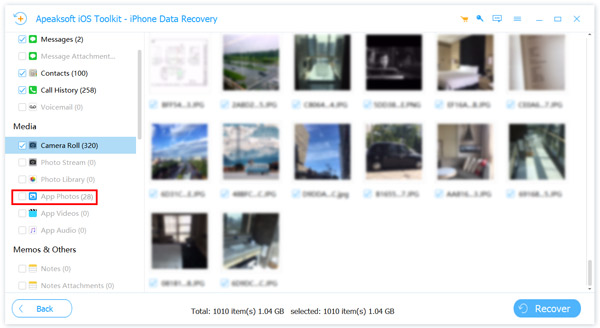 Part 2. Steps on Blocking No Caller ID Calls on iPhone Using Do Not Disturb
You can easily block No Call ID calls on an iPhone through its Do Not Disturb function. When you are under Do Not Disturb mode, unwanted calls, including the No Caller ID calls, will be silenced. You will only receive calls from people in your contacts.
Step 1Unlock your iPhone and run the Settings app. Scroll down to choose the Do Not Disturb option. In some new iOS versions, you will see a Focus option instead. Choose Do Not Disturb to move on.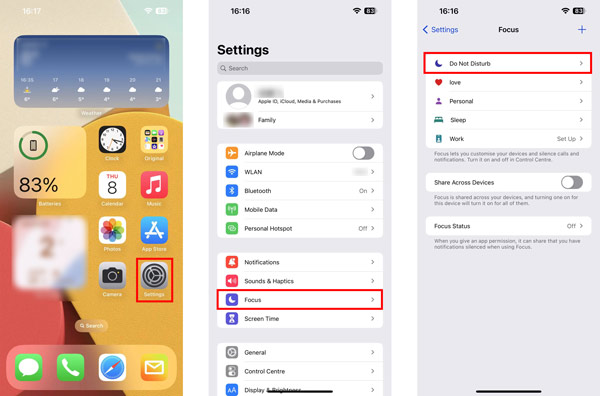 Step 2In the main interface of Do Not Disturb, you can select people and apps and allow notifications. All others will be silenced. Tap People to allow calls from Contacts, Favourites, or Everybody based on your need. During this step, you can also customize notifications from apps.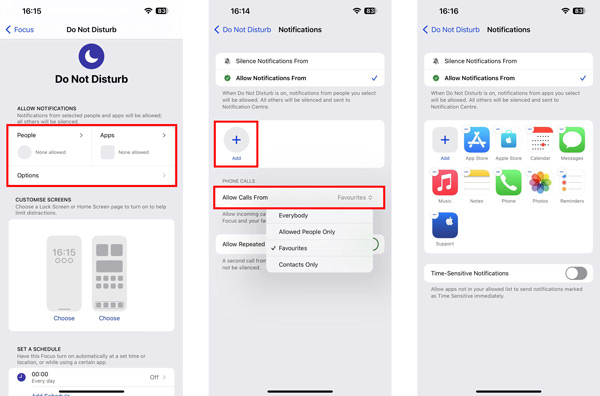 Related to:
Part 3. FAQs of How to Block No Caller ID on iPhone
Question 1. How do you block a phone number on an iPhone?
iOS has had a number-blocking feature since iOS 7. iOS 13 also allows you to block email addresses. When you want to block a specific number or people on an iPhone, you can open the Phone app, locate the specific call or contact from Recents or Contacts, tap the i icon or the contact name, and then choose Block this Caller to avoid receiving calls from the phone number.
Question 2. How to block No Caller ID calls on an iPhone with Verizon Service?
The Verizon carrier has a Call Filter service to block spam calls. If you are a Verizon subscriber, you can freely use this Verizon Call Filter. Otherwise, you need to pay $2.99 a month.
Question 3. What does No Caller ID mean on an iPhone?
When you receive a call and see No Caller ID shows on the iPhone screen, that means the caller is hiding their number. No Caller ID calls are usually scams. They use No Caller ID to make their calls harder to be tracked or block.
Conclusion
You may easily receive No Caller ID calls from salespeople, realtors, and cheats. Indeed you prefer to avoid these unwanted calls on your iPhone. This post shares two effective methods to block No Caller ID on an iPhone. If you have any other helpful tips or valuable app recommendations, please share them in the comment with our other readers.