Are you searching for a way to turn off your iPhone without the screen?
It's quite a common situation that your iPhone touching the screen is not responding, and you want to restart it to fix it. The truth is, there are some other cases you have to turn off an iPhone without the screen. Considering your need, this post will share 3 useful ways to help you restart your iPhone without the screen.

Restart iPhone Without Screen
Part 1. How to Force Reboot iPhone Without Screen
When your iPhone touching screen is not working for any operations, you can force power off it and then turn it on. You can first try using the regular way to turn off your iPhone by pressing the side power button. If the iPhone is still not responding and you can't power it off, just follow the steps below to force reboot iPhone.
Force restart iPhone 8 and later model running iOS 16
To force reboot your iPhone, you can quickly press the Volume Up and the Volume Down buttons one by one and then keep pressing the side Power button. You need to keep pressing on it until you see the Apple logo displayed on the screen. That will perform a force restarting on your iPhone.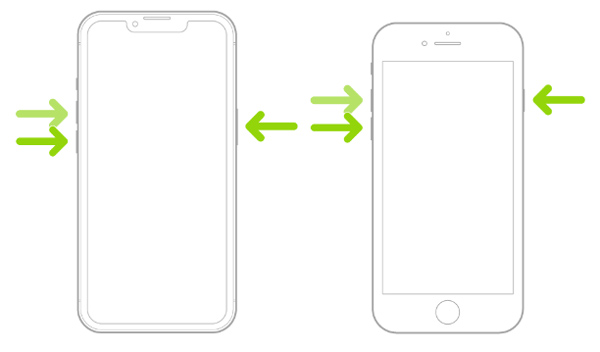 Force restart iPhone 7 or an earlier model
When you want to force reboot an iPhone 7, you can simultaneously keep pressing the side Power and the Volume Down button until the Apple logo appears. To force reboot an iPhone 6s or iPhone SE, you should press and hold the Power and Home buttons on the iPhone. When there is the Apple logo on your iPhone screen, you can release both buttons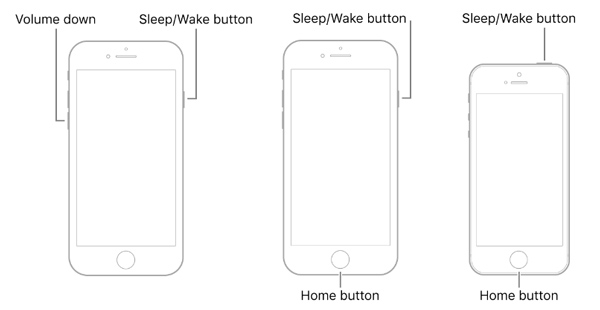 Part 2. How to Restart iPhone Without Touching Screen Through iTunes
When your iPhone screen is broken or freezing, you can restart it through the iTunes restoring way. To use this method to turn off and then restart an iPhone, you need a trusted computer that you have ever synced your iPhone to it.
Step 1Run the latest iTunes on your computer and connect your iPhone via a lightning USB cable. On the previously synchronized computer, iTunes will recognize your iPhone quickly. You don't need to tap Trust on your iPhone screen to build the connection.
Step 2When iPhone is detected successfully, you can click its icon and go to the Summary tab. Click the Restore iPhone button from the left panel, and follow the instruction to proceed with the restoring process. During the iTunes restoration, your iPhone will power off and then restart itself without touching the screen.
Step 3iTunes will prompt you to update or restore your iPhone when it detects a problem with this iOS device. You can tap the Restore button to reset your iPhone.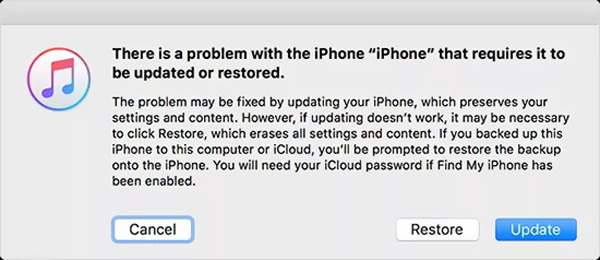 Part 3. Professional Way to Turn Off and Reset iPhone Without Screen
If you can't turn off or reset your iPhone due to system or software issues, you can try using iOS System Recovery to restart it and upgrade iOS to the latest version. It is mainly used to solve various system-related problems, such as iPhone's touch screen freezing, iPhone being stuck on the white or black screen, and more. You can free install it on a Mac or Windows PC to help reset your iPhone without touching the screen.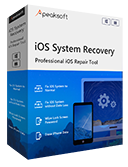 4,000,000+ Downloads
Turn off and reset iPhone without touching screen.
Advanced technology to diagnose iPhone issue and fix it.
Troubleshoot various system-related problems on iPhone.
Support all commonly-used iPhone/iPad models and iOS versions.
Step 1When you need to reset an iPhone without touching the screen, you can free install this recommended iOS System Recovery on your computer first. Open it and connect your iPhone to the computer via a standard lighting USB cable. Click the Start button. As mentioned above, all frequently-used iPhone models are supported, including iPhone 14/13/12/11/X, iPhone XR, iPhone 8, iPhone SE, iPhone 7/6/5, and more.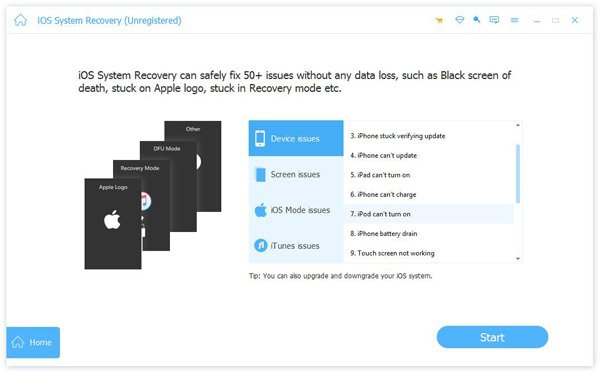 Step 2You can first choose the Standard Mode to troubleshoot your iOS device. Click the Confirm button and follow the on-screen prompts to guide your iPhone into Recovery Mode.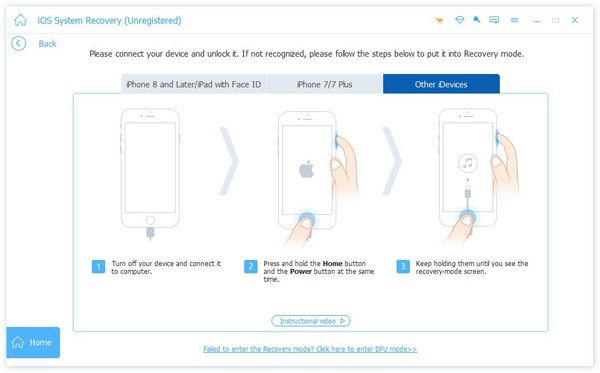 Step 3You need to download a firmware package to reset your iPhone without touching the screen. When your iPhone is recognized, iOS System Recovery will list a suitable package for you to download based on that. It will automatically troubleshoot your iPhone problem as soon as the firmware is downloaded.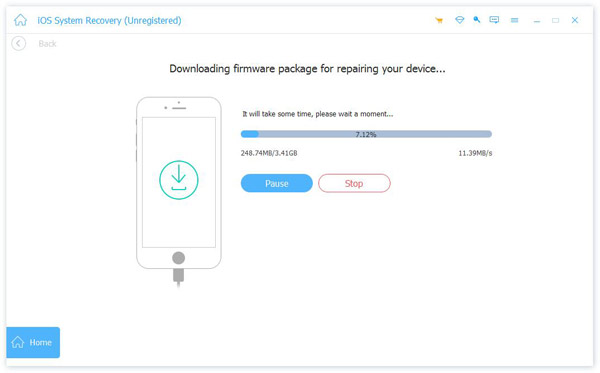 Part 4. FAQs of How to Restart iPhone Without Touching Screen
Question 1. Can I use Siri to turn off my iPhone without the screen?
No. Even if you wake up Siri and ask it to power off your iPhone, you still need to confirm the operation on the iPhone screen. Generally, you can't use Siri when your iPhone screen is not responding or is broken. In the new iOS versions like iOS 16 and iOS 15, you are not allowed to use Siri when your iPhone is locked.
Question 2. Can I use my iPhone without touching the screen?
Yes. You need to enable the Voice Control feature on your iPhone to use it without the screen. To do that, you can go to the Settings app, scroll down to choose the Accessibility option, and tap Voice Control. After you turn on and set up Voice Control, you can use your voice to do various operations on this iPhone.
Question 3. How to use Assistive Touch to restart an iPhone?
The Assistive Touch feature in iOS allows you to set a power button to shut down your iPhone. You can open the Settings app and scroll down to choose the Accessibility option. In some iOS versions, you need to tap General and select Accessibility. When you enter the main interface of Accessibility, you should tap Touch and then turn on AssistiveTouch. Tap AssistiveTouch and choose the Customize Top Level Menu. Now you can tap an icon and change it to Restart. After all these settings, you can go back to the home screen, tap the AssistiveTouch icon and choose Restart.
Conclusion
You can use the three solutions listed above to restart your iPhone without the screen. When your iPhone screen is disabled, cracked, or not responding, you can use them to restart iPhone and bring it back to its normal condition. If you have any more accessible method to reboot your iPhone without touching the screen, please share it in the comment section with our other readers.