By making a playlist on Apple Music, you can collect your favorite songs and tracks together into a list. The exclusive Apple Music playlist presents your mood, thought and other personalities. It is easy to make your own playlist on Apple Music on Mac, Windows, iPhone and Android via Apple Music subscription.
The problem is that the common Apple Music playlists are unavailable once you unsubscribe to Apple Music. Fortunately, you can get the detailed steps to make an online and offline playlist on Apple Music here.

How to Make a Playlist on Apple Music
Part 1: How to Make a Playlist on Apple Musics
If you are an Apple Music Premium user, you can add any song to your personalized playlist directly. It is supported to make a playlist on Apple Music private or public from the apple Music catalog or your own music collection. Here is the tutorial you can follow.
Step 1 Open the Apple Music app. Choose a song you like.
Step 2 Long press that song on your phone. For desktop users, you can hover the pointer over the song. Then click the three-dot More button.
Step 3 Choose Add to a Playlist. Since there is no existing Apple Music playlist, you need to choose New Playlist to move on.
Step 4 Name your new Apple Music playlist. You can add a cover image and description if necessary.
That's all to make a custom playlist on Apple Music app. If you want to add other songs to the recently added playlist, you need to choose the name of this playlist after choosing the Add to a Playlist option. To make a public playlist on Apple Music, don't forget to trigger on Show on My Profile and in Search during the playlist creating process.
Moreover, you can also share the music playlist to iTunes.
Part 2: How to Create and Keep Apple Music Playlists Permanently
Listening to Apple Music with a smart phone is more convenient. If you downloaded many Apple Music songs on your computer, you can use MobieTrans to transfer Apple Music from computer to your phone in a short time.
The program is also capable to sync Apple Music files between iPhone and Android devices. No data loss or overwritten issues will occur. If you switch to a new phone, you can run MobieTrans to move data from the old phone to a new one flexibly. Not only Apple Music files, but also videos, photos, contacts, messages and many other files can be moved smartly.
Moreover, the built-in playlist manager can help you create new Apple Music playlists with both Apple Music downloaded songs and local music files. You can add songs to the previously-created Apple Music playlist too. What's more, you can share playlists with people who unsubscribe to Apple Music directly. In a word, you can create, edit and manage Apple Music playlist on all platforms in one stop.
Transfer Apple Music songs and playlists to your iPhone or Android phone.
Make a playlist on Apple Music with all kinds of songs, not only from Apple Music, but also from other music apps.
Manage and edit all music files to make your phone orderly.
Delete unwanted music and playlist on your phone or computer.
Download for Win
Step 1 Launch MobieTrans. Connect your phone to the computer with a USB cable. This section will take iPhone as an example.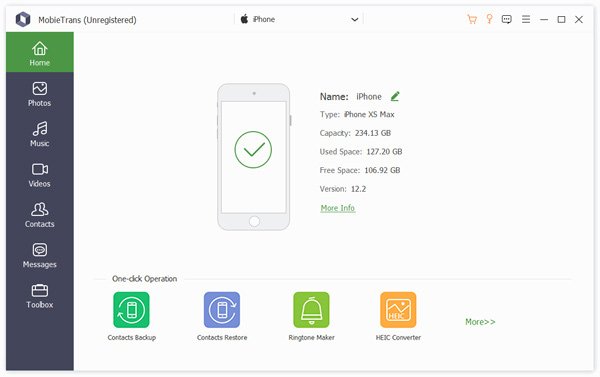 Step 2 Click Music to access all the music files stored in your phone. You can choose Add File (s) or Add Folder from the Add list to move Apple Music to iPhone from PC. Then click Open to confirm.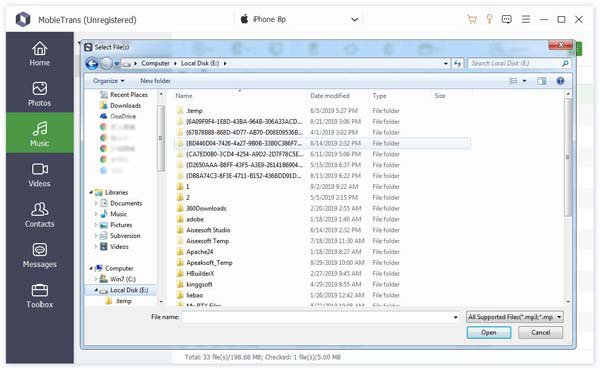 Step 3 You can click the Folder icon and select Create Playlist to create a playlist on Apple Music based on your tastes. Just browse and add the downloaded songs you like.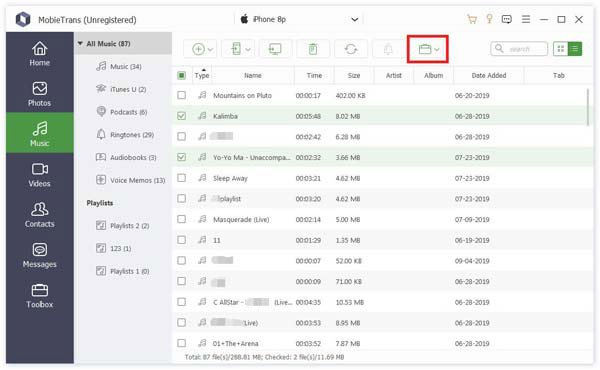 Step 4 Open the certain music folder and choose which music file you want to add to your phone. Then click the Phone icon and select your iPhone as the target device. You can choose one playlist to export an Apple Music playlist to your phone too.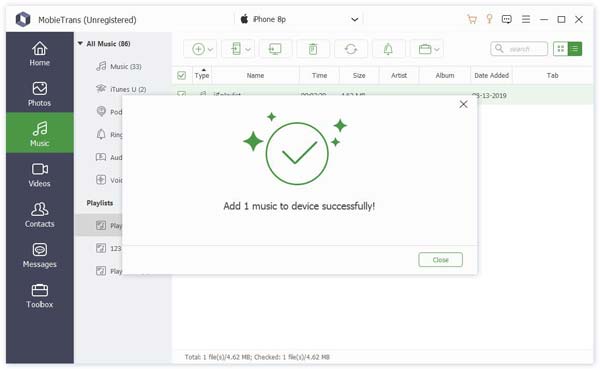 Part 3: What to Do If Apple Music Won't Let Me Add Songs to Playlist
When you encounter the Apple Music playlist not adding songs problem, you can try the following tips to fix it. Well, you can also find the reasons why you can't add Apple Music tracks to a playlist.
1. You need to subscribe to Apple Music. – Pay Apple Music subscription
2. Sign into the same Apple Music account you created the playlist before. – Check your Apple Music account
3. Apple Music library not syncing after iOS 13/14 update. – downgrade to iOS 12 or earlier version
4. Apple Music app crashing or not working caused by crashes and small glitches. – Reboot your phone or computer
All in all, you can make a playlist on Apple Music with the above 2 methods. But if you want to add your own music to Apple Music, using MobieTrans would be a better choice. For example, you can make a custom playlist with songs downloaded from Apple Music or other music apps. Both you and your friends can update this playlist freely. If you have other questions about Apple Music playlists, you can feel free to contact us.