"I have an Android phone, but I found that one of my friends who has an iPhone always send various emojis when we talked in WhatsApp, is it possible to use iPhone emojis on my Android phone, if it is possible, how to get iPhone emojis for Android."
Unicode introduced some emojis into each new version. Now there are 1,144 emojis. Every year Apple would add new emojis into the new version of iOS as well. Though Google design team work hard on it as well, new emojis are not supported on old versions of Android, for example Unicode 9 emojis are only available to Android N. But don't worry! We will show you how to get iPhone emojis for Android in this post.

Part 1

: Android vs. iPhone emojis

It is well-known that iPhone and Android utilize totally different ways to encode and decode data. That makes some data on iPhone may be displayed in a different way on Android phone.

But can you imagine that the smile emoji sends from iPhone displays as a cry emoji? Fortunately, that won't happen since Unicode built up the standard for emoji to prevent from such thing.

But the looks of emojis are a bit different between on iPhone and Android. Some people use suits vs. T-shirts to describe iPhone to Android emojis.

On the other hand, most iPhone users updated software once Apple released new version of iOS. But only 7% of Android devices have upgraded to Nougat. In another word, smartphone users prefer to talk about Android vs. iPhone emojis, partly because majority of Android owners are still using the old software and cannot get new standard of emojis.

Is there any chance to get iPhone emojis to Android? The answer is simple, yes. All you are looking for is below.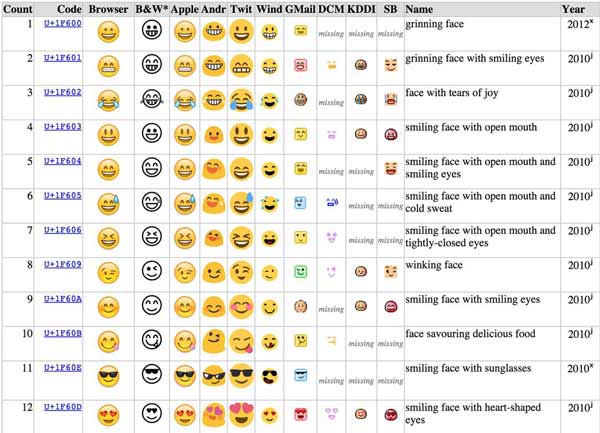 Part 2

: How to get iPhone emojis for Android

In this part, you can learn the methods to get iPhone emojis for Android. Apparently, you cannot save iPhone emojis on your Android phone. The ways to transcode emojis on rooted and unrooted Android are a bit different.
Way 1: How to get iPhone emojis for Android unrooted
Step 1. Start the "Settings" app from Android's app drawer, go to the "Security" screen, find the "Unknown Sources" option and put the switch to "ON" position.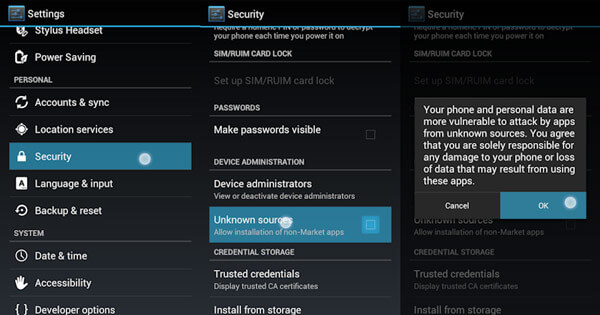 Step 2. Download Aptoide from the website (emoji-font-3.en.aptoide.com/), open it, download the Emoji Font 3 app and install it on your Android phone. Next, go to "Settings" > "Display", find "Font Style", and scroll down to find "Emoji Font 3" and select it.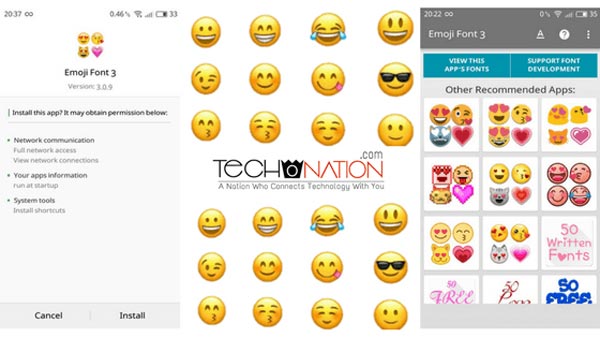 Step 3. Then download and install Google Keyboard app, called Gboard, from Google Play Store. When prompted to make it as a default keyboard, tap on Select Input Method and choose Gboard.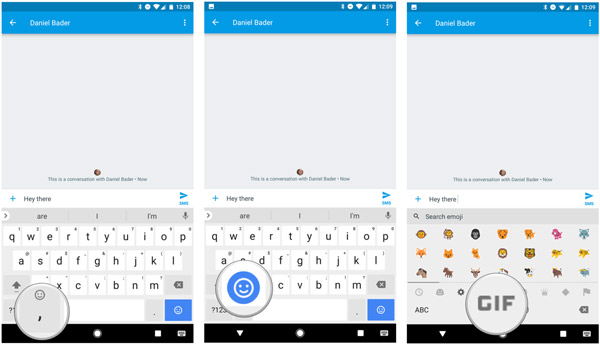 Step 4. Now, open your Messages app or WhatsApp, tap on Add icon and select emojis, you can send iPhone emojis for Android as you wish.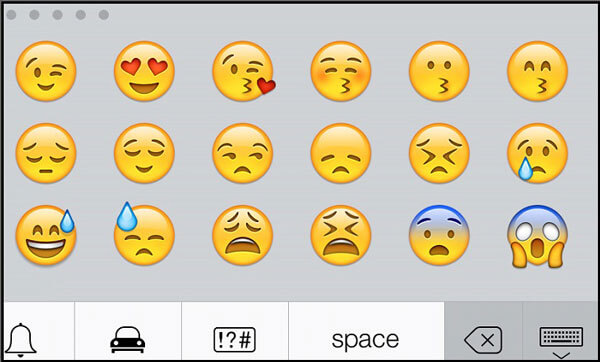 Note: This is one of the simplest ways to get iPhone emojis on Android devices. It does not require rooting or big changes to your operating system. The only downside is that the Emoji Font 3 app had been kicked out from Play Store, so you have to download it online.
Way 2: How to get iPhone emojis for Android rooted
On the other hand, if your Android phone has rooted, Magisk module will transform Android emojis to iPhone version simply. The steps below are available to help you complete this job in a few minutes.
Step 1. Download iOS emoji wrap from the website (https://github.com/theobch/ios10-Emoji/releases/download/v2/ios10.zip).
Open the Magisk Manager app, go to the "Modules" area and hit the floating action button at bottom of the screen.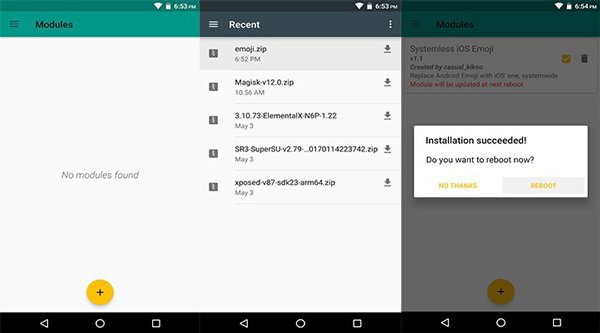 Step 2. Tap on next icon, select the downloaded iOS emoji file to install it on your Android phone. When prompted, tap on Reboot to make iOS emojis working on your phone.
Step 3. After Android phone turn back on, your keyboard should contain iPhone emojis. You can open any messages app, such as WhatsApp to check if it works now.
Note: Though this way is easier than Emoji Font 3, you have to root your Android phone first. And Magisk is necessary for your rooted Android phone.
Recommend

: phone transfer

In addition to get iPhone emojis for Android, many people are searching for the best way to transfer data from iPhone to Android. From this point, we recommend Apeaksoft Phone Transfer. It is one of the easiest file transfers for smartphones. Its key features include:
Transfer data in one click. It has the capacity to transfer data from Android to iPhone, from Android to Android, or from iPhone to Android in one click.
Lossless transfer. Phone Transfer will not overwrite or damage current data on both source and target devices.
Keep original conditions. It is able to extract data and files from one smartphone and put them to another one in original format and quality.
Faster and safer. It relies on the USB connection to transfer data between Android and iPhone, which is much quicker and safer.
Phone Transfer works for a wider range of data types, including videos, photos, music, contacts, voice memos, podcasts, ringtones, movies, playlists and more.
Higher compatibility. This phone transferring application is compatible with a variety of mobile devices, including like iPhone 14/13/12/11/XS/XR/X/8/7/6/6s/5s/5c/5, and Android phone from Samsung, HTC, LG, Sony, Google, etc.
Download for Win
In short, it is the easiest way to transfer data between smartphones.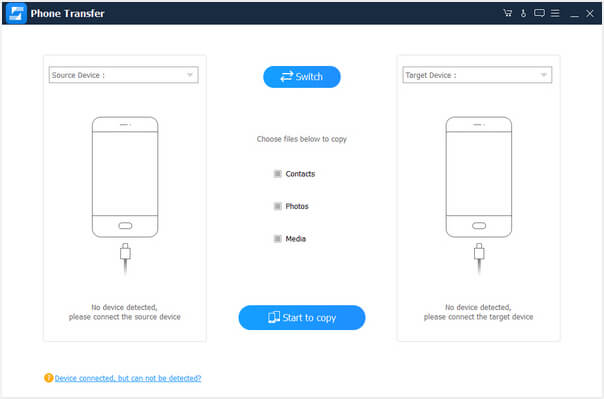 Conclusion:
Emoji has become a new way to communicate with others. It is able to express something unable to be described by words in an intuitive way, such as emotions. However, some people compared iPhone with Android emojis and found that former is better on look. That is why people search for how to get iPhone emojis for Android.
In this tutorial, we have shared two methods to complete this job. If you have an unrooted Android phone, Emoji Font 3 is a good option to change Android emojis to iPhone-style. And the Magisk module allows people to install iOS emoji on Android phone directly. Plus, we also shared the best phone transfer, Apeaksoft Phone Transfer. Anyway, we hope that our guides and suggestions are helpful.