"I just got my new iPhone 14, but the problem is that all my contacts are saved on the Android phone, how to transfer contacts from Android to iPhone? Please help." Actually, transferring contacts from Android to iPhone is not really that difficult, and takes nothing more than popping out the SIM card from one device and putting it in another. In cases you are planning to move contacts from Android smartphone to a new iPhone, here are six easy way to move contacts from Android to iPhone simply.

Part 1

: Move Contacts from Android to iPhone with MobieTrans

MobieTrans works as 1-click transfer tool to manage and transfer any data like contacts, music, videos, contacts, SMS, etc. between iPhone/iPad/iPod touch/Android device and computer.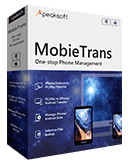 4,000,000+ Downloads
Transfer contacts from Android to iPhone/computer/iTunes directly.
Manage Android contacts, like deletion, de-duplicate, add, edit, etc.
Keep moved contacts and existing contacts intact safely.
Compatible with iPhone 14/13/12/11/XS/XR/X/8/7/6/5/4 with latest iOS 16.
Step 1. Connect iPhone and Android device
Download and install MobieTrans on your computer. Connect your devices with computer via USB cable.
In the main interface, you could enable your Android phone show currently by selecting the drop-down menu in the top center.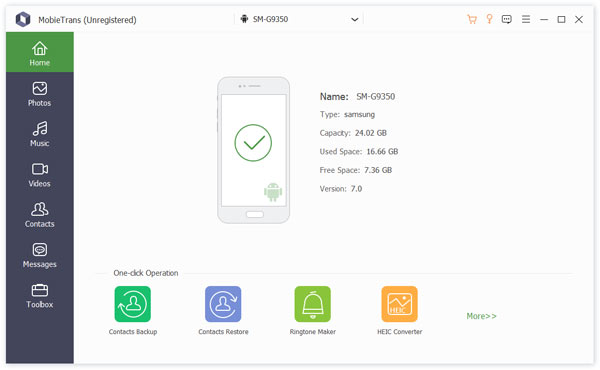 Step 2. Select contacts
Click "Contacts" from the left sidebar, and view the details on the right window.
Here, you are able tick the box before every contact to checkmark the contacts you want to move to iPhone.
Step 3. Transfer iPhone contacts to iPhone
After checking the contacts, click the third image from the menu to transfer contacts from Android to iPhone.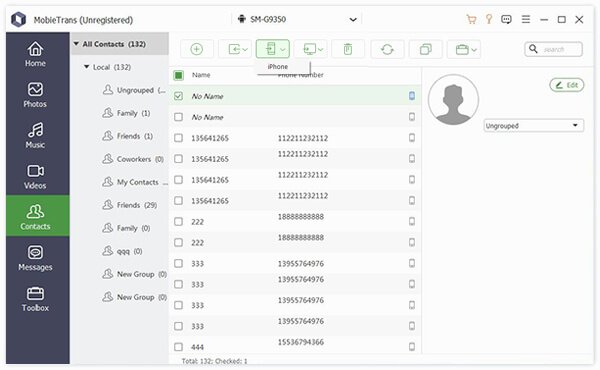 Part 2

: Transfer Contacts from Samsung to iPhone Using Move to iOS App

To experience advanced technologies and performance, some people upgrade their Samsung smartphone to new iPhone. Apple has caught up such trend and released an Android app, called Move to iOS. As its name said, this app is able to transfer contacts from Android to iPhone along with text messages, photos, calendar, and other data simply. The downside is that Move to iOS is only available to new iPhone runs iOS 9.3 or later. Plus, Move to iOS app uses Wi-Fi network to transfer data from Android to iPhone.

How to transfer contacts from Samsung to iPhone using Move to iOS

Step 1. If your Samsung smartphone running Android 4.0 or higher, go to the Play Store, search for the Move to iOS app and install it on your Samsung device. Connect your smartphone to a Wi-Fi network.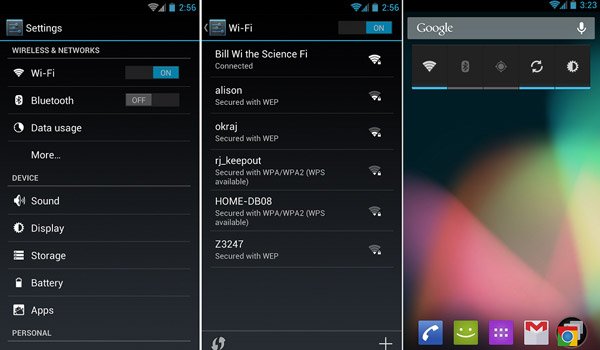 Step 2. Turn on the new iPhone, follow the onscreen assistant to set up your device and enter the same Wi-Fi network credentials. When you reach the Apps & Data screen, select "Move Data from Android".
Note: If you want to use Move to iOS for an old iPhone, you have to erase your iPhone and start over.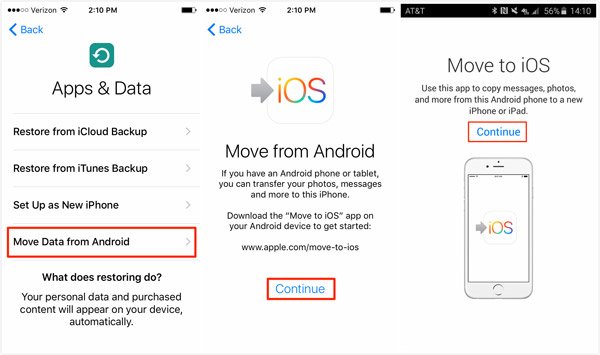 Step 3. Switch to the Samsung phone and launch the Move to iOS app. Tap "Continue" and then hit "Agree" after reading the terms and conditions. Then tap "Next" at upper right corner of the Find Your Code screen.
Step 4. Turn to iPhone, tap "Continue" to display the verification code. Then enter the code on your Samsung phone to move to the Transfer Data screen. Here you can select the content, such as the contacts to transfer from Samsung to iPhone. After selected, tap "Next" to trigger the transfer process.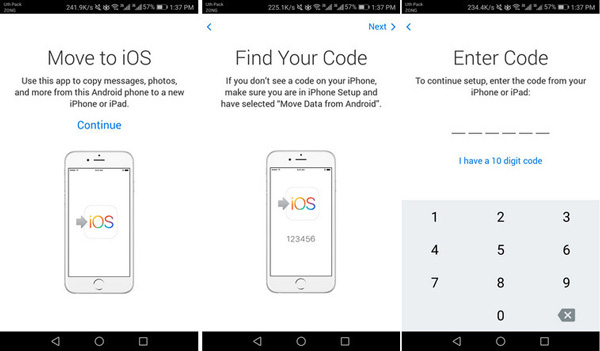 Step 5. Wait for the loading bar on your iPhone to finish. It can take a while depending on how many contacts transfer from Samsung to iPhone. Then tap "Done" on your Samsung phone and hit "Continue" on iPhone to go on the rest setup steps.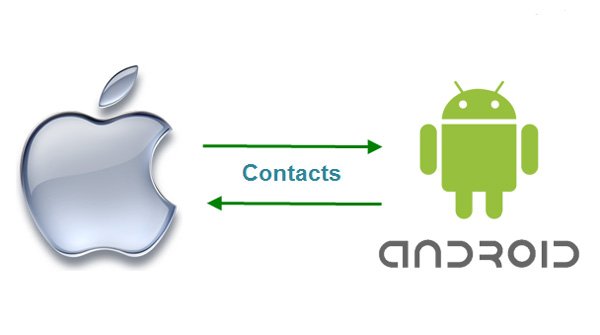 Note: Remember that even though the Samsung phone indicates that the process is complete, keep both device connecting until loading bar finishes. And if you want to transfer contacts for third party apps, such as WhatsApp, make sure the app is available on both Google Play and App Store. And during contact transfer, place Samsung phone and iPhone as close as possible.
Part 3

: Import Contacts from Android to iPhone via Google Account

Another simple way to import contacts from Android to iPhone is through a Google account. Many Android users prefer to back up their contacts to Google Contacts, which is a digital contact management tool. Users could sync and access contacts from smartphone to Google Contacts through Gmail account. And after setting up Google sync on smartphones, it will transfer contacts from a mobile device to another automatically.

Step 1. Unlock the Android phone, go to "Settings" > "Account" and tap the "Add Account" icon. Select Google and enter your Gmail username and password. Then once your Android phone connects to a Wi-Fi network, the contacts on both your SIM card and your device will be saved to Google Contacts automatically.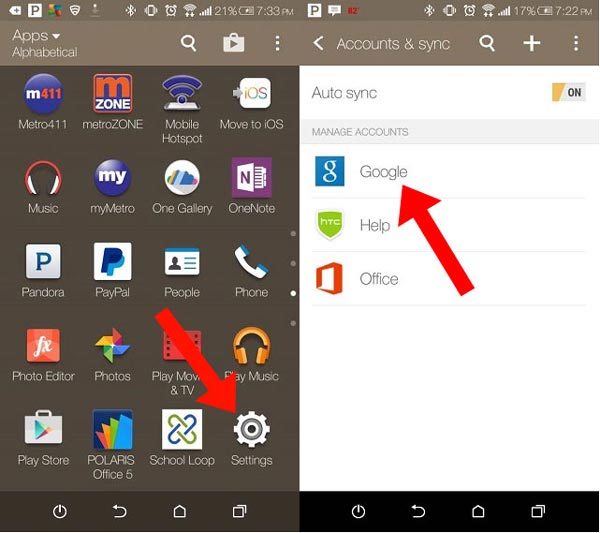 Step 2. To transfer contacts from Android to iPhone using Google account, you need to set up Google sync on iPhone as well. Turn on iPhone, connect it to your Wi-Fi network as well. Head to "Settings" > "Mail, Contacts, Calendars" on iOS 9 and earlier, or "Settings" > "Mail" on iOS 10 and later. Tap "Add Account", select "Google" and input the same Gmail credentials.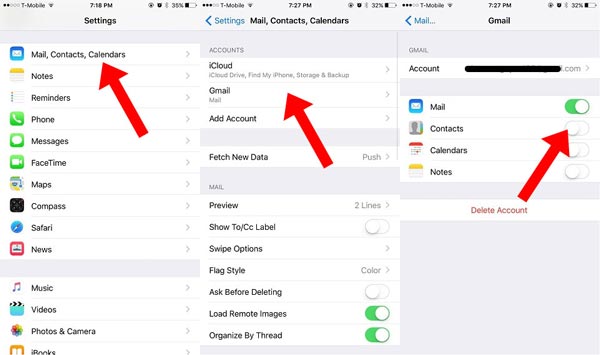 Step 3. Then you will be presented what data types you want to sync, like Mail, Contacts, Calendars and Notes. Put the switch of "Contacts" to "ON" position. Now, your Android contacts should start importing to iPhone. A few minutes later, open the iPhone Contacts app to check whether it is successful.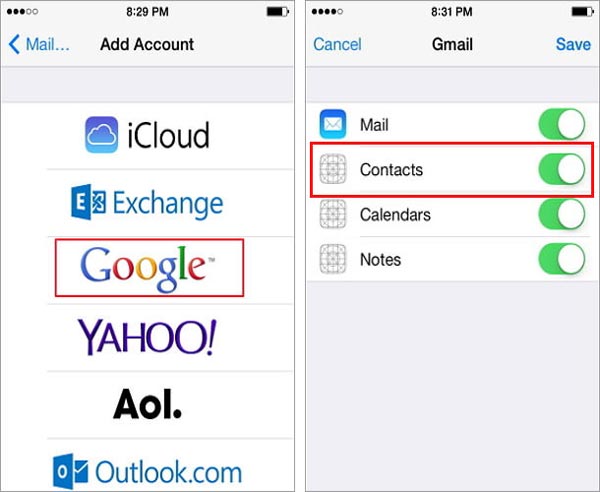 Note: Once you have turned on Contacts after set up Google account, the contact changes on Android or iPhone will be synced to the other device. So, you'd better turn it off after transfer. And if you have set up Google account on both devices but the contacts not syncing, you can try to turn off the Contacts option in Gmail settings screen and turn it back on. Check this post to quickly transfer contacts from Android to Android.
Part 4

: Copy Contacts from Android to iPhone by SIM Card

The SIM card is one of the easiest ways to copy contacts from Android to iPhone. A SIM card usually has 500KB storage and could store hundreds of contacts. No matter you prefer to save contacts on SIM card directly or favorite to store contacts on smartphone, this way is feasible. Moreover, it does not need you to install apps or prepare a Wi-Fi network. All you need to do is to follow the simple steps below.

Step 1. Open the Contacts app on your Android phone. If the contacts are marked with SIM card icon, it means that you have saved contacts on SIM card, and you can skip to step 2 directly. Otherwise, you need to back up Android contacts to SIM card first. Tap the "Menu" button in Android Contacts app, select "More" and then choose "Import/Export". Then on the popup dialog, select "Export to SIM card", check the box of "Select all" and hit "Done" to move all contacts to SIM card.

Tip: If you do not want to transfer all Android contacts to iPhone, you can select certain ones rather than check the "Select All" box.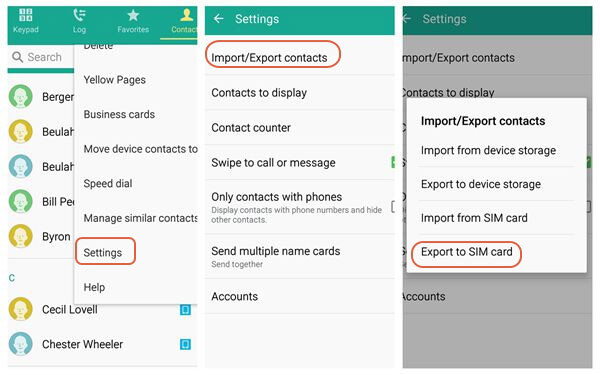 Step 2. Remove the SIM card from your Android phone and insert it into the iPhone. When you see the carrier signal appears on top of the screen, navigate to "Settings" > "Contacts" and tap on "Import SIM Contacts".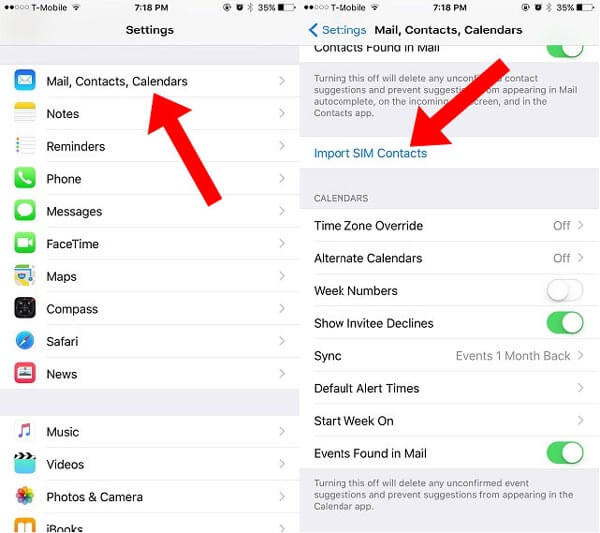 Step 3. When transfer completes, open the Phone app and go to the Contacts tab. If the Android contacts do not show up, pull down the screen to refresh contacts on iPhone.
Note: To transfer contacts from Android to iPhone via SIM card, you need to be sure that the SIM cards must be the same size in both devices. iPhone 5 and later use Nano SIM cards, but Android devices are various depending on models and manufacturers.
Part 5

: Transfer Contacts from Android to iPhone with iTunes

iTunes is a well-known toolkit for users to purchase apps and multimedia contents, transfer files from computer to iPhone, or back up iPhone to computer. If you have iTunes installed on your computer, it is a simple way to copy Android contacts to iPhone as well.

Step 1. Open the Android Contacts app, tap the "Menu" or "More" button with three dots icon at upper right corner. Select "Import/Export" and choose Export to save the Android contacts as a vCard file to the internal storage or SD card.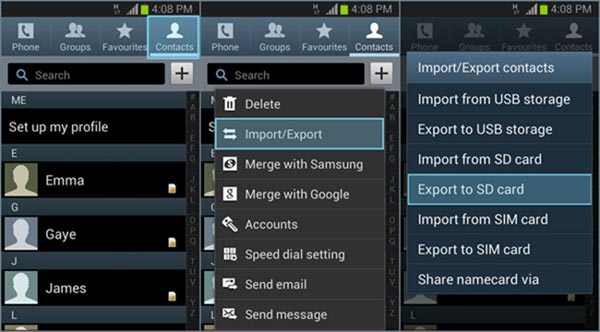 Step 2. Plug the Android phone to your computer via a USB cable and turn on the USB Debugging mode on your device. Then the Android phone will shows up as a portable drive on your computer. Find the vCard file in Window Explorer and copy it to your computer. Open Outlook and navigate to "File" > "Import and Export", select "Import a vCard File", click "Next" and follow the instructions to import Android contacts to Outlook.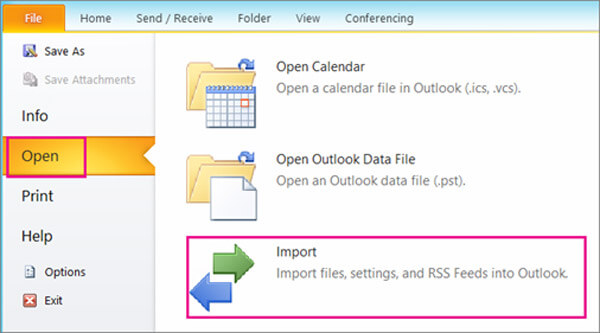 Step 3. Disconnect the Android phone and plug the iPhone to your computer. Next, start iTunes and go to the "Info" tab. Check the box of Sync Contacts with and select Outlook from the dropdown menu. Once click the "Sync" button at the bottom, the contacts will be copied from Android to iPhone.
Note: iTunes will cover the original contacts on iPhone when you sync contacts, so make sure you do not need them anymore.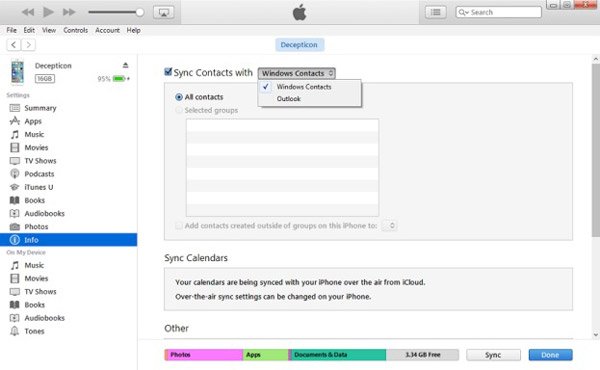 Conclusion
In this tutorial, we have shared five ways to transfer contacts from Android to iPhone 13/12/11/X/8/8 Plus/7/7 Plus/6/6s/5/5c/5s/4. All of them have unique benefits and advantages. SIM card, for example, is a simple way to do it without apps or extra devices. Google Contacts is able to sync contacts between Android and iPhone automatically via a Wi-Fi network. The Move to iOS app is designed to copy contacts from Android to a new iPhone along with other data. iTunes could sync Android contacts to iPhone as well. But if you are searching for the best option, we will recommend Apeaksoft MobieTrans, because it is not only easy to use, but also able to protect existing data on both Android and iPhone during contact transferring. Just free download it and have a try!
If you have any better idea to transfer contacts from Android device to iPhone, or still have any question, you can leave us a message in the comment.