Every time when Samsung releases the new flagship smartphone, some people will switch from iOS to Android, and looking for a way to transfer WhatsApp messages from iPhone to Android. So does the shift when Apple launches new iPhone.
Today, WhatsApp has become a major social network and communication channel among Millennials and other generations. A lot of people use it to keep in touch with friends, family, and partners around the world. Unlike Facebook and Instagram, WhatsApp saves chats on smartphone locally but not account. That is why people want to learn how to transfer WhatsApp chats from iPhone to Android or Android to iPhone. Fortunately, you can get multiple ways in this post.

WhatsApp Messages from iPhone to Android
Part 1. Transfer WhatsApp Chats from iPhone to Android Using Backup
To avoid data loss, WhatsApp has a built-in backup feature. It is able to save WhatsApp chats to servers and restore them later. The chat backup feature is also a solution on how to transfer WhatsApp chats from iPhone to Android. We use a Samsung Galaxy Note 5 and iPhone 7 as the example to show you the procedure.
More Reading: How to Back up WhatsApp chats to Google Drive and computer ?
How to transfer WhatsApp from iPhone to Android
Step1
Turn on your iPhone 7 and connect to a Wi-Fi network. Open the WhatsApp and sign in your account (Password for WhatsApp Messages app). Head to "Settings" and select "Chat Backup".
Step2
Tap on the "Auto Backup" option and select Daily/Weekly/Monthly to save all WhatsApp conversations to the server automatically. It may take a while to complete the process if you have accumulated a lot of messages and attachments. When it is done, sign out your account.
Step3
Switch to the new Galaxy Note 5, and install WhatsApp from Google Play. Make sure to sign in with the same phone number.
Step4
Then you will be prompted if to restore data from backup. Tap "Restore" to trigger the process and download WhatsApp chats and attachment to the new device.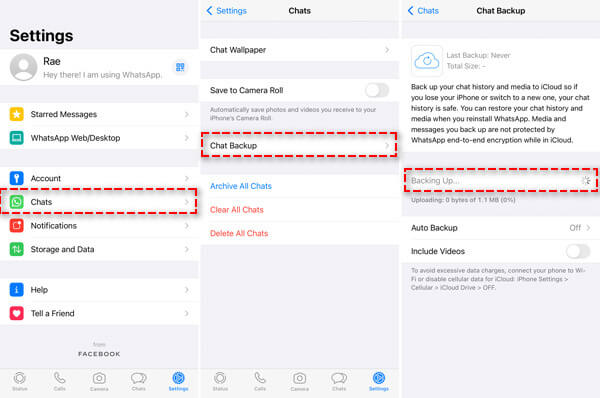 This way is used to move all WhatsApp messages and attachments from iPhone to Android.
Part 2: Transfer WhatsApp from iPhone to Android via Email Chat
The backup feature does not allow you to select certain conversations for transferring WhatsApp from iPhone to Android. Instead, we can use the email chat feature to do it simply. With the Email Chat feature, you can move single WhatsApp chat from iPhone to Android.
Step1
Open WhatsApp app on your iPhone, and locate to the desire chat in WhatsApp on iPhone.
Step2
Tap the contact name at the top of the conversation to enter the "Contact Info" screen. You can tap "Export Chat" in the Contact Info screen.
Step3
If there is attachment in the conversation, you will be asked whether "Attach Media" or "Without Media". Select one to go to the new mail screen.
Step4
Tap "Mail" option and select one email to enter your email account in the box and tap on the "Send" button.
Step5
Log into your email account on your Android phone, and you can view the WhatsApp conversation on Android phone via email.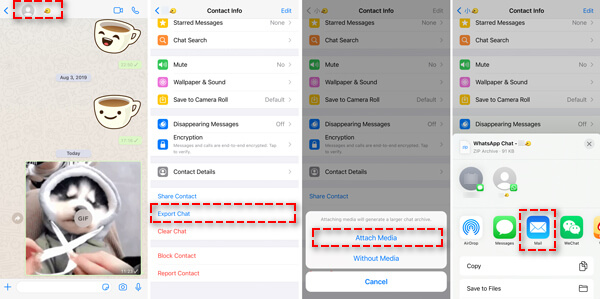 Email chat feature allows you to transfer WhatsApp messages from Android to iPhone as well; however, it cannot download the messages to WhatsApp. And the email usually has size limit, so it is not suitable to transfer too many conversations and attachments.
Part 3: Transfer WhatsApp from iPhone to Android Using Third Party Tools
Besides chat backup and email, there are several third party tools on market that have the capacity to transfer WhatsApp between iPhone and Android, such as Jihosoft WhatsMate.
Step1
Open the WhatsApp toolkit on your computer. Connect both the Android phone and iPhone to your computer. Enable iPhone as "Source" and Android as "Destination". If you want to sync files from Android to iPhone, just do it on the contrary.
Step2
If you want to transfer WhatsApp from iPhone to Android, select iPhone in the source box and Android in the destination box. Choose the data types you'd like to transfer, like WhatsApp chats, contacts, attachments, etc.
Step3
Finally, click the "Transfer" button or similar option to trigger the process. Wait for the process to complete and then remove both devices from your computer. Now, WhatsApp messages should go to the target device.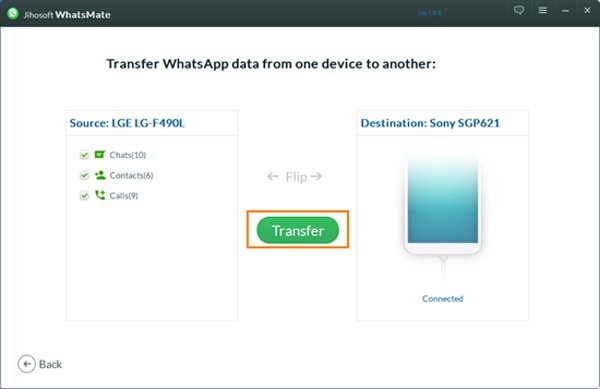 The benefit of third party tools is apparent. They usually use physical connection and transfer WhatsApp messages between Android and iPhone faster. The downside is that they are usually not free of charge.
More Reading: How to Recover WhatsApp chat on Android and iPhone ?
Recommended: Transfer WhatsApp Messages from iPhone
If you want to switch WhatsApp data from your old iPhone to the new one, it'd be better to try Apeaksoft WhatsApp Transfer. It is a professional WhatsApp data transfer tool that enables you to transfer your WhatsApp conversations between iOS devices. You can also export the WhatsApp messages in HTML or CSV formats on the computer.
Switch WhatsApp chats, audio, videos, photos, contacts at once.
Transfer WhatsApp messages from iPhone to iPhone in one click.
Back up WhatsApp chats, attachments to your Windows PC and Mac.
Restore WhatsApp data from backup files to iPhone easily.
Download for Win
Download for Mac
Part 4. FAQs of Transferring WhatsApp Messages from iPhone to Android
1. How do I backup WhatsApp chats on my iPhone to Google Drive?
Tap on Settings in WhatsApp app on iPhone, locate the chat and tap to Contact info. Tap Save to Camera Roll and select Always option. Then WhatsApp will save all videos and photos to the camera roll. Next, launch Google Drive app and you can back up the photos and videos to Google Drive.
2. Can I transfer WhatsApp chat from Android to iPhone?
Yes. Tap Settings in WhatsApp on your Android device. Click on Chats and select Chat history. You can click Export Chat and select the contact you want to transfer. Then select Gmail and enter your email address. Tap send and restore the WhatsApp chat on your iPhone.
3. Will I lose my WhatsApp conversations if I change phones?
Generally, you can still view the old WhatsApp chats on your old phone when you change phone. But the WhatsApp conversation will not sync to your new phone automatically.
Conclusion
In this tutorial, we have told you how to transfer WhatsApp chats from iPhone to Android. For new Android users or multi-device owners, this is an important skill. First of all, the built-in backup feature is a convenient option to move all WhatsApp conversations between iPhone and Android. And if you only want to transfer a single chat or certain messages, the email chat feature is available on both iPhone and Android. And there are several WhatsApp transferring programs on the market. Based on our reviews, you should grasp three methods and make a better decision according to your situations. Plus, we have shared the guides for each method. So, when you need to transfer WhatsApp between iOS and Android, you can follow the guides and get what you want simply. We hope that our guides and reviews are helpful to you. If you still have questions related to transfer WhatsApp messages from iPhone to Android, please leave a message below this article. We will reply it as soon as possible.