Today, smartphones are increasingly important in our daily life. Plus we are with our handsets almost all the times and save a lot of private information on it, security measure of mobile device becomes a hot topic. Manufacturers have realized such demands and introduced biometrics in latest models.

Now, fingerprint is the most mature biometrics technology. In this post, we are going to share top 8 best fingerprint lock apps for Android you can use. With them, you can get rid of annoyance of typing password or pattern every time accessing your device, as well as enjoy higher level of security on your phone.
Part 1

: Top 8 fingerprint lock app for Android

Feel boring about traditional screen lock? The reputable fingerprint lock apps below are worth to try.
Top 1: AppLock – Fingerprint Unlock
Pros
1. Lightweight with only 1.44 MB in size.
2. Record intruders who try to unlock your apps by front camera.
3. List unlimited apps and stop others from peeking on your information.
4. Lock Settings app to prevent family members from changing it.
5. Free to download from Google Play without ads and other malware.
Cons
1. This fingerprint lock app is only available to Android 6.0 and later.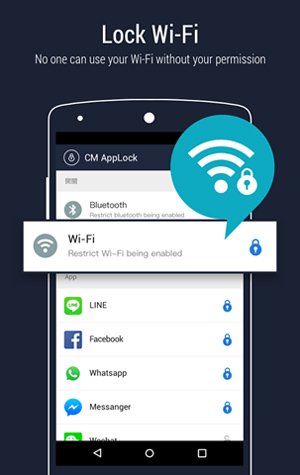 Top 2: App Locker: Fingerprint & Pin
Pros
1. Support PIN, password and fingerprint lock on apps.
2. Make a fake crash screen temporarily to make intruders believing your device is dead.
3. Capture an image using the front camera when someone tries to open locked apps improperly.
4. Work on a wider range of Android devices, from Android 4.0.3 to latest systems.
5. Free of charge in Play Store.
Cons
1. Users have to look at annoying ads to exchange free functions.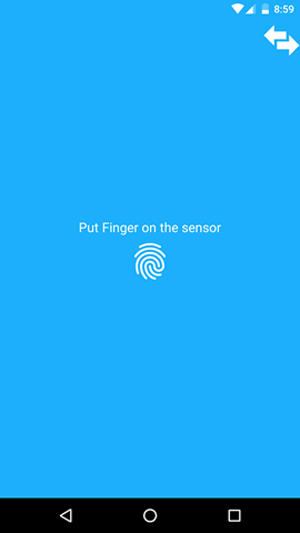 Top 3: App lock – Real Fingerprint
Pros
1. Integrate PIN and password protection along with fingerprint lock.
2. Send you an alert email with the face of the intruder once he or she tries to open locked apps.
3. Lock-protect third party apps, pre-installed apps and Settings.
4. Get from Google Play for free.
5. Available to Android 4.1 and above.
Cons
1. It contains annoyance ads, and you have to purchase in app if you want to remove ads.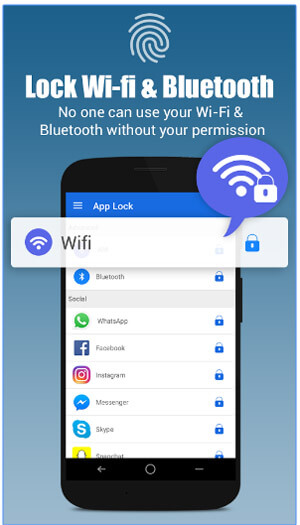 Top 4: App Lock: Fingerprint Password
Pros
1. Support PIN, pattern and fingerprint lock protections.
2. Protect your apps, emails, messages, and photos easily.
3. Equip a kid mode to protect your phone from being opened by your kids.
4. Hide locked apps automatically when others using your device.
5. Compatible with devices running Android 4.0.3 or later.
Cons
1. This app is not available to system apps and Settings.
2. It is large and crashed sometimes.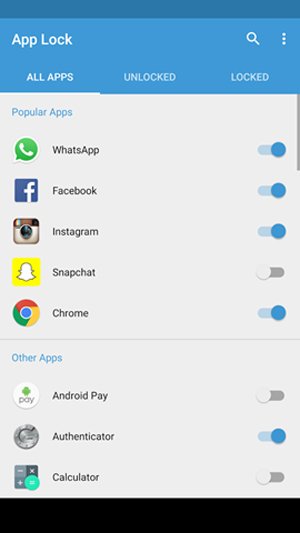 Top 5: FingerSecurity
Pros
1. Add fingerprint lock to any apps on your Android handset.
2. Equip a widget to enable or disable the fingerprint protection quickly.
3. Set up password and PIN and use them when fingerprint is not recognized.
4. Pop up fake crash screen automatically when detects intruders.
5. Protect new notifications and messages of locked apps.
Cons
1. It cannot protect task manager.
2. There are too many settings for beginners.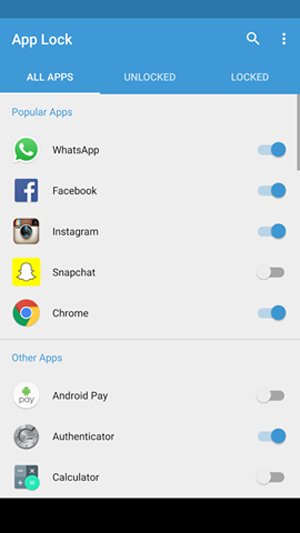 Top 6: CM Fingerprint Applocker
Pros
1. Add fingerprint lock on third party apps, system apps, Bluetooth, and Wi-Fi networks.
2. Download lock screen themes for free.
3. Reset password using the Google account associated on the handset.
4. Snap a picture with the front camera if it detects others attempting to unlock the apps.
5. Support a wider array of Android versions.
Cons
1. You have to view ads to protect your privacy for free.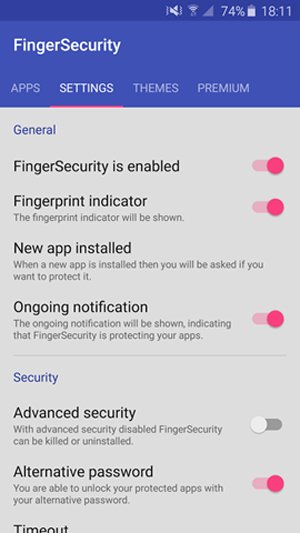 Top 7: AppLock by DoMobile Lab
Pros
1. Fingerprint-lock Contacts, SMS, Settings, Facebook and other apps.
2. Hide pictures and videos from gallery, apps or emails.
3. Integrate a random keyboard and invisible pattern lock.
4. Customize profiles for each app on your phone.
5. Support 24 languages.
Cons
1. It requires Android 6.0 and later.
2. This fingerprint scanner app cannot stop third party file managers from displaying your files.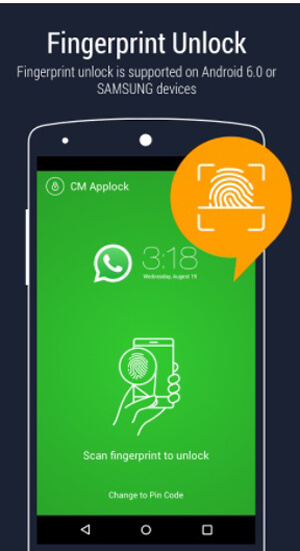 Top 8: SpSoft Fingerprint AppLocker
Pros
1. Available to more than 30 languages.
2. Lock and protect apps using password, PIN and fingerprint.
3. Work on third party apps, pre-installed apps, Settings, Wi-Fi, and more.
4. Detect intruders and record the face with your front camera.
5. Offer custom lock screen themes for free.
6. Add multiple passwords on private apps.
Cons
1. It does not work on task manager.
2. Plus, it puts ads on your lock screen.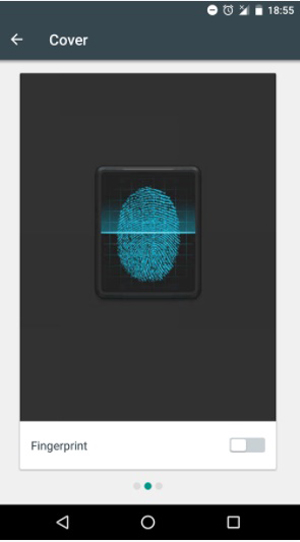 Part 2

: How to use fingerprint lock for Android

Fingerprint scanners have been around for quite some time and Android starts supporting fingerprint lock since Marshmallow. This technology offers many benefits, for example, authenticate the user's identity quickly and conveniently, access your phone without password, and more. Start using fingerprint lock? Follow the steps below to set it up. We use a Samsung Galaxy S8 as the example.

Step 1: Open the "Settings" app from your App Tray, scroll down, find and tap on "Lock screen and security".

Step 2: Touch the "Fingerprint Scanner" option and tap "Continue" to move on. To unlock screen when Fingerprint scanner not working, set up a backup screen lock, like PIN, Pattern, or Password.

Step 3: Next, you will be taken to the fingerprint setup screen and asked to place a finger on the sensor, lift off, and then repeat. It requires you to move your finger left and right to create an intact fingerprint.

Step 4: After your fingerprint is registered, tap on "Add" to add another fingerprint or hit "Done" to complete it. Finally, tap Turn On to enable fingerprint lock on your phone.

Step 5: Any time when you want to unlock your phone, put your finger on the sensor. If it is detected, you can go to the home screen immediately.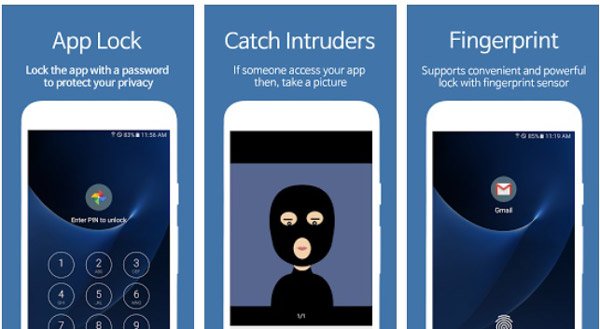 Conclusion
Fingerprint lock is the most popular biometrics technology on Android smartphone currently. Compared to other screen locks, it is easy to use, convenient, and more stable.
We have shared 8 best fingerprint lock apps to protect your apps and information. You can read our reviews and discover the most appropriate one for using. Besides, we also told you how to use fingerprint lock on Android devices. Now, you can use your smartphone simply and securely.