How to access an iPhone when you forget the password, input wrong passcode for many times or touch screen fails to work?
It should be frustrating to get into the locked iPhone when you do not have password or cannot input password on your iPhone, or an iPhone belongs to a stranger in a bar or taxi and want to find out the owner.
No worry, and this page collects the full guide in 7 ways to help you lock out a locked iPhone.
You can easily use Siri, iTunes, iCloud or other third-party programs to get into a locked iPhone. 100% working at least one way.

Part 1

: How to get into a locked iPhone via Siri

Siri is the voice-based virtual assistant on iPhone. Users discovered that there is a bug of Siri, which can be used to get into a locked iPhone. The method only works from iOS 8.0 to iOS 10.1. So if your iPhone 6 or other devices' systems run in these versions, you can simply bypass iPhone passcode with Siri. Just check out how to lock out of iPhone with Siri as below.

Step 1: Hold down the "Home" button at bottom of the iPhone device until Siri appears. If you are using iPhone 6, press the "Side" button to activate Siri on lock screen. And you can use Siri without pressing the Home or Side button if have set up "Hey Siri". ( Siri not working?)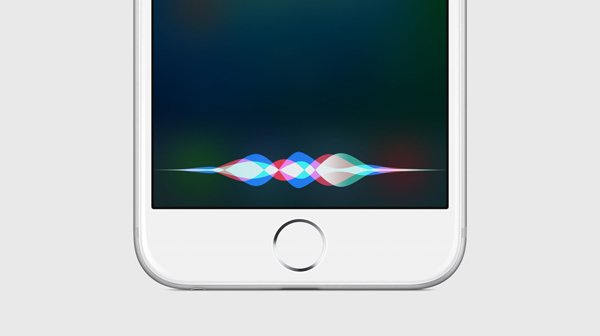 Step 2: Ask Siri: what is the time, or open the clock app. When prompted the time, touch the clock. You will be taken to the World Clock/Alarm/Stopwatch/Timer screen. Then tap on the clock icon. And on the world clock interface, you need to add another clock.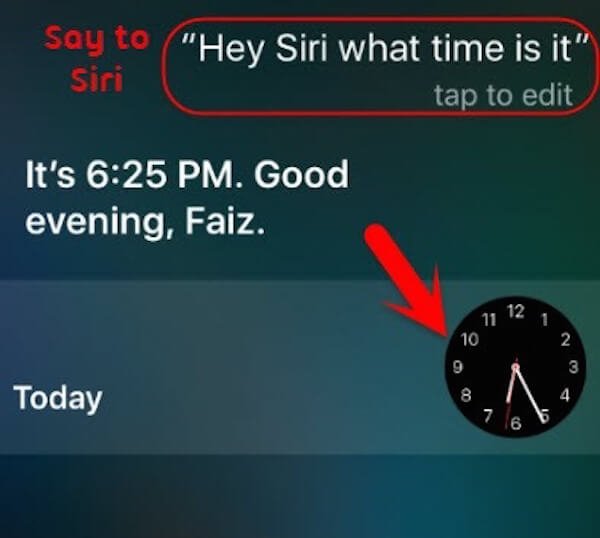 Step 3: You need to choose the location by typing anything on the search tab and select it to get various options. Then choose Select All.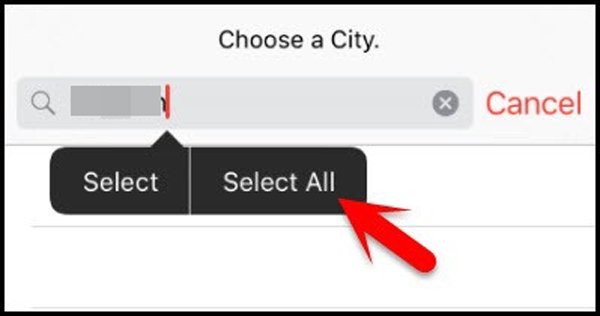 Step 4: Next a few added options will be showed, and you need to choose Share. When you see all the options you can use to share this text, you need to choose Message app.
Step 5: Now you can get into iPhone with a new interface where you can write a new message. Type anything in "To" filed and choose return button. After your text is highlighted, tap on the add icon.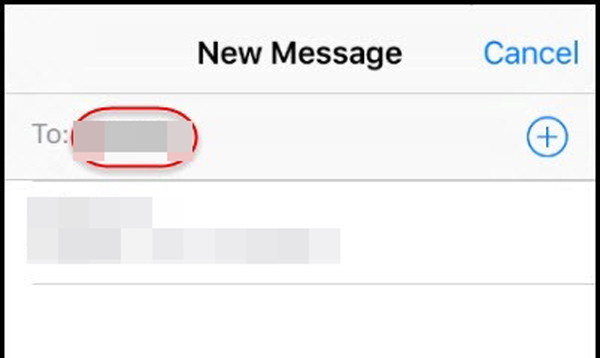 Step 6: This will open another interface where you can tap on the Create New Contact. Next you need to tap on the photo icon and select Choose Photo option.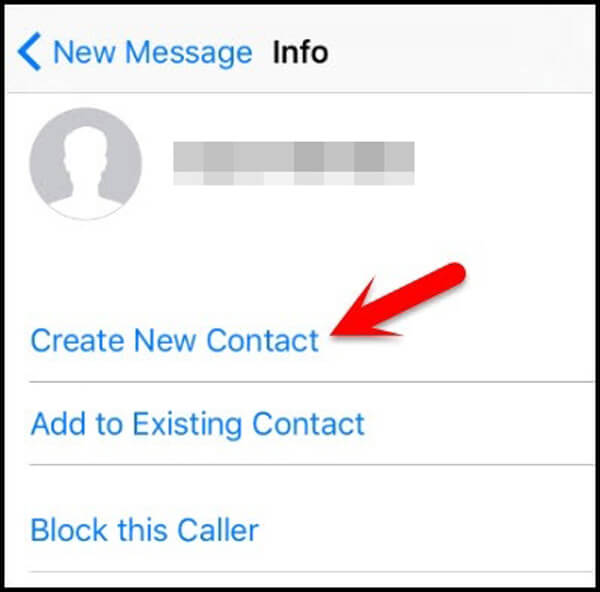 Step 7: Then you will go to your Photos app. You can simply visit an album or wait for a moment. Then press the Home button again. If nothing goes wrong, you will get locked out of iPhone.
Besides, you can also touch the "timer" option after step 2, and then select "When timer ends", and touch "Buy more tones" on the ringtone list screen. Next, the App Store will open. Touch the "Home" button to go to the home screen. For iPhone 6, touch the thin long bar at the very bottom of your screen to back to home screen. Now, you have got into a locked iPhone without passcode.
Part 2

: How to get into a locked iPhone by iTunes

iTunes is a versatile utility for iPhone users. With it, you can back up all data on your iPhone, including personal settings, and restore backup to iPhone at any time. Plus, it is able to troubleshoot various issues and errors by restoring iPhone to factory settings, which will wipe all data on your iPhone, including the passcode for your lock screen. In another word, iTunes offers an approach to get into a locked iPhone.

Step 1: Connect your iPhone to your computer via a USB cable. Launch your iTunes and make sure to update it to the latest version. Wait for iTunes to recognize your device.

Step 2: To avoid data loss, you'd better to make a backup for your iOS device first. Click the "iPhone" icon at upper left corner of iTunes, go to "Summary" > "Backups" and hit the "Backup Now" button to backup the iPhone.

Step 3: After backup completes, move to the "Summary" tab and click on the "Restore iPhone" button. Follow the onscreen instructions to trigger the restoring process.

Step 4: When it is done, reboot your iPhone, you will get the welcome screen as a new iPhone. Now, you can reset your lock screen password and use your iPhone as usual;.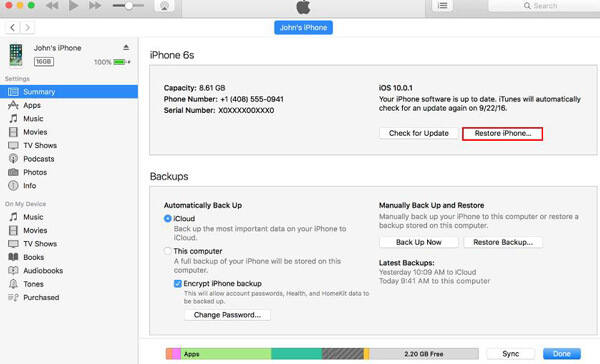 Part 3

: How to get into a locked iPhone with iCloud

iCloud, another useful service for iOS devices, is a simple way to get into a locked iPhone when you forgot the lock screen passcode. Unlike iTunes, it does not require a USB cable. Instead, iCloud is able to find iPhone through Wi-Fi network and connect the device via Apple ID.

Step 1: Power on the locked iPhone, open your Control Center on lock screen and turn on Wi-Fi or cellular data to put it online.

Step 2: Turn to your computer. Input icloud.com in the address bar of your browser and hit the "Enter" key to open the sign-in page of iCloud.

Step 3: Sign in with the Apple ID and password that associated on your iPhone, and answer the security questions if you have turned on two-factor authentication.

Step 4: Click "Find My iPhone", select "All Devices" and pick up the locked iPhone on the list. Now, you will be presented several options. Hit "Erase iPhone" and fill out necessary information to start wiping lock screen password along with other data on your iPhone.

Note: This way will erase all data and custom settings on your iPhone.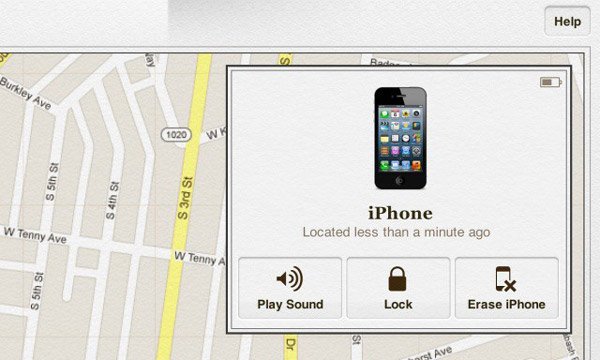 Part 4: How to get into a locked iPhone without Siri/iTunes/iCloud
Look for a way to get into a locked iPhone without losing data? Apeaksoft iOS System Recovery is a smart option since it offers a lot of useful features, such as: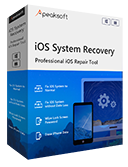 4,000,000+ Downloads
Fix iOS issues like passcode-forgotten, stuck in headphone mode, freeze, etc.
Restore iPhone to factory settings and update to the latest version.
Work for iPhone 14/13/12/11/XS/XR/X/8/7/6, etc.
Highly compatible with Windows 11/10/8/8.1/7 and Mac.
How to get into a locked iPhone without data loss
Step 1: Connect locked iPhone to iOS System Recovery
Get iOS System Recovery installed on your computer and plug the locked iPhone to the computer using the Lightning cable. Launch the program, click "More Tools" > "iOS System Recovery"; it will discover your device.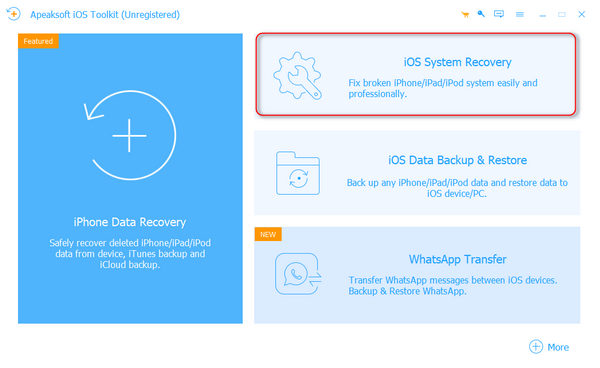 Step 2: Diagnose issues on iPhone
Click on the Start button, the program will start diagnosing what is wrong on your iPhone automatically. Then put your device into DFU mode or recovery mode.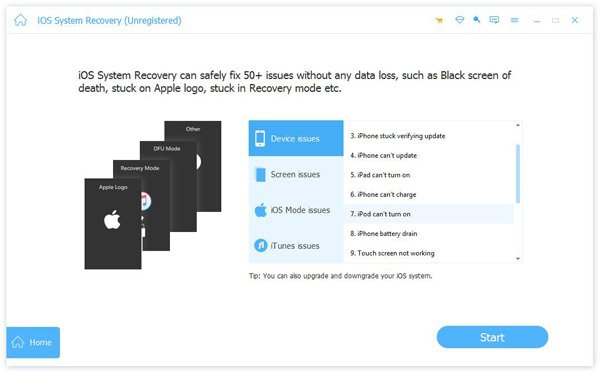 Step 3: Get into a locked iPhone
In the pop up window, choose your iPhone model and other information from the dropdown lists. Just click the "Back" option and select "Advanced Mode".
Finally click "Confirm" button to trigger the troubleshooting process.
Then this software will start to download the firmware and restore your iPhone to factory settings.
Then you will find you can get into your locked iPhone easily.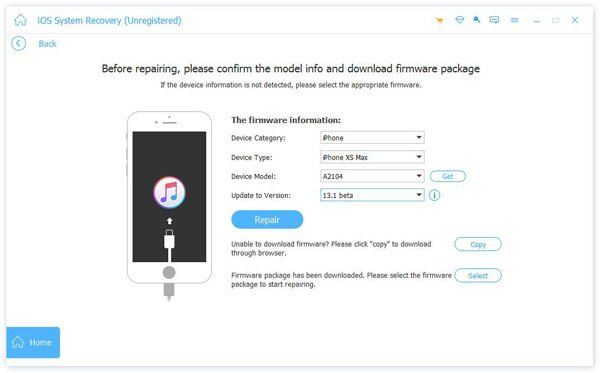 Part 5: How to bypass lock screen to get into iPhone
iKeyMonitor Keylogger is an iPhone based hacking app, which can detect and record all the keystroke and screen activities. If you have installed the program on an iPhone, you can easily finish the process of breaking into an iPhone.
Step 1: Jailbreak your iPhone to install iKeyMonitor Keylogger. But before jailbreak the iPhone, make sure you should back up all the files for the iPhone first. It should be important to get into a locked iPhone.
Step 2: Configure this software by clicking on http://localhost:8888 in your Safari. Then reboot your iPhone and set some settings is iKeyMonitor Keylogger settings.
Step 3: Once the configuration is complete, iKeyMonitor will spy on keystrokes and other screen activities. After that you can receive all the messages from the iPhone with ease.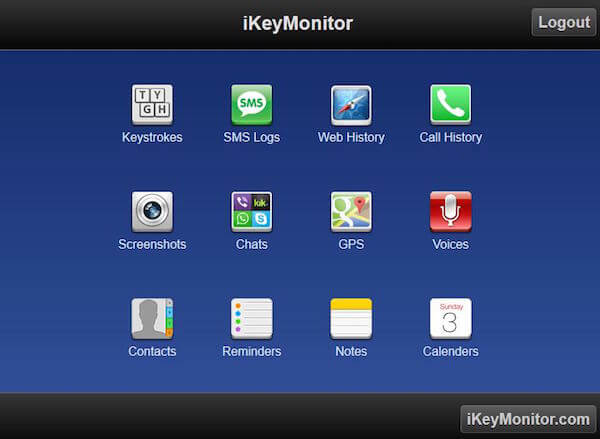 Part 6: Tips about getting into a locked iPhone
You can also use an iPhone unlocker tool to help you remove the passcode from the iPhone. Here you can try Apeaksoft iPhone Unlocker to help you remove the various lock screen passcode from 4-digit, 6-digit, Touch ID and Face ID easily, so that you can gain the access to your iPhone.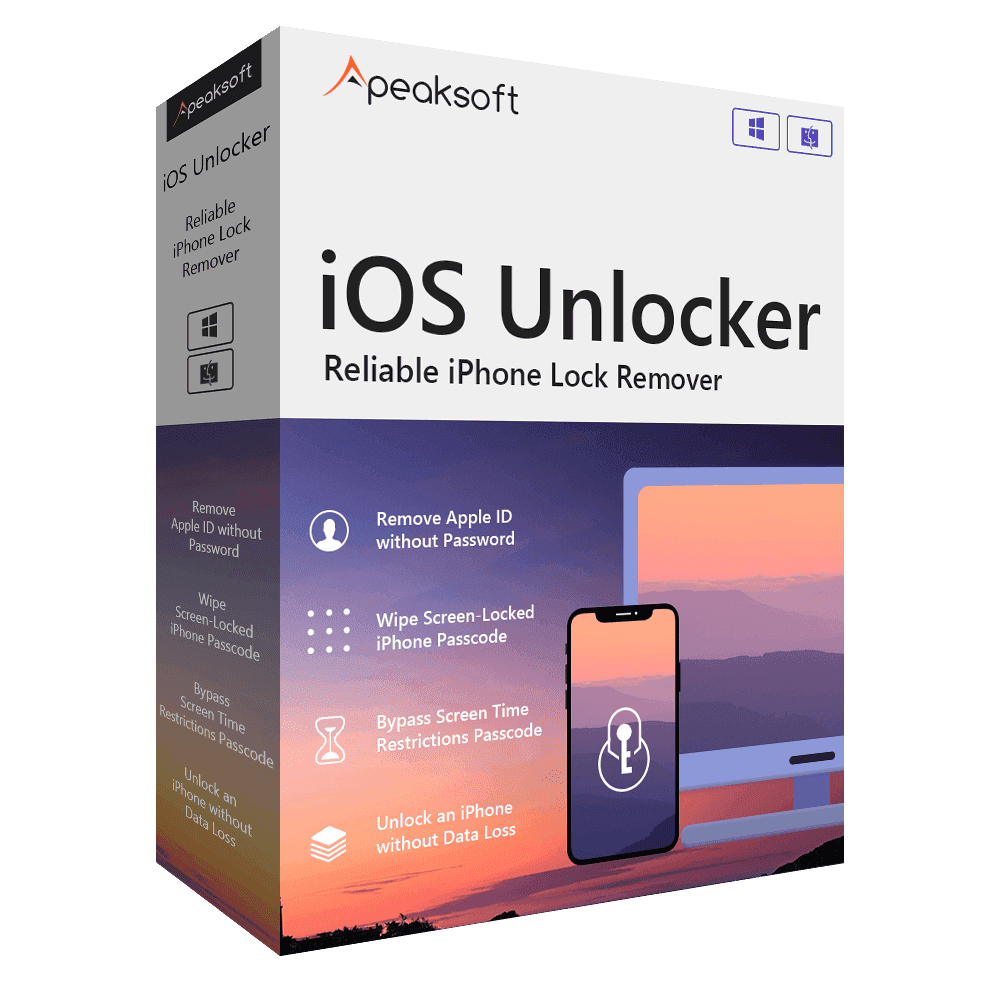 4,000,000+ Downloads
Unlock iPhone, iPad and iPod by removing passcode.
Remove iPhone passcode from locked, disabled, broken screen.
Remove Apple ID without password from iPhone, iPad or iPod.
Bypass Screen Time or Restrictions passcode quickly without data loss.
Part 7: How to get into a locked iPhone without connecting computers
If your iPhone has updated to iOS 15.2 or later, you can use your Apple ID and password to get into a locked iPhone.
Step 1: First of all, please ensure that your iPhone is connected to a Wi-Fi or cellular network. As you forgot your passcode of the iPhone, you can try to enter the wrong passcode again and again into the screen-locked device until the "Erase iPhone" option appears in the bottom right corner of the screen.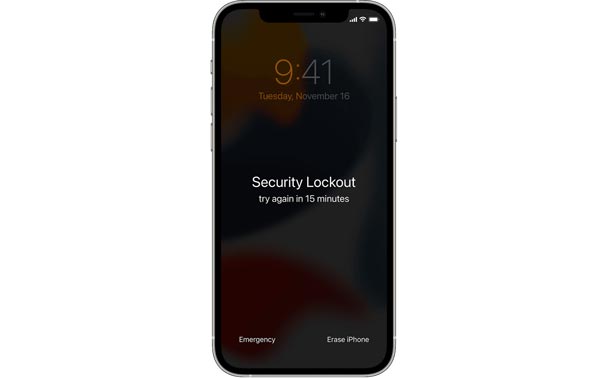 Step 2: Please tap on the "Erase iPhone" option twice to confirm your operation.
Step 3: Later, you should enter your Apple ID and the password to sign out of your Apple ID from your iPhone. Then your iPhone will erase all data and settings automatically and permanently. Finally, you can set up your iPhone again to use the locked device.
Part 8: FAQs of Getting into a locked iPhone
1. What is a locked iPhone?
The "locked iPhone" refers to an iPhone with a locked home screen. All iPhones have a "lock" feature that allows a user to lock his home screen when the phone is not in use to prevent him from accidentally activating the touch screen.
2. Can Recovery Mode recover a locked iPhone without passcode?
Yes, you can restore a locked iPhone using Recovery Mode. If you just can't remember your passcode that iTunes asks for, you can use the Recovery Mode to recover your locked iPhone. You need to note that it will wipe everything on your iPhone.
3. Can I connect locked iPhone to iTunes?
When you forget the passcode for your iPhone, you can use iTunes to gain access to the device. However, it works if you regularly use iTunes to backup your iPhone.
4. Can an iPhone be unlocked if stolen?
The answer is "YES". It's very possible to unlock a stolen iPhone. But note that, if the previous owner has activated "Lost Mode" in Find My iPhone, then the possibility of unlocking the device is zero.
Conclusion
In this tutorial, we have shared 7 ways to get into a locked iPhone without password. You can use Siri to use the iPhone; take iTunes or iCloud to erase the password settings and data removed; apply the third-party tool to bypass lock screen and jailbreak your iPhone. Best way is to use iOS System Recovery to factory reset and upgrade iPhone without jailbreaking iPhone easily.