iPad is the most popular tablet device around the world.
It has larger screen than ordinary smartphones, so you can do everything more conveniently. Enlarging the product photos, for example, allows you to check the details when shopping online. Apparently, nothing is worse than forgetting the password for your iPad. Fortunately, you can still unlock iPad by iTunes/iCloud/Siri and more. They are safe as well as protecting your warranty.

In this tutorial, we are going to share all approaches to unlock an iPad without knowing the password. Following our guides, you can access your device as usual.
Part 1

: How to unlock iPad for Free Without a Third-party Tool

The iOS 15 system has attracted a lot of attention, due to the newly added new features. The most astonishing feature related to Apple device security is the way to reset iPhone/iPad on the device itself. If you forget your lock screen passcode, you can reacquire access to your phone by resetting it. Now follow the lead to unlock your iPad for free!

Step 1: To make the Security Lockout notice pop up, you can try wrong lock screen passcode repeatedly.

Step 2: Tap Erase iPhone in the bottom-right corner.

Step 3: Tap Erase to continue the process

Step 4: If you still remember your Apple ID password, enter it and you'll log out the iPad.

Step 5: Tap Erase again.

Step 6: Your iPad will reboot soon and you can reacquire access to it without the lock screen passcode.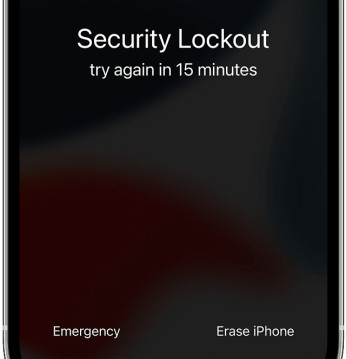 Part 2

: How to unlock iPad without passcode

Apple released several services to help customers to manage their devices, such as iTunes, iCloud, Siri, etc. They are able to wipe the lock screen password along with other personal information. So, you'd better make a full backup for your device and then pick up your favorite way to unlock iPad.
Method 1: Unlock iPad via iOS Unlocker (Easiest)
While iPad is locked by the forgotten passcode, the easiest way is to wipe the existing passcode. Because, Apple will get no way of recovering the passcode, even if you can prove to be the owner of your iPad.
To wipe the existing passcode, you will need the third-party software, Apeaksoft iOS Unlocker.
Apeaksoft iOS Unlocker is the professional iPad password remover, which can wipe any passcode from iPad screen lock. Whether you forgot iPad passcode, or input the passcode wrongly for many times, it can unlock iPad from the locked screen and disabled situation, so that you can use it normally.

Recommendation
Unlock iPad from all passcodes like Face ID, Touch ID, 4-digit, 6-digit, customized number and alphanumeric code.
Remove Apple ID account when you forgot the Apple ID password on iPad.
Recover and wipe Screen Time restriction password on iPad quickly.
Compatible with almost all iPad models like iPad Pro, iPad mini, iPad Air, etc.
Step 1: Plug iPad into computer with the USB cable
Free download iOS Unlocker into your computer by clicking the download link above. You can download this software on either Windows or Mac computer.
Run it after the successful installation and choose Wipe Passcode mode. Connect your iPad with computer via the USB cable.
Click the Start button in the main interface of this software.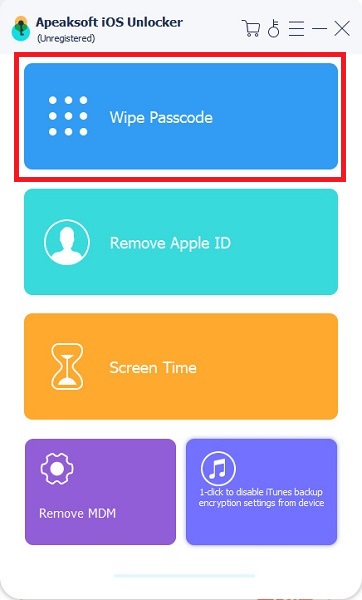 Step 2: Check iPad information
Once detected successfully by this software, all the information of your iPad will be showed automatically. Click the Start button. Or modify the iPad information from the drop-down list once the information is not correct.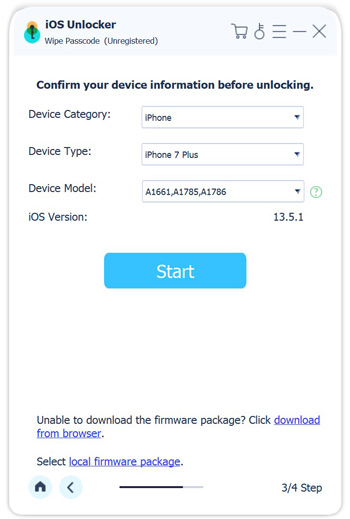 Step 3: Download iOS firmware for iPad
Then this program downloads the matched iOS firmware from Apple server. In this step, make sure your computer connected the reliable Internet.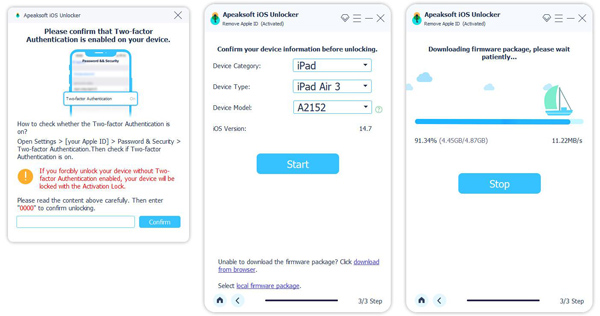 Step 4: Unlock iPad
After the firmware download is complete, click the Unlock button and input 0000. Then click Unlock button again to start unlocking iPad passcode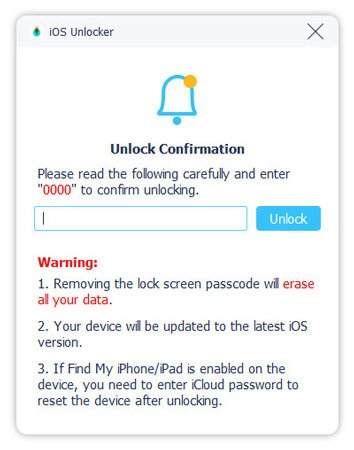 Then this software will unlock your iPad and your iPad will restart automatically. After that, you can use your iPad as usual and create a new passcode for the screen lock.
Method 2: Unlock iPad with iTunes
This method requires a computer, the Lightning cable and the latest version of iTunes. After that you can unlock iPad with iTunes with the following process.
Step 1: Connect your iPad to your computer and launch your iTunes. After your device is detected, click the "iPad" icon at upper left corner.
Step 2: Head to the "Summary" tab from the left hand column and hit the "Restore iPad" button.
Step 3: Fill out the necessary information and start wiping out everything on your iPad, including the lock screen passcode.
Step 4: When it completes, restart your iPad and set up it as a new device or restore iTunes backup depending on your situation.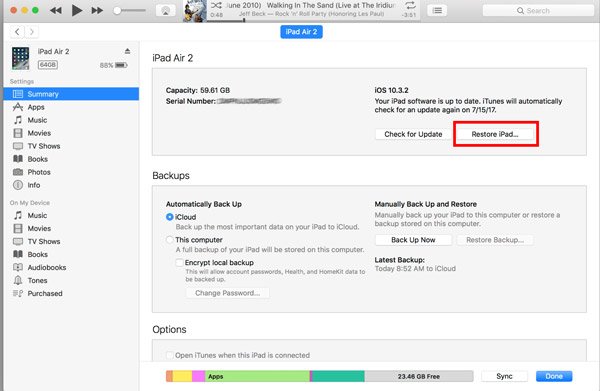 Method 3: Unlock iPad via iPhone Eraser
Many people do not like iTunes partly because it has a lot of bugs. Why not try Apeaksoft iPhone Eraser. Its main features include:
1. Securely erase lock screen password on iPad in a single click.
2. Decide the erasing level according to your situations.
3. Protect your privacy without recovery once erased.
4. Rely on physical connection to wipe out iPad safely.
5. Support iPad/Pro/Air/Mini and old models.
6. Work on iOS 16/15/14 and earlier versions.
In short, it is the best solution for how to unlock an iPad without iTunes.
How to unlock iPad via iPhone Eraser
Step 1: Connect locked iPad to iPad Eraser
Download and install iPad Eraser on your computer and then open it. Next, plug your locked iPad to the computer using Lightning cable came with your device. The program will find your device immediately.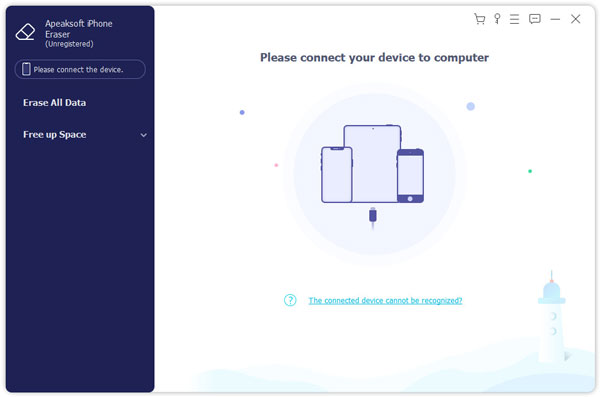 Step 2: Decide an erasing level
iPad Eraser offers three erasing levels, "Low", "Medium" and "High". Read the onscreen description carefully and select the proper level based on your requirement.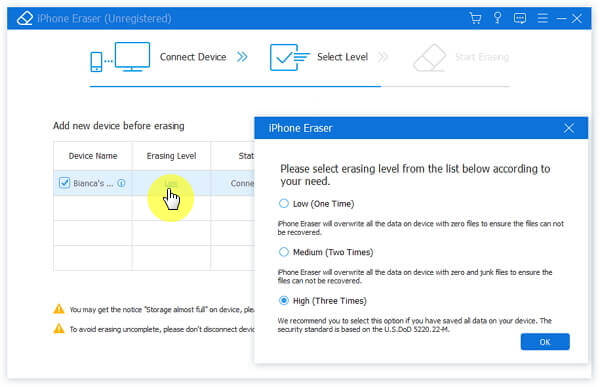 Step 3: Unlock iPad without knowing password
When back to the home interface, press the "Start" button to start overwriting your device. When it is done, disconnect your iPad and restart it. Now, you can access it without password.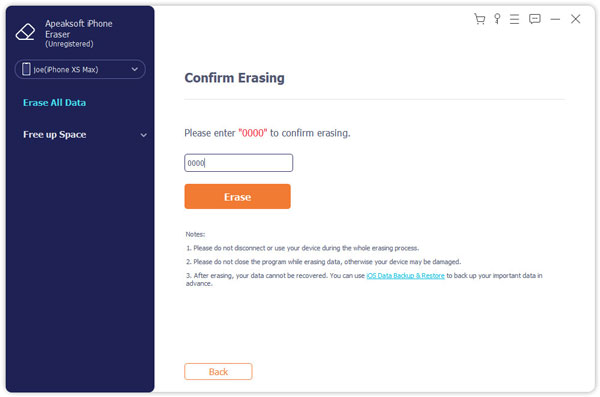 Don't Miss: How to unlock an iPhone with broken screen
Method 4: Unlock iPad by Siri
Siri is another way to unlock iPad without iTunes. It does not require a computer. According to test, this way is available to iOS 8.2 to iOS 10.
Step 1: Power on your iPad and hold the "Home" button until Siri shows up. (Siri does not work?)
Step 2: Ask "Open Clock app", you will be presented the Clock app.
Step 3: Go to the "Timer" tab, select "When timer ends" and pick up "Buy more tones" on the ringtone option.
Step 4: When the App Store opens, tap the Home button at the bottom to go to your home screen.
It just bypasses the lock screen, but not unlocks iPad permanently. You have to go to "Settings" > "General" > "Reset" and touch "Erase All Contents and Settings" to clean up lock screen password for unlocking iPad.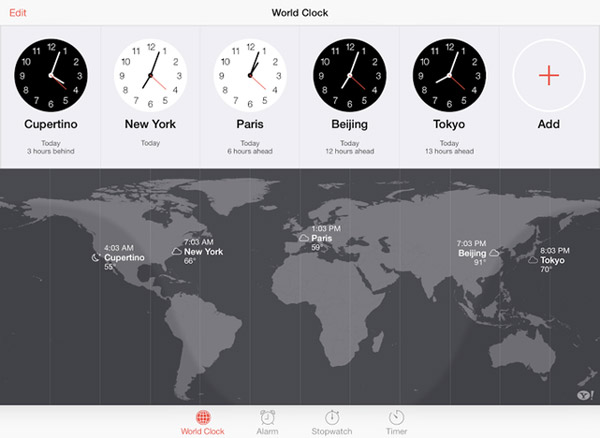 Method 5: Unlock iPad using iCloud
Apple has introduced Find My iPad into the latest version of iCloud, which is able to unlock an iPad without knowing password. It needs you to set up Find My iPad on your device.
Step 1: Connect your iPad to internet via Wi-Fi or cellular data.
Step 2: Access iCloud website in a browser on your computer, sign in your Apple ID and password, and answer security questions if you have enabled two-factor authentication.
Extended reading: Apple ID forgot? Just reset Apple ID without iPad.
Step 3: Click "Find My iPad" > "All Device" and select your device. Next, hit the "Erase iPad" option to bring your device to the status that you bought it and remove the lock screen password at the same time.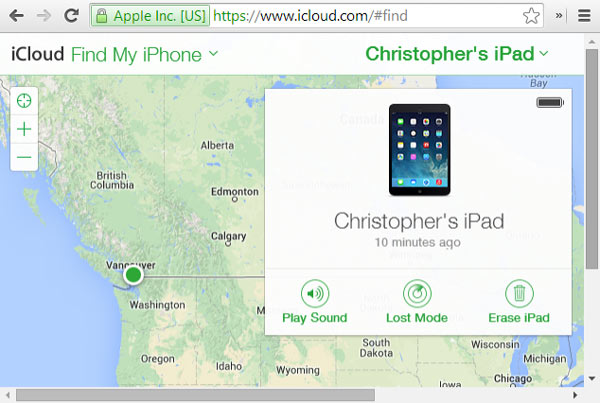 Part 3

: How to unlock iCloud locked iPad

Find My iPad features Activation Lock now, which is another safeguard for iOS devices. It means that anyone cannot use your device without your Apple ID and password. If you get a second hand iPad, you cannot use your device. Fortunately, we can fix this problem and unlock iCloud locked iPad.
Method 1: Bypass iCloud Activation Lock
Step 1: On the Activate iPad screen, press the "Home" button and enable "Wi-Fi", and change the DNS settings based on your location:
USA: 104.154.51.7
Europe: 104.155.28.90
Asia: 104.155.220.58
Rest: 78.109.17.60
Step 2: Tap on "Back" > "Done" > "Activation help". When prompted that connect to my server successfully, tap on the menu and access iCloud services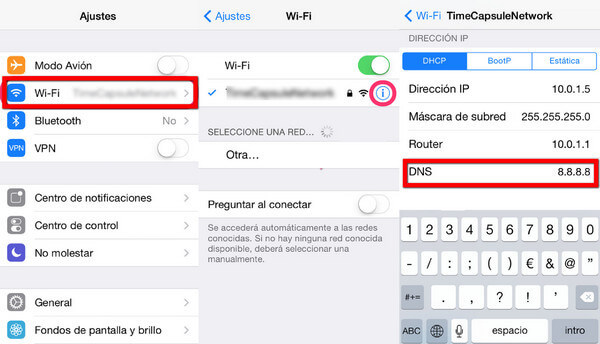 Method 2: Remove iCloud Activation Lock
If you want to unlock iCloud locked iPad by removing iCloud Activation Lock, a professional service could help you. There are several online services announced they could remove iCloud Activation Lock, but only a few is able to do it in real, such as iPhoneIMEI.net, Official iPhone Unlock and IMEICodes. They are paid services, though the price is affordable. You can select your favorite service and get what you want.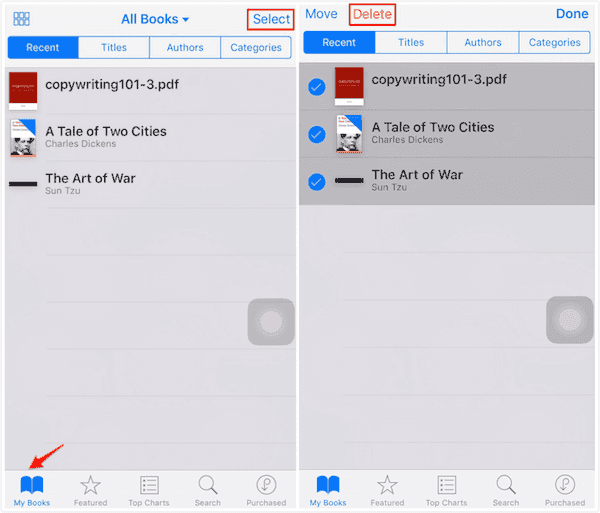 Conclusion
A locked iPad means that you are blocked and cannot access any files and data on your device.
In this tutorial, we have shared multiple solutions on how to unlock iPad in different situations. With our step by step guides, you can access a locked iPad or iCloud locked device without password effectively. If you have more questions related to unlock iPad, welcome to leave messages below this post, we will reply it as soon as possible.