You can better protect your privacy, personal data, and security through an iPhone screen lock. Apple allows you to create a 4-digit or 6-digit passcode for your iPhone screen lock. However, in some cases, you may forget the iPhone password. Are you searching for a way to unlock your iPhone without a passcode?

Unlock iPhone Without Passcode
Part 1. How to Unlock Your iPhone Without a Password Using iTunes
If your iPhone can recognize your face or fingerprint, you can use Face ID or Touch ID to quickly access a locked iOS device, even when you forget the digital password. But after entering the wrong passcode on your iPhone Lock Screen too many times, you will see an alert that prompts you to tell your iPhone is disabled. In that case, you can choose to put your iPhone into Recovery Mode to unlock it without a passcode. Note that this solution will erase all iOS data and settings from your iPhone.
Step 1Launch the latest version of iTunes on your computer. To unlock an iPhone without a password on a Windows PC, you need to ensure that it runs Windows 10 or later.
Step 2For an iPhone 14/13/12/11/X/8, you can keep pressing both the side button and the Volume down button to power off it. On an old iPhone model, you can press and hold its Power button to turn off your iPhone.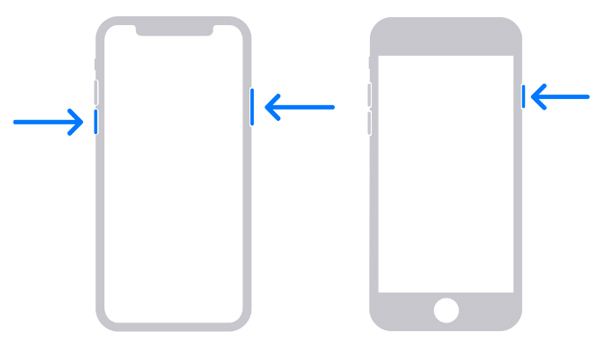 Step 3Press and keep holding the side button on iPhone 8 or later, the Volume Down button on iPhone 7, and the Home button on iPhone 6 and earlier as soon as you connect your iPhone to a computer. You can release the button when the recovery mode appears on your iPhone.
Step 4When iTunes recognizes your iPhone, it will offer you two options, Restore and Update. Click the Restore button and download software for your iPhone to start the restore process. When the whole process is finished, you can cut off the connection between your iPhone and computer and set it up as a brand-new device. You can unlock your iPhone without the screen lock passcode.
Part 2. How to Unlock iPhone Without Passcode via iCloud Find My iPhone
The Find My feature on the iCloud website also can help you unlock your iPhone without a passcode. You can go to the iCloud site on a computer or another iOS device. Make sure the Find My iPhone is enabled on your iPhone, and follow the steps below to erase it, including your forgotten passcode through iCloud.
Step 1Go to the official iCloud website and log in using your Apple ID with your credentials. If you don't remember your Apple ID passcode, here you should use a device that remembers the password. Click to choose the Find My option. You may need to enter your password again to sign in to your account.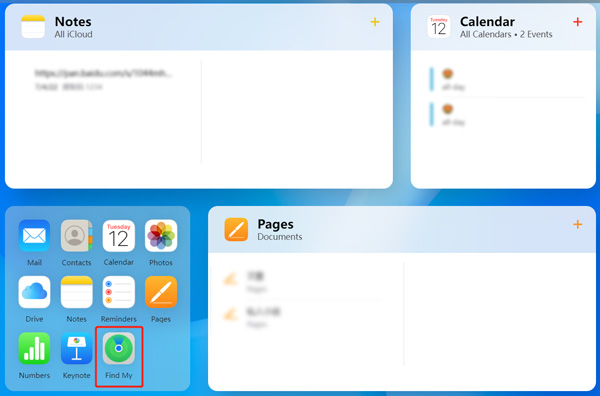 Step 2Click All Devices to display all the associated Apple products linked to your Apple ID. Select the iPhone you want to erase its lock screen passcode from the drop-down list of All Devices. iCloud gives you four options to manage this iPhone, Play Sound, Lost Mode, Erase iPhone, and Remove from Account. Choose the Erase iPhone option to move on.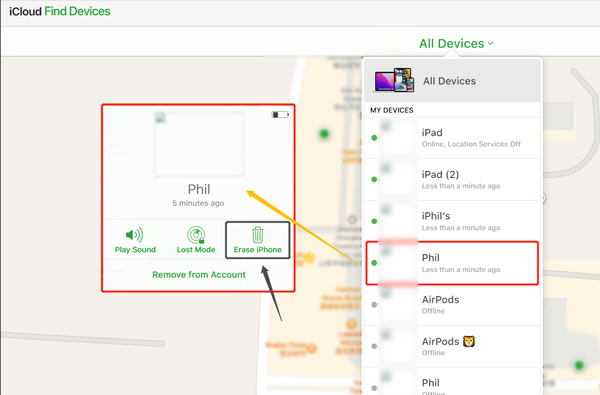 Step 3An Erase this iPhone dialog will pop up on the screen. Click the Erase button to confirm your operation. This operation will erase all iPhone content and settings. Now you are required to enter your password to continue.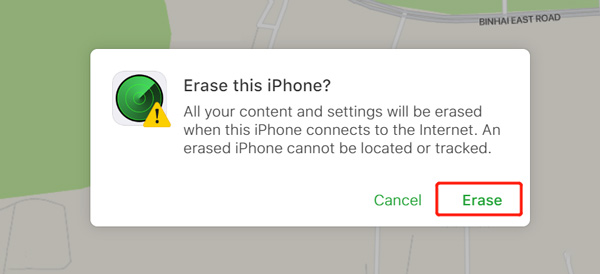 Your iPhone will restart itself after the erasing process is finished. You can set it up as a new one. You can use a suitable iTunes or iCloud backup to restore your iPhone.
Part 3. How to Unlock Your iPhone Without a Password, Face ID, and Touch ID
When you can't remember the correct passcode for your iPhone, and it doesn't recognize your face and fingerprint, besides the methods above, you can also turn to some professional iPhone screen unlocker tools. Here we strongly recommend the easy-to-use iOS Unlocker for you to quickly remove your forgotten password and access a locked iPhone without a passcode.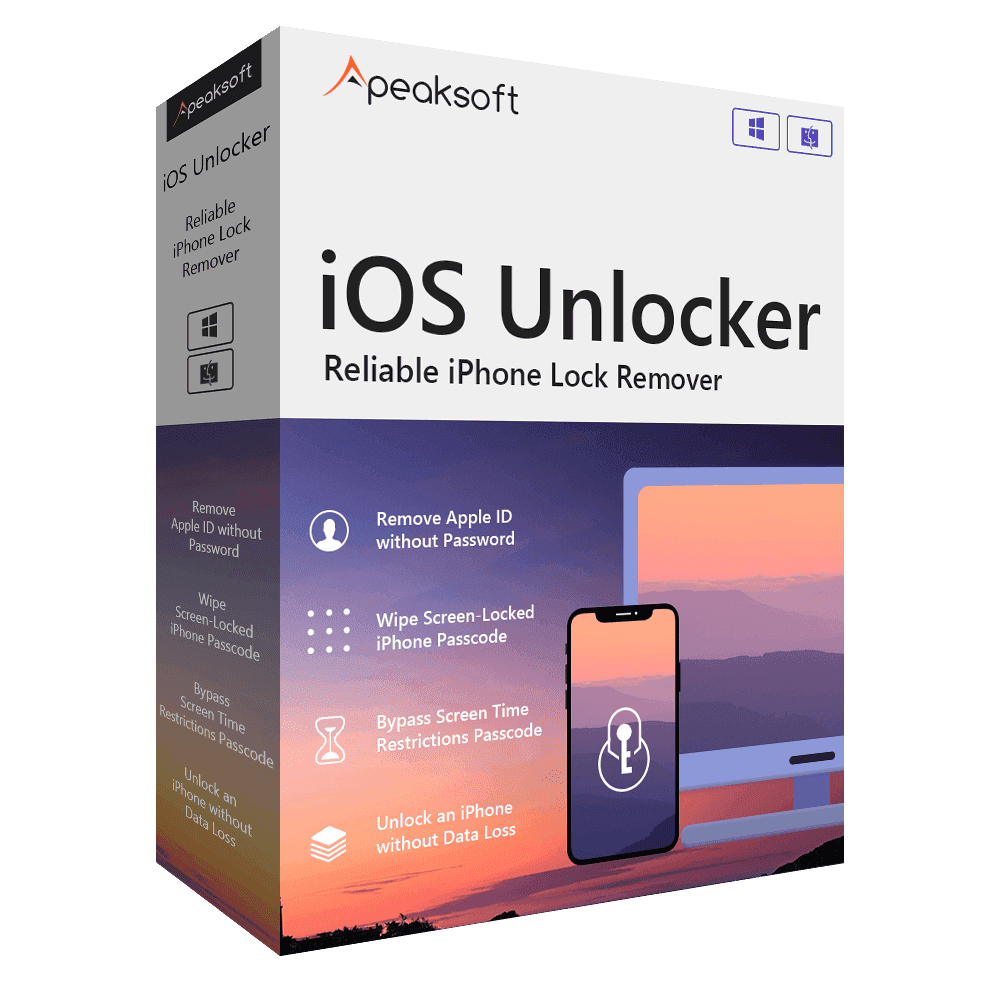 4,000,000+ Downloads
Unlock an iPhone or iPad without a password, Face ID, or touch ID.
Remove digital password, Face ID, and Touch ID on iPhone/iPad/iPod.
Wipe your forgotten Apple ID passcode to activate and set up an iPhone.
Recover or bypass the Screen Time or Restrictions password safely.
Step 1When the iPhone screen lock password is not working, or you can't unlock an iPhone with digital passcode, Face ID, and Touch ID, you can free download this iOS Unlocker on your computer. It allows you to unlock your iPhone on a Mac or Windows PC. Open iOS Unlocker and choose its Wipe Passcode feature.
Step 2Connect your iPhone to the computer via an officially verified USB cable. After connecting successfully, you can click the Start button to move on.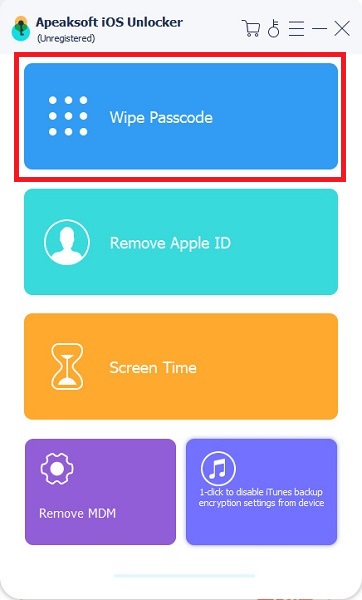 Step 3When iOS Unlocker recognizes your iPhone, it will display some basic information about this iPhone on the screen, such as device type, model, iOS version, and more. Confirm iPhone information and click the Start button to download the correct iOS firmware from the Apple server for the iPhone.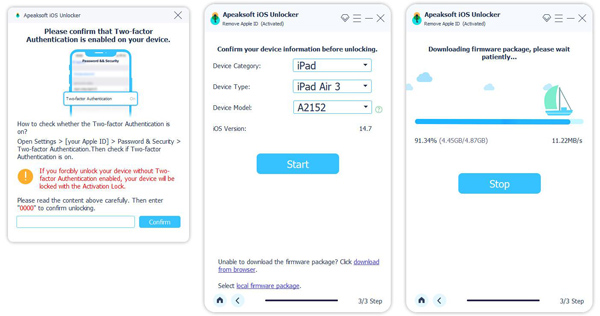 Step 4Click the Unlock button and enter 0000 when the firmware is downloaded. You can easily remove your forgotten passcode. After restarting your iPhone, you can unlock it without any digital password.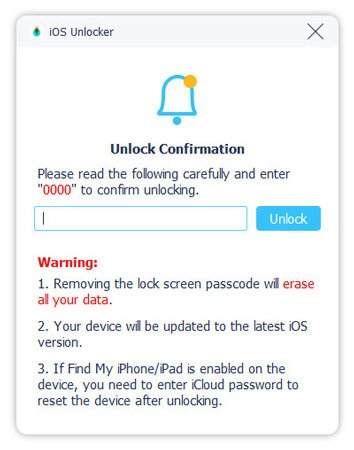 Part 4. Use Siri to Unlock an iPhone Without a Password
There is a tricky way to unlock an iPhone without a screen lock passcode. You can use Siri to access an iPhone without entering a password. But this method has many limitations. It only works for iPhones running on iOS 8 to iOS 10.1. Moreover, it only supports an enabled iPhone. You can try using the method below to unlock your iPhone using Siri.
Step 1Activate Siri on your iPhone by pressing and holding the Home button. Try asking some basic questions like What time is now, and wait for it to give you the answer.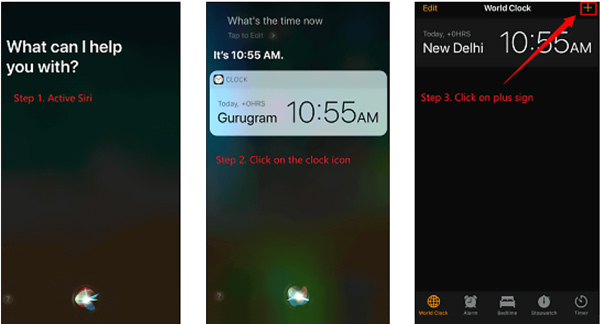 Step 2Tap the clock widget to raise the list of time zones. Tap the + icon in the top-right corner and then type any characters in the search box.
Step 3Tap Select All and then choose the Share option. You get several ways to share. Here you can choose Message from the pop-up window.
Step 4Paste the text that you have copied to the To field. You can also type some words and then tap the return button. Later, tap on the Home button. Now you will be guided to the iPhone home screen.
Part 5. How to Unlock Your iPhone Without Passcode Using Calculator
There are some hacks for you to fix various iPhone issues. When it comes to unlocking an iPhone without a passcode, you can easily access various methods, including the Siri way above. But we must admit that almost all of them are not working. Some may work for some older iOS versions and old iPhone models or are workable for the last time. A newly tricky to unlock an iPhone without a password is using a Calculator. If your iPhone is locked, you can follow the following guide to unlocking it with Calculator.
Step 1Turn on your iPhone screen and swipe down from the top screen or top-right screen to raise the Control Center.
Step 2Turn on Airplane Mode by tapping its icon. During this step, you should ensure Wi-Fi, Bluetooth, and cellular data are turned off. Then you can open the Calculator app.
Step 3Turn your iPhone sideways to get the scientific calculator. Now you can freely type a period and then tap In. When the Calculator says error, you can swipe up your iPhone screen to unlock it without a passcode.
Through our tests, this method does not work for iPhone 13 running iOS 16, iPhone 12 running iOS 15, and iPhone X running iOS 14. The main problem is that you are not allowed to open the scientific calculator when you put your iPhone sideways. Clcik here to get how to unlock your iPhone with Apple Watch.
Part 6. FAQs of How to Unlock iPhone Without Passcode
Question 1. Can I unlock my iPhone without a passcode using the Camera app?
In some older iOS versions, you may unlock an iPhone without a passcode by accessing the Camera app. But now, these security loopholes have been closed. You are allowed to take photos and record videos with the Camera app. But after you do that, you can only check these newly created files. You can't access other data or apps on this iPhone without a passcode.
Question 2. Can I use my Apple Watch to unlock an iPhone?
Yes. If you have paired your Apple Watch with your iPhone and enabled the allow Apple Watch to unlock iPhone feature, you can wear your Apple Watch, wake your iPhone and glance at its screen. Through that, Apple Watch will help to unlock the iPhone and give haptic feedback to show an alert.
Question 3. How to help others to unlock an iPhone without a passcode?
You can manage and erase your family member's iOS device through Find My. When their Apple ID is linked to your Apple account, you can go to the official iCloud website, sign in to your Apple ID, choose to Find My, and then select their iPhone from All Devices. Click the Erase button and follow the on-screen instructions to erase it. After erasing the iPhone, your family member can unlock iPhone without a password.
Question 4. Can I contact Apple to help me unlock an iPhone?
Yes. You can navigate to the official Apple Support website, choose iPhone to enter an iPhone Support page, and then click the Forgot passcode. Now you get a specific guide to help you unlock your iPhone. If you still can't unlock it, you can scroll down to the bottom part of the page and click Get started to contact Apple Support. You can explain the iPhone unlock problem and find a case or repair.
Conclusion
This post has shared five valuable tips to help you unlock an iPhone without a passcode. You can pick your preferred method when you want to access a locked iPhone without knowing the password.