"How to Save WhatsApp audio? I have got much important audio stored on my WhatsApp and I wish to copy WhatsApp audio from iPhone to PC."
If you are regularly using WhatsApp, then you should have got a lot of important WhatsApp audio on this app. To prevent the loss of WhatsApp audio files, you should consider saving them to a secure location. Actually, you can save and copy audio files from WhatsApp to the iPhone or Android phone's local storage, or copy them to your PC directly. In this guide, we will show you how to save WhatsApp audio on different devices in detail.

Save WhatsApp Audio
Part 1. How to Save WhatsApp Audio from iPhone to Your Computer Directly
WhatsApp is one of the most popular instant messaging apps for our online conversations. Thus, it is necessary to have a copy of the audio files in case of any mishappening which leads to losing your WhatsApp audio messages and other audio files. Apeaksoft WhatsApp Transfer could be your right-hand assistant who has the ability to backup, restore, and transfer your WhatsApp audio instantly. Apart from audio files, you can have a copy of your WhatsApp chats, contacts, shared attachments if you want.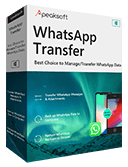 4,000,000+ Downloads
Backup WhatsApp audio, chats, photos, videos, attachments, etc.
Transfer WhatsApp audio files between iOS devices.
Export WhatsApp backup in HTML & CSV formats.
Restore WhatsApp audio from backup history or local iTunes backup.
In this way, you can easily save your audio files from WhatsApp to meet your requirements. To know how to save WhatsApp audio to your computer, follow these steps:
Step 1Download and install WhatsApp Transfer on your computer. Launch it and choose the WhatsApp Transfer feature.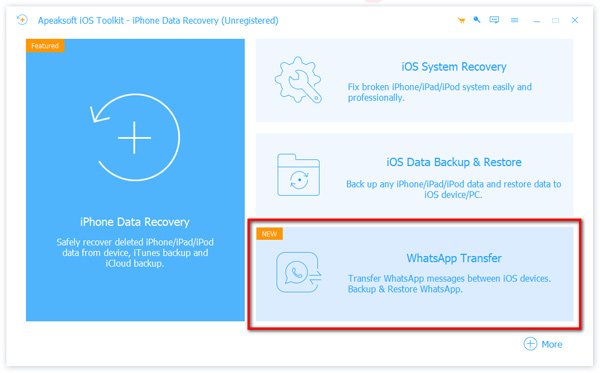 Step 2Hit on the Backup option from the right.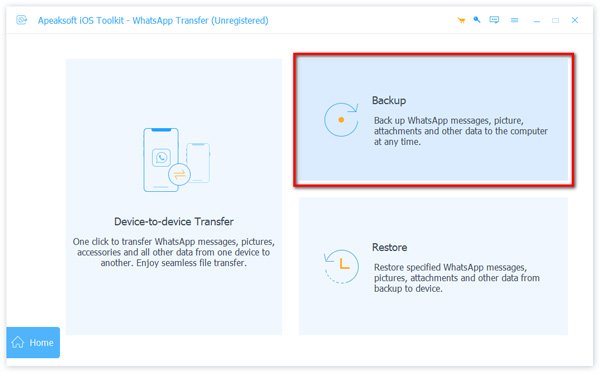 Step 3After that, the following window will appear. Here you need to connect your iOS device to the computer to let the program detect your device. After that, decide the destination folder by clicking on the three-dot icon. Then, click the Start Backup button to begin copying your WhatsApp audio and other data to your computer.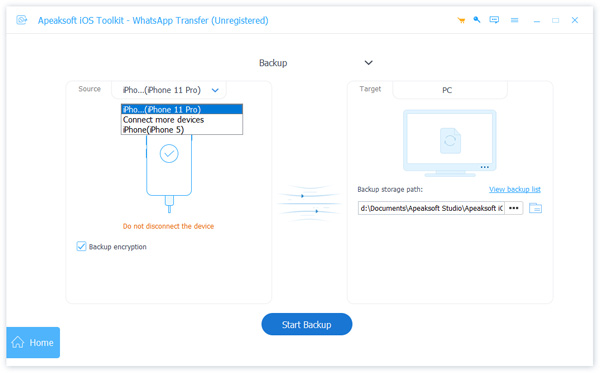 Step 4Keep the device connected until the process completes and appears "Finish". Then, click View backup list to have a check.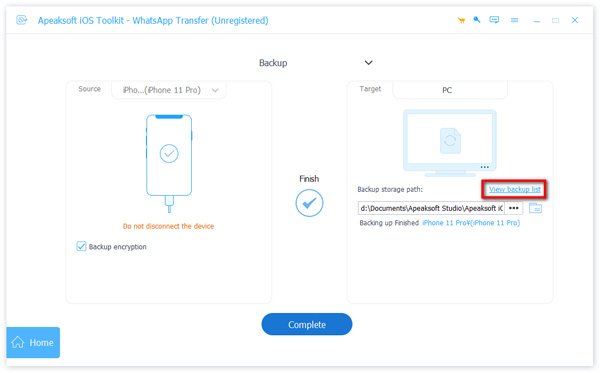 Part 2. How to Save Audio Files from WhatsApp on iPhone
On iOS, audio files received from WhatsApp are stored in its own isolated app storage and we can't access the file system of an iOS device. But you can save the WhatsApp audio messages via iCloud and then you can restore WhatsApp audio messages from backup files without much effort.
Step 1 Go to Settings on your iPhone and then find iCloud.
Step 2 Turn on iCloud Drive if it is turned off. Scroll down and enable the WhatsApp option. This would save entire WhatsApp media files including audio in an iCloud backup.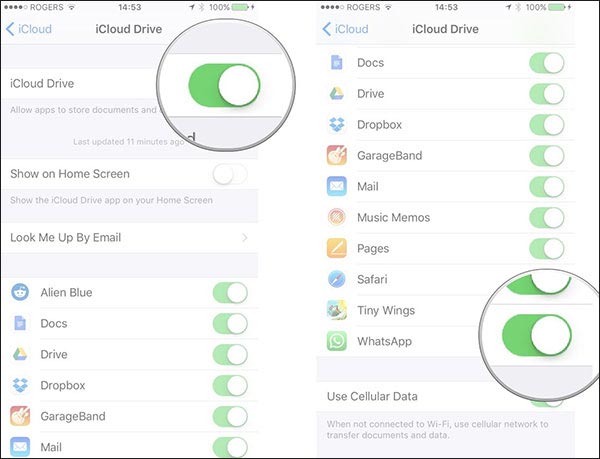 If you don't want to save the whole WhatsApp data, but prefer to save selective voice notes or audio files to your iPhone, you just open your conversation and select any audio file or voice message you'd like to save.
Then, hold it and you will get different options like reply, forward, delete, etc. Here we tap on the Forward option and then choose to share the audio file via Messages, iCloud Drive, Mail, etc.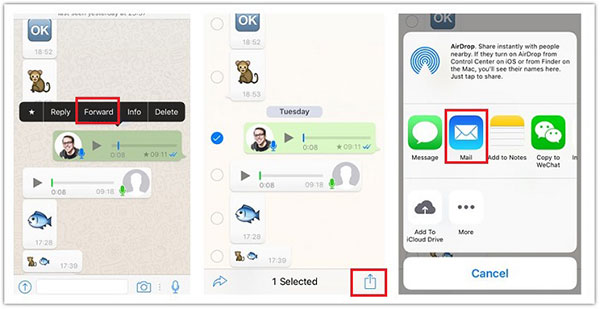 Part 3. How to Download Audio from WhatsApp on Android
If you're on Android, you might be able to locate WhatsApp audio files with help of a File Manager app on your Android. To learn how to save audio files from WhatsApp, just follow the steps below:
Step 1 To begin with, open your File Manger app on your Android phone to access its internal storage.
Step 2 Go to the Internal storage, find WhatsApp folder and then tap on the Media folder. Then you will find different folders for media files like WhatsApp Audio, WhatsApp images, WhatsApp Voice, etc. Visit the WhatsApp Audio and then find the audio files you want to save. Copy them to any other location to save them.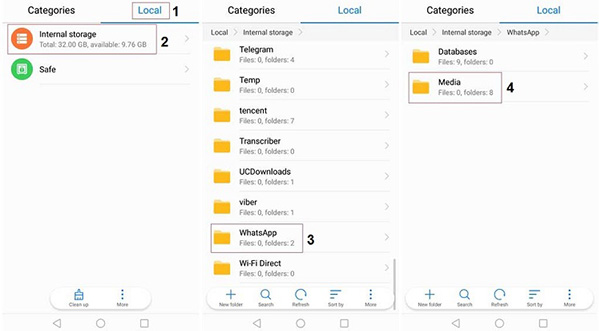 FAQs of Saving WhatsApp Audio
Where are WhatsApp audio files stored on Android?
On Android, media files are automatically saved in your WhatsApp/Media/folder. If you have Internal Storage, the WhatsApp folder is located in your Internal Storage. If you do not have internal storage, the folder will be on your SD Card or External SD Card.
How do I convert WhatsApp voice messages to MP3?
Once you find and download the WhatsApp voice messages, it's easy to turn them into MP3 files. Go to https://www.apeaksoft.com/free-online-audio-converter/ and upload your audio files to this online tool. Then you can convert your WhatsApp messages to MP3 for free.
Can I record WhatsApp video calls with audio on iPhone?
To do this, you can make use of a dedicated tool like Apeaksoft iOS Screen Recorder. It allows you to record the screen activity of any iOS device or even mirror its screen on a computer.
Conclusion
After reading this guide, you would certainly be able to backup WhatsApp audio files to your computer or the device's local storage. To accomplish WhatsApp audio backup and restore, you can simply use a professional tool like Apeaksoft WhatsApp Transfer. On top of that, you can use this handy tool to help you seamlessly save your WhatsApp photos on your new iPhone, transfer messages from one phone to another and more. Go ahead and give these suggestions a try and share this guide with others.