"My iPhone suddenly shows an SOS Only label in the status bar, why it happens, and how to fix it?"
The iPhone is one of the most advanced smart devices. As its name suggests, it is first and foremost a phone, and most features require a cellular network. When your iPhone is out of the carrier's coverage, you might encounter an error. The good news is that you can fix the SOS Only error on your iPhone following the troubleshooting below.

SOS Only on iPhone
Part 1. What Does SOS Only Mean on iPhone and Why It Happens
As mentioned previously, the SOS Only error means that there is no signal from your wireless carrier at your location. This can happen if you are too far away from your wireless carrier's cell towers or the signal is blocked by tall buildings.
Once you see SOS Only on your iPhone, you can still use the features that don't require the network and call 911 or similar services. In other words, you cannot make normal phone calls, send messages and emails, surf the Internet, etc.
You may encounter the error due to storms, network errors, and other glitches in your wireless carrier. In some cases, iPhones may get stuck in SOS mode too due to software issues.
Part 2. Common Fixes for iPhone SOS Only Error
Fix 1: Move to a Place with a Better Network Connection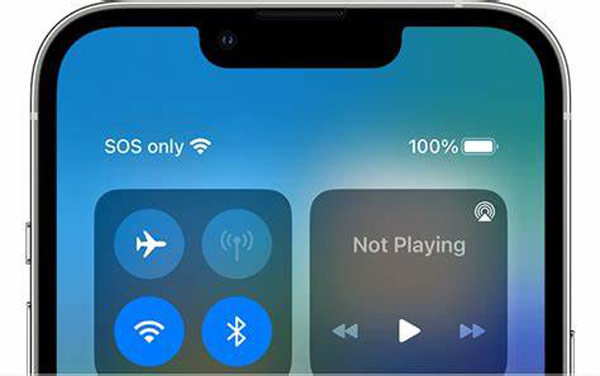 If your iPhone says SOS Only in one room, move to another room or place to get a better signal. You can also try going to higher places, such as the top of a mountain or the roof of a building. When your iPhone search for a signal that is strong enough, the label will disappear.
Fix 2: Re-insert Your SIM Card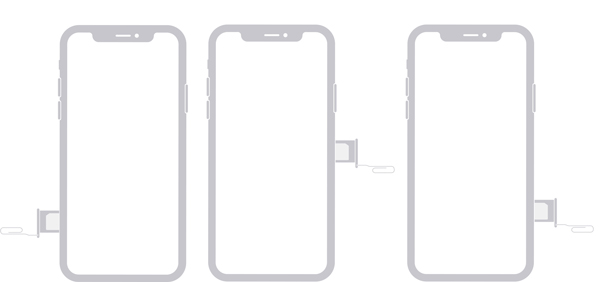 Sometimes, a loose SIM card can lead to the SOS Only error on the top of iPhones. The solution is simple. Insert a SIM ejector or paper clip into the hold next to the SIM card port on your iPhone. Then the SIM card tray should pop up. Put the SIM card right on the tray, and insert the tray into the port.
Fix 3: Restart iPhone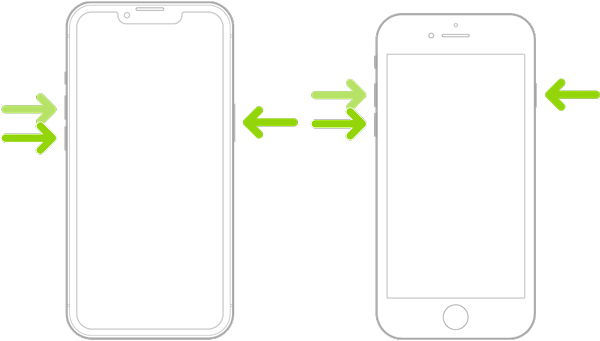 The easiest way to get rid of SOS Only on your iPhone is force-restart. That can take your phone out of the SOS mode, close apps in the background, and make your device normal.
Force restart iPhone 8 and later: press the Volume up button and release it, do the same to the Volume down button, and hold down the Side button until you see the Apple logo.
Force restart iPhone 7/7 Plus: hold down the Volume down + Side buttons until the Apple logo appears.
Force restart iPhone 6s and earlier: long-press the Power + Home buttons until you see the Apple logo.
Fix 4: Turn off Airplane Mode
Airplane Mode is a setting on iPhones for use on board an aircraft. When it is enabled, your iPhone does not receive wireless signals. If your handset gets stuck in this mode, you may see SOS Only on your iPhone.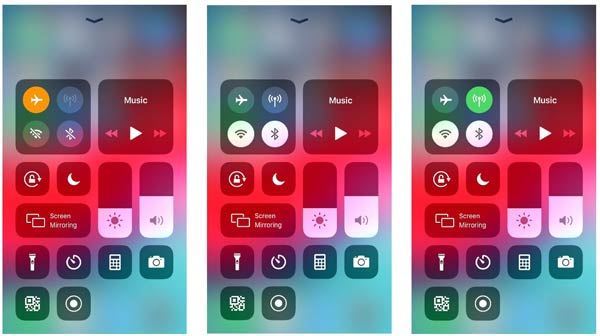 Step 1 Go to the Control Center on your iPhone.
Step 2 Tap the Airplane Mode icon to turn it on. If it has been enabled, skip to the next step directly.
Step 3 Restart your iPhone. Then go to the Control Center, and tap the Airplane Mode again to turn it off.
Fix 5: Re-turn on Cellular Data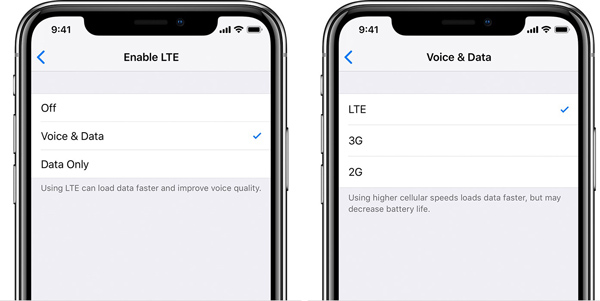 Correcting the cellular data settings is another way to turn off SOS Only on an iPhone. Firstly, go to the Settings app, tap Cellular Data, and toggle off Cellular Data. A few minutes later, turn on Cellular Data.
Next, tap Cellular Data Options, press Voice & Data, and then select LTE, which is better than 2G and 3G.
Fix 6: Turn on Data Roaming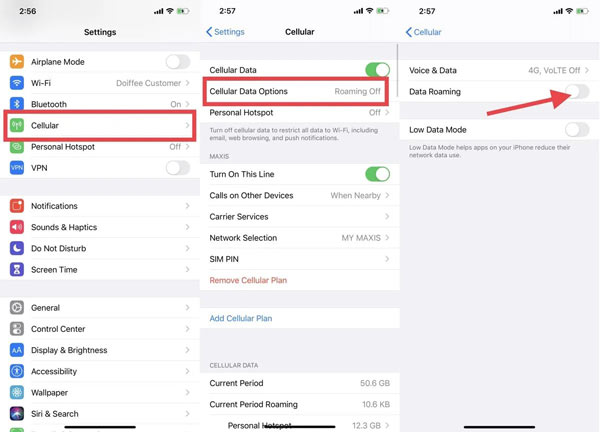 Sometimes, you encounter the SOS Only error on your iPhone when traveling in a different region or country. It means that your carrier is not available in the region. You have to enable data roaming.
Head to the Settings app, go to Cellular Data and tap Cellular Data Options. Toggle on the switch next to Data Roaming.
Fix 7: Update Carrier Settings
Outdated carrier settings is another reason why your iPhone says SOS Only at the top. Generally speaking, iOS updates the settings automatically. However, you have to do it manually sometimes.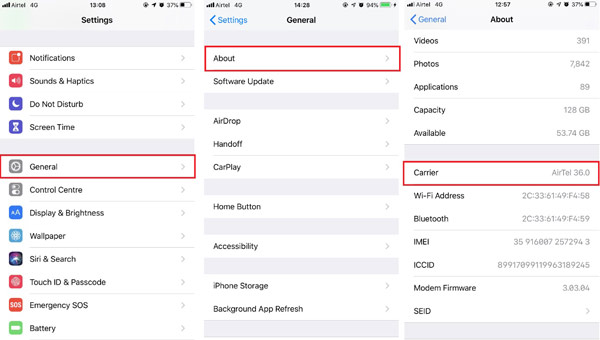 Step 1 Open the Settings app on your iPhone.
Step 2 Tap General, About, and Carrier successively.
Step 3 If there is an update, follow the on-screen instructions to install it.
Fix 8: Reset Network Settings
The last but not least fix is resetting the network settings. That won't interrupt the data on your iPhone, but all personal network settings will be removed including cellular data and Wi-Fi.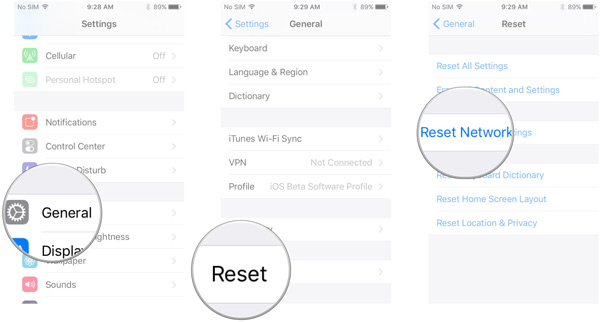 Step 1 Run the Settings app.
Step 2 Go to General, Transfer and Reset, and then Reset.
Step 3 Press Reset Network Settings, and enter your Apple ID password when prompted.
Part 3. One-stop Solution to Fix iPhone SOS Only
The common fixes are a bit difficult for average people. Moreover, they may not succeed in solving the SOS Only error on iPhones. At this point, we recommend Apeaksoft iOS System Recovery. It is a one-stop solution to fix the error.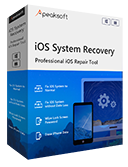 4,000,000+ Downloads
Fix SOS Only and other errors on iPhones easily.
Offer multiple modes for different situations.
Protect your data and settings.
Available to a wide range of iPhones and iPad models.
How to Fix SOS Only Error on iPhone
Step 1Connect to your iPhone
Launch the best iOS System Recovery software after installing it on your computer. Connect your iPhone to the same machine with a Lightning cable, and click the Start button.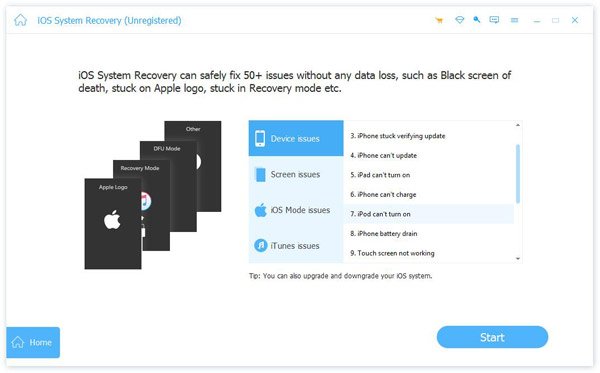 Step 2Select a mode
Firstly, click the Free Quick Fix link and try fixing the error on your phone quickly. If it is not working, click the Fix button, and choose Standard Mode or Advanced Mode according to your situation.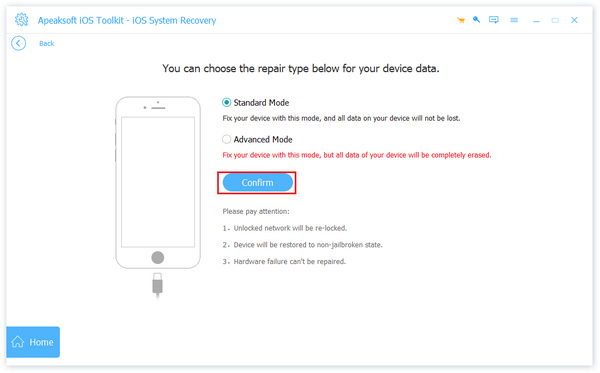 Step 3Fix iPhone SOS Only
Hit the Confirm button, and check the information on your handset. Finally, download the corresponding firmware. When it is done, the software will do the job immediately.
Part 4. FAQs about SOS Only on iPhone
Is it possible to fix SOS Only on iOS 16 by myself?
Yes. You can fix this error with common troubleshooting or using a powerful tool. If the problem persists, you have to contact your carrier and ask for help.
Can jailbreak your iPhone cause the SOS error?
Yes. If you jailbreak your iPhone, it may get stuck in Emergency SOS mode. This might be due to a bug in the system or an error during the jailbreaking process.
What is Emergency SOS on iOS 16?
This feature enables you to call the local emergency number and shares your location with emergency services on your iPhone. What if the location is not available?
Conclusion
Now, you should understand what SOS Only on iPhone means, why it happens, and how to fix the issue. If the common fixes are not valid for you, try Apeaksoft iOS System Recovery directly. It is not only easy to use, but also powerful in troubleshooting. More questions? Please feel free to contact us by leaving your message below.