You can get better network flexibility and accessibility after unlocking iPhone. And under certain cases, factory unlock iPhone can help people to save up on Internet roaming charges and change another network without restrictions. If you don't get well versed with iPhone factory unlock, you can check this post. In this article, I will show you correct ways of factory unlock iPhones in easy and lower risky methods.

Part 1

. Definition & Benefits of Factory Unlock iPhone

Factory unlock iPhone has the opposite meaning of locked iPhone. If it is still not very clear about what does factory unlock iPhone mean, I will explain the locked iPhone first, in order to give you a deeper impression of the differences between them. In most situations, the phone you bought is locked by a certain carrier, with which you are not able to use other networks. Moreover, the locked phone will also have some specific logos, functions or ringtones linked onto your mobile phone already. Therefore, many people tend to unlock iPhone to turn it into SIM-free or contact-free phone to change new users, or for some other reasons.
What is the Benefit of Unlocked iPhone
What can users benefits from the factory unlock iPhone? There are three main advantages for you to refer. The first reason of unlocking your iPhone I have mentioned on the above paragraph is to change cell phone providers. Thus, you can access another network and change specific carriers, if you are not quite satisfied with current service. Just change the SIM card simply, and then to welcome the new unlocked iPhone.
Secondly, you can avoid heavy international roaming cost for the factory-unlocked iPhone. For most travelers, unlock their iPhone and change with the local SIM abroad. Or you have to pay a lot for using their network internationally. Therefore, the factory unlock iPhone can help people save money for travelling abroad.
Thirdly, the factory unlock iPhones have higher demand and resale value. If you want to sale your iPhone 5 to gather some funds to a get new iPhone 7 Plus, then make your iPhone 5 factory unlocked will attract more people, to use iPhone hassle-free immediately, without imposed iPhone and contracts.
Part 2

. Top 3 Websites to Unlock Your iPhone with Factory Unlock

For most people, seeking help from online iPhone unlock sites is the easy and fast method. The difficulty of unlocking iPhone is still the tough hassle. And here, you can get top 3 iPhone factory unlock sites to get official factory unlock for iPhone permanently.
Top 1: OfficialiPhoneUnlock.com
• Unlock all iPhone models, basebands and firmware.
• Get official Apple iTunes unlock to upgrade to the latest version of iOS and sync files with iTunes permanently.
• No iPhone jailbreak necessary and remains the warranty valid.
• Easy to factory unlock any iPhone with iTunes to complete iPhone factory unlock process after you made the purchase.
How to Factory Unlock iPhone 15/14/13/12/11/XS/XR/X/8/7/6 and Lock to Any Network Worldwide
Step 1. Choose Supported Models and fill in Device Details.
Turn to Official Unlock iPhone site and find Supported Models menu, choose your Handset type, and enter the IMEI. Hit Add to Cart option to complete the payment.
Step 2. Connect iPhone with iTunes to unlock your iPhone after receiving the unlock email.
Once you purchase Factory unlock iPhone service, Official iPhone Unlock site will send you emails to tell you what they had done, and process your IMEI within Apple iTunes database to mark it as unlocked. When you receive the final email to announce you factory unlock iPhone has been done, you can connect your iPhone with computer and run iTunes to unlock your phone totally.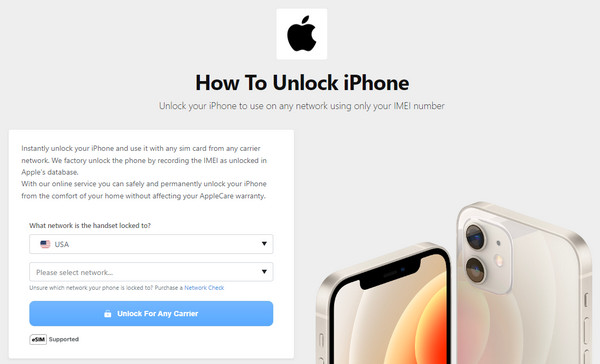 And there are over 1,000 customers leave messages on officialiphoneunlock.com to show their gratitude and express how easy to use the factory unlock iPhone service has been. Being the top iPhone unlocker, Official iPhone Unlock site is worth for a try.
Top 2: iPhoneIMEI.net
You can select various iPhone carrier/network to unlock from iPhoneIMEI.net. There is a detailed price table to list every service price clearly. Feel free to factory unlock iPhone on iPhoneIMEI.net, because it has announced that 100% money back for iPhone fail to factory unlock situations. Moreover, you can enjoy lifetime iPhone unlocked warranty and iTunes upgrade permanently. All features will stay original, like 3G, 4G, WiFi, Contacts, etc.
The whole process to factory unlock iPhone is quite easy, fill in the menu provided in iPhoneIMEI.net, which are Please select model, Network the iPhone is locked to and Unlock options. Later, iPhoneIMEI.net will factory unlock your iPhone over-the-air, just connect it to the Wi-Fi network easily. Enjoy the never locked iPhone in iPhoneIMEI.net with lifetime unlock warranty here.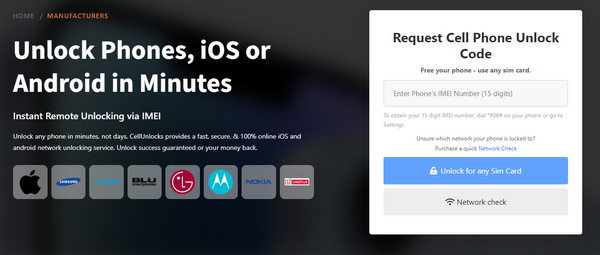 Top 3: Cellunlocker.net
Cellunlocker.net can remotely unlock most Apple iPhone devices out of default network. No need to send your smart phone elsewhere, and you can just stay home to get factory unlocked iPhone, with SIM changed to use the new iPhone. There is a permanent factory unlock iPhone service as well, for people to enjoy the safe and worthy iPhone unlock service. The first step is to fill in the Unlock availability list, to check whether your iPhone can be unlocked or not. It is similar with other iPhone factory unlock services, to choose iPhone model, network your iPhone is locked to and IMEI. Waiting for the email from Cell Unlocker to announce you open iTunes to unlock your iPhone remotely.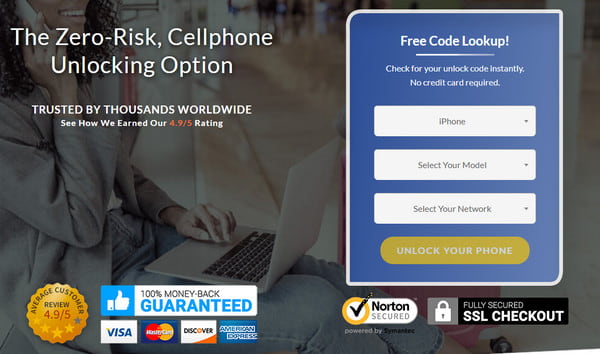 In conclusion, these top 3 factory iPhone unlock methods have their characteristics and similarities. You can read the detail about the methods and choose according to different conditions you emphasis more. But I'm sure you can get satisfied service to factory unlock iPhone from each iPhone unlock site. Once you factory unlock iPhone, you can apply any carrier without limitations.