Since January 1st, 2014, every smart phone you bought from Three is already unlocked. Therefore, there is no need to use iPhone unlock service to unlock Three UK iPhone. And you can connect to other networks with no limitations. As a result, if you have been using Three UK iPhone since that period, then you can get Three unlock iPhone after contract service from this article. Before Three UK iPhone unlocking, there are two important things you need to do in advance.
• Check whether your Three UK iPhone locked or not (Insert a non-Three SIM card into your iPhone to confirm your Three UK iPhone condition.)
• Prepare Three UK iPhone IMEI number (Dial *#06# on the keypad of your iPhone to get the Three unlock iPhone code.)

After checking your iPhone has been locked to Three network already, then you can try following Three unlock iPhone services.
Part 1

. Unlock a Three UK iPhone Permanently

Just as above has mentioned, your Three UK iPhone bought before 2014 is locked. And for prepay customers and bill pay customers, it is also necessary to unlock iPhone from Three network. To get permanently unlock Three iPhone, you can use OfficialiPhoneUnlock with easy operations.
Key Features of Three Unlock iPhone Online Service
Unlock Three UK iPhone without jailbreak
You can unlock iPhone from Three UK with a factory IMEI unlock code directly. No jailbreak required, so your iPhone can still be updated with iTunes while it has been unlocked permanently. Moreover, your warranty still remains intact.
Supports all baseband and firmware
Most iOS versions are supported, including iPhone X/8/8 Plus/7/7 Plus/SE/6s/6s Plus/6/6 Plus/5c/5s/5/4S/4/3GS and other iOS models.
Instant carrier checking and the fastest unlock delivery
You will not buy the wrong service for Three iPhone unlock anymore. OfficialiPhoneUnlock offers instant carrier checking that can guarantee you are purchasing the correct Three UK iPhone unlock product. Moreover, most customers have written down their experience of unlocking iPhone from Three iPhone in fast speed.
How to Unlock iPhone from Three UK Carrier
Step 1. Complete your Three unlock iPhone request
Open OfficialiPhoneUnlock site. Locate "Choose your model" menu and choose which icon your iPhone belongs to. Later, fill in the IMEI blank with your Three unlock iPhone code.
Step 2. Check Three unlock iPhone cost and timeframe
The Three UK iPhone unlocking price starts from £29.99. And the common timeframe is the same day. Different iOS devices charges different prices. So you need to check the final iPhone unlock price. Later, you need to enter your email address that is used for receiving the unlock notification when done.
Step 3. Follow instructions to unlock iPhone from Three UK network
Once your iPhone is marked as unlocked from Three UK, OfficialiPhoneUnlock will send you the email containing instructions of how to unlock Three iPhone in detail. You can plug your iPhone to computer, and then iTunes will display the message announcing your iPhone is unlocked. Or you can also unlock iPhone from Three UK over the air after connecting the Wi-Fi network or have the Three iPhone unlock service on the iDevice already.
OfficialiPhoneUnlock will update the status of unlock hourly since you have submitted the Three unlock iPhone request. Therefore, you can get the latest information of Three iPhone unlock.
Part 2

. Alternative Ways to Unlock iPhone Locked Three UK

There are also other iPhone unlockers that can unlock iPhone from Three network in safe way. You can choose the certain one to get SIM-free iPhone as well.
Section 1: iPhoneIMEI
It can unlock all iPhones and all iOS versions by IMEI number merely too. And you can factory unlock Three iPhone with lifetime guaranteed.
Step 1. Select your iPhone model and enter IMEI
Step 2. Hit "Unlock Now!" button
Step 3. Complete Three unlock iPhone payment
Step 4. Follow instructions to unlock Three iPhone after receiving the email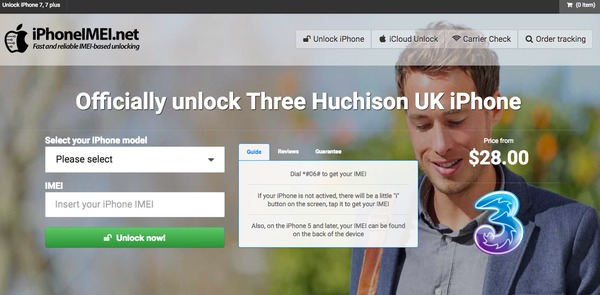 Section 2: OfficialAppleUnlock
OfficialAppleUnlock offers reliable service that enables you to use any SIM card without limitations. And you can get live support during certain time period.
Step 1. Select iPhone model you want to unlock
Step 2. Choose "United Kingdom" and "Three-3" from service options
Step 3. Order your Three unlock iPhone request
Step 4. Get unlock information email
Section 3: UnlockiPhoneDen
You can get factory 3 Three UK iPhone unlocking service from UnlockiPhoneDen. No roaming charges and no jailbreak required. Therefore, your warranty stays intact.
Step 1. Select the network you are locked
Step 2. Choose your iPhone model
Step 3. Set Three unlock iPhone speed and warranty
Step 4. Hit "Check Price" and place the order
Step 5. Follow instructions to unlock iPhone remotely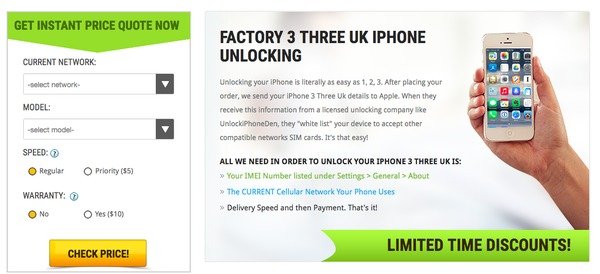 Section 4: Codes2unlock
Codes2unlock offers life-time iPhone unlock service in 100% safe and secure method. Thus, you can use the iPhone unlocked from Three Hutchison UK with other SIM cards worldwide.
Step 1. Select iPhone from "Phone Make"
Step 2. Choose iPhone model
Step 3. Pick out your current network of iPhone
Step 4. Tap "Unlock Now" and order Three unlock iPhone
Step 5. Follow instructions to Three unlock iPhone with iTunes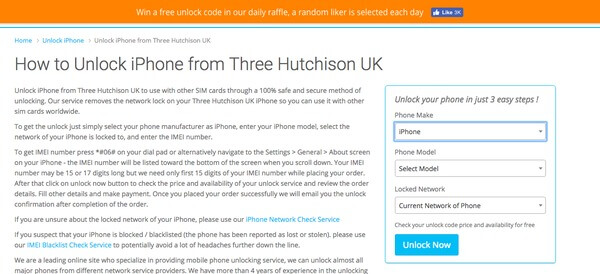 Summary
From above methods of unlocking iPhone from Three network, it is obviously that iPhone IMEI number plays an important role. And all of them do not require jailbreak iPhone, so your warranty remains safe. Your iPhone will be unlocked from Three permanently, and you can use any SIM card freely. The only difference is the Three unlock iPhone price and delivery time. Compares with others, OfficialiPhoneUnlock does a better job with many reviews offered from its website. So if you want to get the fastest unlock delivery and reasonable price of Three iPhone unlocking, then OfficialiPhoneUnlock seems to be your first choice.