"How do I deauthorize three old computers that have been sold. I did not do it in iTunes at the time."
When you first open iTunes, you have to sign in your iTunes account and authorize it to access your files. According to Apple, users should deauthorize your computer before sell it or give it away, send it in for service or make upgrades.

This tutorial tells you how to deauthorize a computer on iTunes in different situations. Even though your computer has been sold, you can deauthorize it on iTunes if you follow our guide.
Part 1

. Best way to access iCloud backup

You are asked to sign in your iTunes account and authorize a computer, no matter Mac or Windows, in iTunes before it can download and use your purchased media contents and more.

Officially, you can authorize up to five computers at the same time. In another word, an Apple ID can only be signed in no more than 5 computers including Mac and Windows.

Otherwise, your computer cannot access to the contents you purchased on iTunes.
Part 2

: How to Deauthorize iTunes on a Mac or PC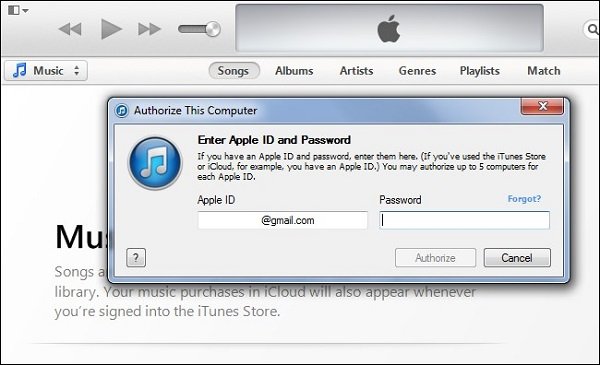 Anyway, when you intend to stop using a computer, you should deauthorize iTunes to protect your private information. Moreover, the limited number of authorized devices is another important reason. If you have authorized 5 old computers and without deauthorized them in iTunes, your new computer cannot be authorized anymore.
Method 1: Deauthorize A Computer on iTunes
Before you sold your computer and it is still working, you can deauthorize iTunes on it quickly.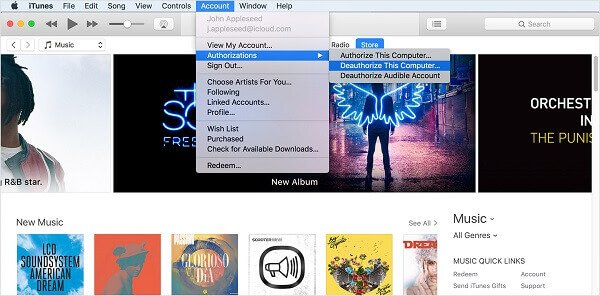 Step 1: Open your iTunes on the Mac or Windows computer that you want to deauthorize. Sign into your iTunes account (iTunes password forgot? Jus recover it now.)
Step 2: Locate the menu bar at the top of the iTunes window, and go to Account -> Authorizations -> Deauthorize This Computer.
Step 3: When prompted, write down your Apple ID and password used to authorize this computer.
Step 4: Once click the Deauthorize button, the process is done.
Note: For Windows users, if you did not deauthorize your machine before you reinstalled or upgraded your system components, it may be authorized multiple times. In such cases, you need to deauthorize iTunes a few times until all authorizations have been removed.
Method 2: Deauthorize iTunes without The Computer
Even though your computer has been sold or stopped working, it is possible to deauthorize iTunes. The procedure is a bit varied. Firstly, you need to deauthorized all computers on iTunes and then reauthorize the machines that are still working for you.

Step 1: Start your iTunes on your new computer and make sure to update it to the latest version. Sign in your Apple ID, if you are not.
Step 2: Head to Account -> View My Account on the top ribbon of the iTunes window.
Step 3: Enter the password for your Apple ID and press the Return key on Mac or Enter key on Windows. That will open the Account Information dialog.
Step 4: Move to the Apple ID Summary area and click the Deauthorize All button.
Tip: The Deauthorize All button shows up only if you have more than 2 authorized computers. Moreover, iTunes deauthorization will not damage your contents but only stop the access of the files that you bought from iTunes Store. For restoring iTunes purchases, check it here.
Step 5: Next, open iTunes on the computer that you still want to use, go to Account -> Authorizations -> Authorize This Computer.
Step 6: Sign in your Apple ID and password, and click the Authorize button.
Recommend: Best iTunes Alternative: MobieTrans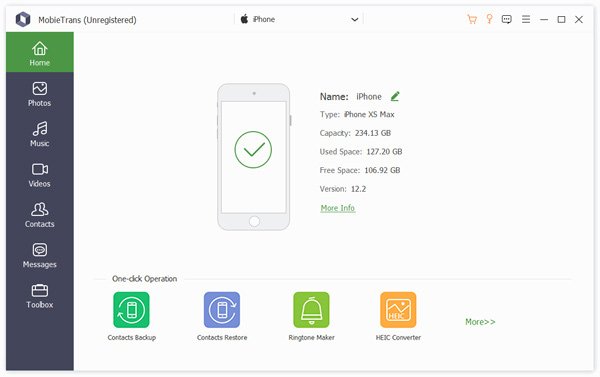 It cannot be denied that iTunes is a useful tool for iPhone and iPad owners. As Apple keeps introducing new features into it, iTunes becomes fat and fat. Finally, Apple announced that it would stop iTunes. If you are looking for the best alternative to iTunes, Apeaksoft MobieTrans is a good option.
FoneLab - iPhone MobieTrans
It has the capacity to access the data stored on your iPhone on PC. Moreover, you can back up your data between iPhone and PC, Android phone or another iOS device. It does not require authorization or your Apple ID. Every connection or data transfer relies on the physical connection, which is pretty safe. Plus, it contains extensive functionalities, like a ringtone maker.
Conclusion
Based on our tutorial, you should understand how to deauthorize iTunes on Mac and Windows. As an official service released by Apple, iTunes is an important data manager for iPhone and iPad. When using it on your computer, you need to authorize iTunes to let your machine to access the contents. Of course, when you stop using a computer, you have to deauthorize it on iTunes. If you want to get rid of the authorization and deauthorization, we suggest you to try Apeaksoft MobieTrans. It is not only easier to use, but also offers more features than iTunes.