If you want to save and share important moments on your iPhone screen, taking a screenshot would be the perfect way. Although Apple has recently updated the iPhone version for convenience, the phone buttons and built-in Assistive Touch for screenshots still vary among devices. Thus, we have arranged step-by-step instructions for iPhone screenshots of all models. What's more, you can discover the best way to screenshot on your iPhone without repeated settings before you finish this post.

Take iPhone Screen Shot
Part 1: How to Take iPhone Screenshots Directly
In fact, each iPhone user can use the device buttons to take iPhone screenshots directly and easily. You can take any iPhone screenshot only with two presses. And it can be the most common way every iPhone user should know. If you still don't know it clearly, you can read the next tips.
1. For iPhone 8 and Earlier
If you want to take iPhone screenshot directly, you need to press and hold the Top or Side button. Then immediately click the Home button and release the two buttons. And the screenshot you take will be saved in your Photos.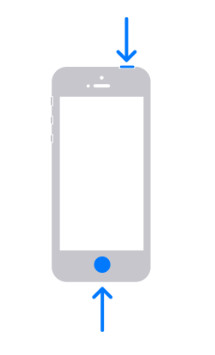 2. For iPhone X/11/SE/12/13/14
If you are using iPhone X and higher versions, when you want to take an iPhone screenshot directly, you need to press and hold the Side button on the right side of your iPhone. Then immediately click the Volume Up button on the left side, and then release both buttons. You can then check the screenshots and choose a preferred path to save it.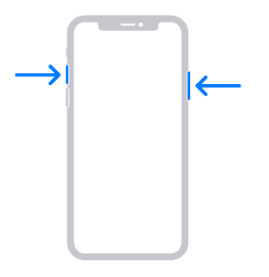 In addition, in iOS 11 and higher versions, a thumbnail of your screenshot appears in the lower-left corner of your device. Then you can tap the thumbnail to add drawings and text with Markup as you want.
You can also press and hold the thumbnail to share this screenshot to others. If you want to close it, just swipe left on the thumbnail to dismiss it.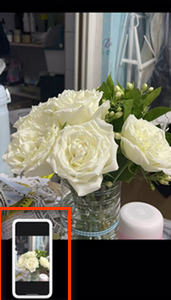 Part 2: How to Take iPhone Screenshots with Local Assistive Touch
If one of the Home button or Side button on your iPhone fails to work, you cannot take iPhone screenshots directly with the first method. But still, you can adopt the native Assistive Touch feature for iPhone to take screenshots through settings.
Method 1. Take an iPhone Screenshot via Assistive Touch
Step 1 Open Settings on your iPhone and tap Accessibility (Or enter General > Accessibility based on your device).
Step 2 Move to General and click the Accessibility Shortcut. Enable the Assistive Touch in the following window. Then you can triple-click the Side button in any interface and activate the feature to take screenshots.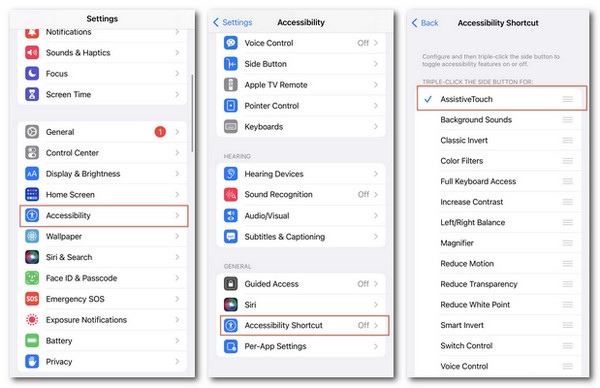 For older iPhones, you can enable the Assistive Touch on the Accessibility page. And then enter Customize Top Level Menu and click the + icon with Screenshot.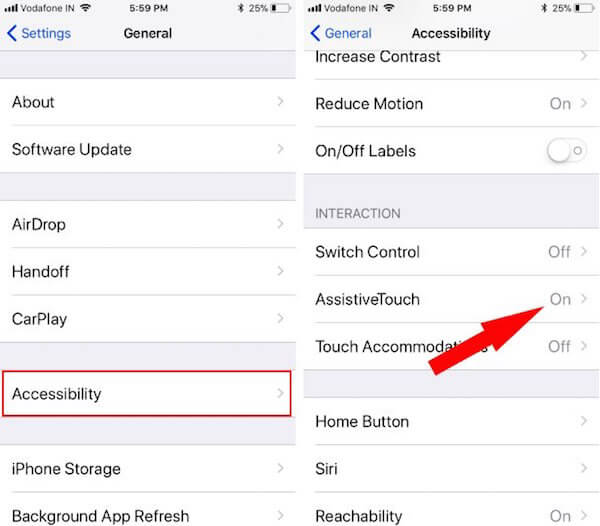 Step 3Capture the wanted interface with the Assistive Touch feature. Then move to Device> More > Screenshot to enable the screenshot taking.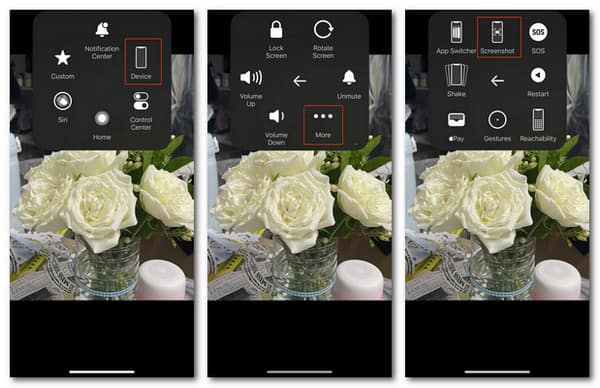 Method 2: Take iPhone Screenshots Faster with Custom Top Level Menu
If you don't want to go through the unwanted touch actions in Assistive Touch, here is an optimized instruction to take iPhone screenshots.
Step 1 Open Settings on your iPhone and tap Touch > Assistive Touch (Or enter General > Accessibility for older iPhones)
Step 2 Make sure you have enabled Assistive Touch. Then click the Customize Top Level Menu section. Then you can add your wanted function with the + icon.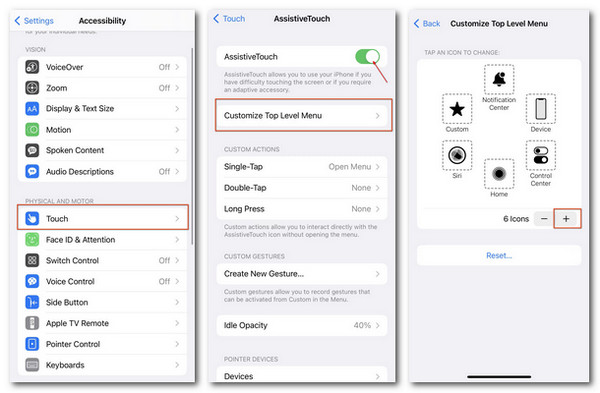 Step 3Find Screenshot and click the Done button. Now you can go back to the target screen and force-press the Assistive Touch to enter Screenshot directly.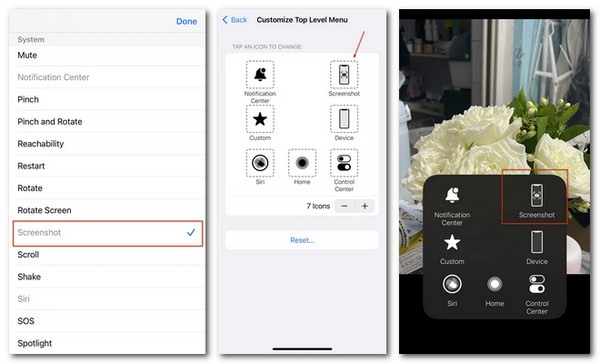 The settings of Top Level Menu may vary on different devices. For some iPhone users, you can enable the Screenshot icon through the 3D Touch Action in the Customize Top Level Menu window and continue to take screenshots freely.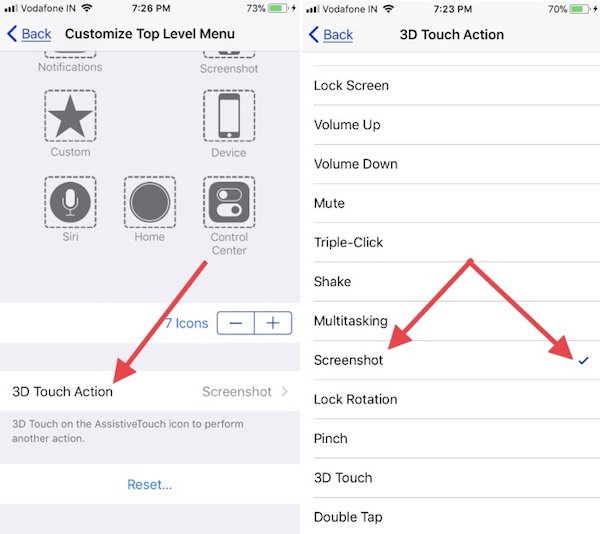 Tips :
Methods in part 1 and 2 are both designated for iPhone users who prefer to adopt the touch buttons on the devices. If you are an Apple fan and want to know more quick settings for Apple products, you can learn to
take screenshots on Mac
with the hotkey settings.
Part 3: Apeaksoft Phone Mirror - Best Way to Screenshot iPhone (All Versions Supported)
Do you find the constant update and settings for iPhone screenshots a little bit time-consuming? Do you want another efficient and storage-saving solution to take a screenshot for iPhone? Well, you can find answers in Apeaksoft Phone Mirror, which is compatible with all iPhone models.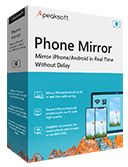 4,000,000+ Downloads
Take iPhone/Android screenshots on a larger screen for a better experience.
Match the latest iPhone 14 without delays and laggings.
Directly save the snapshots and screen recordings on your PC to release your iPhone storage.
Friendly to starters and all iPhone users.
Record on-screen activities in high-quality videos and audio.
Bonus: How to Take iPhone Screenshots via Apeaksoft Phone Mirror
Step 1 Download and run Apeaksoft Phone Mirror on your PC. Choose iOS Mirror to enter.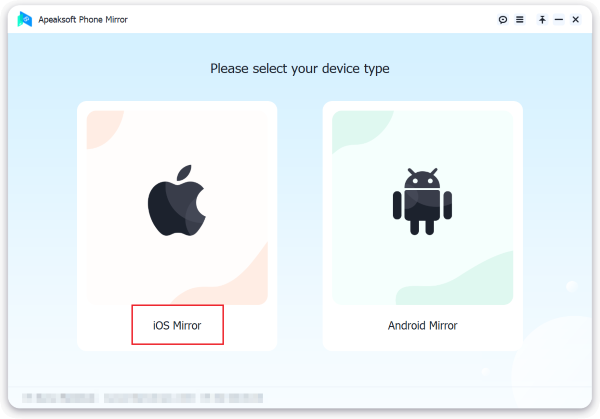 Step 2 Connect your iPhone to this PC via the WiFi connection or USB connection. Follow the instructions and wait until you get a successful connection.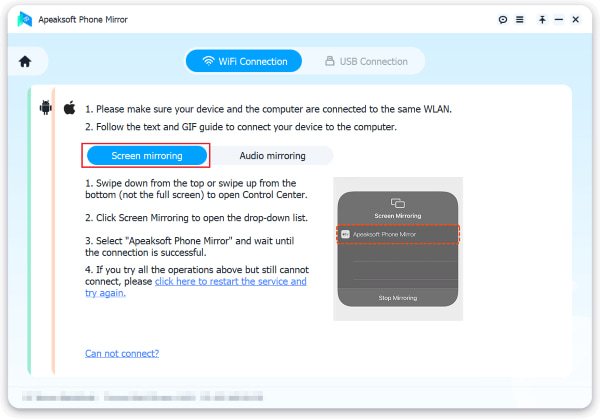 Step 3 Tap the Record icon and customize the settings for your snapshot. After that, you can click the Snapshot icon below the mirrored screen and take screenshots anytime and anywhere you want.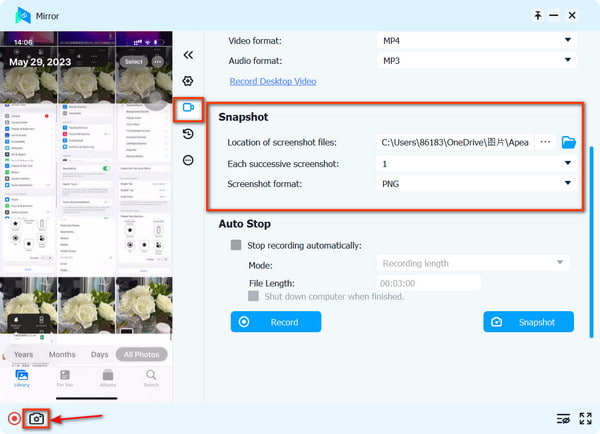 Part 4: FAQs of Taking iPhone Screenshots
How do you take a screenshot on iPhone without pressing the buttons?
You can ask Siri to take a snapshot on your iPhone without pressing any buttons on the device.
Why won't my iPhone take a screenshot?
Possible reasons may be insufficient storage space, broken device buttons, low battery life and wrong settings on the control panel. You can try to reboot your iPhone or use Apeaksoft Phone Mirror to take screenshots for your iPhone.
How do I enable screenshots in settings?
For iPhone users, you can long press the Side button and Volume Up button (Or Home button) to take screenshots directly. For Android users, you can visit Settings > Assist & Voice Input to turn on Use Screenshots.
Conclusion
After you read this article, you must know how to take iPhone screenshots in different ways. With or without buttons, you can acquire iPhone screen moments easily, following the step-by-step guide. Hope you can gain something useful here.