- "Safe game video recorder to use for gameplay recording? I want to make Diablo 3 download on my Dell computer…"
- "I'm trying to take screenshots in Diablo 3 to share with my friends. But whenever I do use print screen, I get a screenshot of all screens behind Diablo, but not of the game itself. How can I take a screenshot of Diablo 3?"

The above two questions can be easily solved by using one powerful program, which is Screen Recorder. It is a one-stop gameplay recorder that allows users to record, capture and edit video with easy-to-use filters.
Both novices and professionals can record streaming Diablo 3 effortlessly. Wanna know how to record Diablo 3 gameplay quickly? Let's read together to figure it out.
Part 1

: How to Screen Record Diablo 3 Gameplay on Windows PC and Mac

So what can you get from the Diablo 3 recorder software? In spite of recording Diablo 3 game videos, you can record online streaming videos, tutorials, webcam videos and any onscreen activities. Of course, it is also supported to record audio only, like radios, online audio, music and more.

Well, Screen Recorder works with most popular Windows and Mac computers. Thus, there is no need to worry about its compatibility. In a word, you can record Diablo 3 video with audio on PC/Mac in high quality easily and quickly here.

You may also want to know how to record audio on iPhone.
Key Features of Diablo 3 Screen Recorder
Record video with audio of gameplays, online videos and any on-screen projects on your Windows or Mac computer.
Make audio settings of both system audio and microphone audio before the Diablo screen recording.
Customize screen size to record Diablo 3 game video or audio.
Set the output format, video quality, frame rate and other options freely.
Record smoothly with drawing panel to highlight or add other effects.
Draw the area to take a screenshot instantly.
Steps to Record Diablo 3 Gameplay in High Resolution
Step 1: Head to Diablo game recording page
Free download and install Apeaksoft Screen Recorder on your computer. Well, you can record Diablo 3 PC or Mac. It does not matter which operating system you use. Just download the right screen recorder version.
To capture Diablo 3 streaming game, you need to choose "Video Recorder" option.

Step 2: Customize screen size to record Diablo video
Actually, just draw with mouse to set the screen size you want to record directly. If not, you can choose the downside arrow near the "Screen" icon. Then choose the fixed region you need.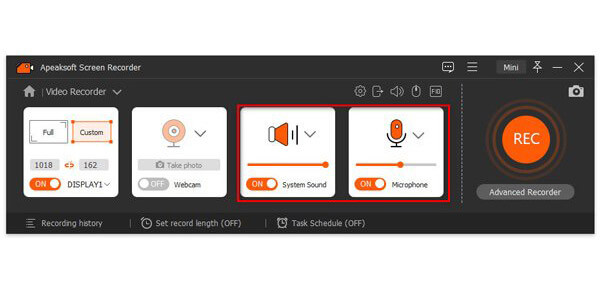 As for recording Diablo 3 audio, you can trigger the on-off option before "System Sound" and "Microphone" to the green state. Move volume sliders below if necessary.
Step 3: Adjust output video/audio settings
Click "More settings" on the top right corner. Choose "Output" in the left panel of "Preferences" window. Then you can change the output folder, snapshot/video/audio format, video codec, video/audio quality, frame rate and others. Furthermore, you can also change other preferences in the related sections. Later, click "OK" to save your change.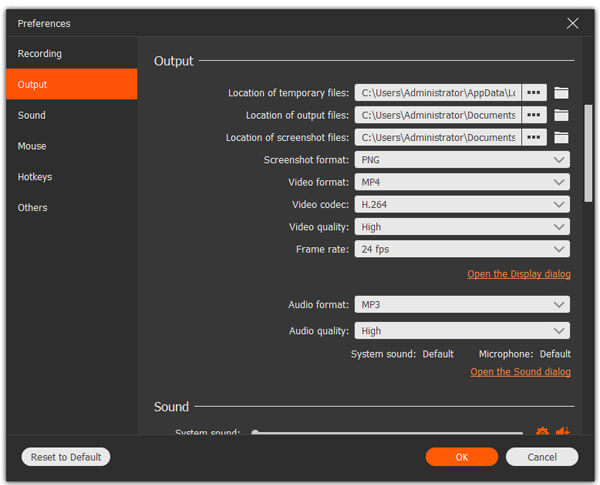 Step 4: Preview the recorded Diablo 3 video
Choose the big red "REC" icon to start to record a Diablo 3 steam gameplay video. You can pause, restart and stop the whole recording process based on your need. When the Diablo recording process ends, a preview window pops up. So you can preview and take screenshot. Then click "Save" to move on.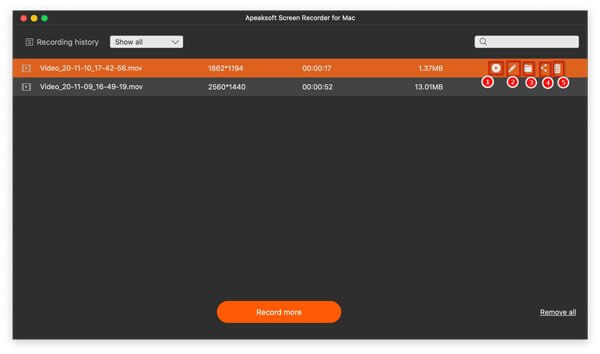 Step 5: Export your Diablo 3 gameplay video
You will be required to select the path to save your Diablo recording file. Just click "Next" to continue. Sooner, you can see the video file displayed in the left panel. After that, you can save it to your hard disk or share to YouTube and other social media platforms by one click.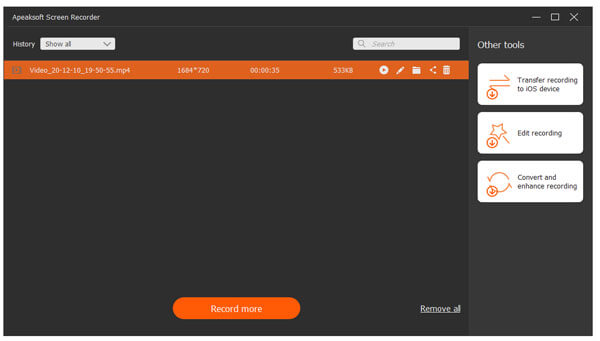 If you are using a Mac, you can click here to get more Mac screen recorder apps.
Part 2

: How to Take a Screenshot of Diablo 3 Gameplay

Step 1: Enter into screenshot page

Launch Apeaksoft Screen Recorder software on your Windows or Mac computer.

If you want to screenshot Diablo 3, then you can choose "Snapshot" option in its main interface.

Step 2: Take a screenshot off Diablo 3
Later, you can draw the Diablo 3 screenshot manually. There are many editing tools, like lines, arrows, step tools, text, watermark and more. Just add anything you need on the Diablo game screenshot freely.
As for recording Diablo 3 audio, you can trigger the on-off option before "System Sound" and "Microphone" to the green state. Move volume sliders below if necessary.
Step 3: Snapshot Diablo 3 during the recording (optional)
If you want to take screenshots while recording Diablo 3, you can make drawing or add annotations with no limitations. After that, Screen Recorder allows you to preview and share Diablo 3 screenshots directly.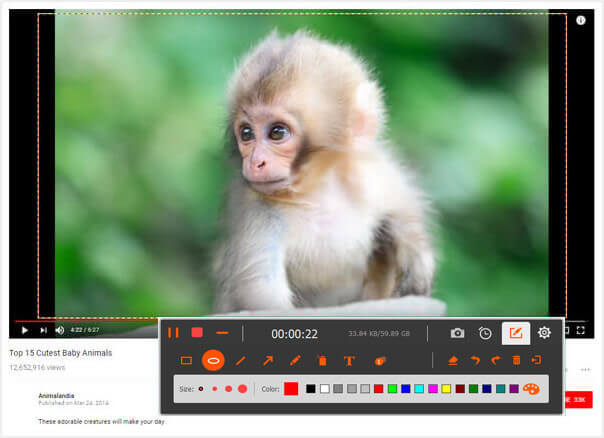 Part 3

: How to Screen Record Diablo 3 Gameplay with ScreenFlow

Step 1: Manage ScreenFlow video recording settings

Run ScreenFlow on your Mac computer. Then head to its "Configure Settings" window to customize output settings. For instance, you can choose whether to record built-in microphone audio or not. Just mark before features you need.

Step 2: Record Diablo 3 free on Mac

Click the "Record" icon at the bottom of the window. Later, open Diablo 3 gameplay as usual. ScreenFlow will start to capture the Diablo 3 footage quickly. When you are done, just click the "Stop" icon to finish the process.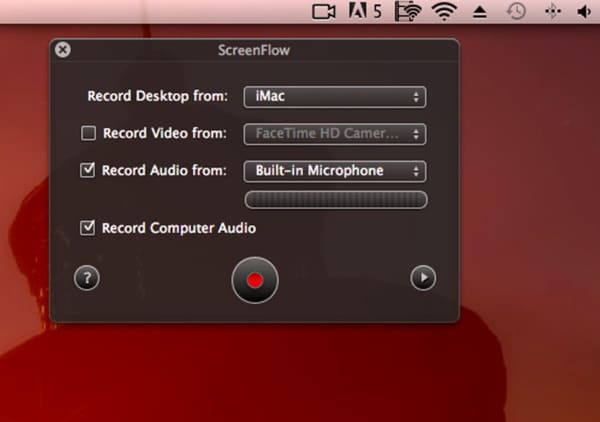 Don't Miss: 6 Best Ways to Record iPhone Screen
Part 4

: How to Record Diablo 3 Gameplay on PlayStation 4

Step 1: Record Diablo 3 with PlayStation 4

Turn on your PS4 and then open Diablo 3. Just do as usual to play Diablo 3. Then press the "Share" button twice to request for Diablo 3 screen recording. When the animation shows on the top left corner of your screen, it means PlayStation 4 starts to record your screen.

Step 2: Export or share your recorded Diablo 3 video

When you want to stop Diablo 3 recording, you can long press the "Share" button. Do not release it until the Diablo 3 gameplay recording stops. Later, choose "Save Video Clip" to save the video file. Well, PlayStation4 allows users to upload or share the artwork. So you can press "Upload Video Clip" or "Share Play" icon to achieve it.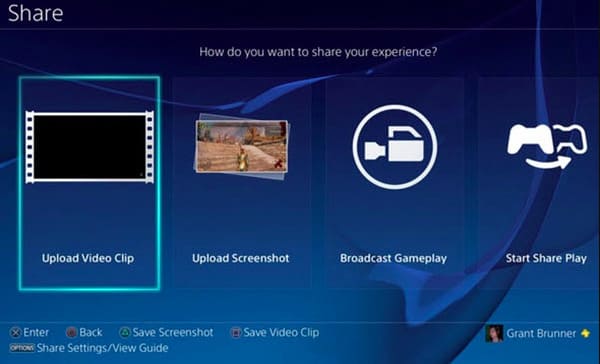 Actually, if you are looking for a friendly and powerful gameplay recorder, then definitely Apeaksoft Screen Recorder should be your first choice. Just free download it to have a try right now. If you still have problems with Diablo 3 screen recording, just feel free to contact us.