There are many screenshot tools on the market with the development of screen capture needs. ShareX is just one of them. If you have looked for free screen capture program, you must have heard of ShareX. It is a free and open source screen capture, file sharing and productivity tool. With these functions you can capture any area of your computer screen as a video or screenshot that can later be shared on various platforms. In this article we will write a complete review about ShareX and show you the best alternative to this screen capture tool.

Sharex For Mac
Part 1: Ultimate ShareX Review: Features and Details
It is known by people who have used ShareX. ShareX is a very lightweight and free screen capture program on Windows computer. It is a green and safe program. Compared to other similar software that often goes even to hundreds of megabytes, the size of the program is very small, just a little over 5MB.
ShareX is a screenshot grabbing tool with a lot of video and image editing tools. It enables you to capture any area of your computer screen as a video or screenshot. Once the file is saved, the software offers a range of filters, editing options and upload tools to rapidly share it.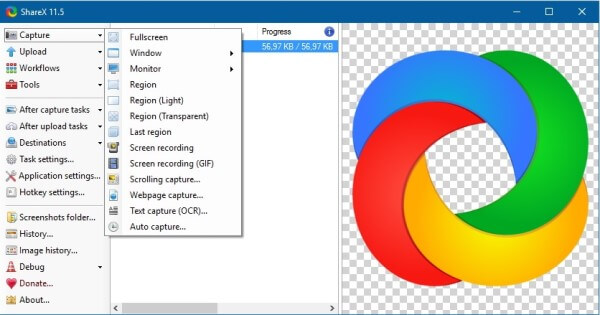 What ShareX can do for you:
Multiple capture modes. There are two capture methods. quick and hassle-free methods, to take screenshots of any window, region, or the entire screen.
Video recorder. Apart from taking screenshots, ShareX also can record screen.
Image editor. There is a built-in image editor in ShareX that allows you to manually edit the screenshots you take.
Share files on platforms. After getting screenshot or video, you can share them online instantly and copies their link to the clipboard.
Pros

Customize the shortcut key to bind your command to, as well as what host it uploads the file to.
Take screenshots, record screen video audio or GIF in one or multiple monitors at your will.
Simple interface that's easy to navigate and comes with a lot of important and useful features.
Absolutely free for all features with over 11 years of active development.
No advertisements.
Cons

Not available for Mac users.
The shareable links to the images you have uploaded will expire over time.
A little complicated and cumbersome for beginners to use.
The scrolling window capture does not always work as expected.
How to use ShareX?
Step 1: Download ShareX from the official site and install it on your PC. Double click to run the program.
Step 2: In Capture, there are many options:
For Images:
Fullscreen: Creates a screenshot of the entire screen area.
Active window: Captures the currently active window.
Active monitor: Captures the monitor area where the mouse pointer or cursor currently resides.
Window menu: Take screenshot of the active windows.
Monitor menu: Take screenshot from monitors.
Rectangle: Take screenshot from a single or multiple rectangular area drawn with the mouse.
Rectangle (Objects): Take screenshot of a rectangular area.
Rectangle (Annotate): Take screenshot of a rectangular area and allow the user to draw in the capture area.
Rectangle (Light): Basic version of Rectangle capture designed for slow computers.
Rounded Rectangle, Ellipse, Triangle and Diamond: Same as rectangle capture only with different shape.
Polygon: Click points on screen to make polygon shape to capture areas inside it.
Last Region: Repeat the screen capture which was done.
For Videos:
Screen recording (FFmpeg): Users can record a selected area on their screen or the entire screen.
Screen recording (GIF): User can record a selected area on their screen or the entire screen in animated GIF.
Auto capture: Automatically capture a screen area with the specific time interval.
Choose Screen recording (FFmpeg) option to record screen including sound.
Plug in the Microphone in to your machine to Record.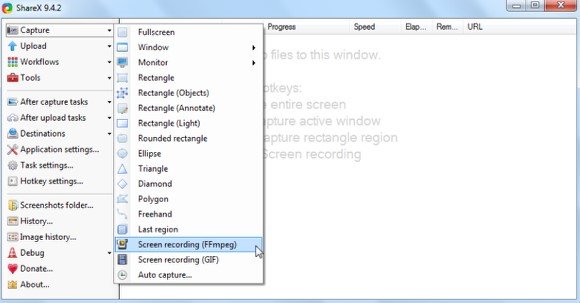 Part 2: The Best ShareX Alternative for Mac – Screen Recorder
As we mentioned before, ShareX only can be used on Windows computer. So, if you are finding a ShareX alternative for Mac, we recommend Apeaksoft Screen Recorder for you.
Apeaksoft Screen Recorder can be the perfect companion for both Windows and Mac users. Screen Recorder is the professional screen capture software to help users record any screen on desktop, online videos, gameplay, webcam videos, zoom meeting, etc.
Record screen and webcam on Mac with high quality.
Capture any screen or video playing on your desktop screen.
Save image or video in popular formats.
Advanced recorder captures customized windows flexibly.
Download for Win
Download for Mac
Step 1: Download and install Apeaksoft Screen Recorder on your Mac. Double click the program to launch it.

Step 2: Choose the option "Video Recorder" from the main interface. Then you should choose the recording area at first.

Step 3: If you are going to record a video conference, or record the Skype chat, you may need to turn on both system sound and the microphone. Click the system sound and microphone to make sure the checkmarks appear.

Step 4: After setting the recording area and audio, click "REC" on the right side to begin recording.

What is more, you also can choose the "Snapshot" button to capture important scenes.
Step 5: if you want to stop recording, click the red square on the left to finish recording. It will show the video you recorded.
Part 3: FAQ about ShareX
1. What can ShareX do?
ShareX can be used to capture screenshots, as well as can record video using FFmpeg. Captured screenshots can be annotated and edited using the built-in image editor.
2. Is ShareX open source?
Yes. ShareX is a free and open source program that can share your images and videos with a single press of a key.
3. How to screenshot a Mac?
Press Shift, Command and F4 at the same time. Drag to select the area of the screen to capture. To move the entire selection, press and hold Space bar while dragging.
Conclusion
In this article we have made a complete introduction to ShareX. For Mac users, you can give a try to Apeaksoft Screen Recorder. It is the best alternative to ShareX for Mac. Have a nice day!