If you often have the need to capture a screenshot, edit and share images in your daily work, you may have heard or used Skitch from Evernote, which is a free screenshot editing and sharing utility for OS X, iOS, Windows, and Android. However, on January 22, 2016, Evernote has ended its support for Skitch for Windows, Windows Touch, iOS, and Android. Now only Skitch on Mac is still in maintenance and update. This decision has hurt its Windows users' feeling, even though the existing users can continue to use Skitch, any external changes such as the update to their operating system or browser may break features or functionality of Skitch at any point in the future. So it's obvious that it's not a long-term plan to work with Skitch for Windows. Any Windows user who is looking for an alternative to Windows Skitch can get the top 3 Skitch for Windows alternatives in this article.

Skitch for Windows Alternatives
Part 1. What is Skitch?
Skitch was once a free screen capture and image editing program that is compatible with Windows, Mac, iOS and Android. It enables users to quickly edit and share your screenshots with your friends or co-workers, snap your screen, annotate a photo, or draw something new, etc. You can also annotate PDFs with arrows, stamps, text, shapes, and more. However, Evernote has stopped updating Skitch for Windows, Windows Touch, iOS and Android on January 22, 2016, now only Mac users can use the latest Skitch normally.
Pros

A good tool to edit screenshots, annotate photos, and share your ideas with your friends or co-workers instantly.
You are able to take a picture to edit.
Annotate images and PDFs with arrows, stamps, text, shapes, and more.
Cons

Not available for Windows, iOS and Android users any more.
Does not allow you to share the edited images to social networks.
It only has very basic editing features.
Part 2. Top 3 Alternatives to Skitch for Window
1Apeaksoft Screen Recorder
Whether you are looking for an alternative to Skitch for Windows or Mac, we recommend Apeaksoft Screen Recorder as the best one.
Capture anything on your computer screen and save it as picture in PNG, JPEG, BMP, GIF, TIFF, etc. format.
Edit the captured screenshots with your personal labels like new arrow, line, text and more.
Record video/audio or any on-screen activities such as gameplay, online streaming video or music, webcam video, etc. with up to 60 fps frame rate.
Capture full window or customized window flexibly in high quality.
Download for Win
Download for Mac
How to use Skitch for Windows alternative to snap and edit a screenshot?
Step 1Free download and install
Free download and install this Skitch alternative on your Windows or Mac computer.
Step 2Launch and click Screen Capture
Launch this screen capture tool on your computer and click Screen Capture option in the main interface.

Step 3Then your mouse will be the shape of a cross, just select the area you want to capture with your mouse.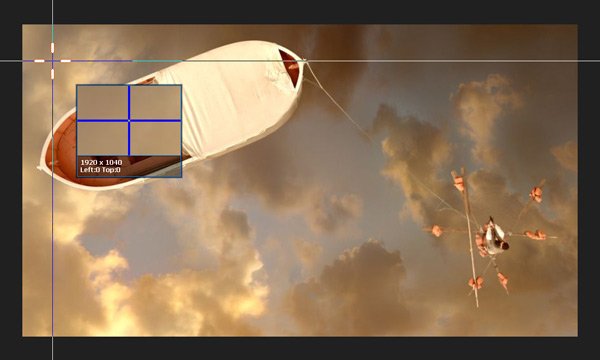 Step 4Draw or annotate the screenshots
After you customize the area you want to snap, this Skitch alternative will capture the screenshot for you automatically, and you will see a window like below.
Now you can start to edit the screenshot as you like.
• Draw the border, line, arrows and any shape you need.
You can select the size and color of it. It always means emphasizing.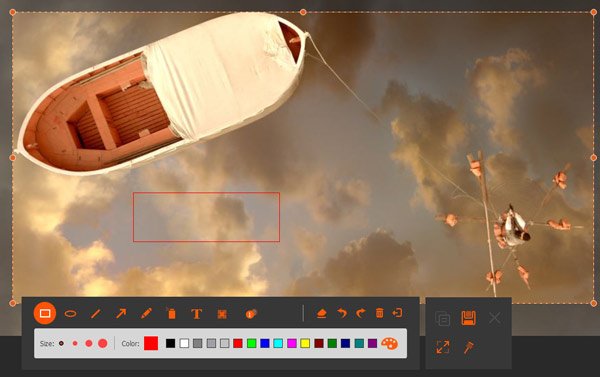 • Air brush
You can also select the size and color of this screenshot editing feature, it would add powder effect to your screenshot.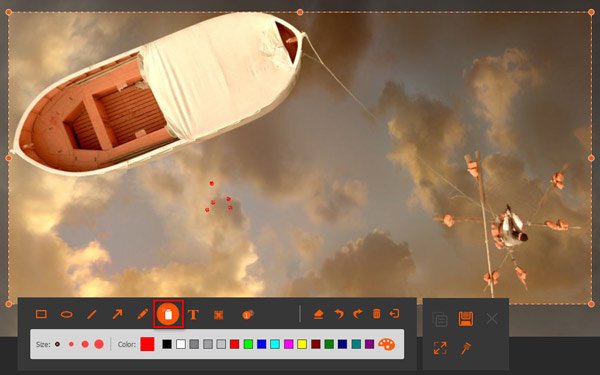 • Text
By clicking the big T icon, You can add text to the screenshot to express your ideas.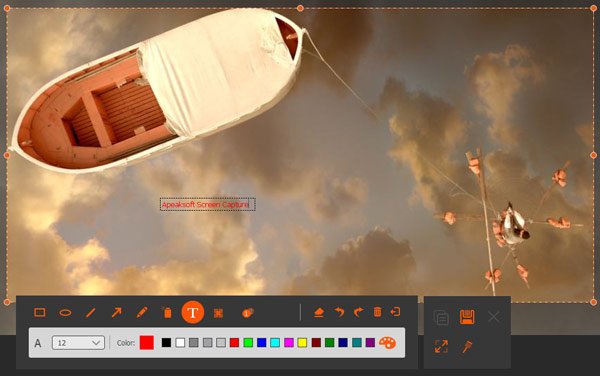 • Callout
This feature can help you mark the order of the content. Apart from the size and color, you can also set the color of the number and the background color and select the next beginning number by clicking the up and down keys beside the callout. This would make it easier to express your idea in order when you send the screenshot to your partners.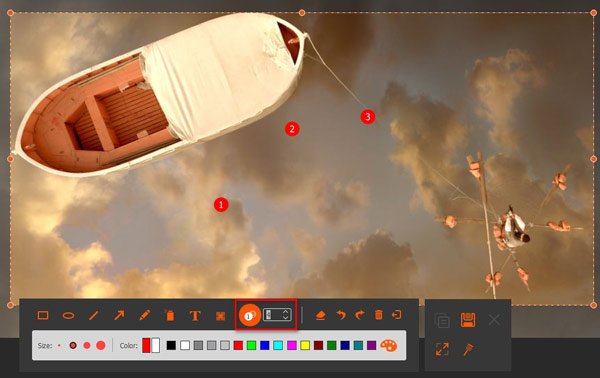 • Blur
The Blur feature enables you to make the target area blurring in the degree you want if you want to hide some information in your screenshot.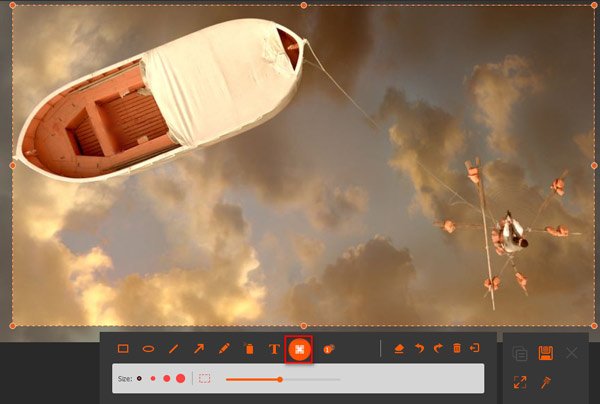 • Undo
If you made a wrong editing and want to undo the effects you have added, you can click eraser icon to clear the wrong effect or click the dustbin icon to clear all items you add. You can also click undo and redo icons to adjust the effect you just added.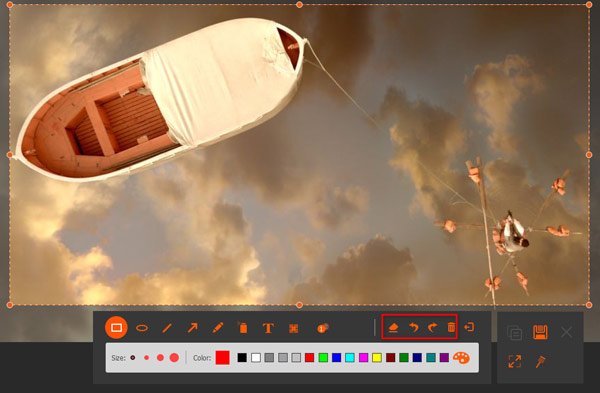 In the right side, there are also several options available: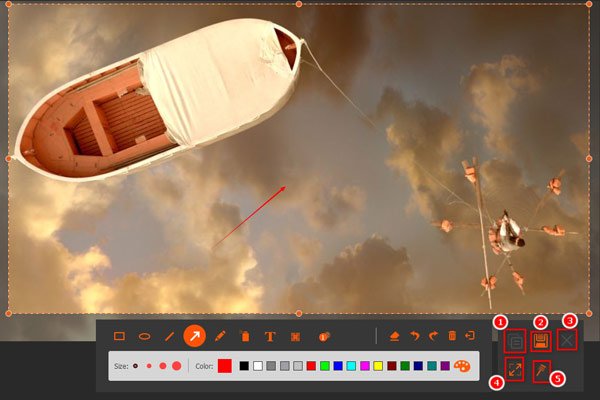 Copy the screenshot you have edited to send it to others directly.
Save the screenshot you made.
Close the window to delete the screenshot.
Open the screenshot in full screen to preview it.
Pin to screen.
2ShareX
ShareX is a very light-weight (with a little over 5MB in size), free but functional screen capture program for Windows users. It offers multiple capture modes for you to take screenshots of any window, region, or the entire computer screen as per your own need. It'd be one of the top options for Skitch Windows Alternative.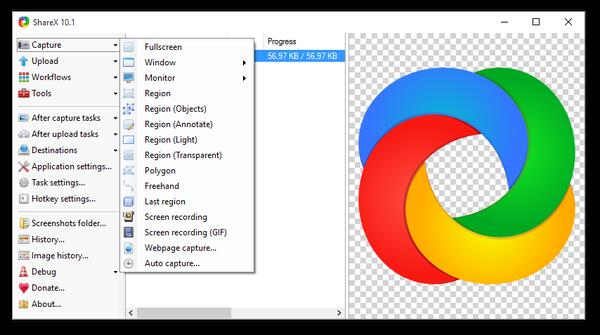 Pros

Capture screenshot on your computer in multiple modes.
The built-in image editor enables you to edit the screenshots you take as you like.
Record your computer screen in the form of video or GIF.
Share the screenshot you capture and edit to Google Drive, Imgur, FTP, Dropbox, and more.
Cons

This Skitch alternative is not available for Mac users. (Want ShareX for Mac? Check here.)
It would be difficult for beginners to use ShareX, as it has a wide range of options available while lacks proper tutorials about how to use it.
The scrolling window capture function does not always work well.
3Greenshot
Greenshot is also an open source screen capture and editing tool, compared with Skitch, it's not so good-looking in interface, but it has all features Skitch has. Whether you want to snap a full screen or part of the screen, you can get it easily. After you take a screenshot, you can open the built-in image editor for annotating and resizing.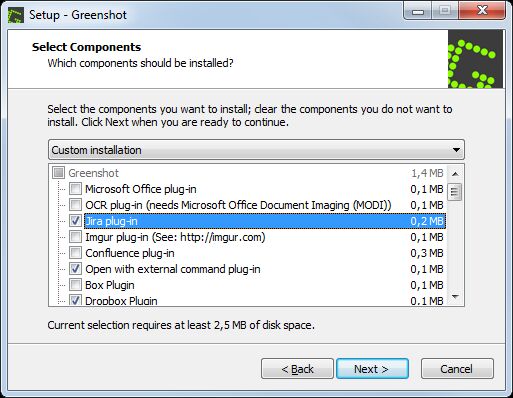 Pros

Capture screenshots in full screen or customized screen quickly.
Easily annotate, highlights, or obfuscates parts of the screenshot.
Share the screenshots in various ways: save to file, send to printer, copy to clipboard, attach to email, send to Office programs or upload to photo sites like Flickr or Picasa, and others.
Its plugin capability allows you to add your desired application in which you can further edit the screenshot.
Cons

Compared to the other two alternatives to Skitch for Windows recommended above, Greenshot does not have the screen recording function.
It does not allow you to alter built-in images or reverse dark background colors.
Part 3. FAQ about Screenshot Capture & Video Recording
1. Can I download Skitch for Windows now?
Evernote has stopped updating Skitch for Windows for years, so there is no official download link for Skicth for Windows available. It's also not safe to use the old Skitch for Windows, we recommend you to use the Skitch alternatives recommended above instead.
2. Does Skitch has the video recording function?
No, Skitch only enables users to capture screenshots, there is no video recording function.
3. Can I share my notes captured with Skitch to social medias?
The discontinued Skitch for Windows does not support for social media sharing, but Skitch for Mac enables Mac users to screenhsot on Mac and share your notes on social media or Evernote with ease.
Conclusion
In this article we have made an instruction to Skitch for Windows and recommend the top 3 alternatives to Skitch for Windows, you can choose a suitable one according to the pros and cons of each alternative listed above.