Slow Motion is an effect in film making whereby time appears to be slow down. When you want to record a slo-mo video, you can simply use the default slo-mo video recorder on your iPhone or Android phone. If you are not satisfied with the videos, the article shares 4 more excellent apps to capture and edit the desired videos with ease. Just choose the desired slo-mo video recorder on an iPhone or Android phone according to your requirements.

Slo-Mo Video Recorder
Part 1: The Default Slow Motion Video Record to Capture Video
When you want to record slow motion video with a high quality, iPhone 13/13 Pro is always the best choice to capture videos with 1080P at 120FPS or 240FPS. Here is the method to tweak the video settings and capture slo-mo video as below.
Step 1 Go to the Settings app on your iPhone X/XR and scroll down to the Camera option. Choose the Record Slo-mo option to choose the desired video quality of the output.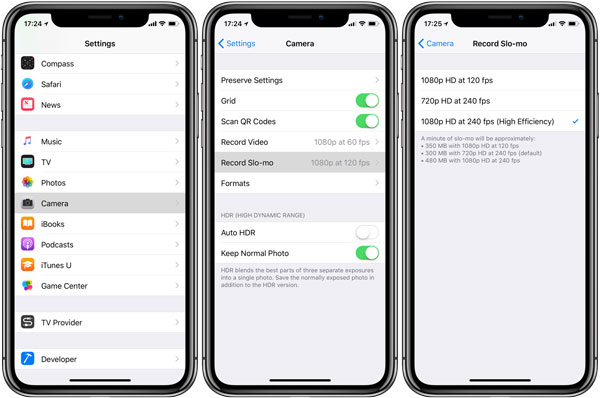 Step 2 Open the Camera app and select the Slo-Mo from the selector. It only works with the rear camera, which you can record the slow motion videos as the normal ones with the red Start icon.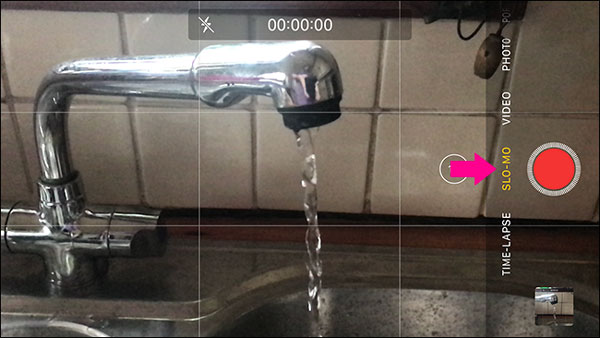 Step 3 Once you have captured the desired video, you can tap on the Edit option to edit it in Photos. The Slow Motion Timeline controls which bits of the video are in regular speed, and which are in slow motion.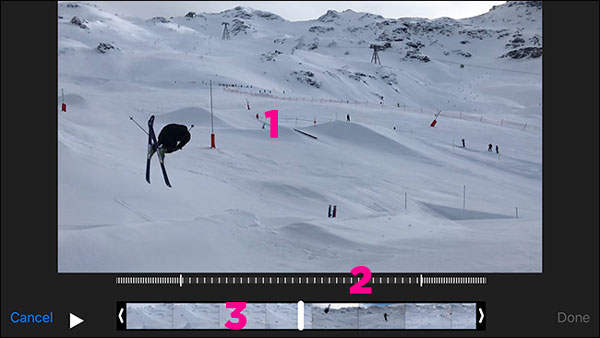 Step 4 When you have got the slow motion effect, you can tap on the Done button. Then the Save as New Clip button will save your edited version of slow motion video back to your Camera Roll.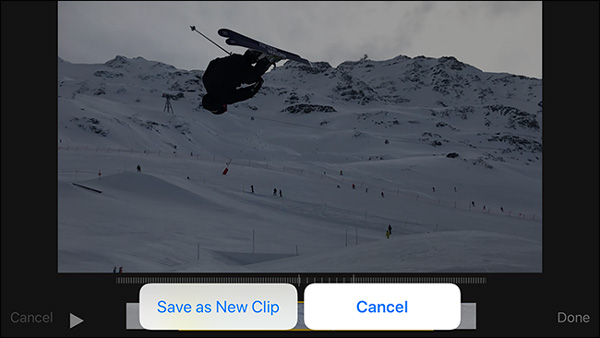 Part 2: 4 Best Slow Motion Recorder Applications on iOS/Android
If you are not able to capture the slo-mo video with some Android phone, or need to capture video for a selfie, here are 4 more slow motion recorders for iPhone and Android phone you should know.
Top 1: SloPro
SloPro is a 1000FPS slow motion recorder that shoots video at a high speed. Besides the slo-mo effect, you can apply fast motion, super slow, ghosting, optical flow, frame blending, exposure lock, sharing feed, etc.
1. Provide 3 slow effects, optical flow, frame blending and even ghosting.
2. Edit in/out points, slow motion cues and speeds with render less editing.
3. Toggle slow motion while recording, or edit the video after recording.
4. Smooth slow motion without the hassle of transferring slo-mo files.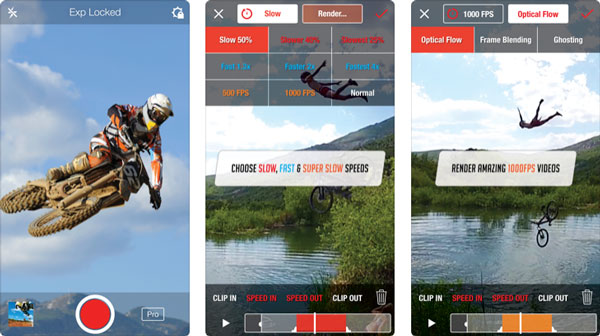 Top 2: Slow Motion Video FX Editor
Whether you want to apply advanced slow motion, fast motion, time lapse, or even stop motion, Slow Motion Video FX Editor is a desired slow motion recorder to control the video speed as desired.
1. Edit Slo-Mo video speed up to 240FPS or 12X faster or slower with ease.
2. Adjust video speed form particular frames and even hold specific portion.
3. Share high-resolution videos to Instagram, YouTube, Facebook and more.
4. Record live video with speed control options and background music files.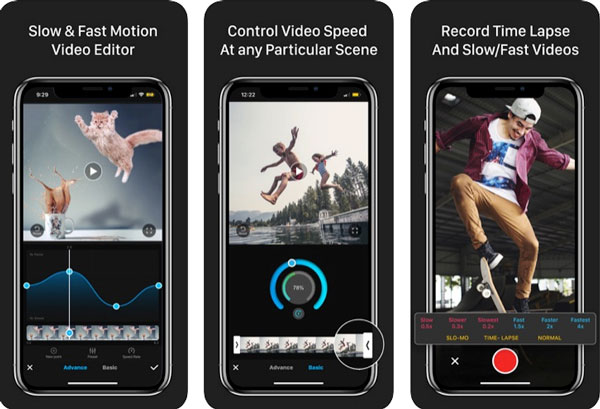 Top 3: Video Speed
Video Speed is another slow motion recorder that creates slow motion and fast motion playback speed editing into the desired videos. It is an application without hidden costs and free to use.
1. Reduce the video playback as low as 1/4 X increase playback up to 4X.
2. Create slow-motion videos and directly share them with TikTok and more.
3. Support all kinds of media formats including MP4, AVI, MKV, MOV, etc.
4. Capture slow-motion videos or convert your existing videos to slow motion.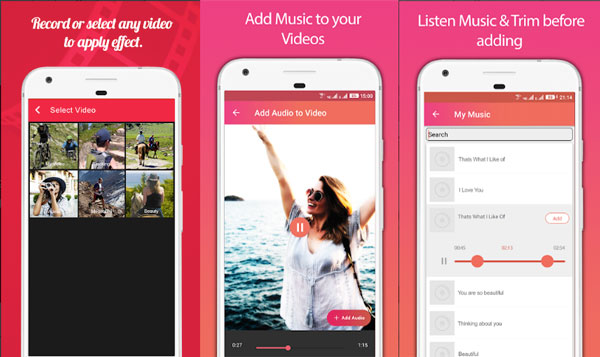 Top 4: Slow Motion Movie Maker
Slow Motion Video Maker is an easy video editor, slideshow maker, effect camera and Slo-Mo video recorder to make stylish videos and photos that make amazing videos as desired.
1. Capture or fetch all your Slo-Mo video in app from device at one place.
2. Set factor for slow motion video such as 1/x, 2/x, 3/x or even up to 16/x.
3. Adjust video speed with video filters, video trimmer and video effects.
4. Add slow motion to your video for special moments in a funny way.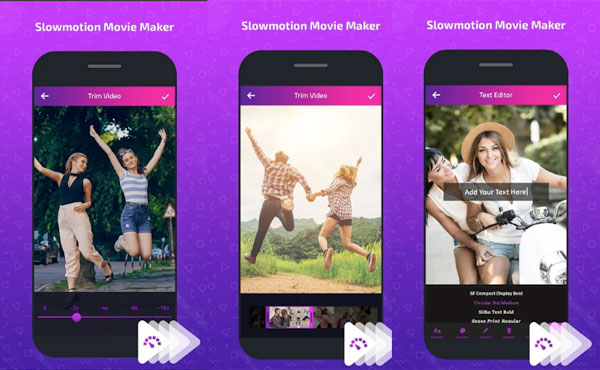 People Also Ask
How Can I Record Video on iPhone in MP4 Files without Losing Quality
How to Record Meetings on Samepage on Your Computer or Mobile Device
7 Best Face-cam Recorders Available to Windows, Mac, iPhone and Android
5 Best WhatsApp Call Recorders Worth You to Use on Computer and Mobile
Part 3: FAQs about How to Record Slow Motion Videos
1. Can Android Phone Create Slow Motion Video?
Yes. Most mainstreams Android smartphones can now record slow-motion videos natively. Of course, just similar to your iPhone, you can download the same slow motion recorders for Android. Previously, the cool feature is only available for the slow motion applications.
2. How Slow Motion Videos Work?
Here are two methods in which slow motion effects can be achieved in modern cinematography, over-cranking and time stretching. Slow motion is used widely in action films for dramatic effect, as well as the famous bullet-dodging effect.
3. What is the Best Slo-Mo Video Recorder?
When you want to edit a professional Slo-Mo video, you can take advantage of Adobe Premiere Pro CC instead. Once you have captured the slow motion videos, you can transfer the video to your PC or Mac with the professional video editor instead.
Conclusion
When you want to record some Slo-Mo videos, you can learn more about the 5 best slow motion recorders on your iPhone and Android phone. Just learn more about the best app and capture the desired slo-mo videos according to your requirements.