What should you do when Hitachi hard drive suddenly corrupted?
If you have stored a lot of important files and documents on hard drive, is there any way to recover data with Hitachi hard drive recovery tools?
Hitachi hard drives are produced by HGST, which is one of the most popular storage technology companies around the world. According to a recent research, Hitachi's drives are the most reliable, with an average failure rate of about 1 percent.

However, it is well-known that there are certain inevitabilities in life, such as death, taxes, and of course, hard drive failure. Therefore, we are going to share the best Hitachi hard drive tool in this tutorial.
Part 1

: Top 5 free Hitachi hard drive testing tools

If you tend to purchase or text hard drives, there are 5 best Hitachi hard drive tools available to test it for free.
Seagate SeaTools
Pros
1. Offer two versions, SeaTools for DOS and SeaTools for Windows.
2. Both Hitachi hard drive tools are free of charge.
3. Support all Hitachi hard drives.
4. Built-in noise troubleshooting.
Cons
1. SeaTools for DOS requires ISO image burner software.
2. It only can handle up to 100 errors.
HDDScan
Pros
1. Free Hitachi hard drive tool.
2. Easy to navigate.
3. Support command line.
4. No need to be installed.
Cons
It is a bit difficult for beginners since it does not have built-in descriptions and help documents.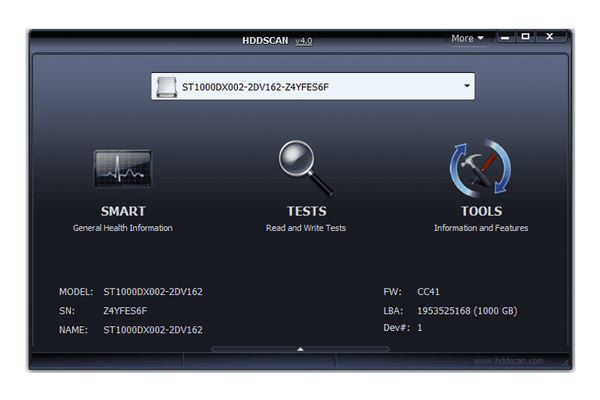 DiskCheckup
Pros
1. Lightweight and smaller in size.
2. Export information in txt file.
3. Show more information.
4. Easy to navigate.
Cons
This Hitachi hard drive tool is only free for personal use.
Windows Drive Fitness Test (WinDFT)
Pros
1. Scan multiple drives in batch.
2. Able to erase a hard drive.
3. Include a portable option.
4. Work on all Windows operating systems.
Cons
1. This Hitachi hard drive tool only shows basic information.
2. It cannot scan the drive installed Windows.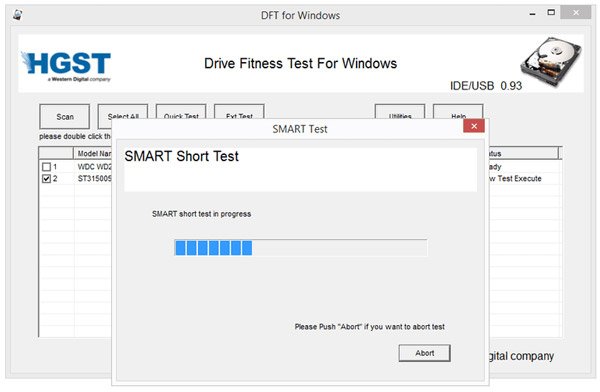 HD Tune
Pros
1. Save hard drive information as screenshot.
2. Support all kinds of hard drives.
3. Integrate customized features.
4. Easy to get what you want.
Cons
This Hitachi hard drive tool is not able to save information to a file directly.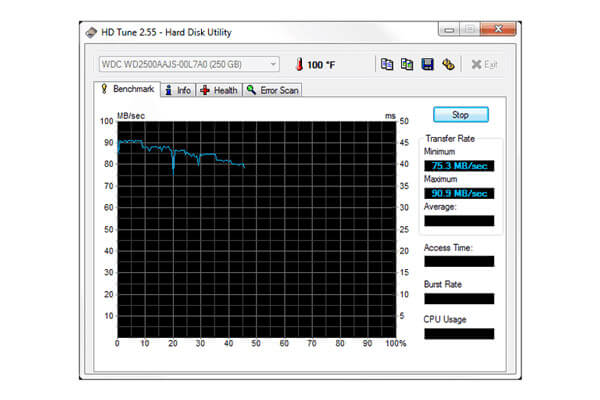 Part 2

: Hitachi hard drive recovery tool

When it comes to staying intact and running for long lengths of time without incidents or hiccups, Hitachi hard drives are better than others at maintaining longevity. However, it does not mean they won't fail.

In this part, we will share the best Hitachi hard drive recovery tool, Apeaksoft Data Recovery. Its key features include:

1. Recover files and data from Hitachi hard drives in one click, so even novices could grasp it in a few seconds.

2. Hitachi hard drive recovery from damage, accidental deletion, virus attack, software corrupt, or hard drive format.

3. Support a variety of data types and formats. It works for all image, video, audio, document, email, archive files, and other data, like JPG, ICO, PNG, BMP, GIF, PSD, TIFF, RAW, MP4, MP3, WAV, AVI, DOC, ZIP, etc.

4. Lossless recovery. With the best Hitachi hard drive tool, you can recover lost files in original status, format and quality.

5. Preview for selectively recovery. After scanning, you can look at all lost files organized by categories and formats and decide to recover all of them or several specific items.

6. Quicker and lighter. This Hitachi hard drive tool is lightweight and could restore lost files quickly and safely.

7. Moreover, Data Recovery is available to Windows 10/8.1/8/Vista/XP and a variety of file systems, like NTFS, FAT16, FAT32, exFAT, EXT, etc.

In a word, it is the best option to recover data from Hitachi hard drives.
Part 3

: How to recover deleted/lost data on Hitachi hard drive

Here you can learn how to recover various data from Hitachi hard drive when it is failed, corrupted or crashed.

Step 1: Scan entire hard drive to look for data

Download and install the best Hitachi hard drive tool on your PC. When you lost files due to various reasons, launch Data Recovery.

On the home window, you will get two parts, data type and location. Firstly, select the data types to recover from Hitachi hard drive by checking the boxes of "Image", "Audio", "Video", "Document", "Email" or "Others".

Then move to location area and choose where the lost files stored originally. Data Recovery will work as soon as you click on the "Scan" button.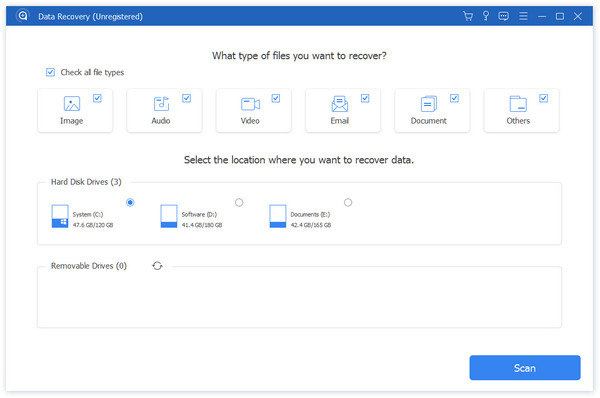 Step 2: Preview before Hitachi hard drive recovery
After quick scanning, you will be taken to the result window and showed up data. For example, if you want to recover pictures from hard drive, go to the Image tab from left sidebar, and then open each folder on right pane to search for lost files. Moreover, the "Filter" feature at top ribbon could find a single file quickly. If you cannot find the desired files, click on the "Deep Scan" button at upper right corner to scan the hard drive deeply and find more recoverable data.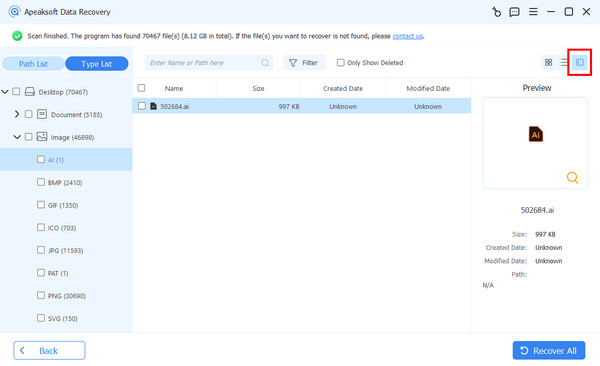 Step 3: Hitachi hard drive recovery in one click
Make sure to select all files that you want to get back and click on the "Recover" button. On the popup dialog, drop a different disk with the original one and the best Hitachi hard drive tool will start retrieving files. Finally, you can open and edit you files as usual.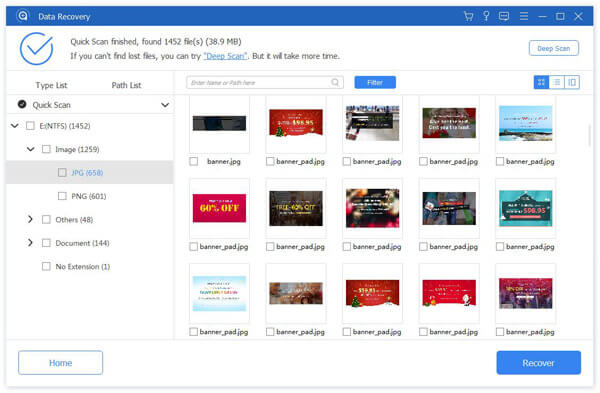 Conclusion
In this tutorial, we have talked about the best Hitachi hard drive tools. Generally speaking, there are two kinds of tools for Hitachi hard drive, testing tools and recovery tools. The first kind of Hitachi hard drive tools is able to diagnose and display the status of your hard drive. And when something wrong on your hard drive, Apeaksoft Data Recovery could help you to get back lost files effectively and quickly.