Sometimes, you accidentally deleted some important photos, or your smart phone accidentally wipe everything in picture gallery. What should you do to get them back?
Want to recover deleted photos on Android?
We'll show you how easy it is to recover deleted photos on Android in this page. When you want to recover deleted photos on Android device, it's really a good choice for you to turn to the following tips for help.

Part 1

: Best Way to Recover Deleted Photos on Android

Actually there are quite a lot of ways to get deleted photos recovered on Android. At this point, we would like to introduce a fast and free way for you to recover deleted photos on Android. It is a quite concise way to recover deleted photos on Android that everyone can understand these steps. Besides, it is the key point that this way is completely safe for your mobile phone.
Recover deleted photos on Android with Android Data Recovery
Android Data Recovery can recover deleted photos from any Android device, including broken one.
Support to recover all Android data types, like pictures, contacts, messages, call logs and more.
Android Data Recovery is able to scan deep system of your phone and get back lost photos in one click.
This Android photos recovery can restore contacts to hard disk without damaging current data on your phone.
Download for Win
Download for Mac
Step 1. Disconnect Android with internet
First, you need to turn off Wi-Fi and data connections on your phone. Because when data is deleted, those photos, music, documents etc. are not really deleted until the mark has been left on the device memory.
Note: This process requires root privileges on your phone. As long as you have realized you want to recover deleted photos on Android internal memory, you had better use this way to recover these pictures soon or they will be lost forever. Moreover, be careful not to add new data and delete the existed files in your phone, or your Android data will be overwritten.
Step 2. Lauch Android Data Recovery
Install Program and register it. After the Program is downloaded, install this program on your computer. Next, you have to launch the program and find a USB cable in order to connect your Android phone to computer. You will see your computer screen just like the image below.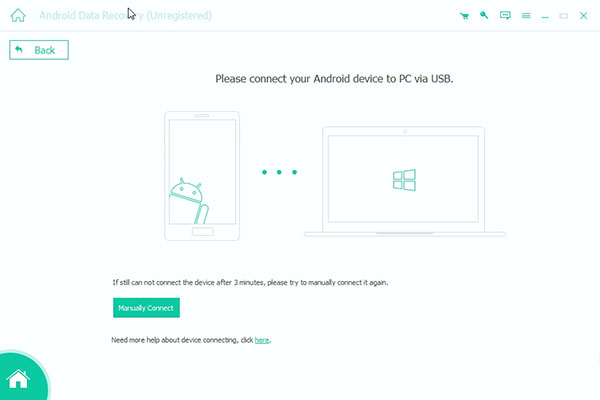 Note: There are many programs that are available, but Android Data Recovery is the most recommended. It can recover deleted photos on Android faster and safer.
Step 3. Adjust USB debugging
You are supposed to have USB debugging enabled on your Android phone for this process to work. Or you just go to Settings-About Phone and tab Build Number 7 times until it's telling you that Developer Options have been enabled. After that you need to back to Settings-Developer Options-USB debugging.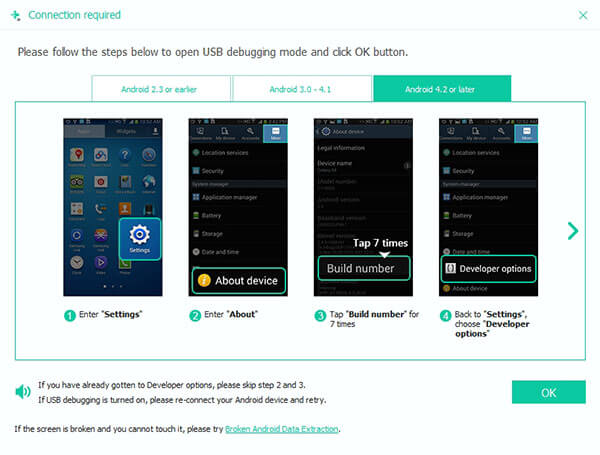 Step 4. View and select Android pictures
Select file types to scan and get those pictures recovered. When your Android device is connected, the interface as the below screen shot will come to your sight. In order to recover deleted on Android device, you have to select "Gallery" or "Picture Library" in which your photos are saved. Then you will notice the "Next" button at the lower right corner and click it. Then come to your Android phone. A dialogue asking whether to grant the program or not will appear, press "Allow/Grant/Authorize" and the program will succeed in entering the phone and scanning your pictures.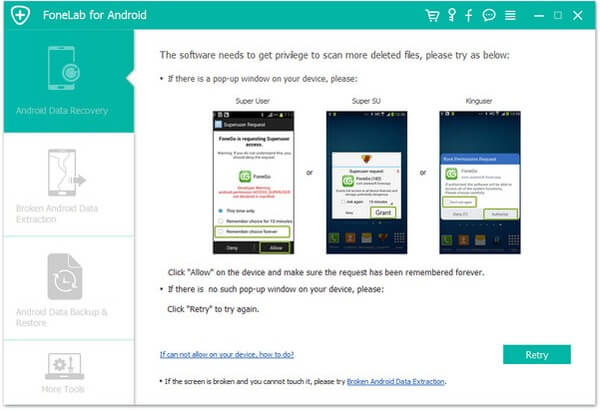 Step 5. Recover deleted photos on Android
Now you can preview and recover deleted photos on Android phone memory. When you click Gallery and Picture Library, you can have a look at the recovered photos in thumbnail size. If you want to view its full size, you need to double click the photos under the registered version. Select those you want to get back and click "Recover" to save them to your computer. That's all. Check this post to get 5 free Android data recovery tools.
Part 2

: Free Recover Deleted Photos on Android with Google Photo

Note: Check if you have backups on Google Photos at the very beginning. According to what I am informed, Google Photos is almost the best app to backup and recover any photos or videos, because your photos and videos will be automatically backed up and organized. It's convenient for you to save your Android device's media files to your Google Photos library as well as recover deleted photos on Android smart phone.

Step 1. Check if you have backups on Google Photos. If you have enabled the auto backup on your Android phone, you can just turn to step 2. However, if you haven't did that, you are supposed to turn to Way 1 for help.

Step 2. Tap on "Menu" after opening the Google Photos app. You will see many items over there, select "Trash" folder and all of your deleted photos will be listed here. At that time you just need to choose the photos or videos you wish to recover, and then tap on the small arrow button at the top right of the screen to restore them back.

Don't Miss: How to Backup Android Phone to Google Drive
Part 3

: How to Backup Android Photos

Actually, it's common for you to delete photos accidentally or deliberately. What if you deleted some photos that are really important and precious? You need to find various ways to recover deleted photos on Android phone. Whether you get those photos back or not, this process is really annoying. So why not try to backup Android photos? If you just backup Android photos to computer, you never need to worry about those deleted photos for you since you can get them back easily. And also you can reduce the space occupied by those photos. With following several steps, you will master the way to backup Android photos soon.

Step 1. Run Android Data Recovery

First of all, install the Android Data Recovery software on your computer and register it. Though there are many programs, Android Data Recovery is a fabulous photos backup app which supports both Windows and Mac OS. Just download the right one to your computer, you can backup Android photos from Android device to computer. Then find a USB cable and connect your phone to the computer.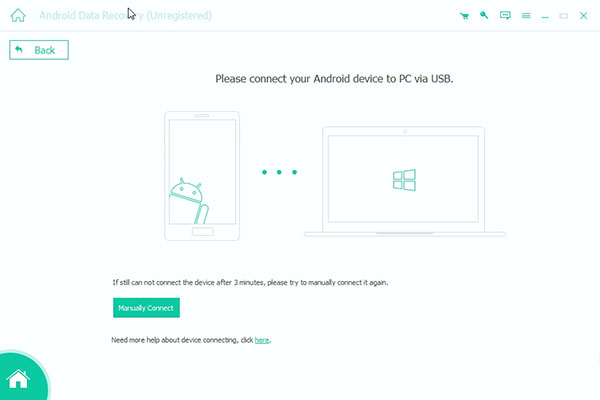 Step 2. Adjust USB debugging
Start using the USB debugging mode on your cellphone and grant USB debugging. This step is not too difficult, looking at the image below if you don't know how to do it.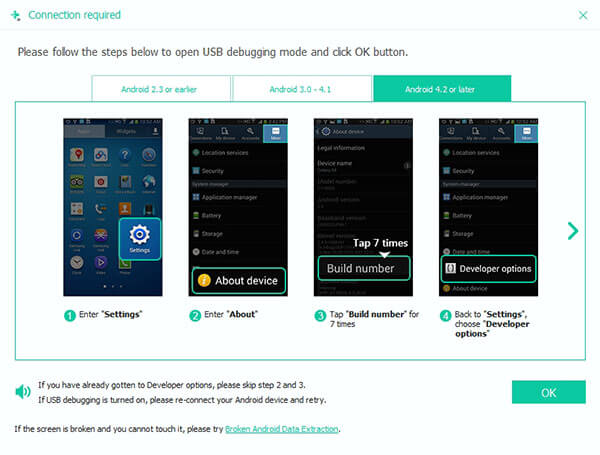 Step 3. Get privilege to scan Android phone
When the software detects your phone, you need to wait several second. After that, type Gallery and Picture Library and choose the deleted photos, then tap on the "Next" button in the bottom right corner of the screen. By the way, backing up Android photos to computer requires root privileges on your phone.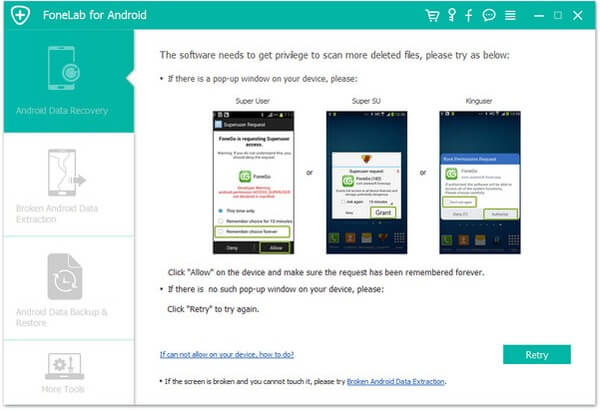 At this point, if your smart phone has been rooted before, you should click Allow/Grant/Authorize when the permission request appears on your phone. Otherwise, Android Data Recovery program will automatically launch an app to root your phone, after you allow it to. If there is no response, you can tap on Retry to try one more time. Following image will help you understand this step better. Check more details about how to root Android.
Step 4. View and backup Android photos
You have the permission to preview the photos showing in thumbnail size. If you think that it's inconvenient to view the photos in thumbnail size, you can view them in full size for which you need to pay. Finally, select those pictures you want to backup or restore and tap on Recover. What a good program it is! Hope the way I've introduced is helpful to you.
We mainly talk about how to recover deleted photos on Android in this post. We show you two effective ways to restore lost Android images. Whether you have an Android pictures backup or not, you can find suitable tools here to rescue your data. Moreover, we tell you a simple way to backup various files on Android device. Leave us a message if you still have any question.