If you have purchased the latest Apple Watch Series 8 or Ultra, you will need to unpair Apple Watch from iPhone for a new watch. But be careful with your precious data, because these dates might get lost if you unpair these two gadgets improperly. To ensure a successful and smooth unpair, read the following guide to learn how to unpair Apple Watch with or without iPhone. Meanwhile, you can take advantage of the valuable tip and use the secure iPhone data transferring solution.

Unpair Apple Watch from iPhone
Part 1: How to Unpair Apple Watch from iPhone [2 Solutions]
Properly unpairing Apple Watch from iPhone is essential. You can continue to pair it with your new watch. If your iPhone is nearby, you can quickly disconnect these two devices. Browse through and follow the steps to find out.
1. Unpair Apple Watch from iPhone
Step 1Make sure your iPhone and the Apple Watch are close if your iPhone is around.
Step 2To unpair the Apple Watch from iPhone, go to Apple Watch on your iPhone.
Step 3Tap the My Watch tab and select All Watches option to go on.
Step 4Your watch will show up. Tap the information icon for more options.
Step 5Scroll down to the bottom and tap the Unpair Apple Watch button. Next, tap the Unpair [Your Apple Watch Name] button.
Step 6Then, you must enter the Apple ID password to disable Activation Lock. Tap the Unpair button to finish.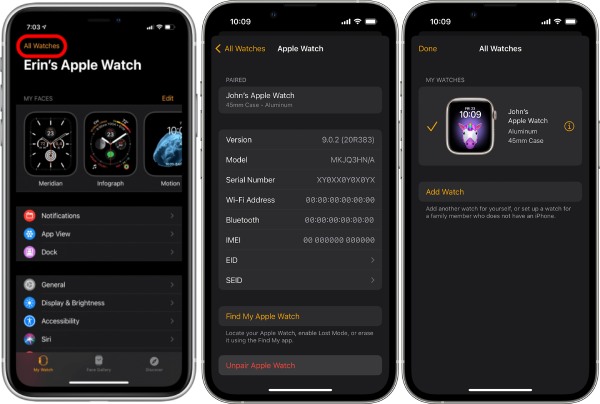 Tip:
This way, the system will erase all the content and data after unpairing the Apple Watch from iPhone, but iPhone will back up the watch data. If you
back up your iPhone
to iCloud, the watch data will also be on it. You can still use the backup to pair a new watch. Besides, if your Apple Watch is the GPS and cellular model, you must keep the plan if you want to pair a new watch in the near future.
Part 2: How to Unpair Apple Watch without iPhone
Suppose your paired iPhone is no longer available. You must remove the Activation Lock for the watch with iCloud to unpair the Apple Watch from iPhone. Then, you can erase the content and settings on your Apple Watch. Here are more steps.
Remove Activation Lock
Step 1You can remove the Activation Lock for your watch with the iCloud account on any computer. Go to the iCloud website and sign in with your Apple ID and password.
Step 2 Click the Find iPhone icon. On the new page, click All Devices dropdown option above.
Step 3Select your Apple Watch and see more information by clicking the i icon. Then, choose Remove Apple Watch.
Step 4By this way, you will successfully remove the Activation Lock and can pair the iPhone to a new watch.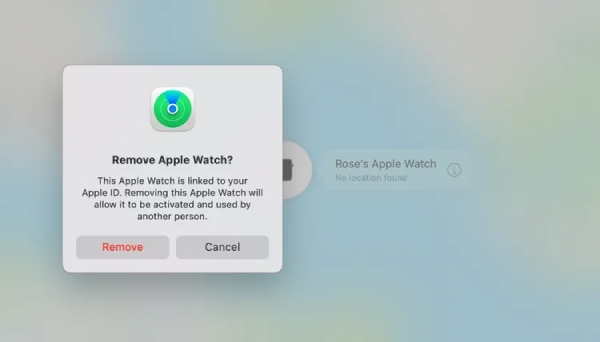 Erase All Content and Settings on Apple Watch
Step 1 You can still unpair the Apple Watch without iPhone. Unlock your watch and go to the General screen from the Settings app.
Step 2 Move on and find the Reset option. Next, tap the Erase All Content and Settings button.
Step 3 Enter your password and confirm your decision by tapping the Erase All button. Your watch will go back to factory settings.
Bonus Tip: Best Way to Transfer the Apple Watch Backup on iPhone
When unpairing Apple Watch from your iPhone, the iPhone will create a backup for your watch. If you want to transfer your iPhone data to iCloud later, then the data includes the ones from your watch. You can better guard the data by creating another backup on your PC or Mac if your iCloud is full. Apeaksoft iPhone Transfer is your best helper in iOS data transfer. Meanwhile, the toolbox function offers a one-click transfer between iPhone and PC. So, you can quickly transfer the Apple Watch backup on your iPhone to Windows/Mac.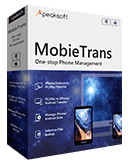 4,000,000+ Downloads
Classify iOS data into detailed categories.
Scan the iPhone for data and files in seconds.
Restore contacts with the previous backup in one click.
Convert HEIC photos to compatible formats for PC viewing.
Transfer iPhone Data to PC in One Click
Step 1 You can try the free trial after downloading and installing the transfer tool on your computer. Then, launch it and connect the iPhone to your computer. Go to Toolbox on the main interface, where there are more tools.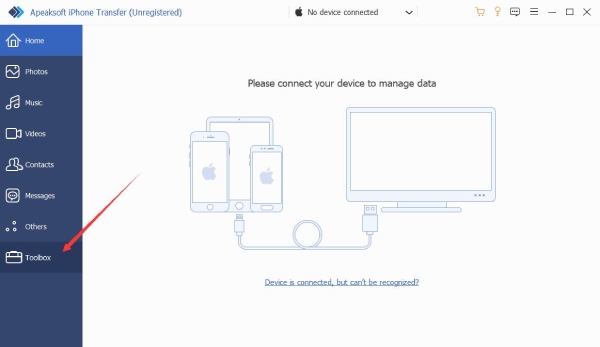 Step 2 To transfer the data on your iPhone to the computer, click the Device to PC button. Different data categories will appear on a pop-up, including Photos, Music, Videos, etc. By default, all the options are chosen. You can tick the ones you don't want and cancel them.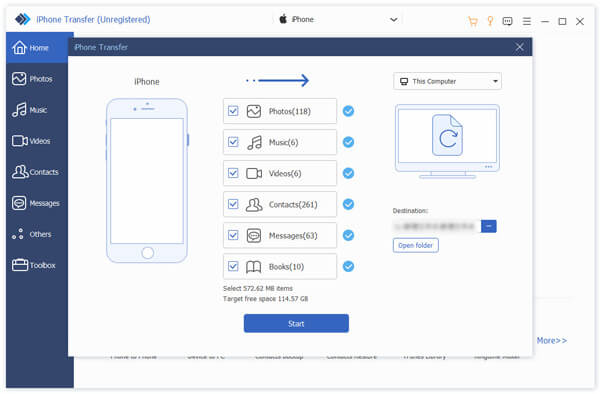 Step 3 Before transferring, click the three-dot icon under Destinations and select a folder on your computer to store the data. Next, click the Start button to start transferring. A window will pop up, telling you the successful transfer. Click the Open Folder button to see the data.
Part 3: FAQs about Unpair Apple Watch from iPhone
What does Apple Watch include on iPhone?
After unpairing the Apple Watch from iPhone, your phone will automatically create a backup. That backup includes your built-in apps data, app layout, clock face settings, dock settings, general settings, health and fitness data, music, siri-related data, photo album, and time zone.
How to disconnect Apple Watch from iPhone without the password?
If you have no access to the iPhone and want to disconnect your watch and iPhone, you can put your Apple Watch on the charger. Press and hold the side button of this watch. Meanwhile, press the Power Off slider. Next, tap Erase all content and settings.
Does Apple Watch work without iPhone?
Yes, it does. You can still receive and send messages with your watch when your iPhone is out of range. But that requires a Wi-Fi connection or a cellular network.
Conclusion
As mentioned above, you now have two solutions for unpairing Apple Watch from iPhone. Meanwhile, even without your iPhone on hand, you can still remove the Activation Lock and erase your watch quickly by following the steps above.