"I forgot the password of my LG Stylo 3, how do I reset a forgotten screen lock without any data loss?"
It's normal and usual that you set a lock screen password or pattern to your LG phone in order to protect your phone from unauthorized access.
Nowadays smart phone plays a more and more important role in our daily life, as people are used to saving all the personal, professional and even financial information in mobile phone. So it's useful and necessary to lock your LG phone with different kinds of screen locks. However, the screen lock will sometimes brings inconvenience when you forgot Android password. If you have the good habit of backing up android to computer frequently, then you can factory reset your LG phone without any worry and restore data from backup later. However, I believe that most of you don't have the awareness to back up important data frequently in case of any emergency.
So when you forgot the LG lock screen password, reset your phone must be your last choice since you will not like to lose all your precious data.

Part 1. Bypass LG Lock Screen with Android Device Manager
If you have turned on the Android Device Manager before you are locked out of your LG phone, and your LG phone has been connected to your Google account, this solution can be the most convenient and useful one. The Android Device Manager feature can help you locate, remotely lock or unlock and wipe all the data on your LG Stylo 3/ K20/G5/G4/G3 lock screen.
Step 1Log into your Google account on the Find My Device site.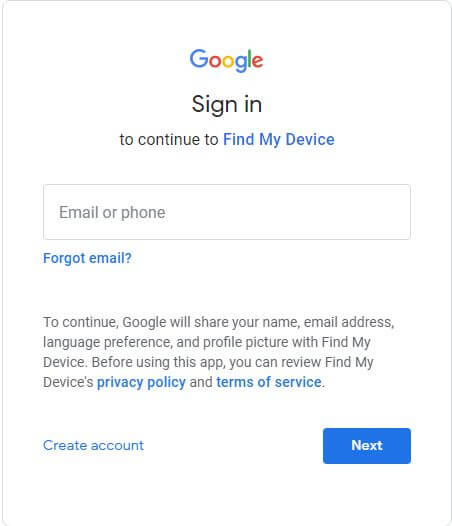 Step 2Select your LG device icon to access various features like ring, lock, erase and more. In order to bypass your LG lock screen, click "lock" option.
Step 3In the new pop-up window, set a new password to replace the original lock screen and confirm the password again, then click "Lock" button.
Step 4Now you can input the new-set password on your LG phone screen to bypass the lock screen.
Part 2. Bypass LG Lock Screen through Google Account
If your LG phone is still running on Android 4.4 or lower, you can bypass its lock screen through Google account without losing data.
Step 1Enter the wrong password/PIN/pattern for 5 times.
Step 2After 5 wrong attempts, your will receive a message with "Forgot pattern, Forgot PIN, or Forgot password", tap that and you can enter your backup PIN to unlock your LG phone.
Step 3If you have not set a backup PIN before, you can enter your user name and password to log into the Google account which your LG phone has been connected to, then you can also unlock your LG lock screen without reset.
Part 3. Unlock LG phone using Custom Recovery
If your LG phone has a removable SD card, you can also try this method to disable the pattern/password on your LG screen. To use this method, you need to install some kind of custom recovery on your device, and you can go for TWRP (Team Win Recovery Project) and flash it on your device.
Step 1Download a Pattern Password Disable application and save its ZIP file on your computer.
Step 2Insert your SD card into your system and move the files you just downloaded to it.
Step 3Insert the SD card to your LG phone and reboot your phone into recovery mode. For example, the TWRP recovery mode can be turned on by pressing the Power, Home, and Volume Up button simultaneously. You would get different options on your screen after entering the custom recovery mode. Simply tap on "Install" and browse the Pattern Password Disable application file.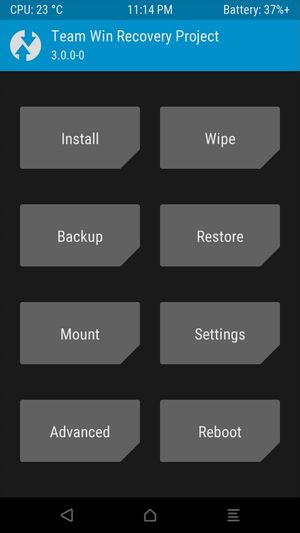 Step 4Install the application mentioned above and wait for a while to restart your LG phone. Ideally, your phone will be restarted without any lock screen any more. In case if you still get a lock screen, you can bypass it by entering any random digits.
Part 4. Remove LG Lock Screen using Third-Party Applications
If the three solutions introduced above do not work for your either, in case you have not connected your LG phone to Google account before or your Android version is above 4.4, you can try to use some powerful third-party applications to remove the lock screen on your LG device.
1. iMyFone LockWiper (Android)
LockWiper is able to remove Android lock screen without losing data, whether the screen lock on your LG phone is PIN, password, pattern, fingerprint or face lock, it can remove for you instantly. Moreover, it not only supports LG phone, but also works well for Samsung, Motorola, Huawei, and so on. Check how to unlock your LG phone with this LockWiper.
Step 1Install and launch LockWiper on your computer.
Step 2Connect your LG device to your computer with a USB cable, then click "Start" to begin.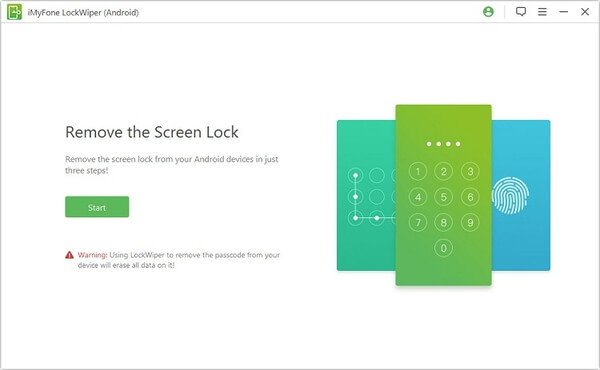 Step 3The LockWiper will detect your device automatically and display the information of your LG phone on the main screen. Confirm or correct the information according to the actual condition. Then click "Start Unlock" button to download an unlock data package on your LG phone.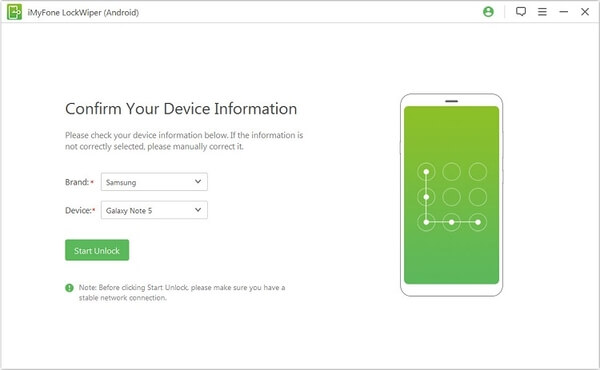 Step 4Follow the instructions on the screen to complete the unlock process. The whole process should take less than 5 minutes.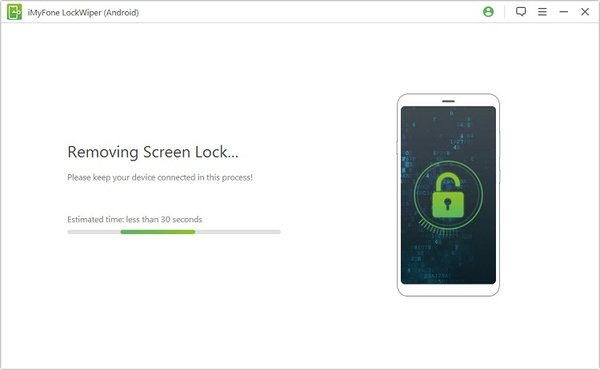 2. Android Lock Screen Removal
Android Lock Screen Removal can remove Android lock screen with pattern, PIN and fingerprint in minutes. It enables you to bypass LG lock screen without any data loss. What's more, it's easy to use and requires no tech knowledge.
Step 1Download and install Android Lock Screen Removal in your computer.
Step 2Launch the software on your computer and select Unlock function.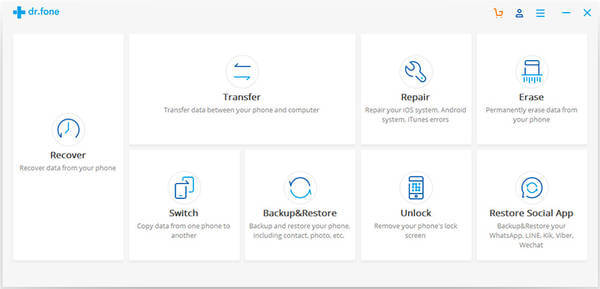 Step 3Connect your LG phone to the computer with a USB cable. Click "Unlock Android Screen" option.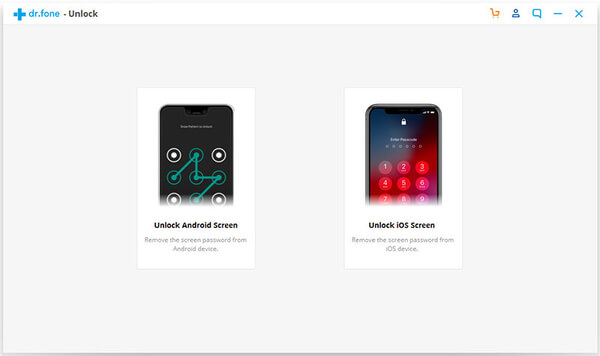 Step 4Select phone model.
This Android Lock Screen Removal supports to remove lock screen on LG and Samsung phones. Select the correct model information of your LG phone from the drop-down list.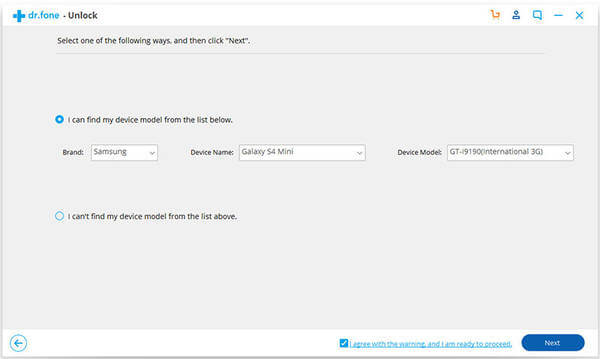 Step 5Boot the LG phone in download mode
1. Disconnect your LG phone and power it off.
2. Press and hold the Power Up button, at the same time plug in the USB cable.
3. Keep pressing the Power Up button until the Download Mode appears.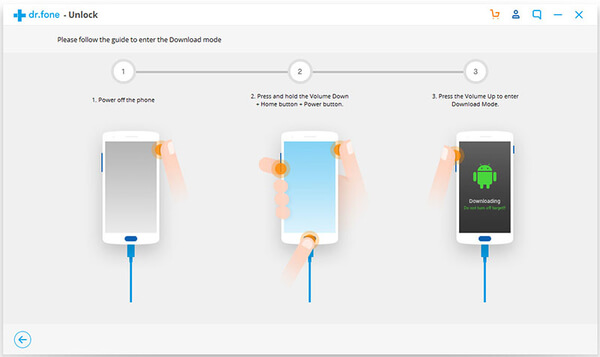 Step 6Remove the lock screen
After your LG device is in download mode, click om Remove to start removing the lock screen. Please wait for minutes and your phone will restart in normal mode without any lock screen.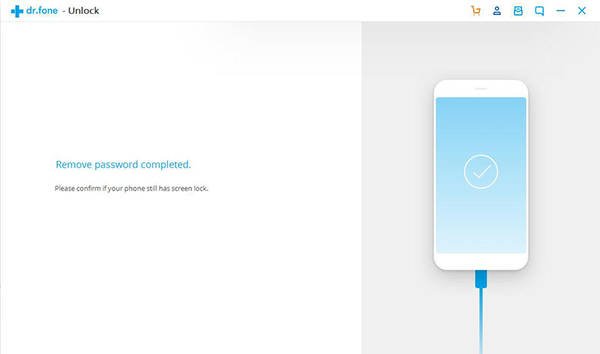 Conclusion
Here in this article we have recommended four solutions to bypass LG lock screen without the risk of losing any data. Each of them are easy to operate and you can give them a try when you are locked out of your LG phone.