Many companies and organizations must provide employees with devices for their work. Controlling each device separately can seem cumbersome, so people have developed a feature that makes it easy for managers to control and manage multiple devices in a unified way: MDM.
Now, Google has launched its own MDM feature. Though you have heard the term often, you may still not know how it works. This article will comprehensively review Google MDM, describing its main features and pros and cons. Steps to set up and remove Google MDM will also be shown. We hope our content will be helpful to you.

Remove Google MDM
Part 1. What Is Google MDM
Google MDM is a set of rules designed to minimize the security risks a device exposes by prescribing what users can do on a work device. Companies often use it to perform management and control operations for protecting sensitive data, such as enrolling devices, monitoring event logs, managing apps and users, etc.
Here, we will give a brief Google MDM review.

Main Features
Add or block devices.
Enforce the requirements of passwords on managed devices.
Remove the sensitive data from the device remotely.
Set an encryption of data stored in the mobile device.
Disable USB or Wi-Fi connection on the device directly.
Control the installation permissions and settings of applications.
PROS

Very safe and secure to use.
Support managing and controlling a wide range of details on the device.
Compatible with Android, iOS, macOS, Windows, and Chrome OS.
CONS

Takes up more storage space on the device.
Not very flexible in use.
How to Setup Google MDM
After understanding the concepts and main functions of Google MDM in detail, you might want to apply it to real-world organization and device management. This operation also does not require you to download any additional tools. Next, we will show you how to set up Google MDM.
Here are the detailed steps.
Step 1Create an Admin account
Enter the official website of Google Admin in your browser. Click Get Started to create your account. You will be asked to provide your brand name, employee number, email address, company address, domain, region, and credit card.
Step 2Log in to the Admin console
After creating your account, log in to your Admin console. The feature navigation bar will be displayed on the left side of the page.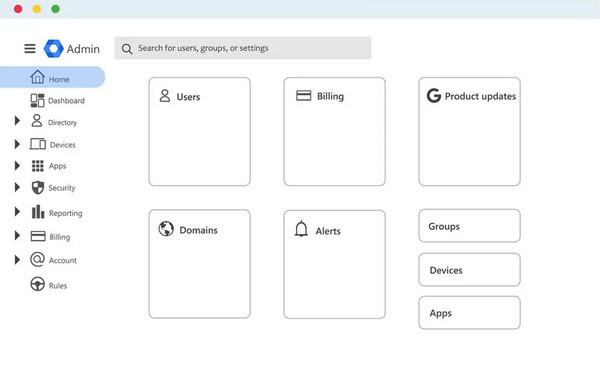 Step 3Enable Advanced Mobile Management
Click Devices >Mobile & endpoints >Settings >Universal settings. Then, find General >Mobile Management, and select Advanced.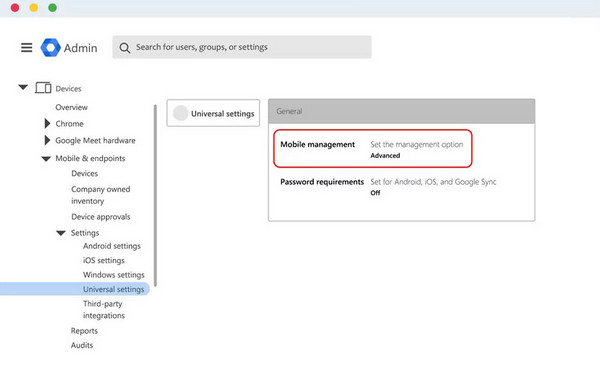 Step 4Set up your company-owned mobile devices
If you have company-owned devices, set it up for using Google MDM.
If your company uses an iOS device, go to Menu >Devices >Mobile & endpoints >Settings >iOS.
Go to Menu >Devices >Mobile & endpoints >Settings >Android if your company uses Android devices.
Part 2. Google MDM Basic VS Advanced
You can choose between the basic and advanced to apply Google MDM. We will use a table about MDM basic vs. advanced to help you make a better choice.
Basic
Advanced
Device management
·Endpoint verification
·Remove the account remotely
·Block devices
·Enrollment without touching
·Remove account and device remotely
·Add or block devices
·Batch enroll company-owned desktop and devices
App management
·Set a downloadable app on Android
·Set up a downloadable app on Android and iOS
·Control using the Camera
Security
·Lock the screen
·Control the basic password
·Control the advanced password, like removing password restrictions or PIN.
·Encrypt sensitive data and network
Minimum System requirement
·iOS
·Android 2.2
·iPad OS 13.1
·iOS 12.0
·Android 6.0
·iPad OS 13.1
Part 3. How to Apply Google MDM Removal
You can remove it if you don't want to use Google MDM. When you implement MDM removal, users cannot sign in to apps with their work accounts on mobile devices, and you cannot remotely manage your devices from the Google Admin console.
Here is the solution for Google MDM removal.
Step 1 Sign in to your account of Google Admin console. And go to Menu >Devices >Mobile & endpoints >Settings >Universal.
Step 2 Choose General >Mobile Management. Then, disable your selection of the top organizational unit.
Step 3 If you want to remove the management for all devices, click Turn off mobile management.
If you only turn off the management of certain devices, click Custom and select the device you do not want to manage. Click Unmanaged.
Step 4 After this process, click Save.
Part 4. Bonus: Best Tool to Remove MDM from iPhone
Suppose you are also facing the problem of your iOS device being restricted by Google MDM to the extent that you can't use all the functions without any problem. In that case, we recommend you use Apeaksoft iOS Unlocker to solve your problem. It enables you to bypass the MDM login screen without a user username or password and remove MDM profiles from your iOS devices without data loss. And you can access all your device features. You don't need the problem of mismatched devices. This software supports all iOS versions and devices. In addition, Apeaksoft iOS Unlocker can unlock your device without a lock screen password. Removing the Apple ID from your device to safeguard you from regaining control is also supported even if you forget your account or password. More features are waiting for you to explore. Click the link below and start trying it out.
Here are the detailed steps to help you operate Apeaksoft iOS Unlocker
Step 1 Download and install Apeaksoft iOS Unlocker on your computer. Link your iPhone to the computer with a USB lightning cable. You may need to let your iPhone trust the computer.
Step 2 Choose Remove MDM on the interface of the program.
Step 3 Click Start to remove MDM. And the program will begin to apply the process of removal.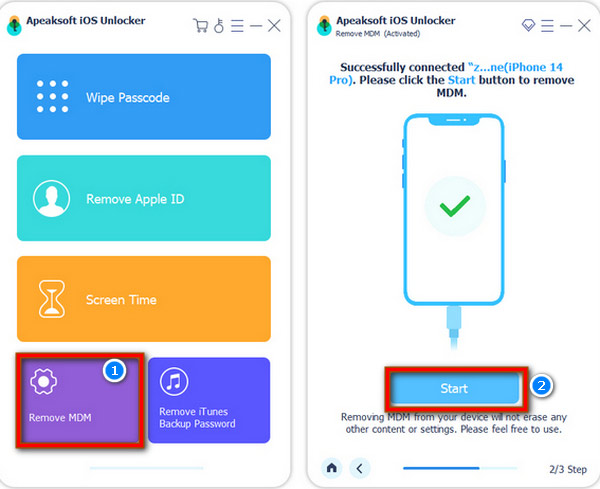 If Find My is disabled on your iPhone, the MDM mode will be removed directly.
If Find My is enabled on your iPhone, you need to turn it off by following the prompts on the screen.
After finishing the removal, your iPhone will restart. But you don't need to worry about data security since this operation won't erase your iPhone.
Part 5. FAQs About Google MDM
What does Google MDM do?
Its main function is to manage associated mobile devices and perform organizational tasks such as enrolling devices, monitoring practice logs, managing applications and users, etc. The main purpose is still to secure the business data and enforce security settings and account wipes.
Is Google Admin console an MDM?
Yes. If you are the G Suite Administrator, you can use the Mobile Device Management (MDM) to manage individual mobile devices within your organization. You will be able to enforce security settings and device policies on the devices with the help of it.
Can I get rid of Google MDM?
Sure. You are allowed to set up MDM management and cancel it whenever you want. If you want to turn off it on your device, you can do so in the settings on your mobile device. Suppose you are the administrator of the organization. In that case, you can sign in to your Google Admin console and turn off the management of all mobile devices in your organization or only certain devices.
What is the difference between ERP and MDM?
Both tools can better help you manage your organization and data. The primary function of an ERP system focuses on helping you streamline your processes and improve efficiency. MDM is designed to improve your data quality and governance. You can choose different tools according to your needs.
Is MDM still relevant?
MDM hasn't gone out of style and probably won't in the future. It is still one of the best organizational management tools available. It is still evolving, and in the future, it may move towards being cloud-based to increase flexibility and effectiveness.
Conclusion
This article will help you understand all aspects of Google MDM. It concisely introduces the concept and analyzes its main features, pros, and cons. Detailed steps on how to remove Google MDM are also listed. For the need to remove it, we have also provided you with a detailed method and the best tool to remove the restriction from your iOS device. After reading this article, we are sure you will find the answers you need. If you have any comments, please feel free to leave us a message.