"I just got my new Samsung Galaxy S9 and set a screen lock on the phone when testing it in the store, but I have lost my passcode, and now I cannot use my new phone without password, how can unlock Android screen without password?" You might find other situations, such as the screen of your Android phone is broken, or you forget the password, so that you are not able to access your smartphone? You are not alone to unlock Android phone. Due to the lock screen is really hard to get into, thousands of Android users were stuck on this issue.

In default, screen lock is an important security measure, which prevents other people from peeking on your information. As biometrics developing, like fingerprint, iris and face recognition, more and more people forgot their password and locked out after software update and other cases. You cannot deny that it is quite depressing and frustrating.
However, there are a couple of solutions to help you unlock your Android phone. In this tutorial, we are going to talk about how to unlock screen on Android phones in different methods. As mention about unlock Android phone, carrier unlock should always be the first choice. Besides the basic solution to contact carrier, you can also find full ultimate guide to get rid of the problem.
Note: This post aims at showing the solutions to unlock the carrier locked phone, instead of the screen-locked phone. If you want to unlock a password-forgotten Android phone, check it here.
Part 1

: How to backup data before carrier unlock Android phone

Whatever the method you choose to unlock your Android phone, make sure you have made an up-to-date backup of your device so that these important data and files will not be lost. And this article recommends you to use Android Data Backup & Recovery, one of the best and safest backup and recovery software among the market, to backup all your data in Android. Follow the next tips to learn how to backup the device before carrier unlocking your Android phone:

Step 1: Download Backup & Recovery

Download and install Apeaksoft Android Data Backup & Recovery on your computer. Then launch this app, and choose one-click back up your Android device.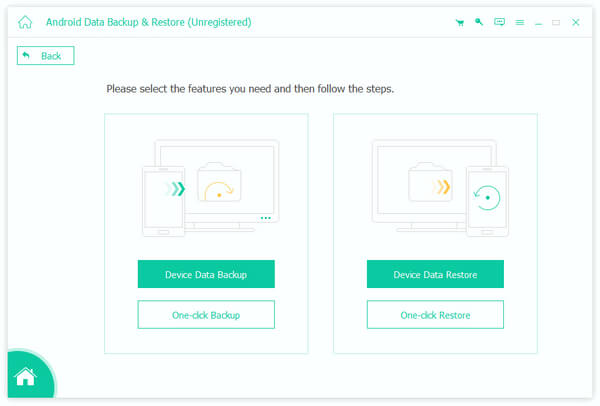 Step 2: Connect your Phone to PC
Use a USB cable to connect your Android device to the computer. As soon as being connected, this backup software will detect your smartphone automatically. It will take a few seconds for the program to detect all the files on the Android phone.
Step 3: Back up data and files
Next, click the "Start" button in the lower right corner, and Android Data Backup & Recovery will immediately backup your important data. Then you can follow the detailed steps in this tutorial to carrier unlock your Android phone!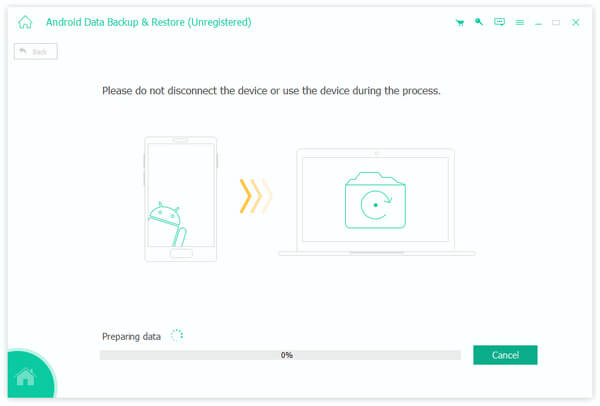 Part 2

: How to carrier unlock Android phone

Before you start to carrier unlock your Android phone, make sure you have prepared the following things:
The IMEI number of your Android device. You can get it by dialing *#06# into the dialer, or find it on the receipt, the box.
Other detailed info about your smartphone, such as phone number, brand & model, account number & name.
Security for the account, including passcode and so on.
Don't Miss: How to Fix a Bricked Android Phone
How to ask for carrier unlock Android phone
Carrier unlock a Verizon phone
Generally speaking, most of Verizon phones are equipped with an unlocked SIM card slot even though they are not using GSM but CDMA. And Verizon does not lock their 4G LTE phones, and there is no code needed to program them to use with other carriers. Also it does not lock the 3G Verizon phones, except their non-iPhone 3G World Devices.in other words, you do not need to carrier unlock your Android phone from the Verizon carrier if you have a Verizon phone with 4G LTE service.
If you want to make phone calls, dial 800-711-8300 and request a SIM unlock though the Verizon does not support the online unlock request.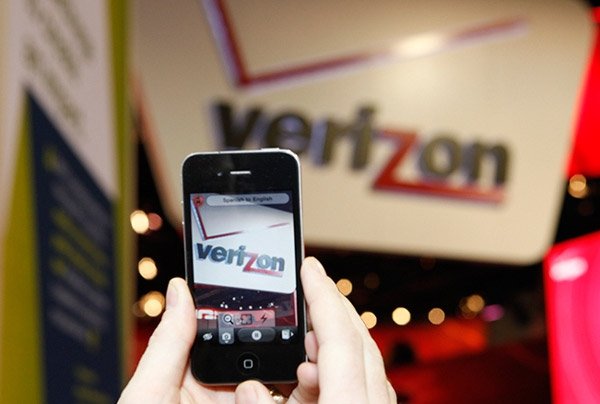 Carrier unlock a T-mobile phone
And unlocking an Android phone from T-mobile carrier is a little more complex, cause you need to meet the demands below: the device must be a T-Mobile phone; it must not have been lost, stolen or blocked; the phone must be attached to an account with "good standing" that is never cancelled; it must have been active for at least 40 days according to the requesting line; etc.
Next you are able to carrier unlock your T-mobile phone by downloading the T-Mobile Mobile Device Unlock app, communicate with the T-Mobile customer representative, or call at 800-746-0949/ 611 from the T-Mobile phone to unlock your T-Mobile phone.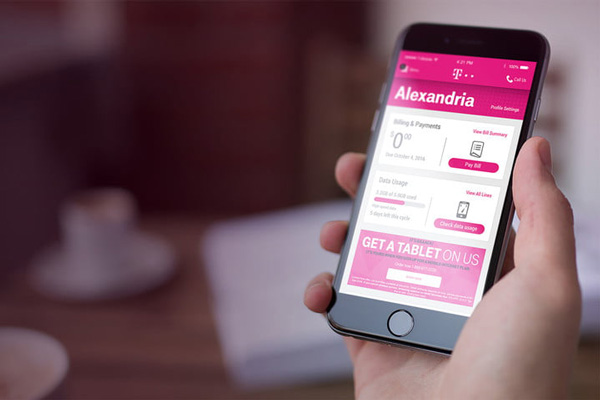 Carrier unlock an AT&T phone
Similar to T-mobile, you have to meet the following prerequisites if you want to carrier unlock your Android phone from AT&T: your device in question must be from AT&T; it must not have been reported lost or stolen; it must be active on the same AT&T customer account for up to 2 months with "no past due or unpaid balance"; and you have to wait for the 14 days "buyer's remorse" time before start unlocking if you have upgraded early.
Once you have met all the requirements mentioned above, just fill out an unlock request form provided by AT&T online, and check the confirmation email with an unlock code as well as an instructions to unlock your Android phone from the carrier through email.
Carrier unlock a Sprint phone
In order to unlock an Android phone from Sprint phone, maker sure you have met the following requirements: the device must be from Sprint; it should be Domestic SIM Unlock capable; it should never be reported lost, stolen, blocked, or related with any fraudulent activity; it must be attached to an account with "good standing" that is active more than 50 days on the requesting line; etc.
Simply log into the Sprint online account, and tap on "Unlock device to use int'l SIM". Than you will get a temporary unlocking for a shot time. What's more, you can also carrier unlock your Sprint phone by contacting with them at 888-226-7212.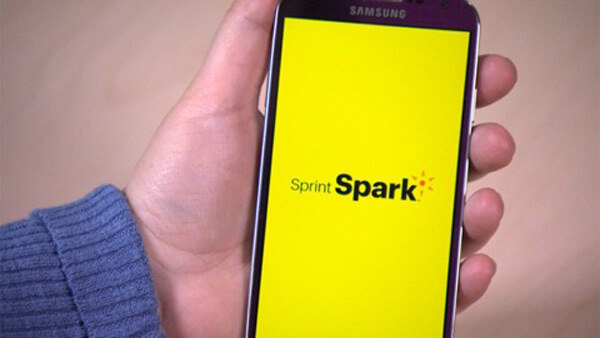 Part 3

: How to unlock Android with professional online service
Top 1. Unlock Android Phone with DoctorSIM
DoctorSIM is a powerful online unlocker to help you unlock the Android phone from different carriers. It provides the necessary solutions for you to take full control of your cell phone from the network providers or phone manufacturers How to use:
Step 1: Select the brand and model of your Android phone and fill in the request form.
Step 2: Then you will receive an email from DoctorSIM, with your unlocking code and a step-by-step unlocking instruction inside.
Step 3: Follow the simple steps to enter unlocking code into your phone. Now your Android phone will be unlocked from the current carrier immediately.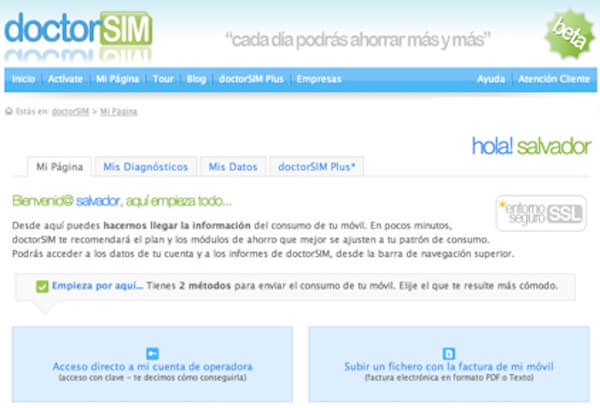 Top 2. Unlock Android Device via Unlocksimphone
Unlocksimphone is another wonderful unlocking alternative for you to take into consideration. This freeware is really easy to use, and you do not have to handle any technical knowledge at all.
Step 1: Download Unlocksimphone app in your Android device. Before start installing, you need to finish a survey first.
Step 2: Install and launch this unlocking tool, then you will be given an instructions about how to unlock your cell phone.
Step 3: Simply follow the detailed instruction, you are able to easily unlock your Android phone.
Part 4

: How to unlock screen password with google account

Many people set up their Android phone with Google account for backup and transfer data. In fact, your Google account is a key to unlock Android screen as well. When you forgot your PIN or pattern password, don't be panic and follow the steps below to remove the old password and reset a new one.

Step 1: Try the wrong password or pattern for 5 times, then your screen will be locked and show you two options, "Emergency call" and "Forgot pattern".

Step 2: Tap on Forgot pattern, you will be taken to the "Account unlock" screen.

Step 3: Enter the Google credential that you have associated on your phone, including username and password. Then tap on the "Sign in" button.

Step 4: Next, input the new PIN or pattern password and unlock screen with the new passcode.

First of all, this way requires you to set up Google account on your phone. Otherwise, it will not work. Plus, the phone must be online when unlocking screen with Google account.
Part 5

: How to unlock Android phone with Forgot Pattern

If your mobile phone is in Android vision 4.4 or lower, you can consider unlocking your Android phone with Forgot Pattern. After entering the wrong password for five consecutive times, the Android device will locked automatically in the sixth time to protect your data and privacy. When you are trying to key in the passcode again, the system will prompt you to try after 30 seconds.

Forgot Pattern should be an easy and direct way when you locked your smartphone accidently. Follow the next tips to learn how to use Forgot Pattern to unlock your Android phone:

Step 1: Make any 5 wrong attempts. Type in a wrong passcode in your Android device for about 5 times, until you can see a "Forgot Pattern" option in the lower right corner of the screen.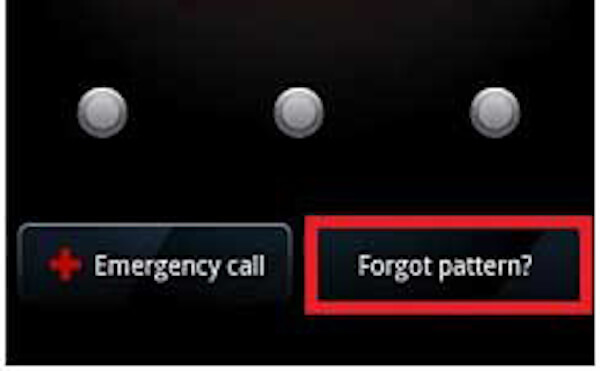 Step 2: Sign in Google. Tap on the "Forgot Pattern", and you will be navigated to a page where you are asked to provide your Google account and password. Just fill in according to the instructions, and click "Sign in".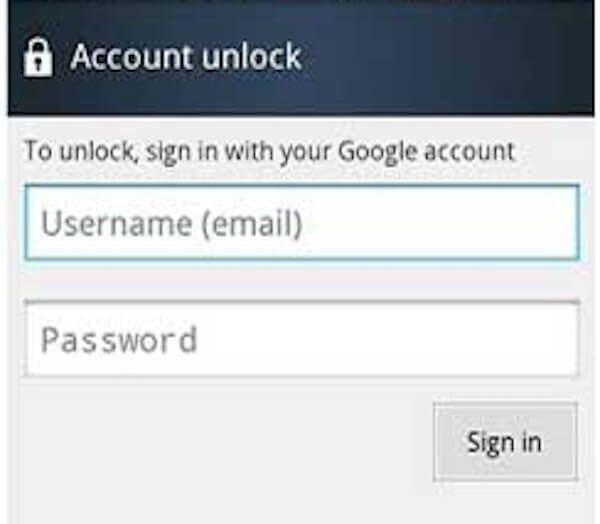 Step 3: Set up a new passcode
Then you will be prompted to set up a new password to replace the old one. Now your Android phone should be unlocked! After that you can use the Android phone without problem or reset the passcode.
Make sure your device has a stable network connection during the whole unlocking process.
Part 6

: How to unlock Android phone with ADB

Whether you unlock Android phone with Google account, or Forgot Pattern above require a Google account. However, what if you forget the Gmail? Don't worry. This passage will teach an efficient solution to unlock your Android phone without Gmail. But it is a little bit challenging and technical, since it involves some coding to open the pattern lock. As long as you follow the correct steps, this way will be much easier and safer than the other two solutions.

Here is a general guide about how to unlock your Android phone with ADB. Before starting, make sure you have enabled the "USB Debugging" option in your device:

Step 1: Connect phone to computer

Plug your Android phone into the computer via a dada cable and then hold down the "Windows button" as well as key board "R" at the same time, until you can see a box show up on the screen.

Step 2: Type in "cmd" in text filed

In the text filed of the pop-up box, punch in "cmd". Next click on "OK" and a Command prompt window will pop up on the screen.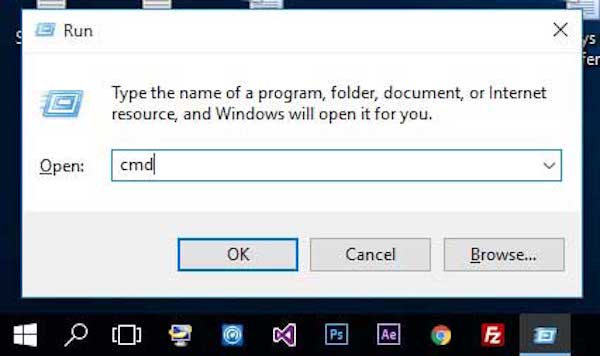 Step 3: Enter the command code
Key in the command as provided following: "adb shell rm /data/system/gesture.key" in the window. Press on the Power button to restart the Android device.

Step 4: Unlock your Android phone
Then you will find you are allowed to access the password lock and your Android phone is unlocked already.
Unlocking your Android phone via ADB is a temporary solution. So make sure you have set up a new passcode or pattern before rebooting your Android device.
Part 7

: How to use factory settings to remove password for Android

The more dramatic method to unlock screen on Android phone is factory reset. It will remove your lock screen password along with other contents and settings.

Step 1: Shut down your phone when you forgot the passcode for unlocking screen.

Step 2: Next boot your phone into recovery mode by pressing hardware button combination. As for the different Android device, you might use the different process to achieve the goal.

Samsung Galaxy phone: hold Home/Bixby + Volume Up + Power simultaneously until Android system recovery screen pops up.

HTC phone: hold down Volume Down key while quickly press and release Power off button. Keep holding Volume Down until the recovery screen appears.

Nexus/Moto phone: keep pressing Volume Down + Volume Up + Power to trigger the fastboot menu screen.

You can check the button combination from your manufacturer's website.

Step 3: Use the "Volume UP" and "Volume Down" keys to highlight "Wipe data/factory reset" and hit the "Power" button to execute it.

Step 4: When prompted, select "Yes" to start unlocking screen by removing password. Restart your phone after the process and set up it as a new phone.

This way is available to unlock screen on all Android smartphones. It does not require installed Google account or internet connection. But, bear in mind that factory reset will erase all your contents, files, documents, and personal settings.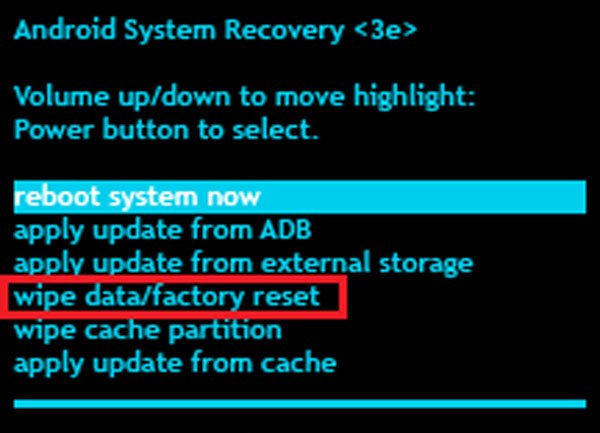 Part 8

: How to unlock screen password with Android Device Manager

In addition to Google account, Android Device Manager is another service released by Google to help you manage your smartphone remotely. It is able to find your device on Google Map in real time, unlock Android screen, and restore factory settings, even though your smartphone is not in your hand.

Step 1: Open the quick-access menu by swiping downward from the top of lock screen. Then turn on Wi-Fi and connect your phone to internet.

Step 2: Turn to your computer, and access www.google.com/android/devicemanager in your browser.

Step 3: Click on the Lock button, the "New Lock Screen" dialog will pop up. Type in a new password and confirm it.

Step 4: Now, power on your smartphone and enter the new password to unlock screen immediately. It should be a similar service as iCloud of Apple to unlock Android phone.

If you have not set up your Google account, this way does not work. And it needs your device online via Wi-Fi or cellular data.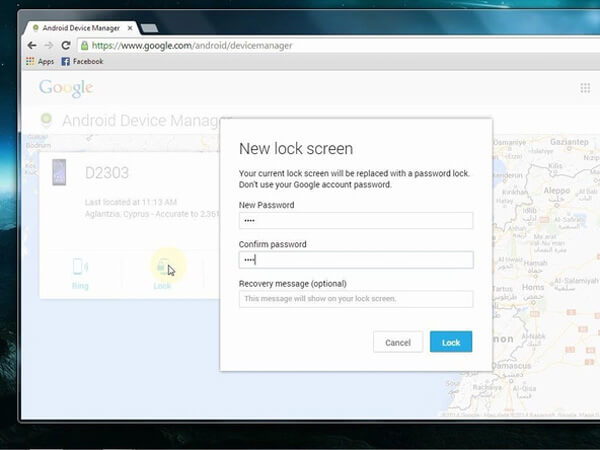 Part 9

: How to recover data after unlock screen of Android

Lose important data when unlocking screen on Android phone? Apeaksoft Android Data Recovery is a good way to get back lost data. Its key features include:

1. Recover lost data on Android phone without backup in a single click.

2. Available to various situations, factory reset, accidental deletion, system crash or freezing, and more.

3. Work on a wider range of data types, like contacts, messages, call history, photos, videos, documents, app data, etc.

4. Look at lost data before recovery and decide to get back all of them or certain items.

5. Restore Android data in original status and quality while not damaging existing contents on your device.

6. Support all Android phone and tablet from Samsung, HTC, LG, Moto, Google, Sony and other major manufacturers.

Here are the detailed steps.

Step 1: Connect your phone to Android Data Recovery

Download and install Android Data Recovery on your PC. There is another version for Mac computer. After unlock screen, enable USB Debugging mode and plug your phone to the computer via a USB cable. Launch the program, your device will be detected.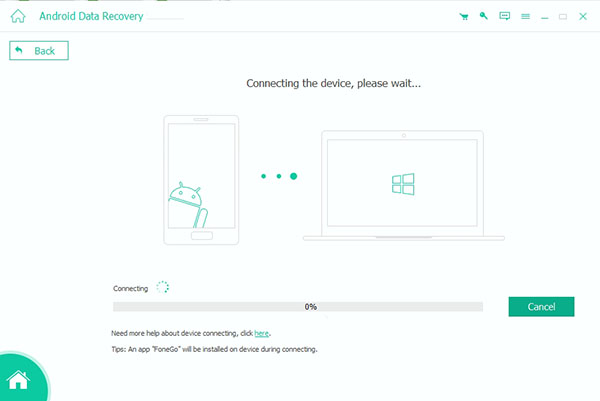 Step 2: Preview lost data before recovery
On the data type window, select what you want to recover, like "Contacts" and more. Click "Next" to open the preview window and look at the content in detail.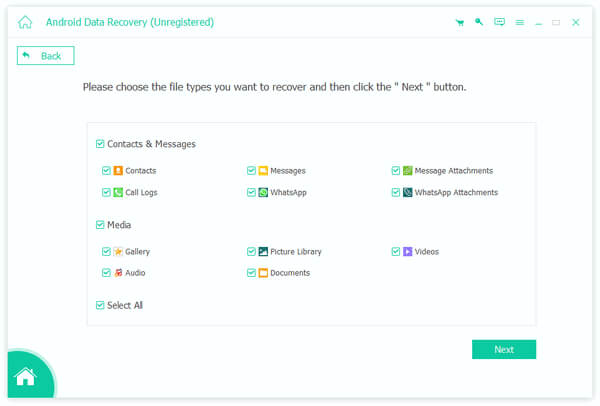 Step 3: Recover lost data after unlock screen
Make sure to select all desire items and files by checking the boxes and click on the Recover button. When prompted, pick up a proper destination and start recovering lost data.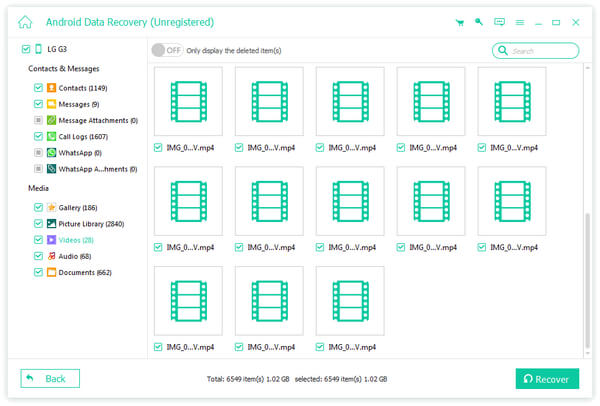 Conclusion
Based on the introductions above, you might grasp at least 10 approaches to unlock screen on Android devices when forgot your passcode. Before you unlock Android phone, you should backup data for these Android devices first. All the solutions have unique benefits and downsides. Contact the carrier to unlock Android phone should be the first choice. Of course, you can also use Google account, for example, requires internet connection. And factory reset will wipe up your device. To avoid data lose, we also shared a professional way to recover lost data on Android, Apeaksoft Android Data Recovery. Therefore, you can feel free to pick up a proper way and unlock screen effectively.